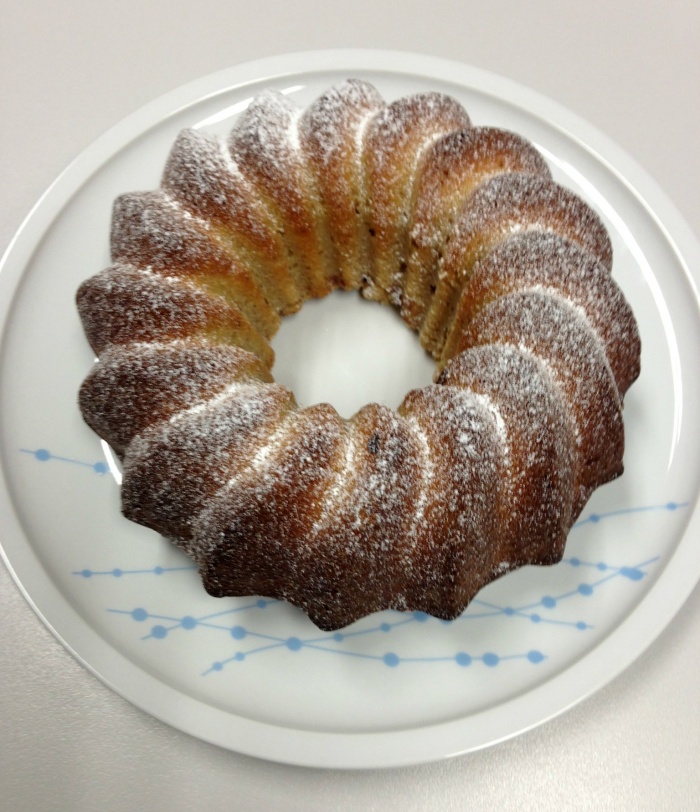 Serves 12
This is the spiced up version of  Nigella's all-in-one vanilla cake, and it went down a teatime treat at this year's Biggest Morning Tea. It looks absolutely beautiful in a bundt tin. It's one of my favourite cakes ever, and now it's egg-cellent now that I can make it in my Thermomix. It's the ultimate one-bowl-one-derful cake! If you haven't got a Thermie, here's the regular recipe. 
Ingredients
225g soft butter, plus more for greasing (or use flavourless oil)
300g raw sugar
6 eggs
350g plain flour
½ teaspoon bicarbonate of soda
250ml (250g) plain fat-free yogurt
2 teaspoons vanilla extract
2 teaspoons ground cinammon
2 teaspoons ground ginger
1–2 x 15ml tablespoons icing sugar
How to
Preheat the oven to 180C/160C  fan forced and put a baking sheet in at the same time. Butter a large, regular or fir-tree shaped bundt tin (2.5 litres capacity) very, very well.
Mill the sugar for 3 seconds  on speed 9.
Put all the ingredients (except the icing sugar)  into the TM bowl and mix for 2 minutes on speed 4. Scrape down lid and sides every 30 seconds.
Using the spatula, pour and spoon the mixture into the greased tin and spread about evenly.
Place the tin on the preheated baking tray in oven and cook for 45–60 minutes until well risen and golden. After 45 minutes, insert a ckae tester in the centre of the cake. If it comes out clean, the cake is cooked. Let it sit out of the oven for 15 minutes.
Gently pull away the edges of the cake from the tin with your fingers, then turn out the cake. Cross your fingers and hope for the best!
Once cool, dust with the icing sugar pushed through a small sieve, think of light snowfall on the Alps!
Other info
BUNDT TIN TIP! Grease the bundt tin really, really well. Lightly dust the inside of the tin with some sifted flour before pouring in the mixture to avoid sponge sabotage!
FLAVOUR TIP! To make a vanilla cake, skip the spices and double up on the vanilla.
MAKE AHEAD TIP! Make the cake, turn out and leave to cool. Wrap in clingfilm and foil and store in an airtight container for up to 2 days.
FREEZE AHEAD TIP! Make, wrap and freeze the cake for up to 3 months. Thaw overnight in a cool room.
Converted from  http://www.nigella.com/recipes/view/spruced-up-vanilla-cake