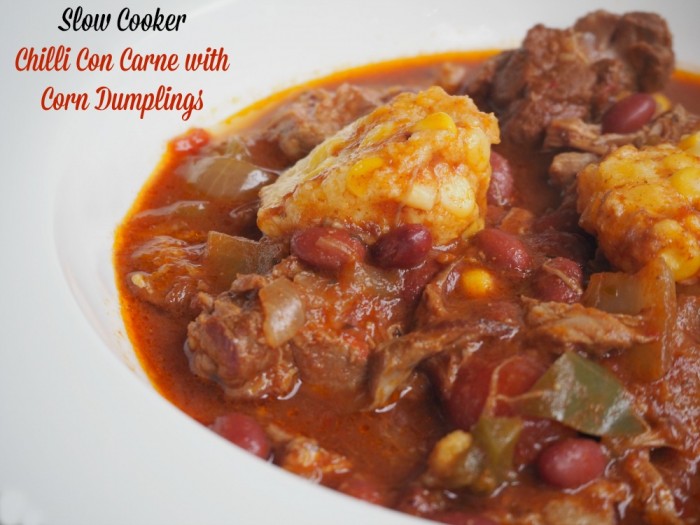 Serves 6
Chunky Beef Chilli is topped with fluffy corn dumplings in this super easy and super comforting slow cooker recipe.
If you had to eat one food for the rest of your life would it be? I would choose for dumplings. Because… Dumplings!
Dumplings are the ultimate comfort food and manifest themselves in almost every kind of cuisine. This then is like my dream dinner because it combines my love for my slow cooker and my love of dumplings!
We had this for dinner at a friend's forever ago and have been salivating over it ever since. She made it on the stove but when I unearthed the recipe, I adapted it to the slow cooker because I love to prepare, go and let it cook slow and I'll use any excuse to use my slow cooker!
The corny dumplings are the perfect accompaniment to the chunky chilli – the meat just falls apart. This is the ultimate one dish dinner; chilli and dumplings… it's all you need!
Ingredients
2 tablespoons olive oil
1.5kg chuck steak, cut into 4cm cubes
1 large brown onion, roughly chopped
2 cloves garlic, crushed
1 large green capsicum, roughly chopped
2 teaspoons sweet paprika
2 teaspoons ground cumin
2 teaspoons Mexican spice blend (I like Herbies)
2 x 400g tins whole peeled tomatoes
2 tablespoons tomato paste
1 cup (250ml) beef stock
400g can kidney beans, rinsed and drained
FOR THE CORN DUMPLINGS
1/2 cup (75g) plain flour
1/2 cup (85g) polenta
50g butter, chopped
1 egg, beaten lightly
1/4 cup (30g) cheddar cheese, grated
130g can sweetcorn, drained
1 tablespoon milk
How to
1. Heat the slow cooker if necessary. Heat half the oil in a large frying pan and cook the steak in batches until browned all over. Transfer to the slow cooker.
2. Heat the remaining oil in the same pan; cook onion, garlic and capsicum, stirring, until the veggies start to soften. Add the spices to the pan and cook for a minute or two until fragrant. Add 1/2 cup of the stock; cook, stirring, until mixture boils.
3. Transfer onion mixture to cooker with remaining stock, tomato paste and undrained tomatoes; stir to combine. Cook covered, on LOW for 7 hours.
4. After 7 hours, remove about a quarter of the meat and shred coarsely using 2 forks. Return the shredded meat and add the the drained kidney beans to the slow cooker. Season to taste.
5. To make the corn dumplings place the flour and polenta in a large bowl and rub in the butter. Stir in egg, cheese, corn and milk until you have a soft sticky dough. Add a drop more milk if you need to.
6. Drop level tablespoons of corn dumpling mixture onto the top of the meat leaving about 1 or 2cm to allow room for spreading. Cook on HIGH for an hour.
Other info
Prep and Cooking time: 8 hours 30 minutes