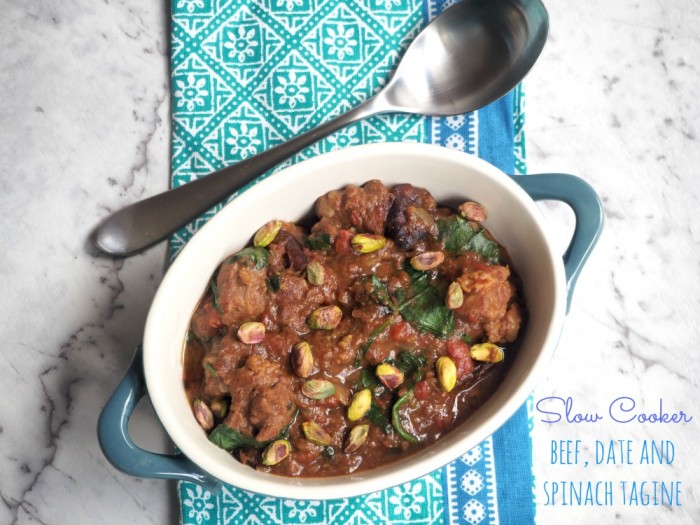 Serves 4
Now I know it's warming up nicely here down under, but there's still time for one last hurrah with the slow cooker! Of course, if you're in the Northern hemisphere, this is the perfect winter warmer! Linda made this when I popped over for dinner one night and it was love at first bite! It smells almost more delicious than it looks, and the aroma that fills the house during cooking time is sublime. Ta-date Tangine!
Ingredients
1kg chuck steak, roughly chopped
1/4 cup (35g) plain flour
1 tablespoon olive oil
1 large red onion, chopped finely
2 cloves garlic, crushed
1 teaspoon  cinnamon
1 teaspoon ground cumin
1/2 teaspoon ground ginger
1/2 teaspoon ground turmeric
1 cup (250ml) beef stock
400g can chopped tomatoes
3/4 cup (100g) pitted dates
180g baby spinach, roughly chopped
1/3 cup (45g) toasted pistachios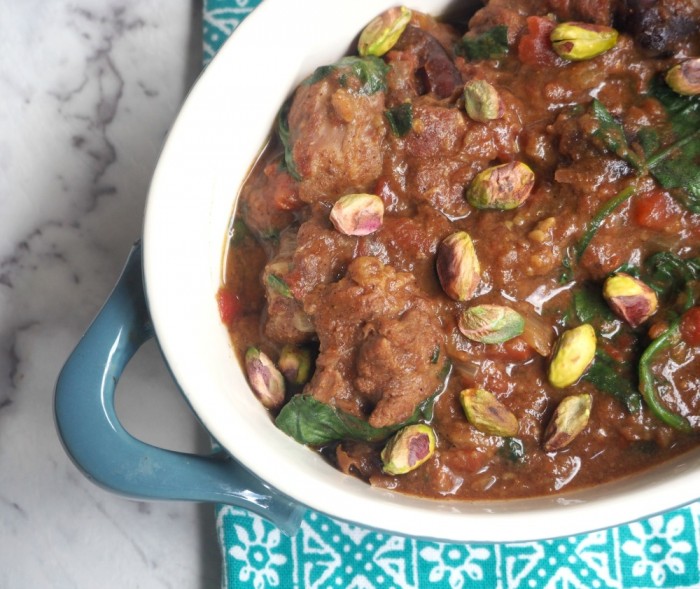 How to
Toss beef in flour to coat, shake off excess. Heat half the oil in a large frying pan and cook beef in batches until browned. Put the browned beef in the slow cooker.
Heat the remaining oil in the same pan; cook onion and garlic, until the onion softens. Add spices and cook, stirring until fragrant. Add 1/2 cup of the stock. Cook; keep stirring until the mixture comes to the boil.
Transfer  the onion mixture to the slow cooker with remaining stock and tinned tomatoes. Stir gently to combine. Cook covered, on LOW for 8 hours.
At the end of cooking, add the dates and spinach and cook, covered, on HIGH for about 10 minutes or until the spinach starts to wilt. Season to taste.
Sprinkle the tagine with nuts and serve with steamed rice or couscous.
Other info
Prep and cooking time: 8 hours and 35 minutes