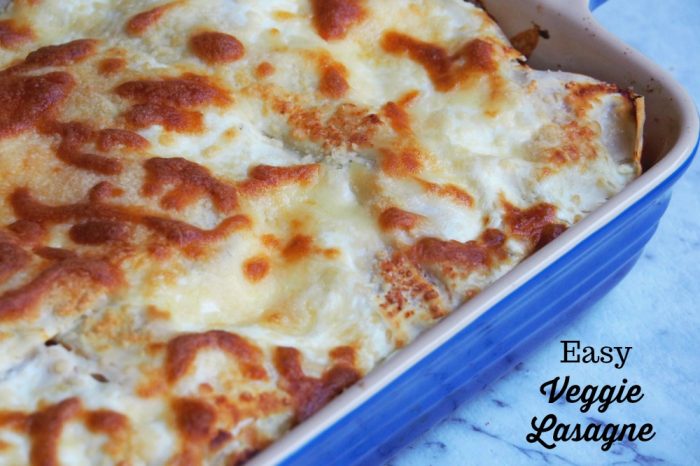 Serves 4
I can pretty much guarantee that if you find any lasagne recipe on the blog, all of them will be easy, all of them will be delicious and none of them will contain a cheese sauce, because a) I'm too lazy to make one and b) I would rather save my calories for cake.
Technically this is a lasagne, because it contains some lasagne sheets, but it's light on cheese and big on veggies, so if a vegetable bake and a lasagne had a food baby this would probably be it.
I hate wasting food and this dish is a great way to use up whatever left over veggies you have in the fridge, plus it's freezer friendly, so you can save left overs or bake ahead. What's not to love?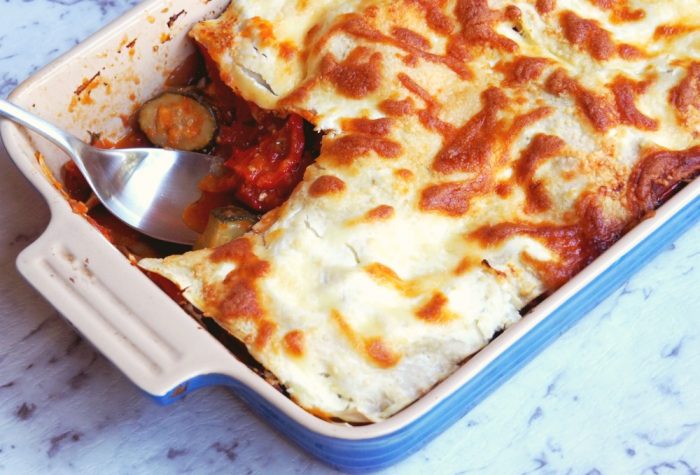 Ingredients
2 tablespoons oil
1 onion, sliced
2 garlic cloves, thinly sliced
1 large red capsicum, cut into chunks
4 zucchini, sliced
400g pumpkin, peeled and roughly chopped
8 plum tomatoes, halved
A pinch of chilli flakes (optional)
300-400g pasta sauce or passata
40g baby spinach leaves
100g fresh lasagne sheets (about 4)
6 tablespoons quark (or sour cream/creme fraiche)
40g parmesan cheese, grated
30g pizza cheese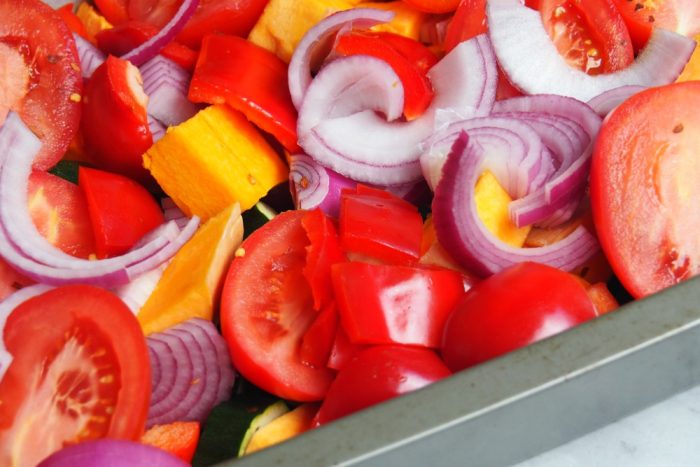 How to
Preheat the oven to 1900C /170C fan-forced.
Line a large roasting tin with baking paper. Toss the vegetables, oil and chilli flakes (if using) together and roast for about 35-40 minutes until slightly charred.
Transfer the roasted vegetables to large dish and add the passata. Gently mix together but be careful not to crush the veggies.
Line the bottom of a deep medium-size baking dish  (mine is 20cm x 20cm) with the spinach leaves and top with a layer of the veggie mixture. Cover with a layer of lasagne sheets (if they sheets don't fit, you can cut them to size.) Repeat layers until you use up all the veggie mixture and finish with a layer of lasagne.
Use a spoon to dollop over the quark, and then a knife to gently spread it over the top and right to the edges.  Sprinkle over the Parmesan and pizza cheese. Return to the oven for 25 minutes until the lasagne is heated through and the top is bubbling and golden.
Other info
Preparation Time: 15 minutes  Cooking Time: 1 hour