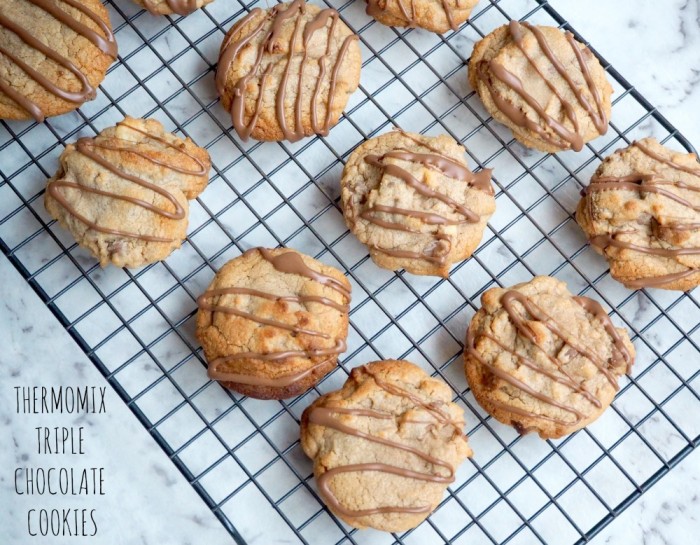 Makes 24
This is one for the Chocoholics because these are no ordinary cookies! These my friends are cookies with a chocolate trifecta – dark, milk and white! Triple the chocolate and triple the treat! If you don't have a Thermomix, you can still have your cookies and eat them. The regular recipe is here.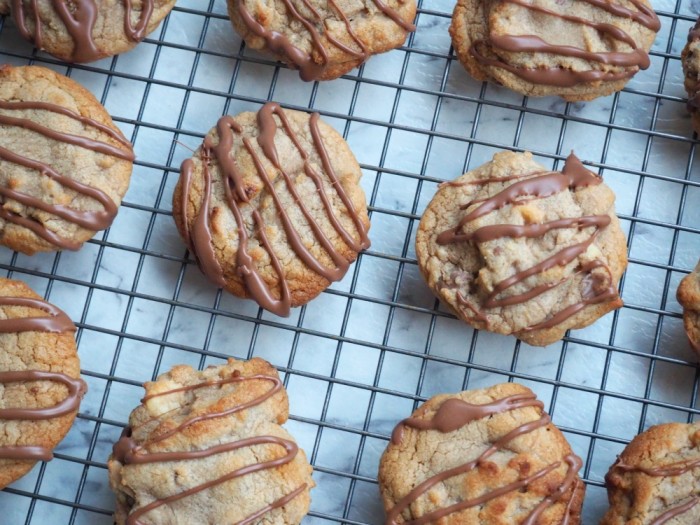 Ingredients
100g soft brown sugar
100g raw caster sugar
100g butter, softened
1 egg
1 teaspoon vanilla extract
225g  plain flour
140g milk chocolate
85g white chocolate chips
85g  plain chocolate chips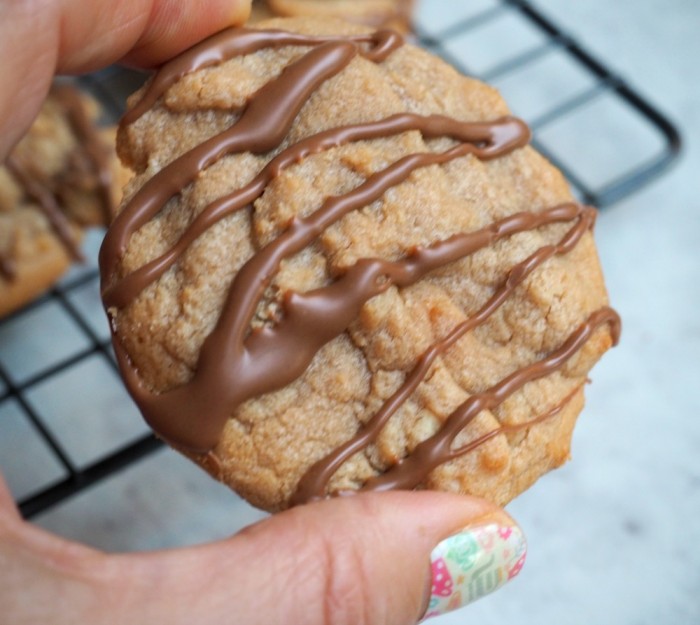 How to
Heat oven to 180C/fan 160C. Line two baking trays with baking paper.
Mill the raw sugar to caster sugar for 3 seconds on speed 9.
Add the butter and vanilla extract  to TM bowl and mix on speed 4  for  1 minute.
With the blades running on speed 4, add the egg through the hole in the top of the lid. This should take about 30 seconds.
 Melt half the chocolate (70g) and add to TM bowl. Mix for 10 seconds  on speed 4.
Add the flour. Set the dial to the closed lid position  and knead for 30 seconds  on interval speed.
Add the chocolate chips and gently stir through with the spatula.
Use a tablespoon measuring spoon to scoop out balls of cookie dough and drop them straight onto the trays.
Bake in batches for 8-9 minutes until pale golden and still soft to touch – they will get firm as they cool.
Carefully transfer to a wire rack as soon as they can be lifted up. Melt and drizzle with the remaining melted chocolate.
Other info
Prep time: 5 minutes     Cooking time: 10 minutes
TIP! Both the  (uniced) dough and (uniced) baked cookies can be frozen.