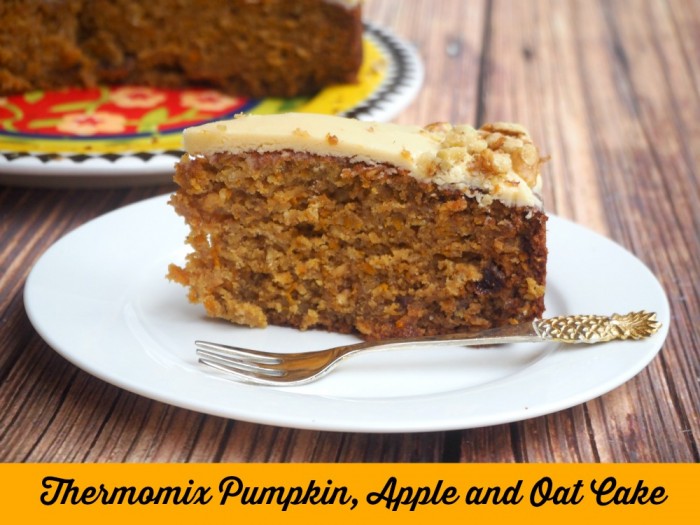 Serves 16
I came back from my month away to a bit of a Birthday Festival in the office. The first week back I was on almost a cake-a-day. My mouth still waters when I think of the Cardomom Apple Cake Guy made for me on my birthday so I wanted to push the birthday boat out on his special day! Knowing he has a penchant for fruity flavours, I thought I would hedge my bets and throw in some veggies too. I found this recipe in the British section of Travelling with Thermomix and tweaked it to taste. I can't vouch for it's Britishness but I can vouch for it's popularity with the office peeps, who said it's one of the best cakes I've ever made (and when you think of all the cakes I've made, that's quite a claim!) It's super moist, subtly spiced and the icing is a creamy-citrusy taste sensation.
Ingredients
300g pumpkin, peeled and cut into pieces
200g Granny Smith apples, peeled, cored and quartered
150g rolled oats
100g sultanas
1 teaspoon cinnamon
1/2 teaspoon nutmeg
300g brown sugar
5 eggs
150g vegetable oil
200g plain flour
1 teaspoon bicarbonate soda
FOR THE FROSTING
200g raw sugar
50g butter
60g cream cheese
10g lemon juice
50g toasted walnuts, roughly chopped
How to
Heat oven to 170C/fan 150C. Grease and lightly flour a 23cm springform tin.
Put pumpkin and apples into TM bowl and grate for 10 seconds on speed 5. Scrape down lid and sides of bowl.
Add oats, sultanas, spices, brown sugar, eggs and oil to TM bowl and mix on reverse, speed 4  for  10 seconds.
Add flour and bicarb and mix for 10 seconds on reverse, speed 4.
 Pour mixture into springform tin. Don't worry, the mixture is really wet and runny. Check the cake after 50-55 minutes. A cake tester inserted into the centre of the cake should come out clean. Mine needed an extra 10 minutes, but it will depend on your oven.
Allow the cake to cool for at least 15 minutes in the tin before transferring to a cooling rack to cool completely.
FOR THE FROSTING
Place the sugar into TM bowl and blitz for 2o seconds  on  speed 10.
Add butter, cream cheese and lemon juice and mix for 30 seconds  on speed 4.
Spread frosting on cooled cake. Sprinkle chopped walnuts on the top. Leave in the fridge to cool.
Other info
Prep time: 5 minutes
Cooking time: 1 hour 15 minutes
TIP! Instead of  using chopped walnuts to decorate, you can use chopped pecans or hazelnuts.