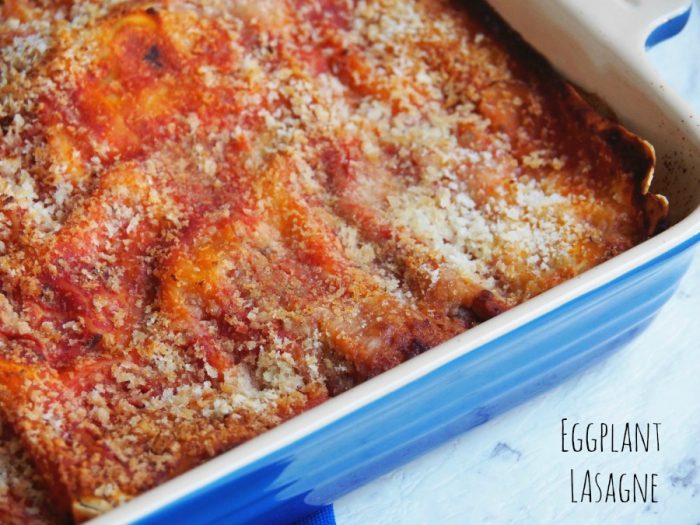 Serves 4
This is one of my favourite veggie no-cheese-sauce-no-fuss lasagne recipes. The eggplant gives it a really meaty texture, but the bold, simple flavours are the heroes here. It's super easy to assemble and super versatile. If you want to skip making the passata based sauce, any shop bought pasta sauce will do as will this delicious  Thermomix Pasta Tomato Sauce.
I've given the recipe a revamp, but when it comes to taking pictures of food, you can't fix ugly! Lucky this lasagne tastes way better than it looks, which just goes to show, you should never judge a book by it's cover and never judge food by it's photograph!
I love this lasagne so hard is that I don't have to share because eggplant is David's food nemesis! Of course, even I can't plough my way through a family sized lasagne so lately I've been taking this dish for lunch at the Asylum Seekers Centre where it has been very well received. I felt totes proud when my fellow lunch lady and real Italian Monica admired the look of my lasagne but then felt totes terrible when I told her the lasagne had no bechamel and that my friends, broke her pasta loving heart! I don't really consider myself a heartbreaker, but I'm definitely a rule breaker. I think some rules (especially bechamel sauce ones) were made to be broken, don't you?
The best thing about this recipe is that it's freezer friendly so you can make one for now and freeze one for later!
What kitchen rules do you break? What's your food nemesis?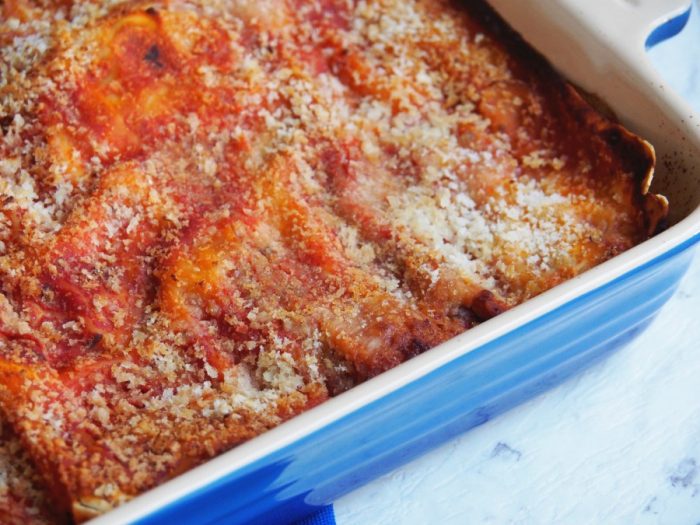 Ingredients
2 large eggplants, thickly sliced lengthways
2 tablespoons olive oil
3 large garlic cloves, crushed
700ml jar passata
½ tablespoon dried oregano
1 teaspoon sugar
1 tablespoon red wine vinegar or red wine
generous pinch chilli flakes
200g fresh lasagne sheets (about 4)
75g parmesan,  grated
200g ball mozzarella, sliced
5 tablespoons fresh wholegrain breadcrumbs (from 1 slice of bread)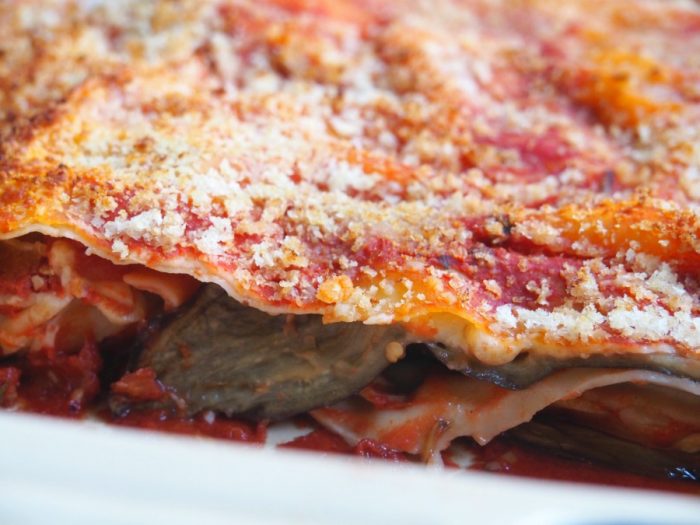 How to:
Heat grill to high. Arrange the eggplant slices on a baking sheet and brush lightly with oil and season well. Grill for 2-3 minutes on each side until golden brown. Set aside.
Heat 1 tablespoon oil in a pan. Fry the garlic for a minute, and then add the passata. Simmer for 10 minutes with the oregano, chilli flakes and sugar and vinegar/wine and then season to taste.
Take an A4 sized baking dish and start to put the lasagne together. Spread a third of the sauce around the bottom of the dish and then top with a layer of eggplant slices.Top with some parmesan and mozzarella and then add a layer of lasagne sheets.
Repeat, topping the last layer of lasagne sheets, with the remaining sauce. Sprinkle over the remaining parmesan and breadcrumbs.
You can freeze the lasagne at this point, but allow it to cool first. To cook, heat oven to 200C/180 fan-forced and cook for 25-30 minutes until golden and bubbling.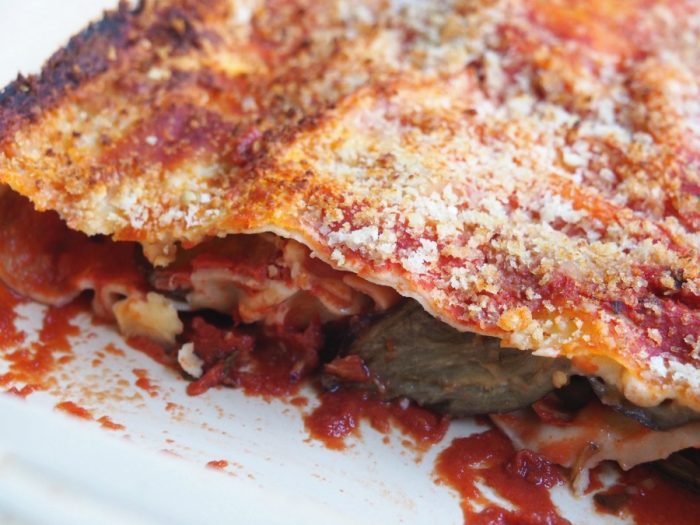 Other info
Preparation Time: 20  minutes   Cooking Time: 50 minutes
TIP! To cook straight from the freezer, heat oven to 180C/160C fan-forced, and cook, covered with foil, for 1½ hours. Then, increase temperature  to 220C/200C fan-forced and cook uncovered for another 30 minutes. Alternatively,  defrost overnight at room temperature, pop in the fridge until ready to eat, then cook as in recipe above, just add an extra 10 minutes to the cooking time.