I really love Christmas. A lot. This year I seem to love it more than ever before, which let me tell you, is a whole lot of lovin'!
Not only did I put the tree up in November and go overdrive with ye olde Christmas fudge production but I just can't get enough of Secret Santa.
It's been a joy being part of Fat Mum Slim's Christmas Gift Exchange and I haven't even gotten a gift yet. All the fun has been in the stalking, the shopping and the sending. Giving is gorgeous. This is how my gifts shaped up. It's a wrap! Of course, I can't tell you what's inside, because that would spoil the surprise now, wouldn't it?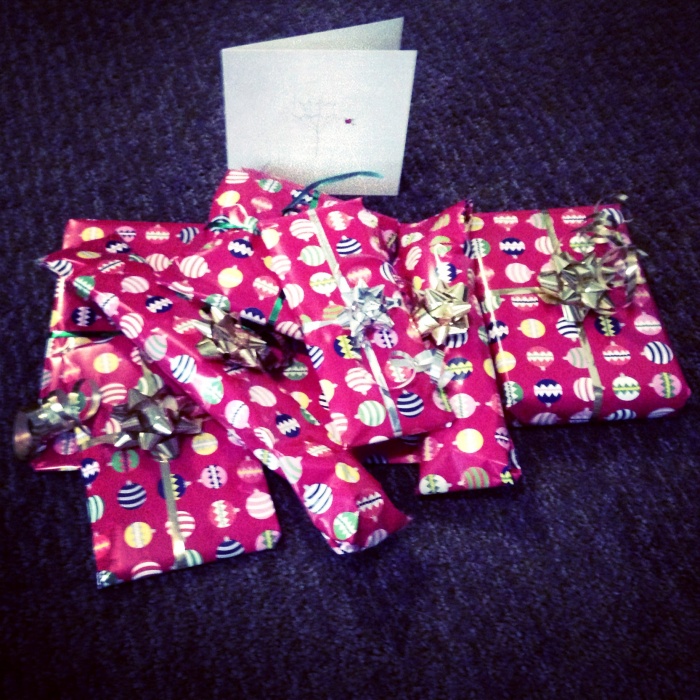 I've been feeling quite at a Secret Santa loose end since I posted off my parcel at the start of the week, so you can imagine how stoked I was to find out about free postage for packages to Aussie troops overseas.   Here's the deal… Australia Post will send packages that weigh less than 2kg for free. How cool is that? It just sounds too good to resist.
The wish list is pretty simple and it's possible to pick up everything you need from the supermarket. Biscuits (not homemade, unfortunately,) candy (not chocolate, it melts,) muesli bars, tins of tuna, razors, deodrant, shower gel, lip balm, magazines, dvds and socks are all great gift ideas. It's best if you send something unisex and simply addressed to "An Australian Defence Member" to ensure fair and equal distribution. Alcohol, aerosols, chocolate, pork, clothes and anything with naked bodies is a big no, no but apart from that you can use your imagination.
I'm taking this lot to the post office. I can't spoil the surprise and tell you what's inside but I can tell you it's gender neutral and all totally legit. I love giving presents that I love, and this package is no exception. It's full of some of my favourite things!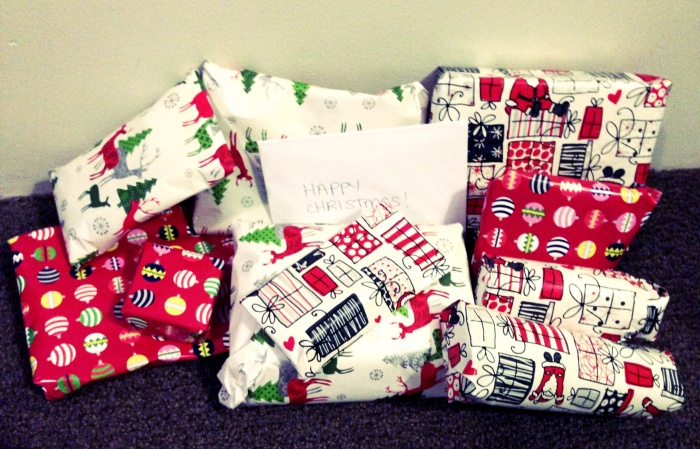 If you want your gift to get to it's destination in time for Christmas, you better get your Santa skates on, as the last Christmas posting date is December 9.  Packages that arrive after the cut off limit will be re-distributed to Australian charities, such as the Salvation Army.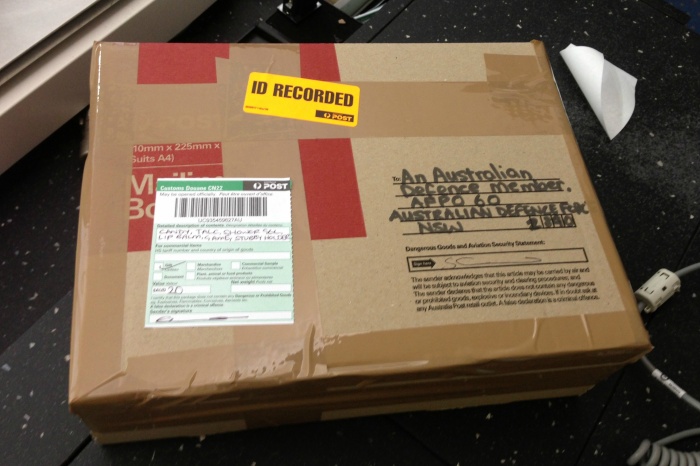 Oh, and don't forget to include a little letter of support, maybe a picture drawn by little people (if you have some,) and your email address, or a stamped addressed envelope so your soldier can write you a note to say thank you. I read of one person, who is still in touch with the soldier who received their gift last year. I love a happy ending.
If you want to send a care package and spread some smiles worldwide, then pack up a parcel, take it to the post office and send it to:
An Australian Defence Member
AFPO 60
Sydney
NSW 2890
Click here for more information.
And, if you're short on time or money, you can still make someone's day far away, just by sending an email to supportthetroops@defence.gov.au 
What would you send to the soldiers?