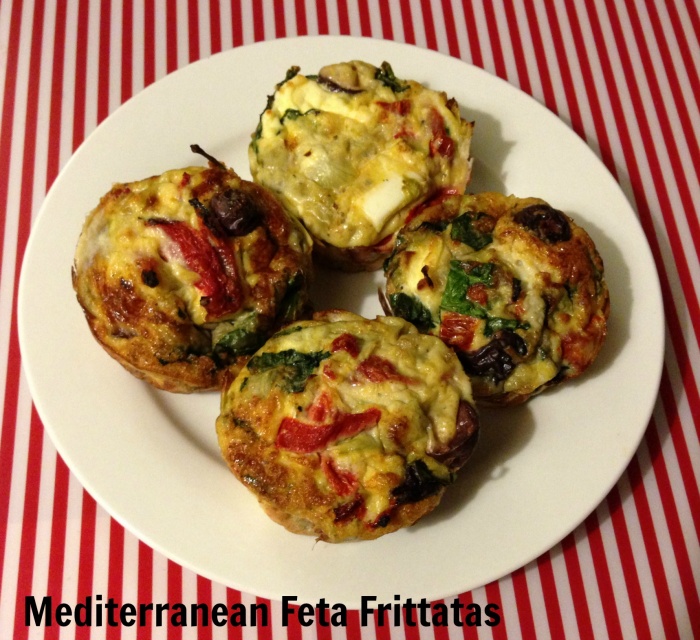 Makes 12 frittatas
We love these frittatas because they're simple to make and so versatile. You can easily adapt the ingredients (I just used whatever I had in the cupboard/fridge) and they're perfect for brekkie-on-the-go, a packed lunch or a delicious supper served up with a fresh Greek Salad. Leftovers freeze really well too.
Ingredients
6 large eggs
4 large egg whites
1 large can artichoke hearts, drained
60g sundrained tomatoes, chopped
70g pitted kalamata olives, chopped
60g roasted pepper strips, drained
75g baby spinach, chopped
100g feta cheese, crumbled
60g cream cheese (at room temperature)
How to
1. Preheat oven to 180C/160C fan-forced. Line a 12 hole muffin pan with paper muffin cases (or just lightly grease the holes.)
2. In a medium bowl beat the eggs and egg whites together. Season well with salt and pepper.
3. Add all the other ingredients and stir to combine.
4. I use a 1/4 cup measuring cup to transfer the mixture to the muffin cases. Bake for about 18-20 minutes, until just set.
5. Cool in pans on a wire rack before removing from the tin.
Other info
Prep time: 10 minutes   Cooking time: 20 minutes
TIP! This works best if the cream cheese is at room temperature. Try a variety of veggies and adding some fresh herbs for added nom!