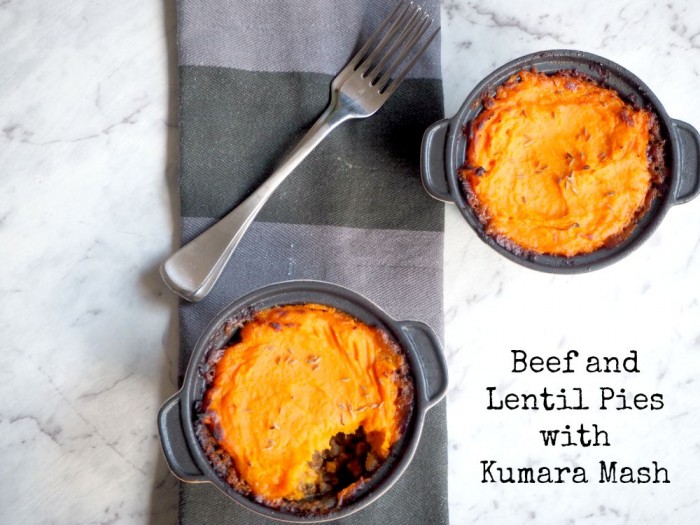 Makes 4
Today is  Pi Day. I'm not big on maths but I love a good pie. This pie is gluten free, so it's perfect for me! It's an added bonus that the sweet potato mash is delicious and Low GI!  Set your Thermomix  to work to make the mash, if you have one!
Ingredients
1 tablespoon olive oil
1 brown onion, chopped finely
2 cloves garlic, crushed
500g beef mince
1 tablespoon ground cumin
2 teaspoons ground coriander
2 tablespoons tomato paste
1 cup (250ml) beef stock
400g canned brown lentils, rinsed and drained
600g kumara (sweet potato), chopped coarsely
20g butter
2 tablespoons milk
1/2 teaspoon cumin seeds
How to
Preheat oven to 220C / 200C fan-forced.
Heat oil in a large saucepan and cook the onion and garlic until the onion softens.
Add the beef and cook, stirring until browned. Add the spices and cook, stirring until fragrant. Add the tomato paste, stock and lentils and bring to the boil. Simmer, uncovered for about 10 minutes or until slightly thickened. Season well.
Meanwhile, make the mash in the Thermomix. (See tip below.) Alternatively,  boil, steam or microwave the kumara until tender, then drain. Mash the kumara in a large bowl with butter and milk until nice and smooth.  Season to taste.
Spoon the mixture in to 4 x 310ml pie dishes. Top with the mash and sprinkle over  the cumin seeds.
Bake the pies for about 20 minutes or until browned.
Prep and cooking time:  55 minutes
TIP! We save time and taste by making the mash in the Thermomix. If you choose to make the mash, in the machine, omit step 4, and instead, use 500g kumara, 125g milk, and 10g butter. Make the mash in the machine as usual, and then proceed from step 5.