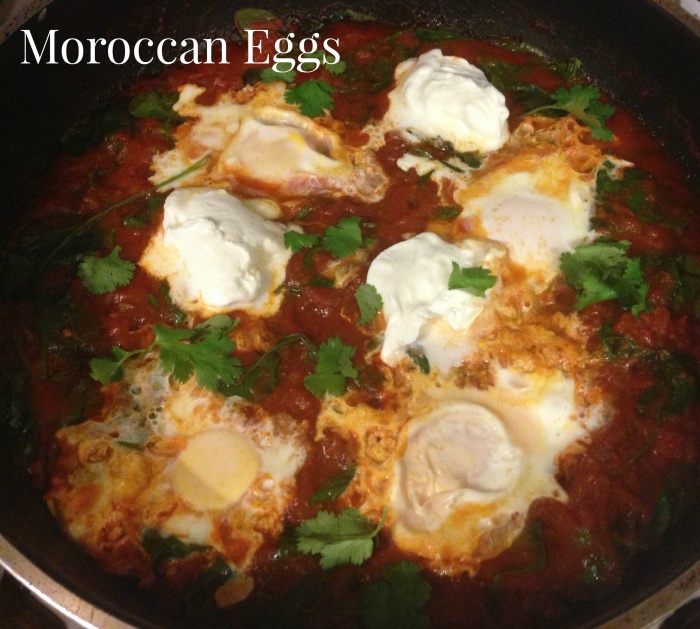 Serves 2 generously
First there were Turkish Eggs, now we've moved along to Morocco! My obsession with eating breakfast foods for dinner continues. This dish is  surprisingly delicious and really filling. It's a firm favourite at our house for breakfast, lunch or dinner. I used a batch of Annabel Langbein's Moroccan Tomato Sauce for the base but it's a bit too tart for my tastebuds, so we tempered the flavour with a tin of tomatoes. However, this dish would work just as well with a jar of store bought pasta sauce jazzed up with some chilli, cumin and oregano.
Ingredients
2 cups Annabel Langbein's Moroccan Tomato Sauce
1 tin chopped tomatoes
4 eggs
3-4  handfuls baby spinach
6 tablespoons Greek Style yoghurt
Coriander leaves, to garnish
How to:
Heat the sauce and the tomatoes in a large frying pan.
Stir in spinach until it wilts.
Then, using a wooden spoon, create 4 pockets in the tomato mixture. Break each egg into a cup and then pour into the pocket into the pan. . Cover the pan and cook the eggs over a low heat until just set.
 Sprinkle the eggs with coriander and serve straight from the frying pan with a big dollop of  yogurt.
Other info
Preparation Time: 5 minutes  Cooking Time: 10 minutes
TIP! Serve with some Turkish bread to mop up the juices!