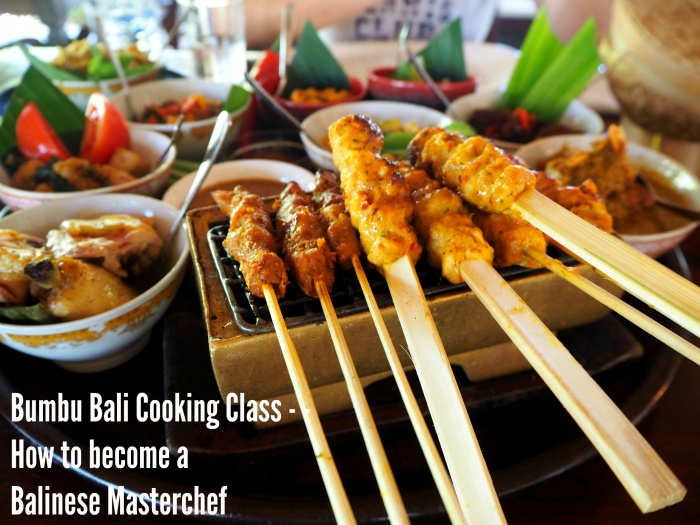 So I've wanted to go to the Bumbu Bali  Cooking School for like, forever. Well, since last year when I came to Bali, which feels like forever. These classes are super popular,  have a maximum of only  14 students and get booked up way in advance. I was so miffed at missing out last time round, the cooking class was one of the first things I booked when we started the mammoth task that was trip planning! Plus, attending a cooking class was number 26 in my 101 things in 1001 days challenge so I was all over this baby.
Cooking classes are to David, are what watching cricket is to me, it just doesn't register on the interesting scale. There was much batting of eyelids, arm twisting and tempting with pictures of Balinese banquets on my part,  before he finally agreed to be my cooking buddy. It was only then that I told him the course started at 6. That's AM! That's early. And David doesn't do early.
But you know what they say, the early bird catches the worm, and in Bali, the early cooking class students catch the markets at their best. Our trusty guide Wayan took us to the local markets where Chef Heinz taught us all about the local fruit, vegetables and spices.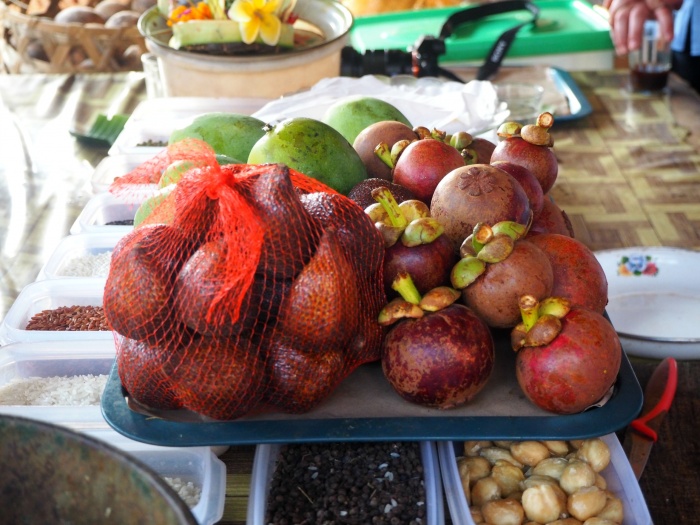 We tasted chillis, drank Balinese coffee and sampled breakfast delights just like Mama Bali would buy.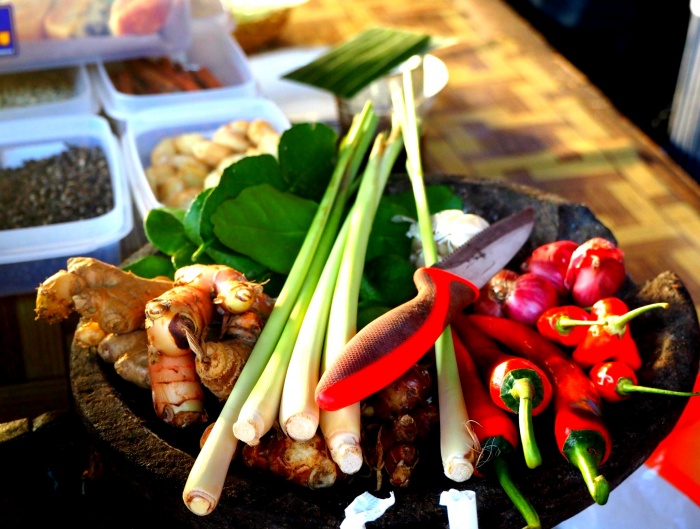 Granny Bali let her nimble fingers do the talking when she showed us how to make the rice baskets.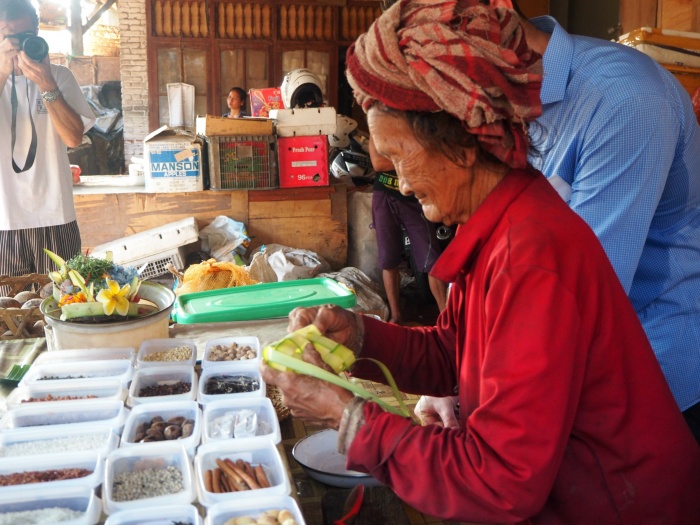 The Balinese markets reminded me of the market in my old hood in Walthamstow, London (the longest street market in Europe, don't you know) it sells everything  from fruit and veg to meat and poultry to clothes and accessories. It was quite an eye opener. We were surprised at how busy the markets were, but the locals like to shop early (before 8am!) because fresh is best, and the earlier you shop, the fresher the produce.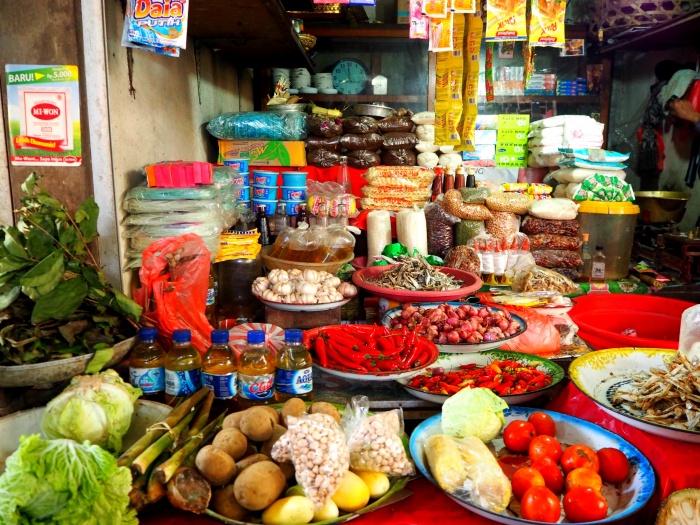 Seeing the meat and poultry  was almost enough to make me become a vegetarian but not quite. The lack of refrigeration unsettled our western nerves, but Heinz told us that this is  a good thing because this means that all the food is super duper fresh. Fruit and veg comes direct from the farm, within hours of being harvested, and meat is all free range and freshly slaughtered.
Mama Bali (and Heinz) go to market every day to cater for their daily needs. That way there's no waste and everything is as fresh as a daisy. There's no bulk buying in Bali!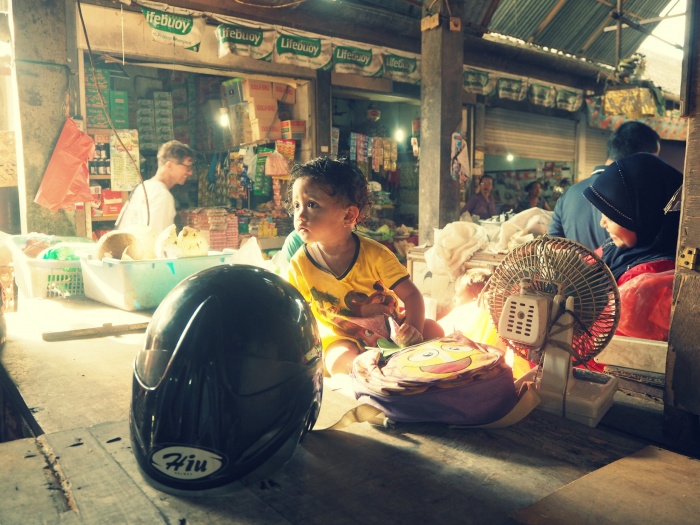 The next stop was Jimbaran  Beach where we watched the fisherman return with their catch and took a stroll through the fish market which surprisingly smelled more like old socks than old fish. Only the freshest fish makes it to Bumbu Bali. Heinz looks for fish with crystal clear eyes, red gills and a touch of rigor mortis.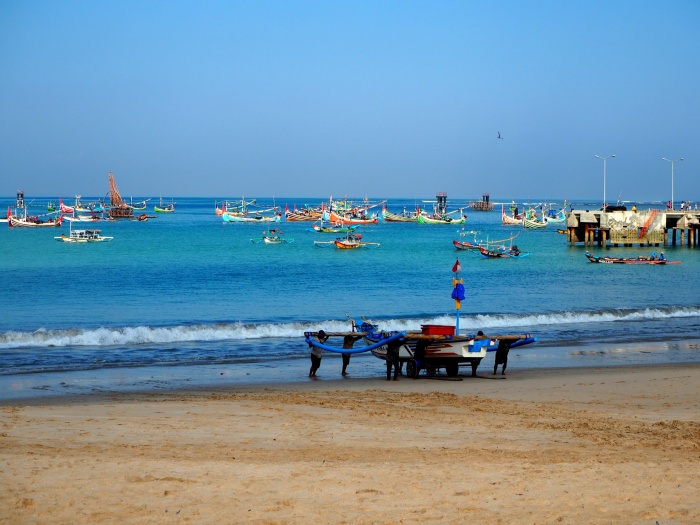 Then it was back to Cooking School  Central where we feasted on a typical Balinese breakfast of Balinese cakes, local fruits, black rice pudding and sweet rice dumplings in a sweet coconut palm sugar sauce. Balinese breakfast is like one big dessert platter, delicious but very, very sweet!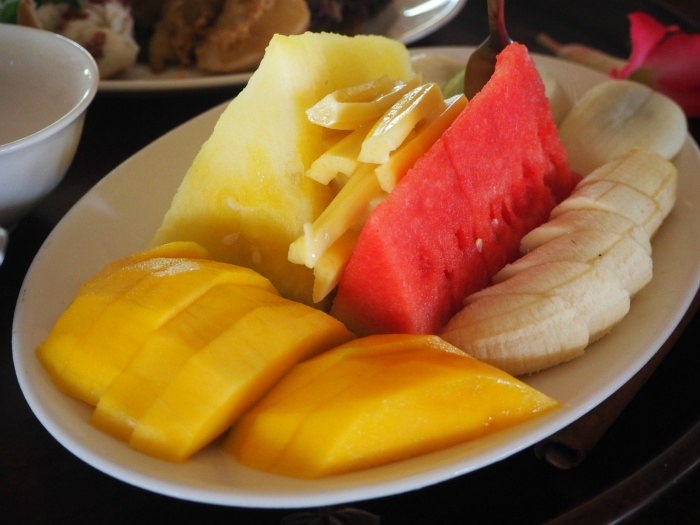 Chef Heinz was a champ. He's the author of five acclaimed cookbooks, a guru of Balinese cuisine and has worked in some of the finest hotels in Asia, Australia and Europe. He is a font of all kinds of cooking knowledge and thinks  outside  the box and encouraged us to do so too. His passion and enthusiasm for food is infectious. The big difference between this cooking class and others I've attended is the chef/student interaction. Heinz asks a lot of questions and he answers a lot too. There's just no time to be bored. Incidentally, there were a couple of kids in our class too, and Heinz proved he is adept at entertaining children as he is at keeping adults on their toes. 
In the cooking school kitchen we rattled through lots of recipes from chicken stock to spice pastes, and sate to chicken roasted in banana leaf. So many recipes in so little time!
David turned out to be a dab hand in the kitchen when got his hands dirty with the seafood sate. Oh so masterful!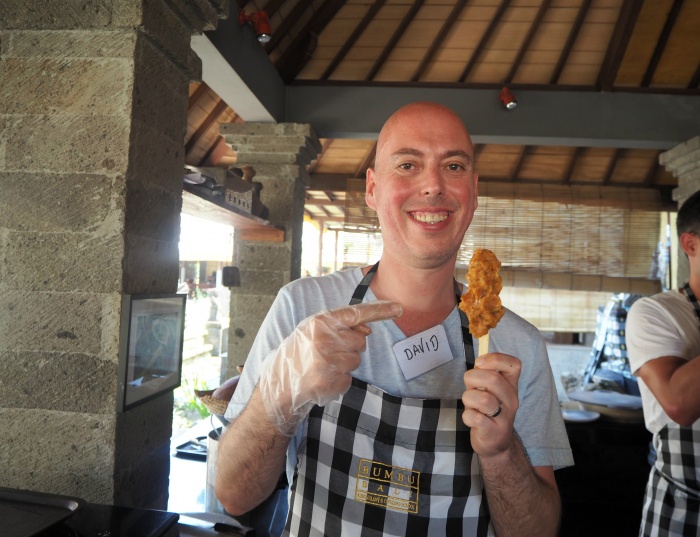 I had fun  folding the banana leaves into little handbags of minced chicken deliciousness.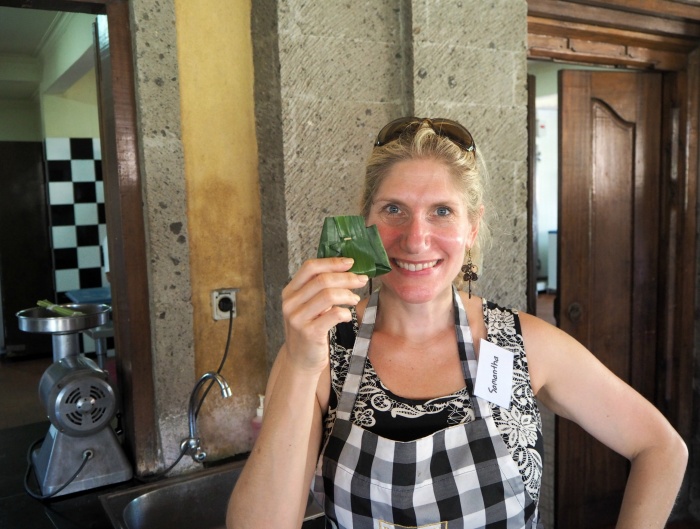 We also whipped up a massive wok full of Nasi Goreng which is actually Chinese, not Balinese, but let's not split hairs because it's totally nom! Heinz's tip, is to use half rice, half noodles! This was wok-derful!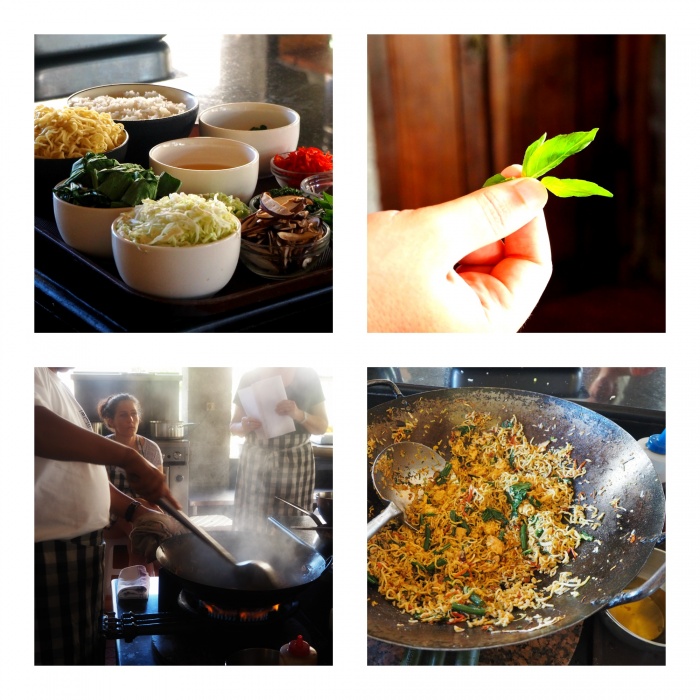 Do you know what is better than learning how to make a gazillion different Balinese dishes? Eating a gazillion Balinese dishes!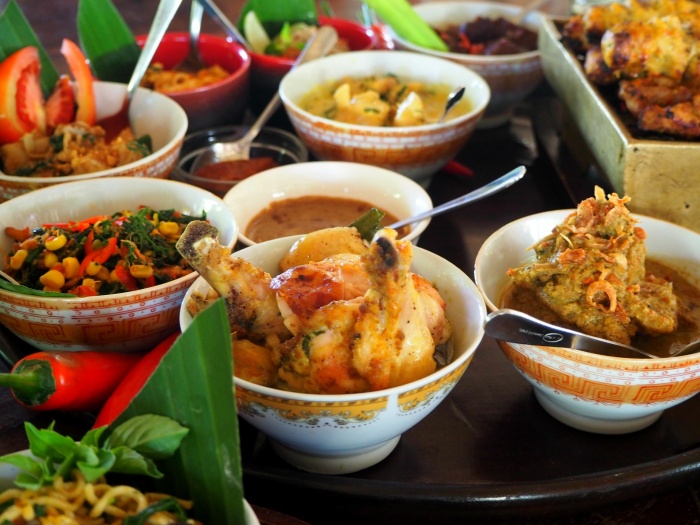 Man, there was so much food and it was all so good.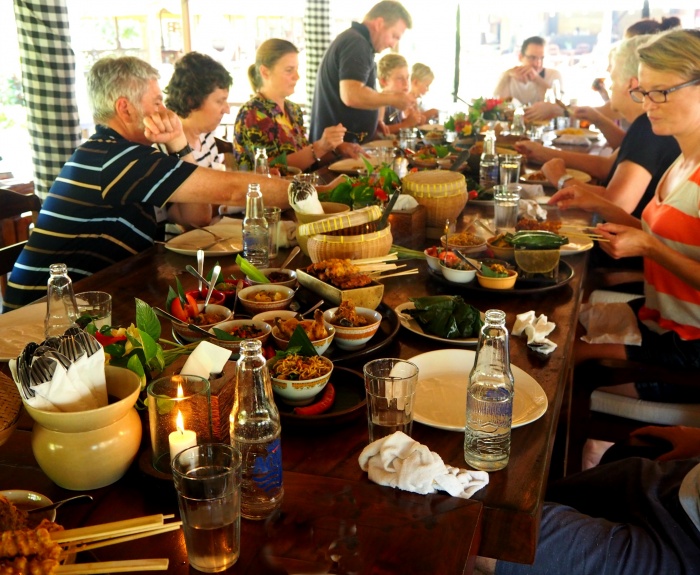 Of course, I saved some stomach space for dessert, and I'm so pleased I did because the fried bananas were the monkey's nuts! And the sweetcorn and coconut (I know it sounds so wrong, but believe me, it tastes so right!) wasn't half bad either.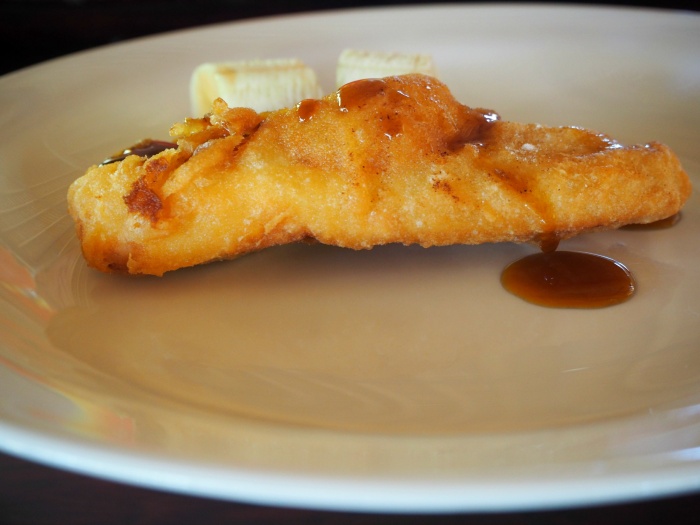 However, all good things  come to an end, and so did our day at the Bumbu Bali Cooking Class.
Heinz certainly has the recipe for success. The classes have just the right number of students, a well thought out timetable, on and off site activities, a good balance of student participation and chef demonstration and all in a beautiful setting. Heinz and his staff are great hosts and at the end of the day, you'll leave as a Balinese Masterchef, with a big belly and a collection of recipes to create a Balinese banquet in your own home.
This is one Balinese expereince you don't want to miss.
Find out more:
Classes take place on Mondays, Wednesdays and Fridays
Price $90 with market tour  or $80 without tour