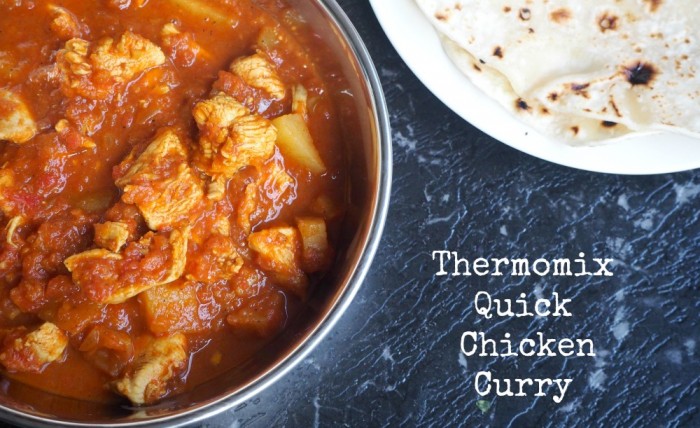 Serves 4
I love my friend Dharish's curries almost as much as I love Dharish herself (which is a lot. A whole lot.) In fact one of the things I miss most about living in London is Dharish's curries. Every time we go to an Indian restaurant, David and I look at our food and say, "this is good but it's not as good as Dharish's!"
After six years of being without one of Dharish's delicacies, and after a recent rendezvous in the mother country, I was determined to magic up Dharish's "secret" recipe. Except now that I'm telling you, it's not so secret. Just keep it under your hat, ok?!
Of course, I graduated from the Lazy Girl School of Cooking, so not only did I make this in my Thermomix, but I also took the spices straight out of jars. Feel free to make your own garam masala and curry powder, and cook this on the stove (Dharish always does and here's her original recipe!)
This curry doesn't disappoint. It's quick, it's easy, it's yummy, it's healthy and it tastes just like Dharish's. From her house to my house to your house. With curry love xx
Ingredients
1 red onion, halved
3 cloves garlic
1 piece ginger, (thumb sized) peeled
2 teaspoons curry powder
1/2 teaspoon mild chilli powder
1 teaspoon garam masala
20g olive oil
400g tin chopped tomatoes
20g tomato paste
2 small potatoes, peeled and diced evenly (1cm)
500g chicken thighs, diced in 2cm cubes
a few coriander leaves to garnish
How to
1. Place spices, garlic, onion, ginger and olive oil into TM bowl and chop for 6 seconds on speed 6.
2.  Scrape down sides of bowl and sauté 5 minutes on Varoma on speed 1.
3. Add tomatoes, tomato paste and potatoes and cook for 15 minutes  at 1ooC on reverse speed 1. Check that potatoes are done.
4. Add the chicken to the TM bowl and cook for 7 minutes at 100C on reverse speed soft. 
5. Allow to rest for about 10 minutes in a Thermoserver. Serve garnished with coriander leaves with some rotis or steamed rice.
Other info
Prep and cooking time:  30 minutes
TIP! If you like your curry with all the flavour, but without the heat, simply omit or reduce the chilli powder
Dharish recommends using chicken thighs in this recipe because it's so tender and juicy but if you prefer using chicken breast, reduce the cooking time for the chicken to 5 minutes.