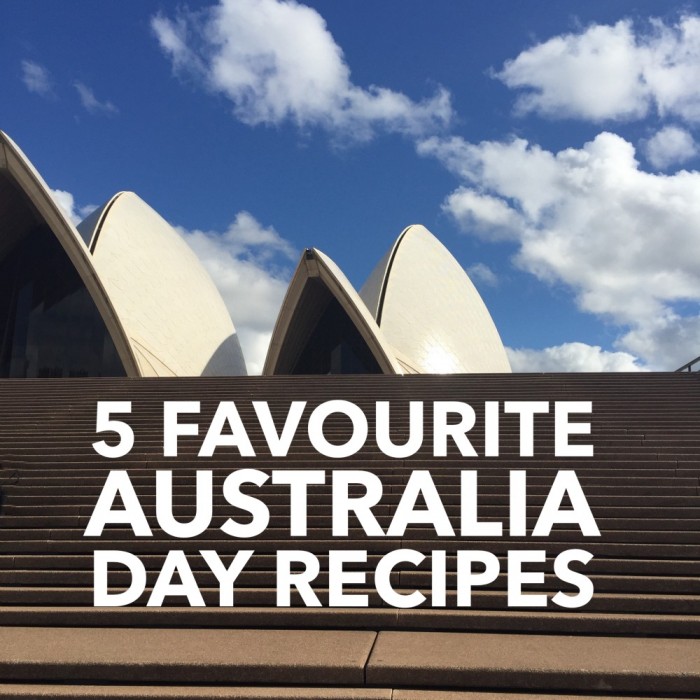 So Australia Day is fast approaching (26th January, if you didn't know already!)
I'm not Australian yet but I love the fact that I get to celebrate the awesome country I get to call home. I'm forever grateful that I live here in this little, well, actually, it's really rather big, piece of paradise. This is the year that I hope I'll become a real Australian because we're applying for citizenship as I type (how's that for multi-tasking?!) Heaven knows, I've wanted a blue passport for like, forever!
We're flying by the seats of our pants this year and have no idea how we're going to celebrate the big day. I think it's a toss up with a barbiewith friends or a Pyjama Day and a whole box set of Danish TV drama for company. Either way, I'll be happy as.
There are so many reasons to love Australia. The people, the land, the sunshine, the beaches, the lifestyle, the lamingtons, the Tim Tams, and the pavlovas to name but a few.
I've eaten my fair share of Lamingtons and Pavs but have never made one although they along with Aussie nationality, make a guest appearance on my list of 101 things in 1001 days.
So because I am not yet skilled, organised or Australian enough to share my own Australia Day recipes, I've picked my five favourites from around the web.
Heck, they look good enough to eat any day of the year, in any part of the world for any given reason!
Let's start with  the savoury, shall we?
Check these babies out on Ink and Cleaver. I'm a sucker for a good sausage roll and these  look snag-tastic! Not only is there a great recipe, there's also a timely reminder to play nice, peeps ,and be good to each other, not just on Australia Day but every day. Kindness matters y'know.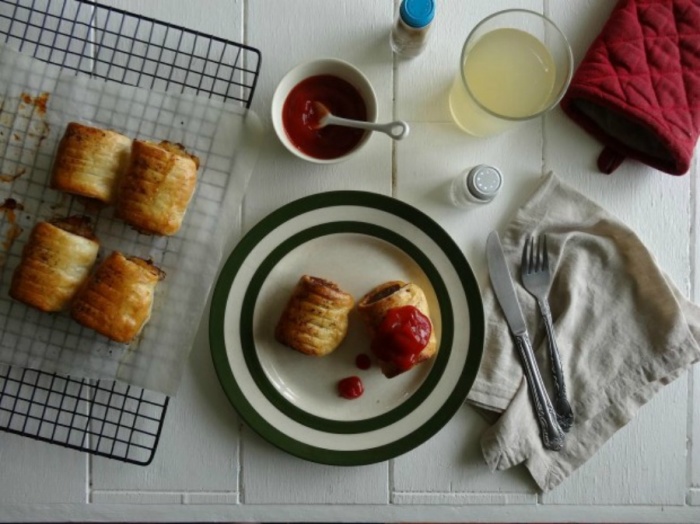 Barbecues are as quintessentially Australian as a kangaroo and a koala, and potato salads are always my favourite sides. I have a very one sided love affair with carbs, I really love them, and I eat them with wild abandon even though they don't love me back.
I love both of these salads and they're oh, so similar, with a bounty of bacon and an abundance of deliciousness.
The main difference is that you can make the lovely Lucy's salad on the stove,  (check it out here at Bake Play Smile)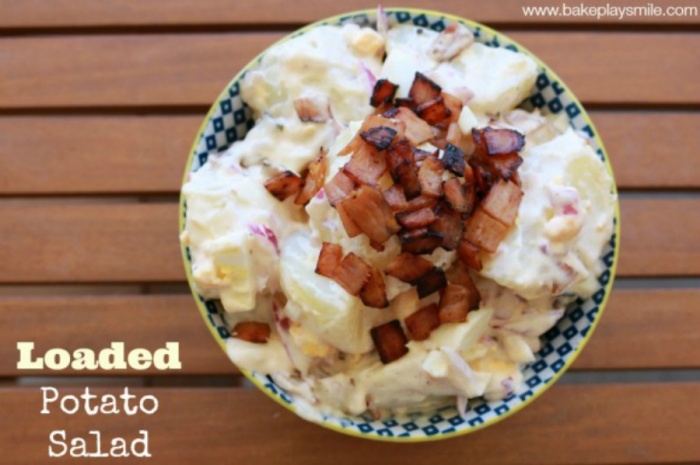 … and you can make Karin's in the Thermomix. This Calm to Conniption  version is a twist on my all time favourite potato salad. It's spud-abulous I tell you!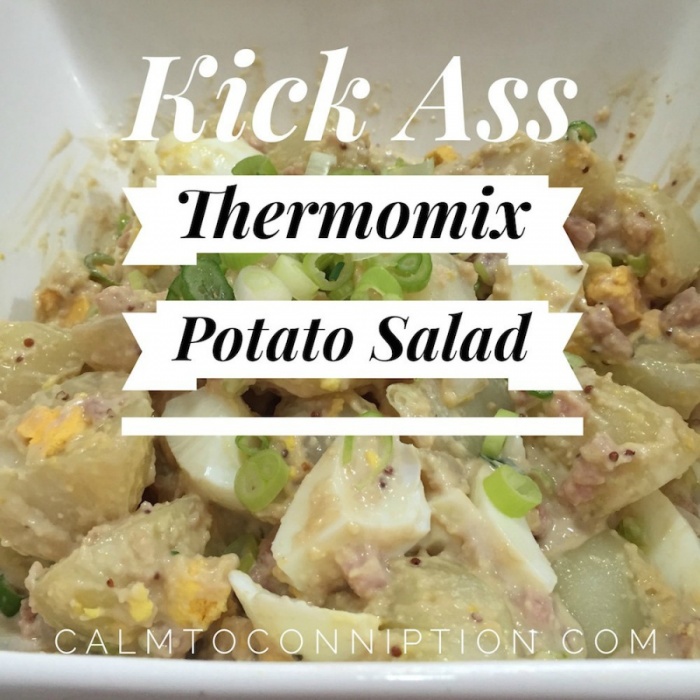 I'm still salivating over Nicole's Aussie Slutty Brownies. I'm perfecting the Thermomix version at the moment, but in the meantime, do yourself a favour and check out the original recipe on Champagne and Chips. It's about as Australian as it gets with an ANZAC biscuit base, Tim Tam middle and a Brownie on the top. Be still my beating heart and take me to chocolate heaven!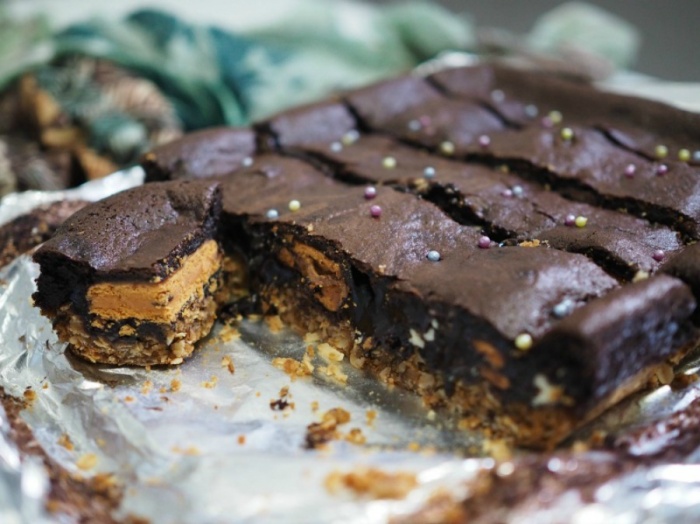 Love, love, love this magic Lamington Ice Cream Cake from Zamamabakes. This is my kind of chilling out. Love me a make ahead, super cool dessert, don't you?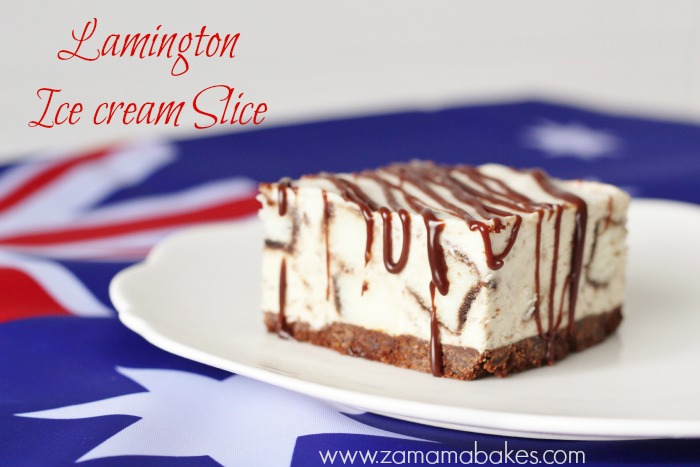 I totally think I need to make a pav, just in case they ask me for the recipe in my Citizenship Test. Yes, pavlovas are that Australian. I know which pavlova I'm going to make when I'm brave enough to beat my egg whites into submission…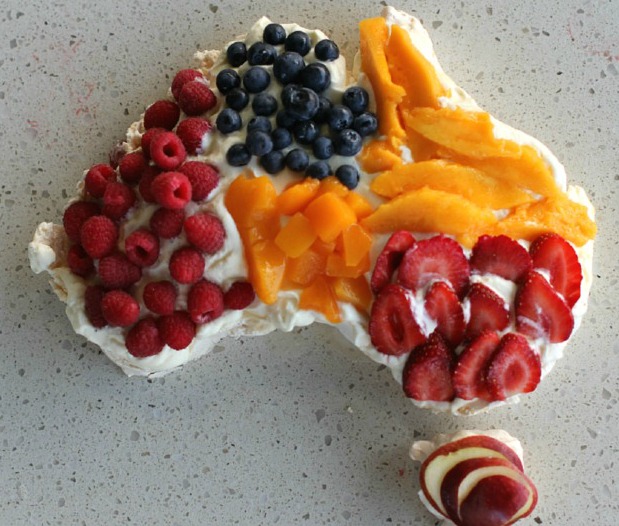 …this one! Amanda from A Cooker and A Looker is quite the clever cook, she's made a template for an Australia shaped pav. It's positively pav-tastic!
Have you got any secret tricks and cunning plans for Australia Day? Do you have an Aussie speciality that you whip up for this oz-picious occasion? Which of these fab five can I tempt you with?