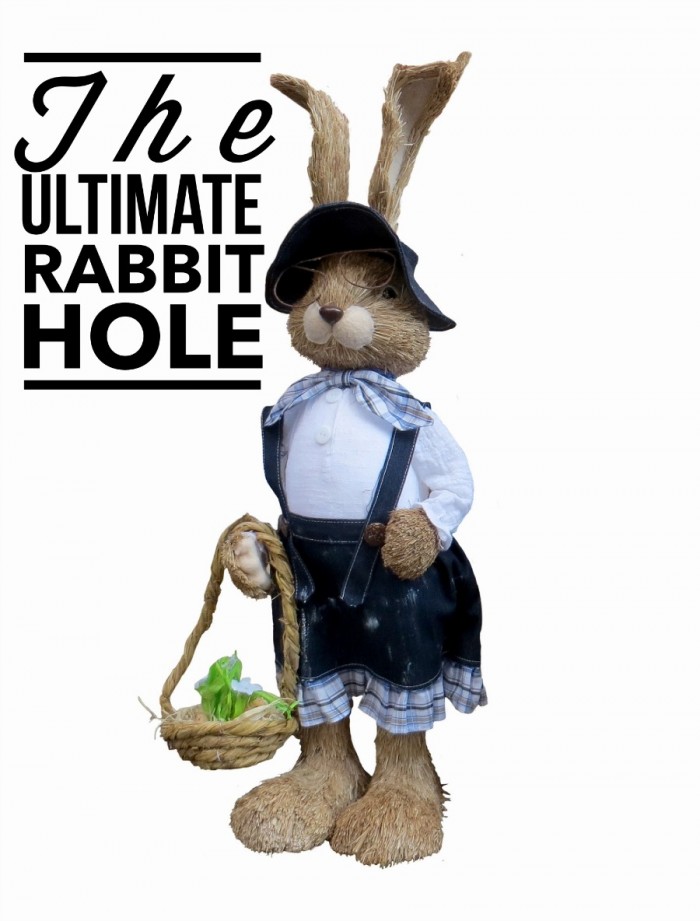 I hope your Easter was eggcellent and that you enjoyed every last moment of the long weekend eggstravaganza. I ate my body weight in chocolate eggs and burning those surplus calories off could turn out to be my life's work. My friend (also) Sam used to say to me, "a minute on the lips, a lifetime on the hips." Never was a truer word said in jest!
Can you believe we're up to The Ultimate Rabbit Hole v.13. That might be unlucky for some but not for you, or for me, because I found some absolute crackers around the interwebs this week.
While we're on the subject of chocolate, in the unlikely event that you have any leftovers you should totally upcycle it and make your very own chocolate bars. Willy Wonka would be proud!
This time 3 years, 6 months and 1 day ago, I was lying in a hospital bed looking like an extra in a Sweeny Todd movie. It was the morning after the night before of my total thyroidectomy. Every day that comes between me and cancer is a good day, but a Cancerversary is always a time to reflect on the experience and how far we've come. Lisa wrote a beautiful guest post and shared some wonderful ways that you can support carers and loved ones after a cancer diagnosis, and similarly, I loved this article that shares  so many ways to make the day of someone with cancer, or for that matter, make the day of anyone who is  going through an el crappo time. I know first hand that so many of these relatively small acts of kindness can make a massive difference to someone who is doing it tough. Thank you for my friends!
When I was little my uncle used to love colouring in and he was super good at it too. We kids thought he was a bit cray cray, but really he was just ahead of his time. It turns out that adult colouring in is totally a thing! And a thing that eases stress, sparks creativity and makes headlines! If you don't want to commit your colouring to a whole book, you might want to try your hand at these adult colouring in printables. Ready, set colour!
Next week I'm going to Little Blog Big with Christina and Carly. I'm simultaneously in the grip of ridiculous excitement and FODP, yes, that old chestnut, but I'm going to follow this advice and rock that blog event. I might have to revisit this one multiple times before Problogger in August! Eeeep!
I love Jamie Oliver but I wish he'd been around when I ate school dinners. Once when I was in Mrs Munday's class (circa 1977) and tucking into my school dinner, a worm came out of my liver and gravy like a snake enticed by a snake charmer. You won't be surprised to learn that that was the last day I ever ate a school dinner. My stomach still churns just thinking about it. However, my mum's old primary school seems to have gone and got themselves a celebrity chef and turned a culinary corner. My mum assures me that her school dinners looked nothing like this. School dinners… you've come a long way, baby! I'm terrible with numbers but I'm determined to work out the quantities to make that fish finger recipe serve 2!
So tell me, how was your Feaster? Do you have any leftover Feaster chocolate? For realz? Have you tried your hand at adult colouring? Did you tuck into a school dinner back in the day? 
Here's how  The Ultimate Rabbit Hole works:
Every Saturday morning, we will open up the rabbit hole link up for bloggers to add their link list posts or even just their favourite post (if you are not of the link list kind) for the week.  Do try and pop along to say howdee to some of  the other lovely linkers. Link up here, over at Calm to Conniption, A Little Part of the World or Our Urban Box. It doesn't matter where you add your link because it will appear on all four blogs, as if by magic!  The link up will stay open until midnight the following Monday.
Be a smarty and join this linky party!
Loading InLinkz ...