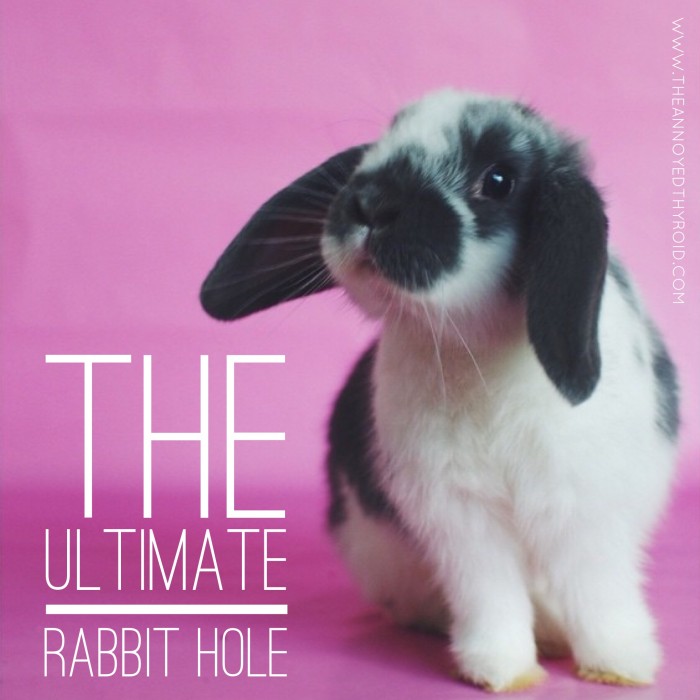 Hello peeps! Happy Satur-yay! Let me introduce you to adorable Ellie. She's the bunny child of Babs,  the creative genius behind  Patchwork Cactus. You should totally go and check out the blog if not for the bunny pictures, then go for the nutella-filled-donuts! I got my cake pop machine yesterday so I see a nutella-fest in my future. Be sure to check out how to pimp your flowers while you're there, won't you?
Now, I love checking out other people's pets, so if you know someone with a cute bunny who deserves a shout out or a feature image down the hole, please let me know. It's much more fun to feature pets we know and love than any old random rabbit, don't you think? Anyways, let's hop to it shall we? I've got so much to share with you this week!
Birthday season (and Christmas in July) is fast approaching and it's going to be full on. David, my mum and I all have birthdays within a week of each other, so that's a lot of celebrating. That's also a lot of cake. Every year I try to push my baking boundaries and produce something cake-tastic for David's birthday. There was that one time I made that Malteser Cake, and last year it was (Kit) Kat-tastic. This year, I  can't decide, there are just so many awesome cakes to choose from. Praise be for these top tips. I think David should be like the Queen and have multiple birthdays and then I won't have to leave it a year inbetween my baking bonanza.
This year me and my mum will be celebrating our birthdays together for the first time in like forever. Cue more cake. This visit is all about mum time and cake time but next time I'm back in the mother country and in the capital, I totally want to take this mini tour of London. I've been away so long, I've forgotten what my home town looks like and what better way to see it from a mini cooper! And if you prefer to DIY, here are 13 things to do in London in Summer. I won't have time to do everything on this list while I'm home, but I'll give it a good go!
If you missed the giveaway on the blog this week, you can find it here (it's not too late to enter, after all you have to be in it to win it.) It's all about taking control of your health and taking care of yourself. Do you know if I hadn't gone to the doctor for a persistent headache, and I hadn't gone for that ultrasound, they would never have picked up the teeny tiny lump on my thyroid, and I would probably be dead by now. True story.  That's why this post really resonated with me. It's the most important post Julie has ever written and it's probably the most important post I'll ever share. Please if you only read one of my links this week, let it be this one.
While we're on the subject of wellbeing, I loved the idea that life really does begin at 40, especially for women. From a personal point of view, I've never been more confident, self assured or smashed so many goals, as I have since I've been 40. This article features three women who have become faster, stronger and smarter since they hit the big four oh, and you might recognise Stephanie, my now very famous (and very fast) friend!
If you want to know the secret to a good relationship, never fear, Dr Sash is here and she spills all the beans. I think relationships are like most things in life, the more you put in, the more you get out.
We're still working on our sleep hygiene, you know going to bed and getting up at the same time every day, but it's kind of a work in progress. This post reminded me of why sleep is so important  and why sleep hygeine is such a healthy habit. Bring on the quality zzzzs!
And of course, I can't let a winter week go by without a reference to a slow cooker so here are 7 Top Tips for sensational slow cooking. Bonza!
What do you think is the secret to a good relationship? Have you got any cracking cake making tips for me? Have you ever been on a sightseeing tour? How's your sleep hygiene? Tell me everything! Oh, and have yourself a very merry weekend! See you on the other side!
Here's how  The Ultimate Rabbit Hole works:
Every Saturday morning, we will open up the rabbit hole link up for bloggers to add their link list posts or even just their favourite post (if you are not of the link list kind) for the week.  Do try and pop along to say howdee to some of  the other lovely linkers. Link up here, over at Calm to Conniption, A Little Part of the World or My2Morrows. It doesn't matter where you add your link because it will appear on all four blogs, as if by magic!  The link up will stay open until midnight the following Monday.
Be a smarty and join this linky party!
Loading InLinkz ...