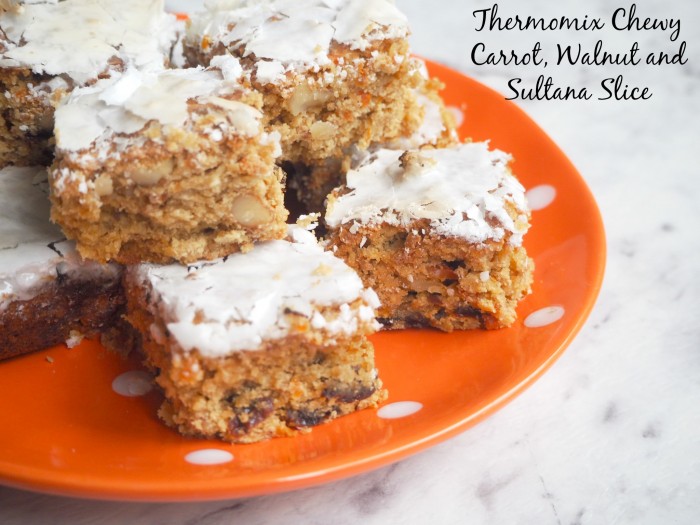 Makes 24 squares
I first made this slice a couple of years ago, the good old fashioned way and posted this recipe. I was keen as mustard to try it out in the Thermomix, and I am happy to report that it's as quick to make and delicious to eat as ever. There's something about the moist chewiness of the oats, the crunch of the nuts and the juiciness of the sultanas that sends people wild! And don't get me started on how much peeps love the lemon icing, they say it was the tops!
Ingredients
125g butter
220g brown sugar
1 egg
135g rolled oats
50g walnuts, roughly chopped
50g sultanas
1 medium carrot, roughly chopped
110g plain flour
35g self-raising flour
LEMON GLAZE
160g pure icing sugar
1 egg white
1 tablespoon lemon juice
How to
Preheat oven to 180 F/350 F. Grease 20cm x 30 cm  rectangular pan, line the base and long sides with baking paper, extending paper 5cm (2 inches) over sides.
Grate carrot for 4 seconds on speed 5. Set aside.
Melt butter for 2 minutes at 70 degrees on speed 2.
Add the sugar egg, oats, and flour to the melted butter in the TM bowl and mix for 1 minute on interval speed.
Add the carrots, nuts and sultanas and mix for 20 seconds on reverse speed 3, using the spatula to assist.
Spread the mixture into pan and bake for about 30 minutes.
Meanwhile make lemon glaze. Add the icing sugar, lemon juice and egg white to the TM bowl and mix for 20 seconds  on speed 4.
Drizzle glaze over hot slice and bake for another 5 minutes or until  the glaze forms a crust. Cool slice in pan before cutting.
 Other info
Prep and Cooking time: 40  minutes
To store…  Store slice in an airtight container for up to 4 days.