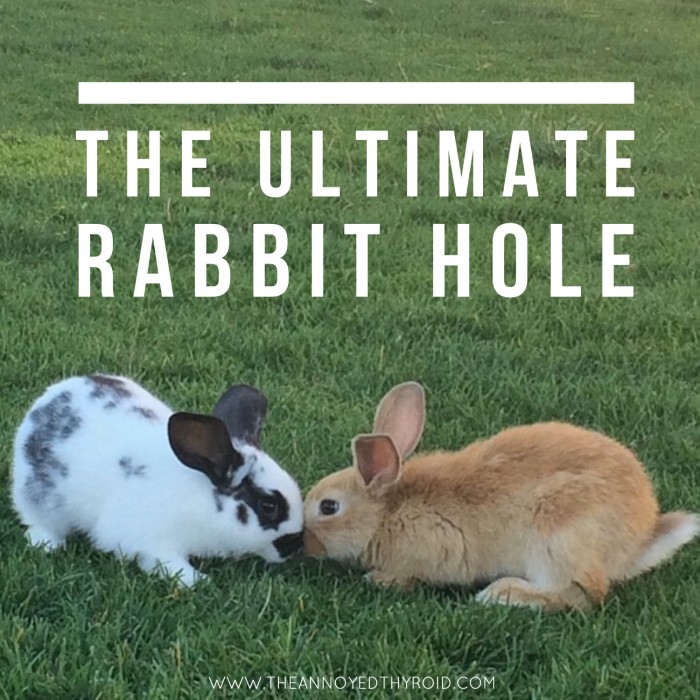 Greetings from the mother country! I spent the first part of the week living out my own version of planes,  trains and automobiles and I've spent the latter part, shopping up a storm, eating a lot of cake and enjoying the birthday bonhomie. It's my mum's birthday today, Happy Birthday Mum!
Can I just introduce you to  Oreo (on the left)  and Bubbles (on the right) who are sisters from the States and you can follow along with their hoppy adventures on Instagram where you will find  more cute bunny pics than you can shake a stick at.
Now that David's birthday cake is done and dusted and every last crumb has been consumed, I'm already thinking about what to make next year. I'm think this donut cake is a hot contender for Birthday Festival 2016! In case you're wondering, I whipped up my mum's favourite for her birthday, it's going to be caketastic, even without my trusty Thermomix to help me along!
Talking of donuts, I discovered Grumpy Donuts a hand-crafted donut delivery service. A donut delivery service, can you think of anything more delicious? The range of flavours is so mind bogglingly good, I don't know where to start.
The internet gets a bad rap sometimes, so that's why it's important to remember that there are people out there doing good things. Really  good things and Brandon from HONY is one of them.
Seeing as I'm overseas and currently operating with my UK iphone and it's Aussie cousin, I am totally loving these iphone tips sick! Number 1 and number 3 are just genius!
I'm not tech savvy but I'm loving this list of must have techcessories. They'll make me look and feel like a techspert in no time! I already have a portable power bank and it's saved my bacon (and my battery) more times than I can remember.
While we're on the subject of  genius, let's move from the technical to the kitchen variety. These hacks will save your food, your time and your sanity.
Talking of sanity, life can get very busy and as a result people can get very overwhelmed.  Here's how to cope with overwhelm like a boss.
Talking of overwhelm… I love saying yes and although I'm getting better at saying no I haven't yet mastered the art . This article will see you right and explains how to say no like a ninja. Be sure to check out the tree diagram at the end, it's pure gold…
And if life keeps giving you lemons, try these terrific tips, but if all else fails, make a lemon cake, maybe one like this?
That's a lot of self help in them there posts I know, but they were so good, I couldn't help myself (excuse the pun!) I just had to share. Anyway peeps, that's all I have time for this week, so I shall love you and leave you and wish you a wonderful weekend. See you on the other side!
So, do you have a techcessory that you can't live without? Which donut would you choose? If you could have anything delivered to your home, what would it be? Have you mastered the art of saying no? And what do you do when life gives you lemons?
Every Saturday morning, we will open up the rabbit hole link up for bloggers to add their link list posts or even just their favourite post (if you are not of the link list kind) for the week.  Do try and pop along to say howdee to some of  the other lovely linkers. Link up here, over at Calm to Conniption, A Little Part of the World or My2Morrows. It doesn't matter where you add your link because it will appear on all four blogs, as if by magic!  The link up will stay open until midnight the following Monday.
Be a smarty and join this linky party!
Loading InLinkz ...