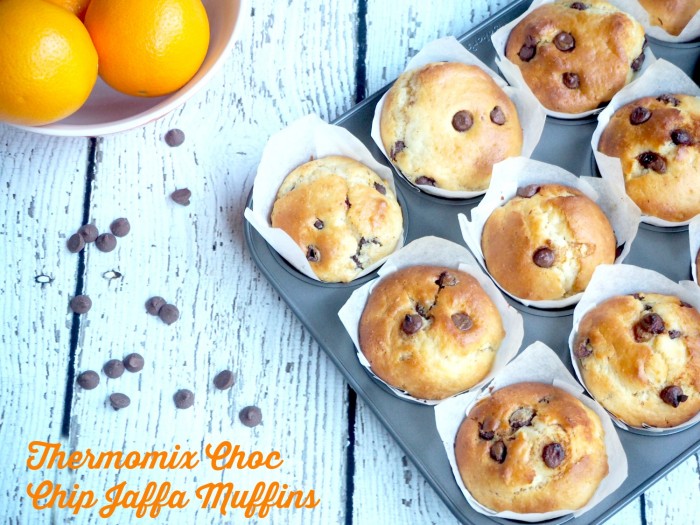 Chocolate and orange are one of my favourite flavour combos and these muffins are orangey-boom! Everyone is going to be a-loving these muffins! If you haven't got a Thermomix, I have got a traditional recipe for you, it's right here.
Ingredients
375g self-raising flour
100g cold butter, chopped finely
220g raw sugar
310g buttermilk
1 egg
135g dark choc chips (plus a few extra for sprinkling)
rind of one orange
How to
Preheat oven to 200C / 180 C fan-forced.  Line a 12 hole muffin pan with paper cases.
Place orange rind into TM bowl and grate for 10 seconds  on speed 8.
Add the sugar to the TM bowl and mill for 10 seconds  on speed 9. Set the orange rind and sugar aside.
Place the flour and the butter to the TM bowl and mix for 5 seconds  on speed 8 until it looks like breadcrumbs.
Add the sugar, orange rind, buttermilk and egg and mix for 10 seconds  on speed 6. Scrape down sides of the bowl with the spatula. If necessary, combine any unmixed ingredients with the spatula. The mixture should be lumpy and quite think. Remember, the lumpier the mixture the better.
Add the choc chips and mix for 10 seconds on speed 4. 
Divide mixture into paper cases and sprinkle with the extra choc chips.
Bake for about 20 minutes or until golden. Stand muffins in pan 5 minutes before removing to a  wire rack to cool.
TIP!
If you don't have any buttermilk to hand, don't worry! Simply  add a tablespoon of lemon juice to regular milk, leave it for a few minutes and then proceed as per the recipe!