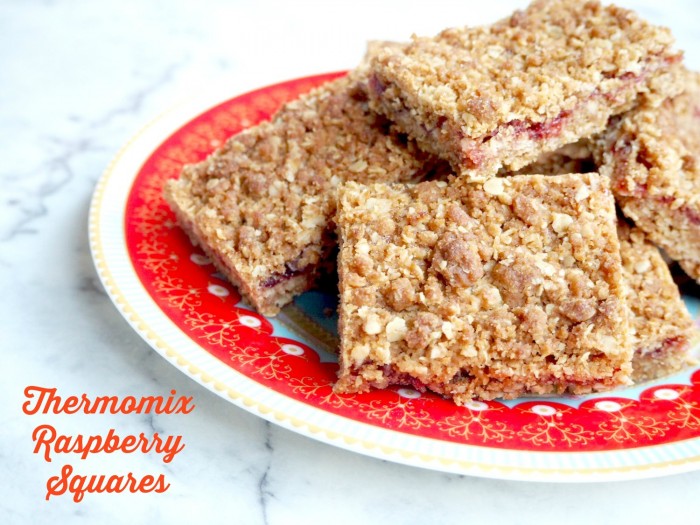 Makes 24 squares
I was an enthusiastic baker long before I got my Thermomix, but now that I have one, I take enormous pleasure in converting my favourite recipes, and this one is no exception. This slice is super easy with or without a Thermomix, and if you prefer to use a bowl and spoon you can find the traditional recipe here. Whichever way you make this, I promise it will always taste truly delicious!
Ingredients
200g quick oats
220g brown sugar
150g plain flour
1 teaspoon baking powder
185g unsalted butter
240g raspberry jam
How to
Preheat oven to 180C/160C fan-forced.  Lightly grease a 20cm x 30cm lamington tin and line with baking paper.
Add oats, sugar, flour and baking powder to TM bowl. Mix on 4 seconds on speed 4. Set aside.
Put the butter into TM bowl and melt for 2 minutes at 90C on speed 2. Check butter has melted.
Add oat mixture to melted butter and mix for 1 minute on interval speed.
Use the spatula to remove half the mixture and use your hands to press it into the tin. Spread with a layer of  jam and crumble over the remaining mixture and bake for 25-30 minutes or until golden brown.
Remove from the oven and cool in the tin before cutting into squares.
Other info
Prep and Cooking time: 35 minutes