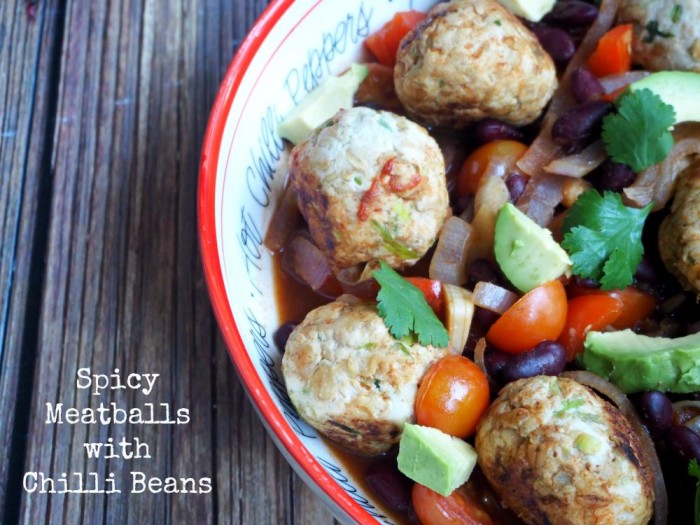 Serves 4
Turkey mince is a great alternative to it's beefy cousin and this dish of Mexi-goodness is just amazeballs! It's as tasty as it is colourful, and it freezes well too. It's stand alone delicious, but  it also goes great with rice or even with a side of tortillas and sour cream!
Ingredients
FOR THE SPICY BEANS
1 red onion, finely sliced
2 garlic cloves, finely sliced
1 red capsicum, deseeded and diced
1 teaspoon ground cumin
2-3 teaspoons chipotle sauce
200g cherry tomatoes
400g can red kidney beans, drained
300ml chicken stock
1 avocado, stoned, peeled and chopped
juice 1/2 lime
FOR THE MEATBALLS
500g turkey mince
50g rolled oats
2 spring onions, chopped finely
1 teaspoon each ground cumin and coriander
1½ tablespoon chipotle paste
1 tablespoon tomato paste
1 tablespoon olive oil
Small bunch coriander, stalks and leaves kept separate
How to
To make the meatballs, chop the coriander stalks finely. Place the mince, oats, spices, spring onions and chopped coriander stalks in a bowl. Season. Using your hands, lightly knead the mixture to combine. Roll into 12 ping-pong-sized-balls.
Heat the oil in a large non-stick frying pan. Add the meatballs and cook, turning frequently until golden and brown all over. Remove from the pan.
Put the garlic, red onion and capsicum into the same pan and stir-fry until softened. Stir in the cumin, tomato paste and chipotle sauce, and then pour in the stock. Return the meatballs to the pan and cook covered over a low heat for about 10 minutes.
Stir in the cherry tomatoes and beans and simmer uncovered for another  10 minutes, until the sauce has thickened and the meatballs are cooked through.
Toss the avocado chunks in the lime juice and serve the meatballs topped with avo chunks and coriander leaves.
 Other info
Prep time: 20 minutes  Cooking Time: 30 minutes
TIP!
This dish is freezer friendly without the avocado.
You can heat this dish up or cool it down by simply increasing the amount of chilli sauce used, and if you don't have chipotle to hand, substitute with your Mexican chilli sauce of choice!