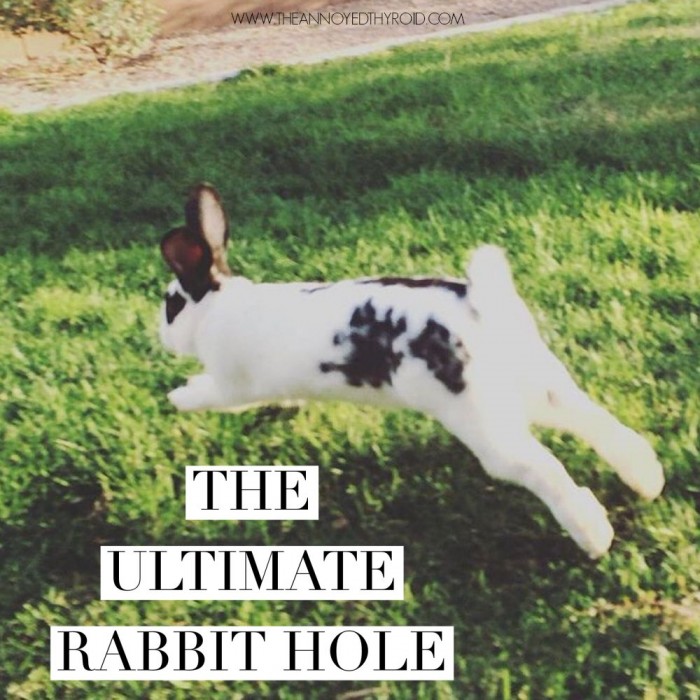 Hello friends! Happy Satur-yay! If you were to give your week a score out of 1-10, what would it be? I think mine would be a great eight. I got stuff done, had lots of fun and finally dusted off my counselling books. Anyways, Oreo Bunny and I are ready to hop on down into the Rabbit Hole, why don't you join us?
Here in the southern hemisphere, we're so close to summer I can almost taste it, so to celebrate National Pasta Day why not whip up one of these 21 summer pasta dishes, I promise you will be spoilt for choice.
Now I make no secret of my obsession with National Food Holidays and how keen I am to celebrate them, and if you share my enthusiasm, you might want to mark these dates on your calendar for the month of October. Forget the whole 30, this is the whole 31!
I learned everything I know about making scrambled eggs at McDonalds where I worked when I was at uni. My scrambled eggs are the business, but my poached eggs leave a little to be desired. Soon, I'll be making poached eggs like a boss with this simple kitchen hack. There are no prizes for guessing what we're having for breakfast this weekend.
Talking of prizes, please indulge me in a shameless spot of self promotion, because in case you missed it, I've got a giveaway going on and there are two fantabulous colouring books up for grabs. Colouring is good for you for so many reasons, one of which is that it helps us exercise mindfulness.
Now don't be confused between mindfulness and mind full-ness, they are not the same things at all. If you have a busy brain like me, here are some great tips on how to spring clean your head space.
If colouring in pictures or clearing out your brain doesn't do it for you, here are 12 simple ways to relieve stress without even getting out of your chair! Winning!
If you still feel a bit under par and are keen to feel a bit more chipper, check out these 16 ways to feel better in 5 minutes.
Do check out this lemon graphic because it could literally save your life. Checking your boobs is life saving work and this will have you boob checking like a boss. Self breast examinations are where it's at, ladies. Let's do it!
I'm forever trying to fine tune my morning routine, so if like me you need some help finding your groove every morning then you need these magic morning tips for starting your day right. They're so simple, but so smart – even I can do them!
I collect cookie cutters and I am overjoyed when I get something to add to the collection (FYI I'm trying to build up a collection to rival Nigella's) so I totally get people who want to collect all the things. Even little kids who want to collect a million (yes, you totally read that right) bread tags for a school project. Can you help them reach their goal?
Last week the Tutu Project stole my heart and this week it was a photography project that helps kids with disabilities see their inner superhero.  I think we all have a superhero inside of us, we just need to let it come out.
If you've got a good kitchen hack, please share, there's no such thing as too many hacks! Do you collect anything? What do you do to feel better fast? Who's your inner superhero? Hope your weekend is full of good stuff!
Every Saturday morning, we will open up the rabbit hole link up for bloggers to add their link list posts or even just their favourite post (if you are not of the link list kind) for the week.  Do try and pop along to say howdee to some of  the other lovely linkers. Link up here, over at Calm to Conniption, A Little Part of the World or My2Morrows. It doesn't matter where you add your link because it will appear on all four blogs, as if by magic!  The link up will stay open until midnight the following Monday.
Be a smarty and join this linky party!
Loading InLinkz ...