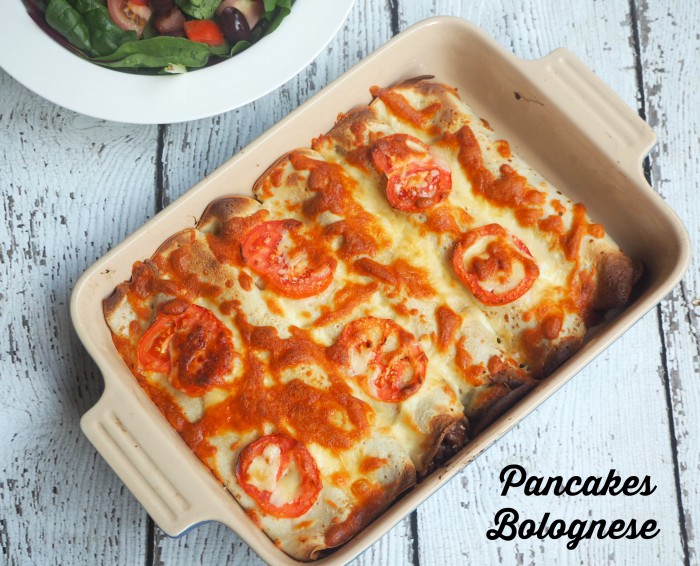 Makes 8 large pancakes
These savoury pancakes are a delicioius way to use up left over bolognese.
Pancake Day is always an after thought in this house. I always think about it but not til after the event. This year was different though, I got my pancake on, but just not in time to share the recipe with you! Anyways, these pancakes are delicious every day of the year.
They are also one of our favourite ways to upcycle Bolognese sauce, which I always have a secret stash of in the freezer. Of course, here I've included my favourite Bolognese recipe, but you can just as easily use your own, and even better use leftovers. This dish works best if both the pancakes and the Bolognese have been made ahead.
Do you like your pancakes sweet or savoury? Do you celebrate Pancake Day?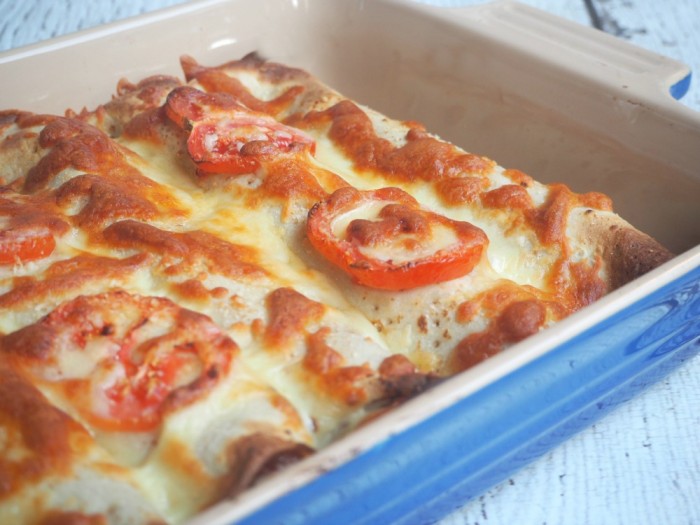 Ingredients – For the Pancakes
250g plain flour
2 eggs
500g milk
1 tablespoon sunflower oil (or other neutral oil)
1/4 teaspoon salt
Ingredients – For the Bolognese
1 medium onion, finely chopped
2 garlic cloves, crushed
500g mince beef
1 x 400g can chopped tomatoes
2 tablespoons tomato puree
1 1/2 tablespoons balsamic vinegar
1 beef stock cube
50g parmesan cheese, finely grated
1 tomato, finely sliced
80g pizza cheese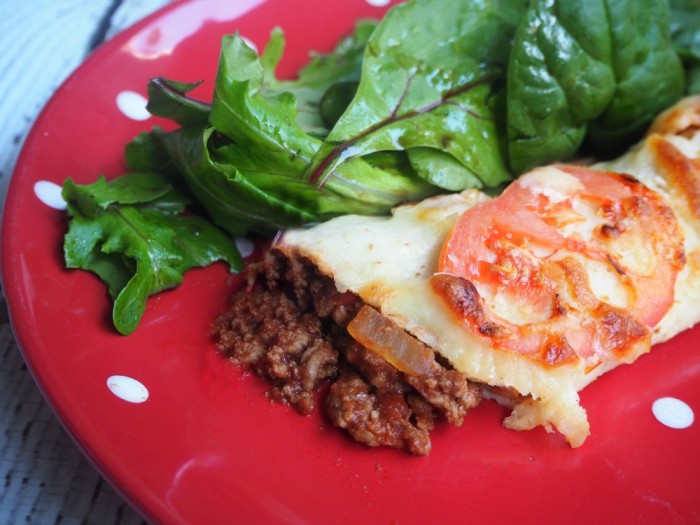 How to – For the Pancakes
1. Make the pancake batter at least an hour before to give it time to rest.
With a Thermomix – put all the pancake ingredients into the TM bowl and mix for 2o seconds on speed 6. Transfer to a bowl, cover and put into the fridge.
Without a Thermomix – sift the flour and salt into a large bowl. Whisk together the eggs, milk and oil in a separate bowl and slowly add to the dry ingredient. Whisk together until smooth. Cover and put into the fridge.
2. When ready to cook, heat an omelette or pancake pan until hot and drizzle in a small amount of oil and tip the pan to swirl it around. Pour a ladle full of batter into the pan and cook for about 30 seconds to a minute on the first side (just until the underside is golden) and then carefully flip with a pallet knife. Cook the other side for about another 20 seconds. Tilt the pancake out onto a plate and repeat.
How to – For the Bolognese
1. Heat the oil in a saucepan and cook onion for 3-4 minutes, until softened. Stir in the garlic and cook for 1 minute and then add the mince and cook until browned.
3. Stir in the tomatoes, tomato paste, balsamic vinegar and crumble in the stock cube. Bring to the boil, turn down to a simmer, put the lid on the pan and cook for about 20 minutes, stirring occasionally.
How to – Assemble the Pancakes
1. Preheat oven to 200C/180C fan forced.
2. Take a pancake and place bolognese from top to bottom in the centre of the pancake. Sprinkle with a tablespoon of parmesan, roll up the pancake and place seam side down in a rectangular ovenproof dish.
3. Repeat with the other 7 pancakes. Top every other pancake with 2 slices of tomato, and sprinkle with any remaining parmesan and the pizza cheese.
4. Bake in the oven for about 15 minutes, until cheese is melted and golden and the meat sauce is cooked through.
Other info
Prep time: 10 minutes Cooking time: 50 minutes (plus resting time for the batter.)