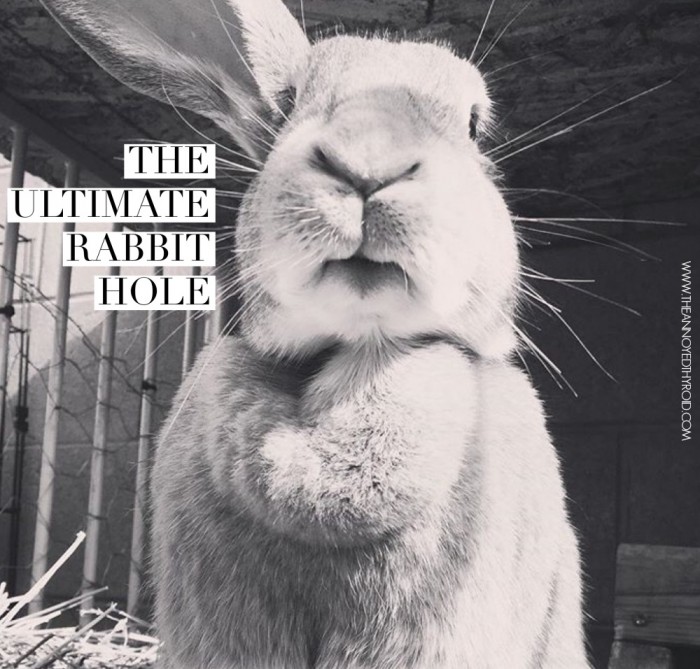 Greetings from the Mother Country. I made it! It was an epic voyage of planes, trains and automobiles but it was totally worth it. Now let's hop to it and see what's happening down the round the world Rabbit Hole, shall we?
Today is National Strawberries and Cream Day – how quintessentially British! These Strawberry Shortcake Trifles looks as pretty as a picture but I've got my eye on this No Bake Chocolate Strawberry and Cream Pie, although Elvis Presley's Strawberry Layer Cake  just like it's namesake looks to be the King (of the cake department anyway!)
Breakfast is by far my favourite meal of the day. I am one of those weirdos who can eat anything for breakfast from salad to cereal, from pancakes to burgers and I've always taken my mum at her word; she used to tell me that I should have a king's breakfast, a prince's lunch and a pauper's supper. However, porridge is my new favourite thing and I've been topping it with homemade fruit compote, but I'm loving the look of this make ahead DIY fruit and nut topping – think of all that value added crunch! I'm also a huge fan of overnight oats so I can't wait to try this apple pie version and check out some other new ways with this old oaty classic.
Still on my favourite subject of food, did you see those 20 funniest food tweets? Number four is me to a tee!
Flowers are another one of my favourite things. I try to buy some blooms every week because flowers make my heart happy. I am more of a flower dumper than a flower arranger so these ideas for simple flower arrangements you can do yourself will come in very handy! If you are a fan of flowers that enjoy everlasting life, check out these  artificial blooms and beautifully fake it.  No one will know, it can be our little secret! I'm a serial plant killer from way back, so I'm happy to know that there are fail safe plants that are hard to kill. Our flat is on the dark side, so I'm bookmarking these indoor plants for dark corners. Fail safe maybe, but Sam safe? Watch this space!
If you want some wow factor on your Instagram, Sarah not only tells you how, but shows you how, so you can have a creative instagram account too! Keeping with all things technical, check out these 15 most useful Google Apps you never knew existed. Well, I didn't know they existed, did you?
Sleep hygiene is a big priority in our house and the importance of a tech free bedroom is not to be underestimated. Our tech free bedroom is a work in progress, but we're already feeling the benefits.
Talking of all things important, it's Kidney Health Week from the 22nd – 28th May and be sure to check out Em's heartfelt reminder to #kidney check and while you're at it, check out any other body part that doesn't feel quite right. It's better to be safe than sorry, it really is. Your health matters.
I thought I was obsessed with Disneyland but I've still got quite a way to go before I tick off all the 18 signs that you're obsessed with Disneyland although I'm a big believer in number 18.
And lastly, I loved these 6 empowering quotes that will make you glad you're a woman. Here's to girl power… And a great weekend!
Tell me all the things! Do you eat breakfast like a king? What's on your morning menu? Have you got a tech free bedroom? What's your favourite app? Are you a fan of fresh flowers? Have you ever been to Disneyland? What secret tricks and cunning plans do you have in store this weekend?
Every Saturday morning, we will open up the rabbit hole link up for bloggers to add their link list posts or even just their favourite post (if you are not of the link list kind) for the week. Please link only one post. This makes it fair for everyone and allows more posts to be read. Talking of reading, do try and pop along to say howdee to some of  the other lovely linkers. Link up here, over at Calm to Conniption or My2Morrows. It doesn't matter where you add your link because it will appear on all three blogs, as if by magic!  The link up will stay open until midnight the following Monday.
Loading InLinkz ...