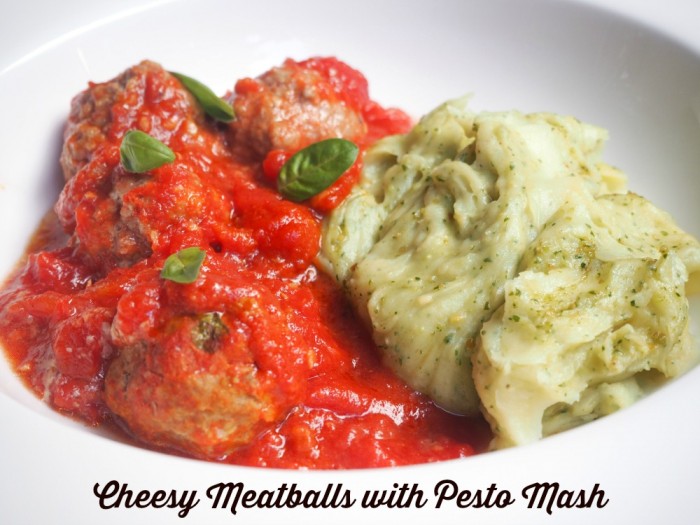 Serves 4
This is the ultimate comfort food. Delicious cheesy meatballs served up with a side of creamy pesto mash.
Remember that one time when Luce gave me that jar of pesto and I made those delicious savoury muffins? Well, then she gave me some more of that pesto-y goodness and I was intent on dreaming up more ways to use it. Let's just say this pesto mash was one of my favourites! Now I know it looks like there's a long list of ingredients, and lots of steps but this recipe is really super simple and the best thing? Everything is made from scratch! The sauce takes minutes to prepare, as do the meatballs and you can make the mash on the stove or in the Thermomix, the choice is yours!
I know this may not be the prettiest of dinners, but it's one of the most comforting with the creamy pesto mash, rich tomato sauce and those cheesy balls! It's just mash-tastic!
Ingredients
FOR THE SAUCE
1 tablespoon olive oil
2 cloves garlic, crushed
1/4 teaspoon dried chilli flakes
2 x 400g tins chopped tomatoes
2 tablespoons tomato paste
1/2 teaspoon sugar
dash of balsamic vinegar
1 sprig of basil leaves
1 tablespoons basil leaves, roughly chopped, to garnish
FOR THE CHEESY MEATBALLS
500g beef mince
30g fresh breadcrumbs
2 tablespoons basil leaves, chopped
1 egg, beaten
1 tablespoon Worcestershire sauce
25g parmesan cheese, grated
FOR THE PESTO MASH
1kg potatoes, peeled and cut into chunks
150g milk (or 250g if using Thermomix)
2 tablespoons pesto
How to
First make the sauce. Heat the oil in a large non-stick frying pan. Cook the garlic and chilli flakes for about 30 seconds to 1 minute, until fragrant.
Add the chopped tomatoes, tomato paste, balsamic and sugar and bring to simmer. Season with salt and pepper and gently stir through the basil sprig. Let the sauce simmer while you prepare the meatballs.
Meanwhile, make the meatballs. Gently mix breadcrumbs, egg, basil and parmesan cheese in a bowl. Season.
Add the beef mince and use your hands to mix until just combined. Don't overdo it because overmixing makes a tough meatball.
Using slightly wet hands, roll the mixture into 20 walnut-sized meatballs.
Add the meatballs to the sauce, cover and cook for about 20 minutes. If the sauce doesn't cover the meatballs, simply turn them over half way through cooking.
While the meatballs are cooking make the mash.
ON THE STOVE – Boil the potatoes for 10-15 minutess until tender. Drain well, then return to the saucepan over a low heat and mash – leaving the heat on will dry out the potatoes and make the mash lovely and fluffy. Stir in the milk, then gently swirl through the pesto.
IN THE THERMOMIX – place potatoes in TM bowl, add 250g milk, a teaspoon of salt and cook for 20 minutes at 100C on speed 1. Check potatoes are cooked, then insert butterfly, add 20g butter and mix for 20 seconds on speed 4. Remove mash from TM bowl and gently swirl through the pesto with a spoon.
Remove the lid and cook for another 5 or 10 minutes until the meatballs are cooked through.
Scatter torn basil leaves over meatballs and serve with pesto mash
Other info
Prep time: 10 minutes Cooking Time: 30-40 minutes