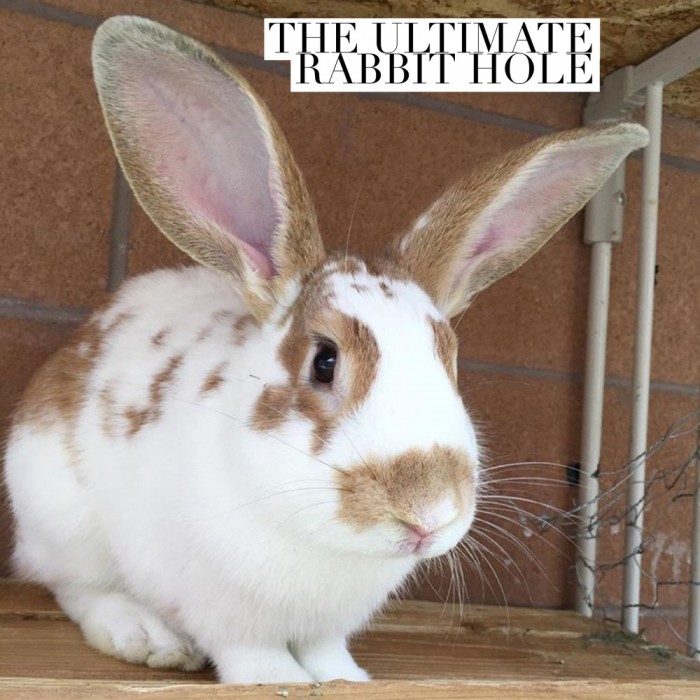 Greetings and welcome to the Rabbit Hole! I've had an action packed week and am looking forward to an action packed weekend but before the fun starts, let's hop on down the rabbit hole! Have I got some cracking links for you!
Tomorrow, June 26 is National Chocolate Pudding day. Now if you like your chocolate pudding cold, as in like yogo, I have you covered with my Thermomix Chocolate Yogo but if you're after something a little different, then how about this twist on an old classic, Double Chocolate Chip Pudding Cookies? Now, I don't know about you, but that's my kind of cookie.
Still, on the subject of chocolate pudding, my Slow Cooker Chocolate Self Saucing Pudding was mentioned as one of 10 superfood slow cooker recipes to keep you warm this winter. Now let's not kid ourselves here, chocolate pudding is not a superfood, but it is a super food and it will definitely keep you warm this winter. It will also  fill you up with delicious. I guarantee it.
I think we might be putting the Christmas tree up this weekend because that's how we roll on the last weekend before July. As both me, David and my mum have birthdays within a week of each other in July, I like to make it a triple celebration. All the birthday presents go under the tree and I am like a kid at Christmas but with thrice the excitement because I love other people's birthdays as much as my own. A 365 day trip around the sun – that's something worth celebrating! Anyways, that's our little family's family tradition. I might have to take a leaf or a photo out of Kristy's book because her anniversary tradition is the cutest. I'm loving her tips on how to create your own family tradition and I'm thinking Sarah's 70 birthday letters as a tablecloth is a tradition everyone will want to keep, if only for special birthdays/occasions.
Was it only last week we were talking about etiquette? These 21 etiquette tips from a royal butler are pure gold. My favourite is number 4, that women can wear a tiara indoors after 6pm. I wore a tiara on my wedding day so I'm looking forward to dusting it off and giving it a new lease of life over dinner each night!
Still on the subject of etiquette, my friend used to teach in China and she told me how wearing your PJs around town was a sign of status. I cannot lie, I do sometimes spend entire days in my PJs (especially my Frozen ones because I love them too much to take them off,) but I have never been out in my jammies, unless going to collect a delivery from the mailman counts as "out." If you're keen to wear your PJs in public, be sure to check out these tips on how to pull of the pajama trend. And when I say pajama trend, I don't think Toy Story and Frozen PJs were what the author had in mind! Too bad!
My feet are always itchy but these days when I travel, I want to do so for the fun of it not because I have to work for it. That said, I loved this list of 20 jobs that let you travel the world. I've actually done two of them!
Oh and let's not forget some puppy love, let's wrap this rabbit hole up with 5 heartwarming stories that prove a dog is man's best friend or woman's best friend come to that too.
Now before I go, I have some good news and bad news. The bad news is that today we have to say goodbye to our trusty co-pilot Shannon, who has decided to step back a little from her blog due to work/family commitments. While I'm snivelling into my tissue, you might want to bob on over and show her one last bit of rabbit hole love. However, where there's yin, there's yang and the good news is that the awesome Paula from the Geeky Shopaholic is going to join us for more rabbit hole adventures. FYI, Paula is like a virtual treasure hunter, all the links she finds are pure GOLD!
Hope your weekend is like my Christmas tree, big, beautiful and full of glitter! Have a good one, peeps!
So tell me, have you got a favourite super food or a favourite slow cooker recipe, or even better, both? Do you have any family traditions? What's your favourite royal etiquette tip? Would you wear PJs in public? Have you ever worked and travelled? What did you do and where did you go? Are you putting your Christmas tree up this weekend? If not, what are you doing instead?!
Every Saturday morning, we will open up the rabbit hole link up for bloggers to add their link list posts or even just their favourite post (if you are not of the link list kind) for the week. Please link only one post. This makes it fair for everyone and allows more posts to be read. Talking of reading, do try and pop along to say howdee to some of  the other lovely linkers. Link up here, over at Calm to Conniption or My2Morrows. It doesn't matter where you add your link because it will appear on all three blogs, as if by magic!  The link up will stay open until midnight the following Monday.
Loading InLinkz ...