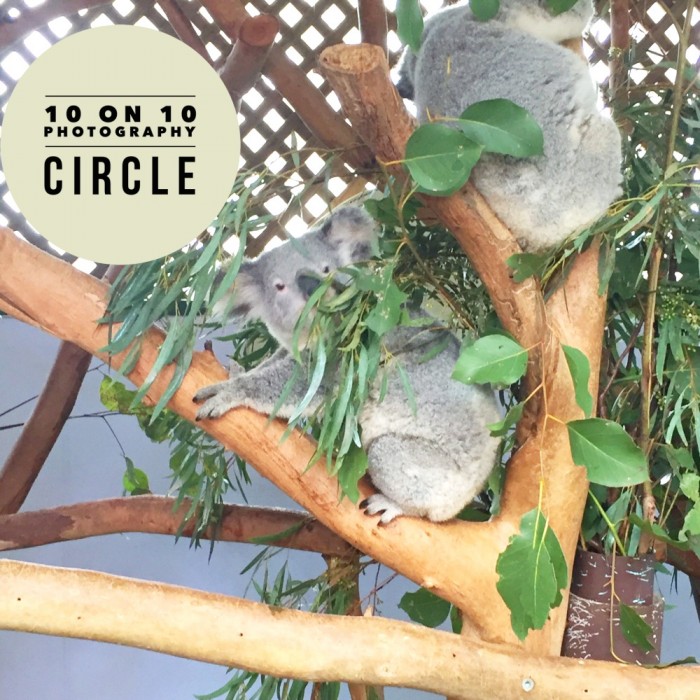 Well, what do you know, it's the 10th of the month already! Of course, that means I'm joining in with this month's Clever Cookie Photography Circle!  I took the photos over a couple of days and with a couple of cameras, and when I say a couple of cameras, that's just fancy talk for my iphone and my big girl's camera. Don't forget, when you've finished checking out my pic picks, be sure to bob on over and say g'day to my mate Jen  and see what she's been snapping. She's from the deep south in the good old US of A and her pictures are always awesome!
There aren't many things in life that are certain, but one thing is for sure, if an interstate or international visitor comes to stay at ours, we're taking them to the Blue Mountains because not only is it close to Sydney it's and it's my spirit place but there are a whole heap of things to see and do.
So when our friend Ria booked her tickets down under, we booked her a trip to the Blue Mountains. We meet Ria at the airport on Tuesday in the rain. It is still raining when we leave for our road trip on Thursday but as we're all from England, it takes more than wet weather to dampen our spirits.
We take full advantage of the 30 minute dry spell to get up close and personal with the Aussie wildlife at Featherdale Wildlife Park. The roos don't want to get their feet wet, not even for a cone of free food, but the koalas are happy to strike a pose, as long as there are eucalyptus leaves involved. Friends,  meet my mate Leo. He's the cutest koala I know!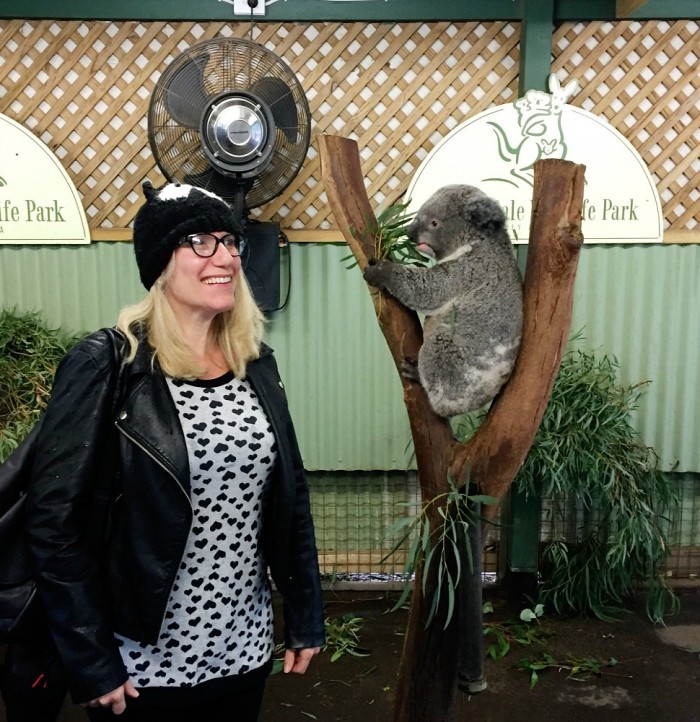 Other favourites are the wombats, dingos, echidnas and check out the Little Penguins. Aren't they the cutest? We are lucky not just that the rain holds off, but because we have the place almost to ourselves, or at least there are so few visitors that's how it seems. Clearly, the combination of midweek, midday and wet weather keeps the ration of  people to animals very low.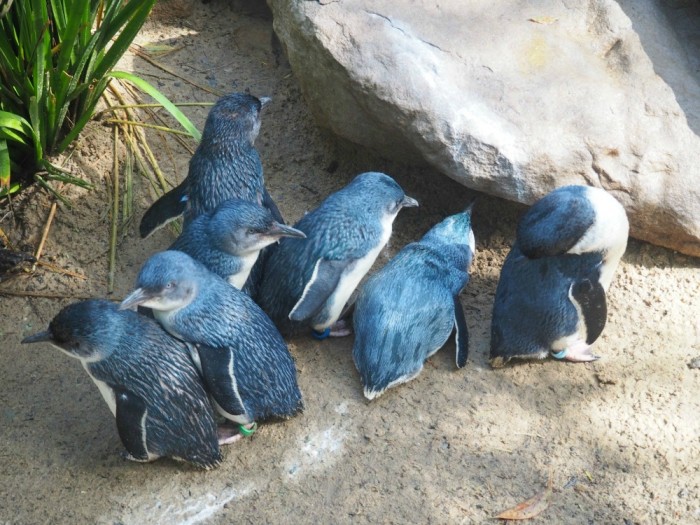 Anyhoo, then we bid farewell to our furry and feathered friends and hot foot it to the mountains. We needn't rush though because there is mist everywhere and the only thing you can see is the end of your nose… if you're lucky.
We usually stay at Shelton Lea when we're in the mountains and there's just two of us, or when we're two couples, but as three is a magic number and as we are in town for one night only, we call Jenchi home for the night. It's an Airbnb gem;  warm, cosy, and contains the perfect mix of treasures from the past and modern convenience. We highly recommend it.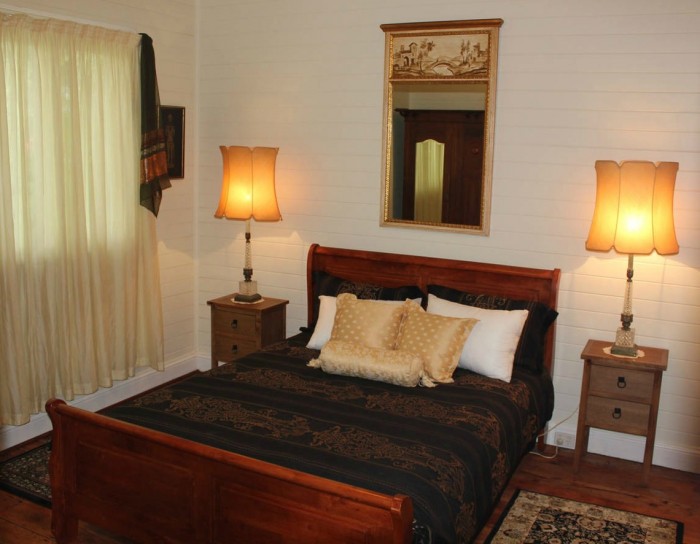 We brace the cold and head to Avalon for dinner. It's the restaurant that has more quirk than you can shake a stick at and  where the food never fails to disappoint. I had asked for a window seat but after the day we've had, we are quite used to not being able to see any views. At least there is wine.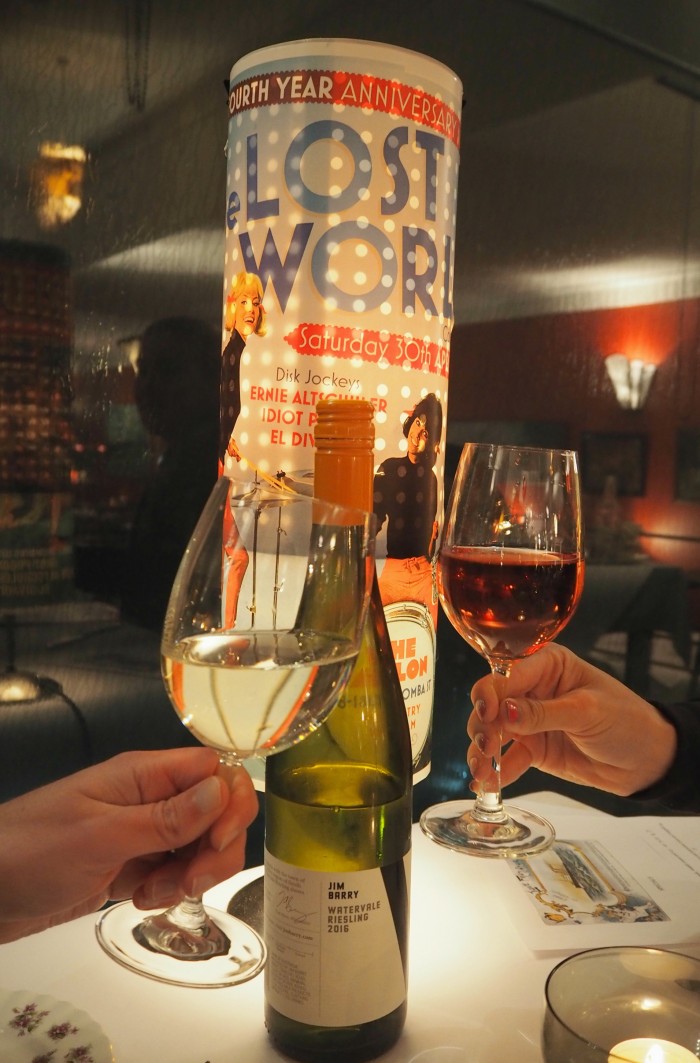 Dinner is wonderful as always although I can't help but save some stomach space for the Licorice Cheesecake for dessert. I would travel to the Blue Mountains (and I'd go so far as the ends of the earth) for a slice of that cheesecake. It's that good. I'm determined to try and recreate it at home. Watch this space.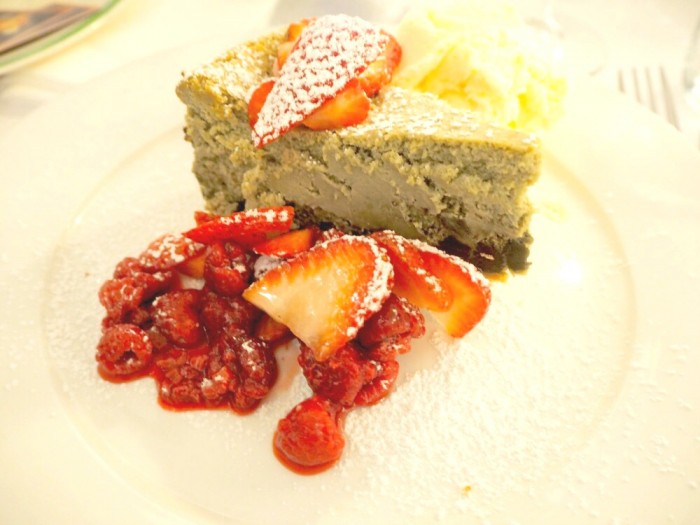 The next day, we are up bright eyed and bushy tailed only to find that Mother Nature is not playing ball… At all. Undeterred, we head to the Three Sisters and get the money shot. Now, I know you can't see the Three Sisters but I know they are there somewhere. It's like hide and seek!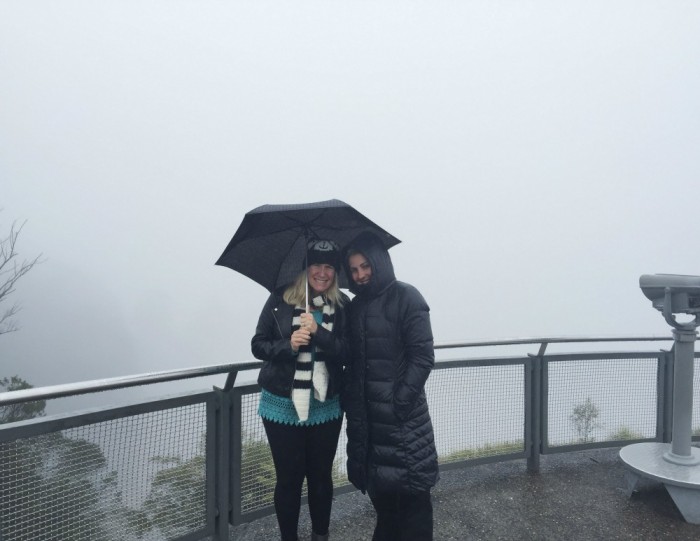 You know in the movie Frozen where Olaf gets his own personal snow flurry so he has snow wherever he goes? Well, by this stage we are thinking Ria has her own personal rain flurry along the same lines. We decide to put the theory to the test and head back to Sydney to see if Ria's Rain Flurry comes too.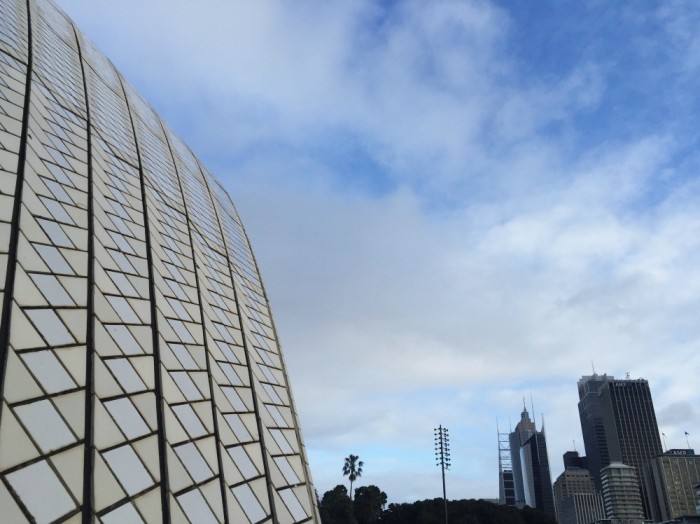 I'm pleased to report that it does not!  Ria's Rain Flurry is an urban myth, people! Look at that blue sky! It really is a sight to behold. We might not have seen the mountains but seeing the Opera House from oh-so-many angles is a good compromise.
Continuing with the wildlife theme, we even see a mummy and baby seal having a little power nap around the back of the Opera House. They've become quite the seal celebrities in these parts.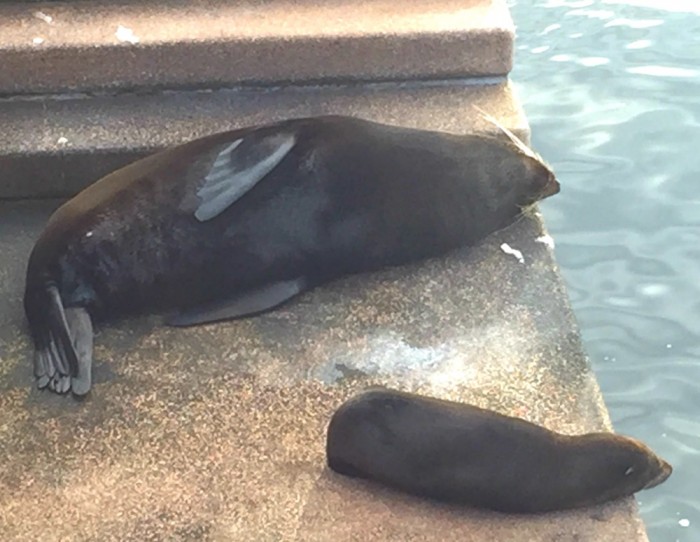 It's still not quite no-coat weather but at least our visitor gets to see the sights. I think she's waiting for the day when it's warm enough not to wear a hat.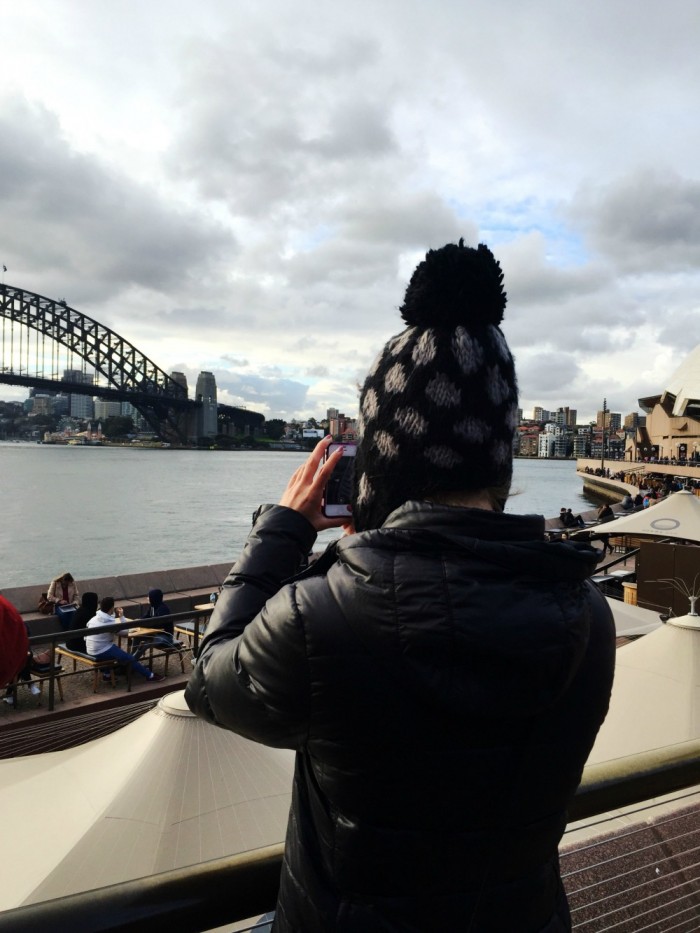 Sightseeing is thirsty work so we pop into the newly opened Hacienda for some liquid refreshment. My Cubano Punch served in the tiki cup certainly hits the spot. I call this drink with a view!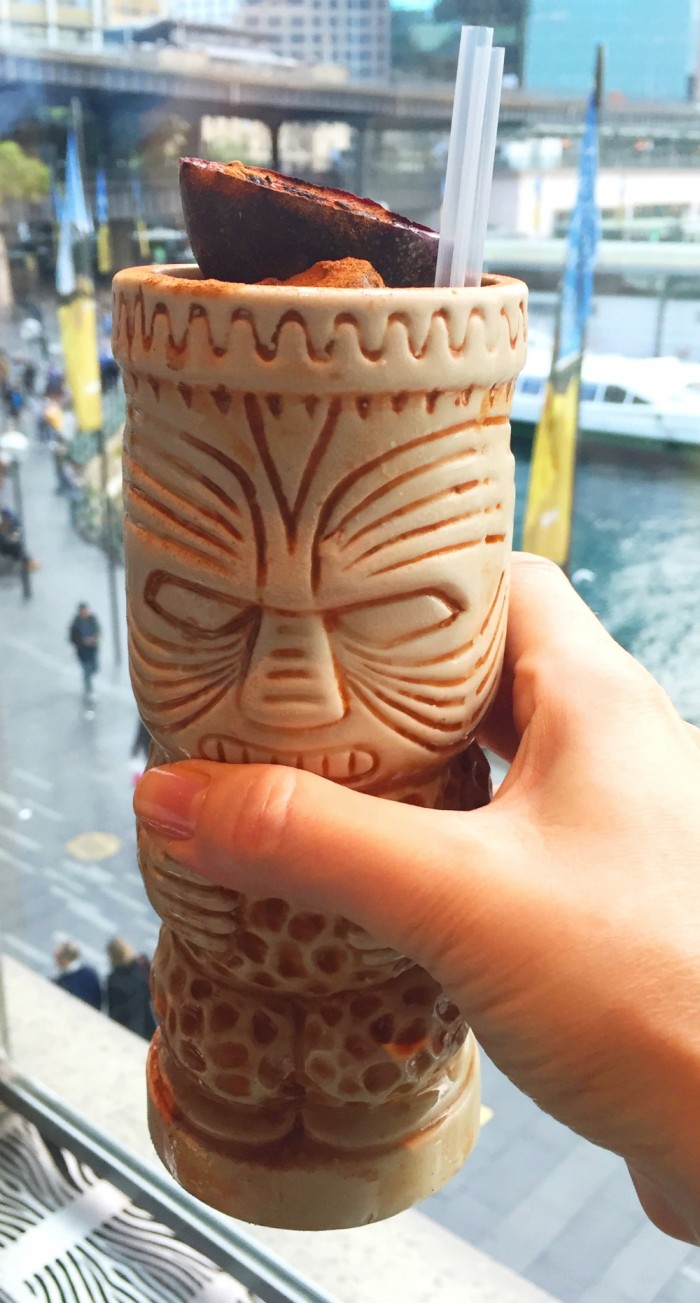 Then we went wee, wee, wee all the way home just before it started to rain… Again!
Now remember friends, the fun of the photography circle doesn't stop here. Do pop on over and  say g'day to Jen.  Be sure to check out her fab photos, and then follow the circle to meet all the other fantastic photographers and see what they've been snapping. Enjoy the photo fest!
What's your favourite place to escape for a weekend away? Do you have your own personal rain flurry? Got a favourite Aussie animal?