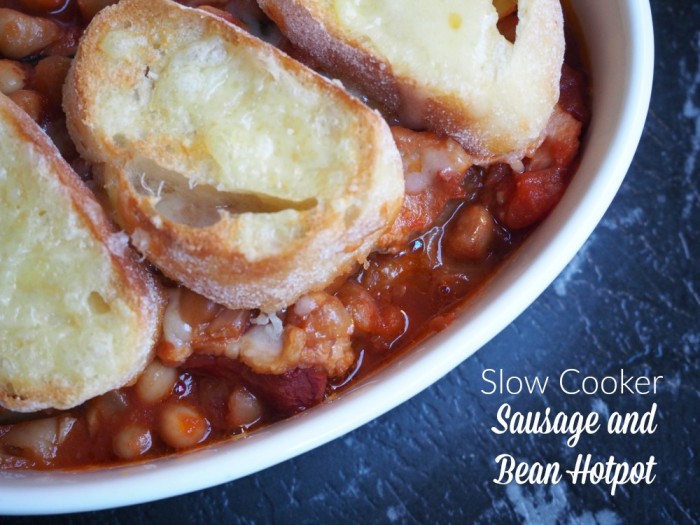 Serves 4-6
This French inspired one pot wonder is cheap, easy and totally delicious!
This recipe is a kind of cassoulet which roughly translated (by me) means "sausage and beans" also known as "Two of My Favourite Things".
Cassoulet gets it's name from it's traditional cooking vessel, the casole, a deep round earthenware pot, which I like tot think is really rather like a slow cooker. A traditional cassoulet contains meat, pork skin and white beans but I've flouted tradition and chucked in some sangas, some bacon but stuck with the white beans. To top it all off, I chucked on some toasted baguette and slathered it with cheese before getting things toasty under the grill. Cheese on toast – two more of my favourite things!
Although, I like to think of this hotpot as essentially peasant (and especially delicious) food, I do like to splash out on the best bangers I can afford, because you really can taste the difference. Talking of taste, thanks to the sausages and bacon, this dish is full of flavour and doesn't need any seasoning. Adding salt might just tip it over the edge. Just sayin'!
I've actually cooked this dish more times than I can count and had the recipe ready for what seems like forever it's just that I have been waiting for the elusive photo. Usually when I serve this, it's either too dark for any camera action and smells too yummy for anyone to wait while I faff around with my faux brand of food styling. Anyhoo, you know what they say, better late than never. Thank goodness for daylight savings!
You can serve this as one super sized supper but I love to give my individual dishes a bit of an outing! If you're trying to cut back on the carbs, you can skip the toasty topping but then you'll have to work out what to use to mop up all the delicious juices!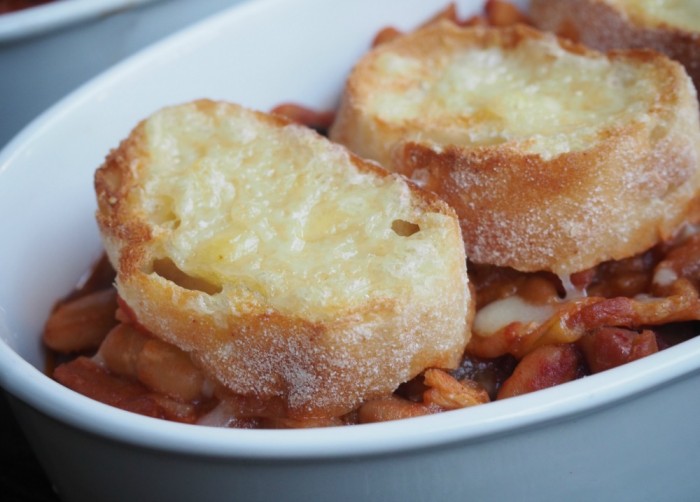 Ingredients
1 tablespoon olive oil
2 brown onions, roughly chopped
4 cloves garlic, crushed
1/2 teaspoon chilli flakes, optional
150g streaky bacon, roughly chopped
500g good quality thick pork sausages
2 x 400g cannellini beans, rinsed and drained
1 x 400g tin tomatoes
150ml beef stock
1 tablespoon Worcestershire sauce
1/4 cup (70g) tomato paste
2 tablespoons chopped fresh parsley
TO SERVE
1/2 baguette, sliced or 6 slices of sourdough, roughly broken into chunks
75g grated cheese
How to
Heat the oil in a large frying pan and fry onion until it starts to soften.
Add the garlic, bacon, sausages and chilli flakes to the pan. Cook for about 5 minutes until the sausages start to brown.
Transfer the sausage and onion mixture to the slow cooker.
Add beans, tomatoes, stock, Worcestershire sauce, tomato paste and parsley to the slow cooker. Stir gently to combine. Cook covered, on LOW for 6 hours or until the sausages are cooked through.
Just before serving, lightly toast the bread under a grill. Divide the grated cheese between the toast slices and grill until just melted. Don't worry if some of the cheese falls onto the cassoulet, that's the best bit!
Ladle portions of the stew onto plates and top each with a few slices of the cheesy toast to serve.
Other info
Prep and cooking time: 6 hours
TIP! If you want less sausage and more meat, you can swap out the sausages for 500g pork loin instead, and throw in a couple of sausages for good measure. If you're using pork loin, cook on LOW for 6-8 hours until the meat is tender.