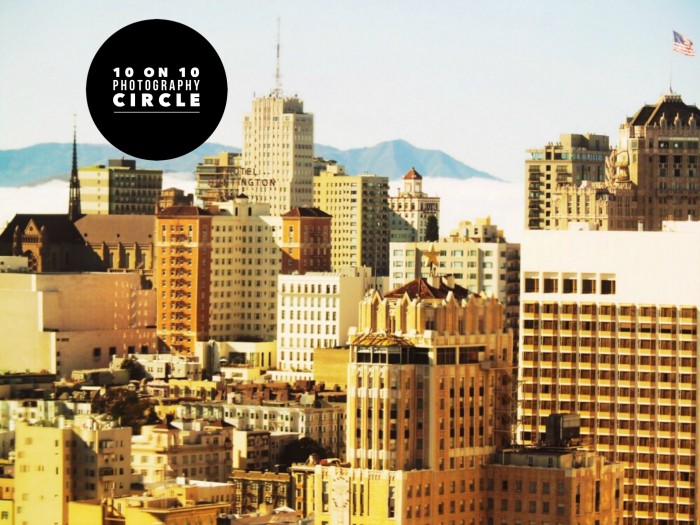 I am sure the tenth of the month rolls around a bit quicker every month as the year rolls on by, or is that just me?!  Of course, that means I'm joining in with this month's Clever Cookie Photography Circle and  as I'm fresh off the boat (or rather the plane, but let's not split hairs) I'm going to be sharing some pics from our last travel stop in San Fran.  Don't forget, when you've finished checking out my pics, be sure to take a little trip of your own around the photography circle, Jen will be your first port of call, in the good old US of A.
The San Francisco part of our trip is a bit of an after thought to be honest. It only makes it into Our Big North American Adventure itinerary because it is the gateway to get home.
We'd been to San Fran on honeymoon and it was love at first sight. I think I left my heart in San Fran eight years ago and I'm happy to say I find it when I go back. I think I love San Fran as much as I did before, except a little bit more.
We're staying at the White Swan Inn, which is like staying at your granny's house only with bells and whistles. Our room is a king deluxe and almost as big as our whole apartment and the bed is so high that I almost need to pole vault to get into it.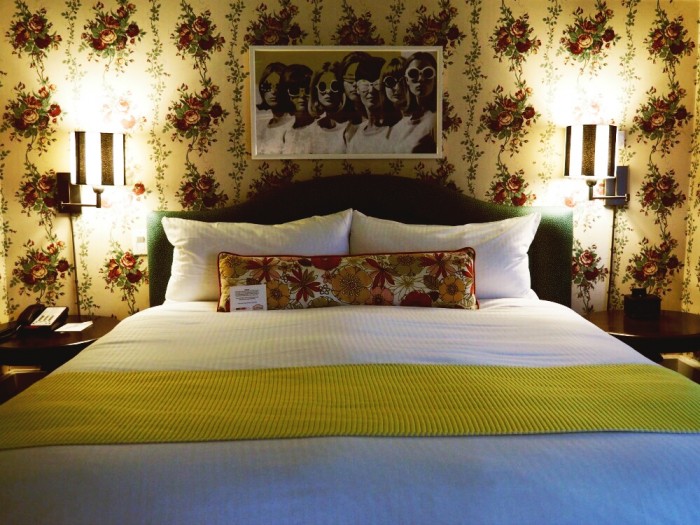 The granny chic continues in the parlour where wine and canapes are served each night in front of the fire and where we hone our social skills mingling with the other guests. If I say so myself we're great ambassadors for American-Australian relations.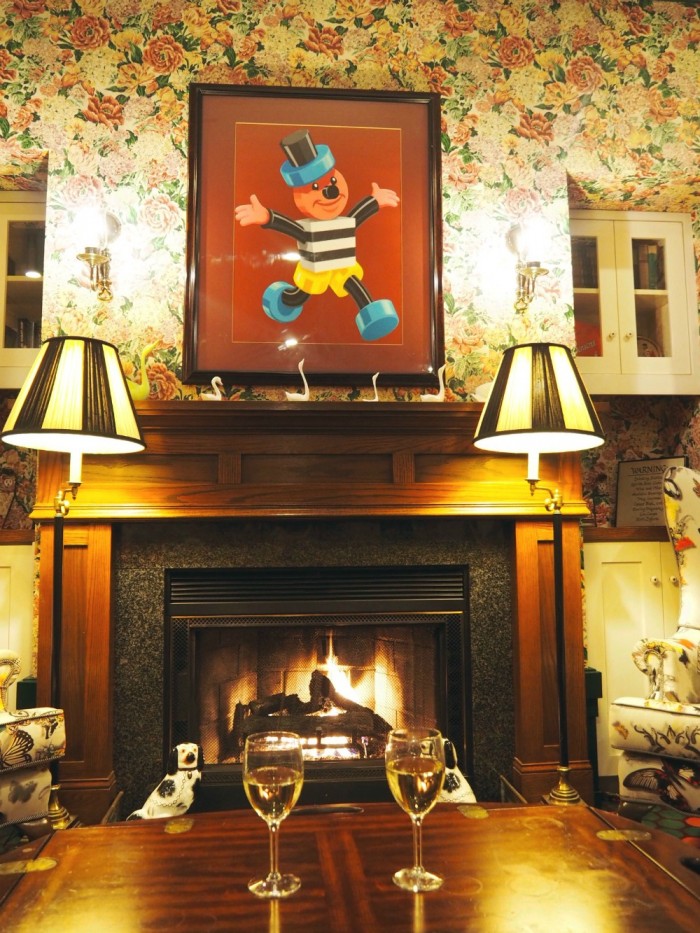 The hotel is perfectly situated for exploring the city. A visit to San Fran isn't a visit to San Fran without the quintessential visit to Fisherman's Wharf. Last time we were in town I really didn't care for Fisherman's Wharf and found it way too touristy. It's seal-ly grown on me since then. In fact, I like it so much, that I make a return visit the very next day for a run because the boardwalk along the wharves makes a great running route.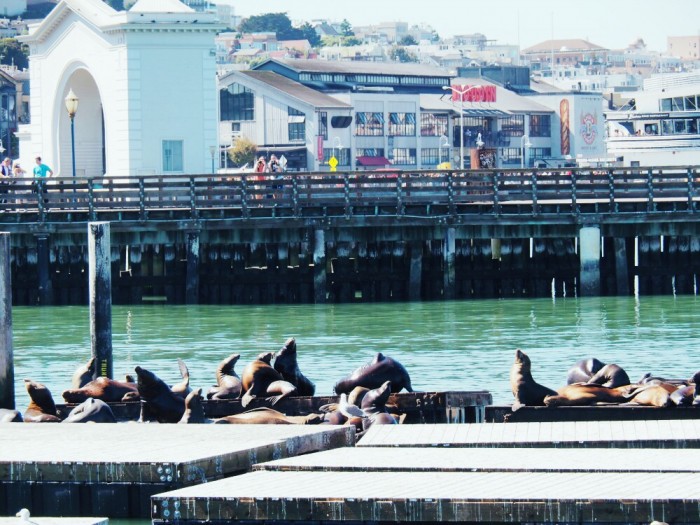 This is the closest we get to Alcatraz. We went when we were on honeymoon and if we  had more time, we'd surely go again. Just so you know, tickets sell out way in advance so if you're headed to San Fran and you want to visit The Rock, be sure to book ahead.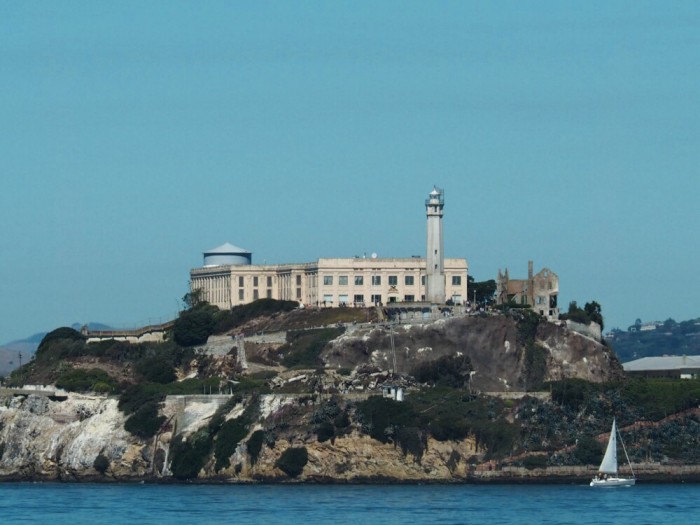 San Fran is unusually hot and when the mercury rockets into the nineties we rock up to the Buena Vista Cafe, which is not a cafe at all but a very busy pub. This place is famous for it's Irish Coffee but it's way to hot for that, it's a cold beer kind of day. The heat isn't putting the other customers off though, these Irish Coffees are insanely popular whatever the weather! The Buena Vista serves up to 2000 (you read that right,) Irish coffees every day. Strange but true!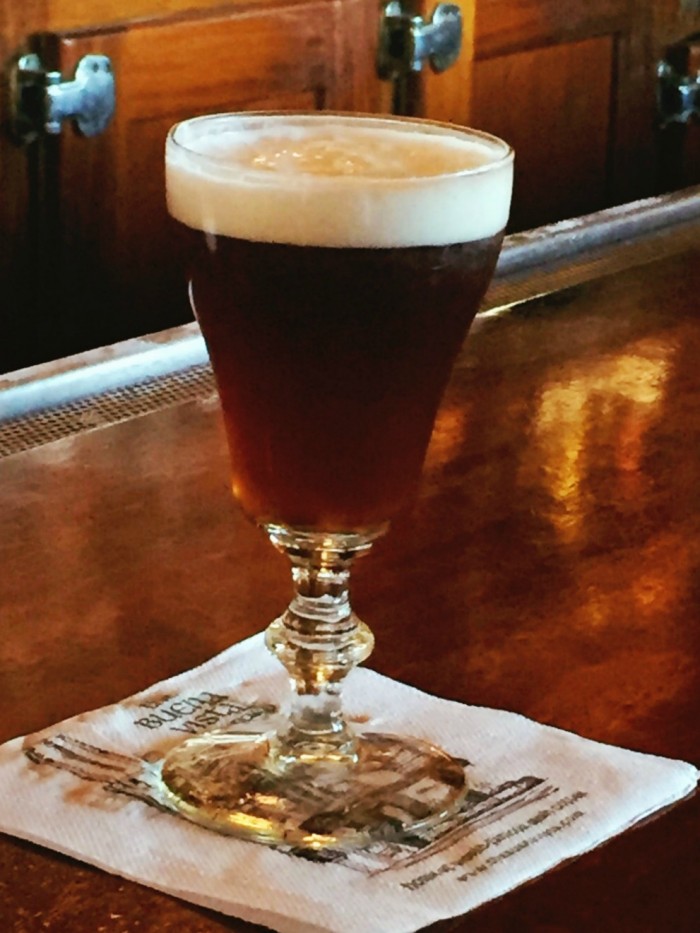 There's a funeral in Chinatown that brings downtown traffic to a virtual standstill so we wait over 90 minutes for a cable car but at least we get to top up our tan. I'm relieved to get a seat and grip on for dear life, because let's face it, riding a cable car in San Fran is like riding a roller coaster. And I don't like rollercoasters.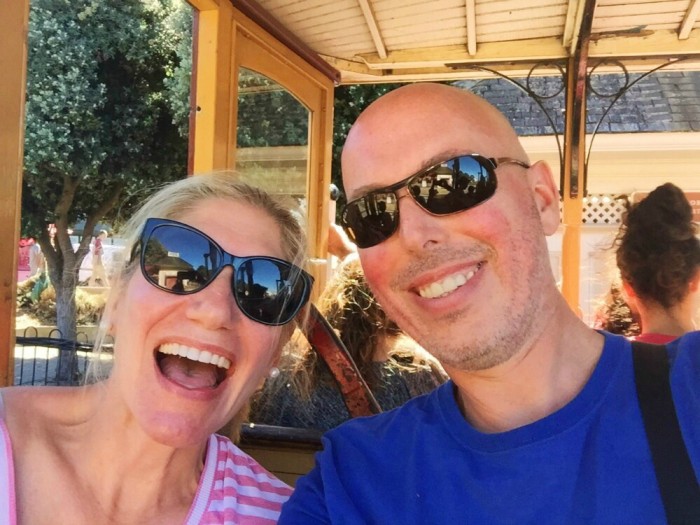 The next day we workout with a walk to Coit Tower.  You can't miss this white concrete column, perched atop Telegraph Hill. It's like a San Francisco emblem.  The hills that have to be walked up to get here have to be seen to be believed, but the view makes it totally worth it. Side note: Would you take a look at that sky?! There's not a cloud in it and no filter either.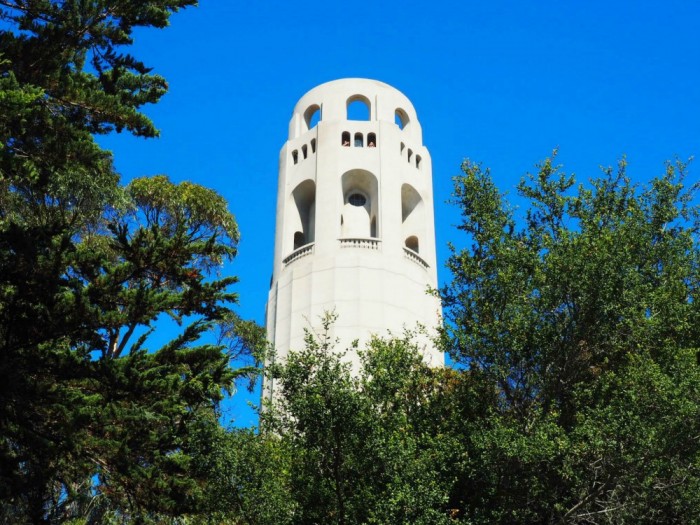 Although the tower is only 64m high, it's elevated position makes it feel much higher. For someone who is afraid of heights, I'm facing my fears this holiday and smashing goals on my 101 things in 1001 days.  An elevator with an extremely entertaining elevator operator whizzes us up to the observation deck which provides breathtaking 360 degree views of the city and the bay and both the Golden Gate and Bay Bridges. We don't have time to  go to Lombard Street which with it's 8 hairpin turns claims to be the most crooked street in the world,  but now we don't need to because we get an excellent view of it from the tower.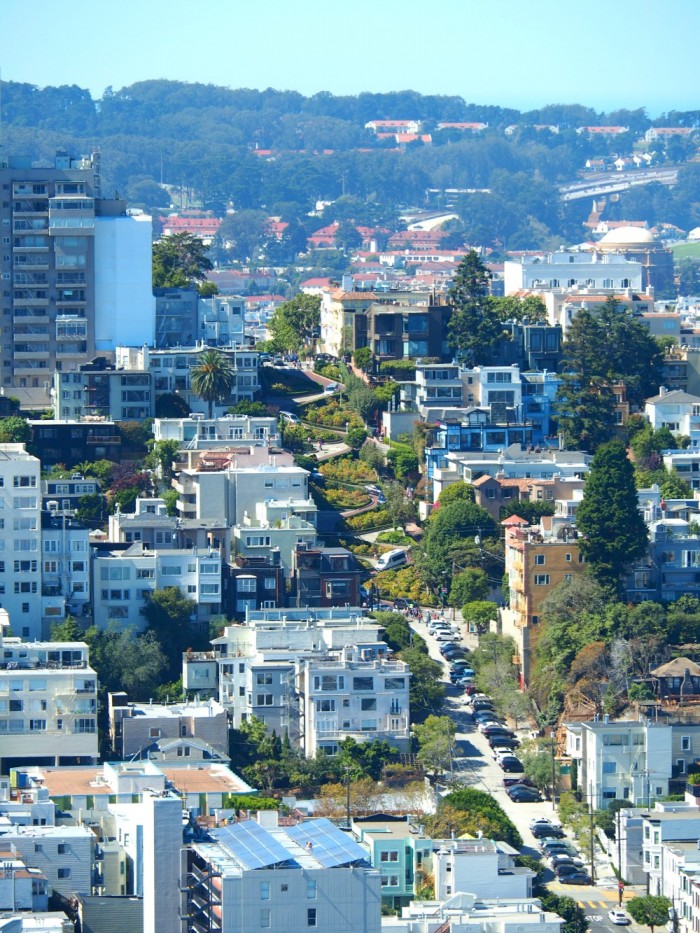 It's funny but from up above San Francisco doesn't look hilly at all. Don't be deceived though. These hills are killer… Although on the flip side, we now have calves of steel. Meanwhile, David invents a new way to orientate the steep inclines. I think we might have watched Eddie the Eagle one too many times.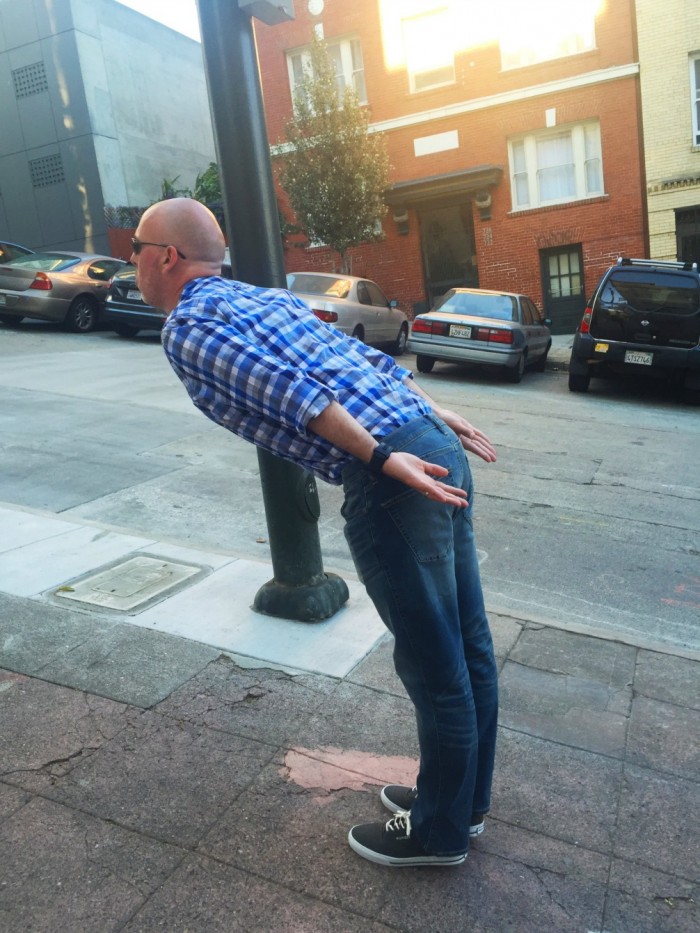 Of course, there is an obligatory Golden Gate selfie on our way to Sonoma for some wine tasting with Green Dream Tours but that's a whole other story! The weather gods are looking favourably upon us because the day after this the bridge is shrouded in a cloud of fog. San Francisco weather changes more often than some people change their undies. Just sayin'!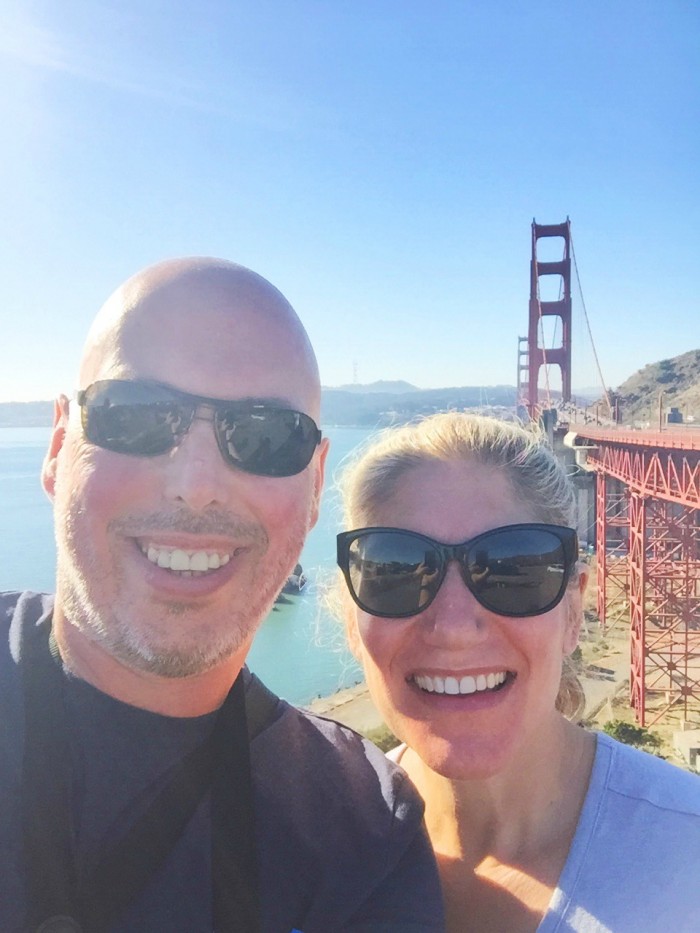 Before we head back to (not so) sunny Sydney, David bobs into the office, yes, he has a San Francisco branch, how cool is that?! While David is meeting his US counterparts, I meet my Aussie (ex pat English) counterpart Tessa at  Tartine and get to tick something else off my edible bucket list. Here, I sugar overdose in the form a Banana Cream Pie and inadvertently order a cereal bowl of coffee (I kid you not.) It's all good! Tessa  has relocated to San Fran and honestly, I couldn't think of a more wonderful place to relocate to. Apart from Sydney, of course. The irony isn't lost on us, that we're two peeps from London, who met in Australia and are now catching up for coffee in San Fran. It really  is a small world after all.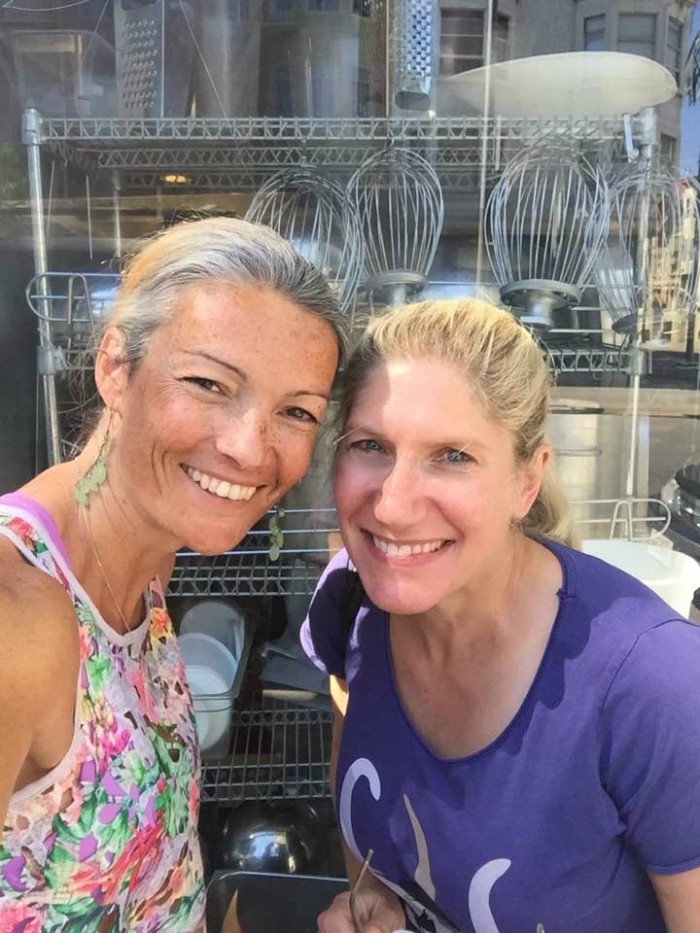 San Fran stole my heart all over again. I guess I'll just have to go back and look for it!
Now remember friends, the fun of the photography circle doesn't stop here. Do pop on over and  say g'day to Jen.  Be sure to check out her super snaps, and then take a virtual trip around the circle to meet all the other fabulous photographers and see what they've been clicking on their cameras. Enjoy the photo fest!
Have you ever been to San Fran? Where would you love to relocate to? Are you a fan of hills and/or heights? Have you ever left your heart someplace?