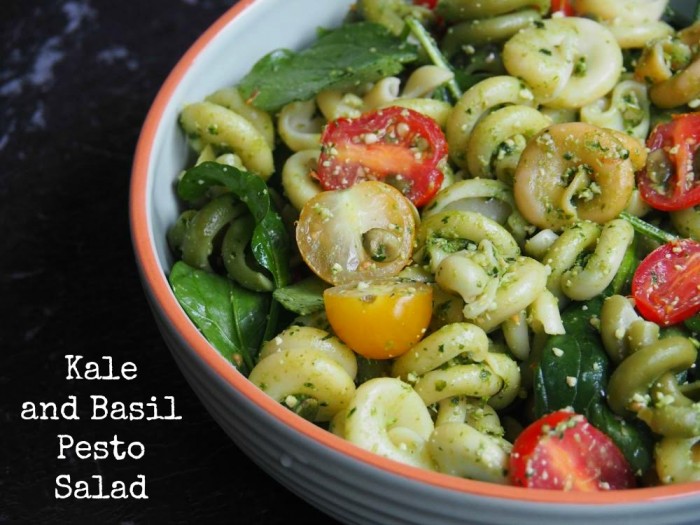 My neighbour Luce is Italian and we have a bit of a food swap going on. I give her baked goods and she gives me all the Italian-inspired deliciousness from her kitchen. In actual fact, she has so many cracking recipes that I'm thinking she should have a blog series of all her own! Anyhoo, a few months ago, she gave me a jar of her homemade pesto and it was the business. Even David who has an aversion to all foods green, thought the pesto was the best thing since sliced (white) bread and that's how those Spinach and Pesto Savoury Muffins and the Cheesy Meatballs with Pesto Mash were born.
Since we got back from holiday I am obsessed with making my own pesto, I just can't get enough of it. I think it all started in The Crumpet Shop in Seattle, where I had this crumpet with pesto, ricotta and tomato. It was the stuff food dreams are made of.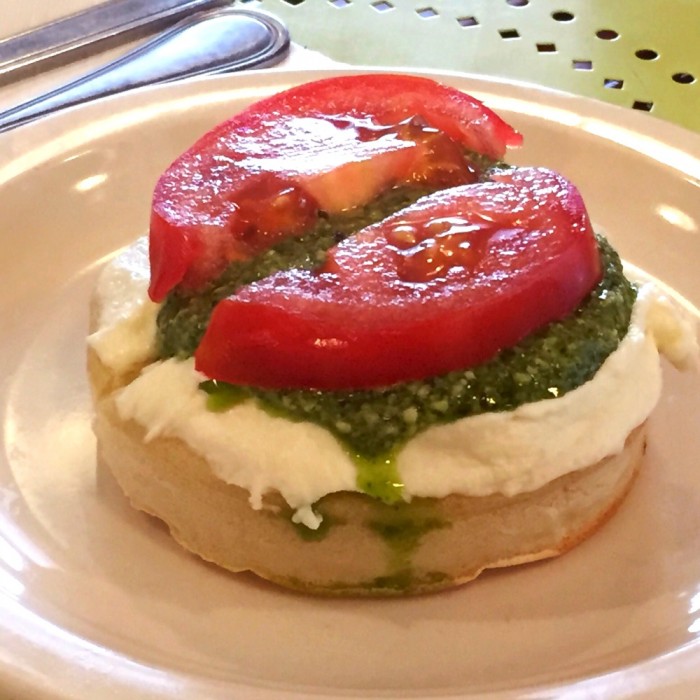 I've tried to recreate it at home, with an English muffin topped with cream cheese and pesto and sometimes I have my pesto stirred through some zoodles, but mostly I like to eat it right out of the jar with a breadstick because I'm a bit neanderthal like that.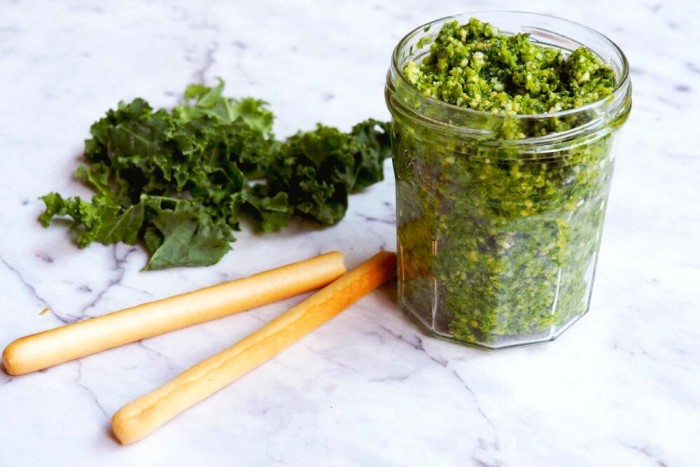 Everyone knows that kale is a superfood, so naturally, this pesto is super too. If you're not a fan of the taste of kale, don't worry, because with all the other awesome flavours having a party in this jar, all you're going to taste is fabulous.
It was only I started obsessing with pesto that I realised that parmesan cheese is not vegetarian, but that doesn't mean vegetarian friends need miss out on this pesto perfection. Simply swap the parmesan for some nutritional yeast flakes, and hey pesto! You have delicious pesto that is not only vegetarian, but vegan too. Yumbo!
Last week, the planets of pesto aligned, when Luce gave me a pack of tricolour Italian pasta, it was lunch day at the Asylum Seekers Resource Centre and, I had a fresh jar of pesto in the fridge, and that's how this big, beautiful salad came to be.
Incidentally, if you like making food and/or sharing food, you like to say welcome and you're Sydney based with a few hours to spare one Friday a month, feel free to drop me a line and join our team at the ASRC. Because together we can make a difference and a delicious one at that!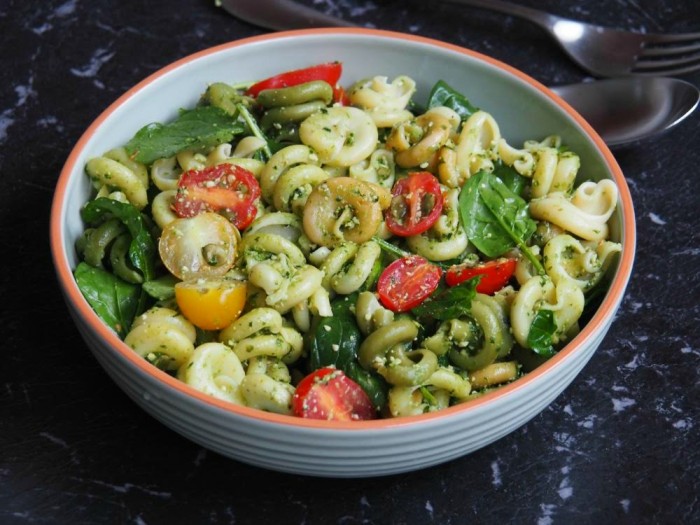 Although this salad will keep for a couple of days, it's best made on the day you want to eat it. I never measure out the pesto, I just use enough to make sure the pasta is well and truly dressed. You should have just enough left over to cover a muffin or two, or for double dipping some breadsticks. Whatever floats your boat, 'kay?
The pesto itself will keep for about a week in the fridge and is really freezer friendly. The pesto hardens up a little in the fridge because of the oil content, so I like to give it a "rest" on the kitchen bench for about 20 minutes before I want to use it. If your pesto is in the fridge and looking too dry, just add a little more oil, to keep it moist.
You can make this pesto in a food processor like Luce, in the Thermomix like me, and if you haven't got either of those or a lot of time, buy the best jar you can afford from the supermarket.
So let's talk pesto? How do you eat yours?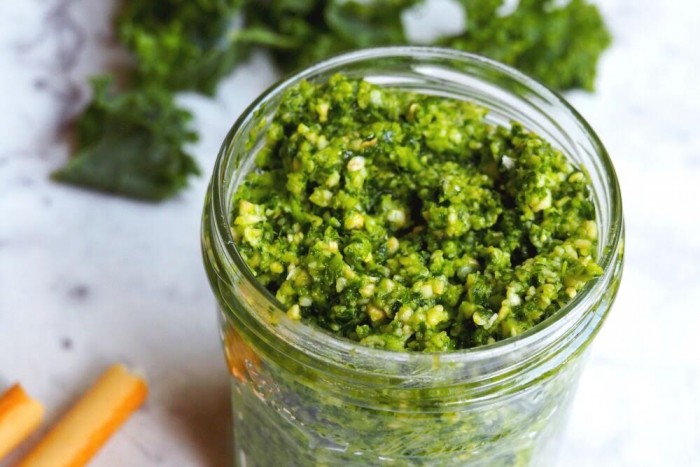 Ingredients
FOR THE PESTO (makes about 250g)
1 clove garlic
60g parmesan cheese, cubed or 3 tablespoons nutritional yeast flakes for a vegan version
20g basil leaves
30g kale leaves, washed and stems removed
100g raw cashews
50g olive oil
1 tablespoon lemon juice
FOR THE SALAD
500g pasta shapes (twists are best)
2 teaspoons salt
1 jar of Basil and Kale Pesto
250g mixed medley baby tomatoes, halved
2 large handfuls baby spinach
1/4 cup pepitas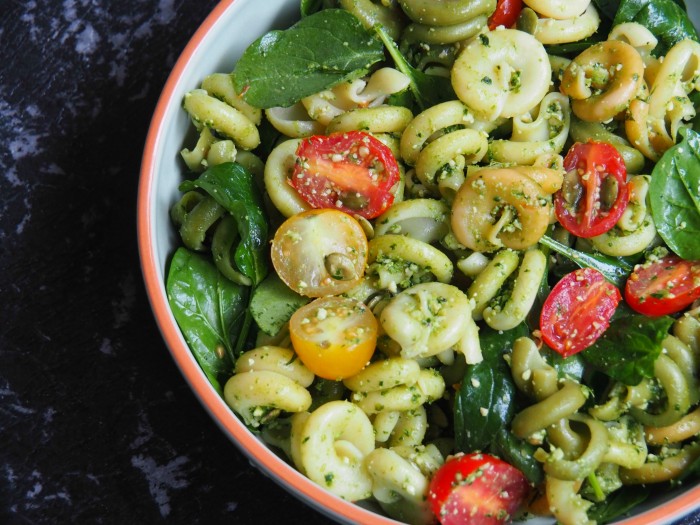 How to – Pesto
Thermomix
Place garlic and parmesan into bowl and chop for 10 seconds on speed 5. Add the basil, kale, nuts, oil and juice and chop 2 or 3 times on Turbo until the desired consistency is achieved.
Food Processor
Place the garlic, parmesan, basil, kale and cashews in the bowl of a food processor and process until finely chopped. With the motor running, gradually add the oil in a thin steady stream until well combined.
How to – Salad
Fill a large saucepan with cold water and wait for the water to boil.
Add salt and pasta and cook until al dente.
Before draining reserve about 1/4 cup of the cooking water. When the pasta is ready, drain and rinse immediately under cool water to avoid the pasta shapes sticking together. Transfer the pasta to a large serving bowl.
To assemble the salad, simply stir the pesto through the warm pasta until it is lightly but evenly coated. If it's a bit thick or globby, just add a little of the cooking liquid to thin it out.
Gently stir through the spinach, tomatoes and pepitas, season to taste and serve.