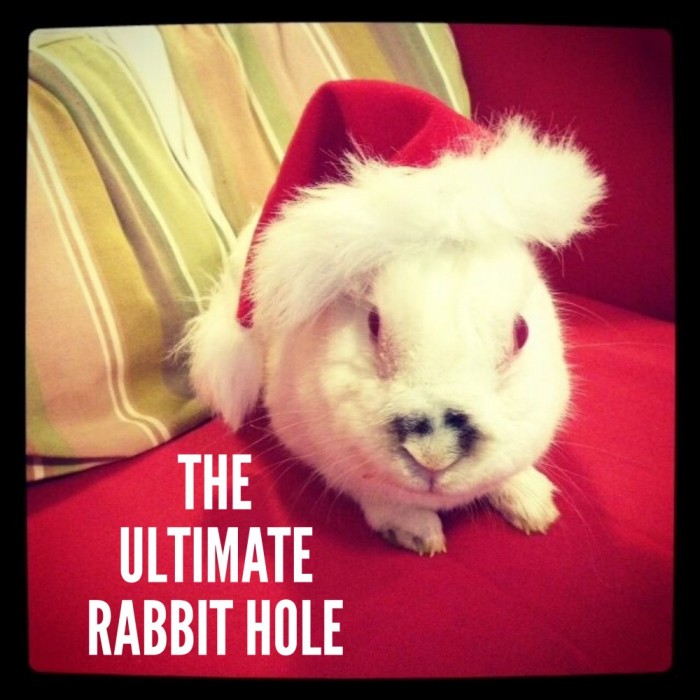 This week has been another emotional roller coaster ride.We've had such jolly fun with some special visitors over from the mother country but yesterday woke to the news that my beloved uncle David passed away suddenly. His passing has left a big hole in so many hearts, especially mine. He'll always be my superman.
Onwards and upwards, I know if Uncle David was reading this, he'd be very excited about the first bunny hole adventure of December. Now that time has ticked over in to the twelfth month of the year, it's totally legit for us to enjoy all the pictures of bunnies in their Christmas couture! It's almost too cute for words!
Yesterday was National Fritter Day and no matter that we're a day late to the party, let's get our fritter on, baby! I could get really excited about these Broccoli, Cauliflower and Haloumi Fritters and not just because they contain three of my favourite things. If you're more of a fritter traditionalist, you'll love these Cheesy Corn Fritters with Tomato and Avocado Salsa although I'm also eyeing off these Corn and Salmon Fritters. And if you like your fritters on the sweet side, I think you'll love these Jamaican Banana Fritters. Yum!
Now, the start of December doesn't just herald rabbits in Christmas costumes, it's also the start of Elf on the Shelf. Between you, me and the rest of the interwebs, I'd love an elf on the shelf of my own, but hiding and then "finding" your own elf kind of defeats the object. If you're on the elf on the shelf train, you'll need to be an ace at elf espionage and these 100 elf on the shelf ideas are sure to come in very handy! 
Still on the subject of Christmas, although let's face it, I'm so excited, I can hardly think about anything else, here are 18 excellent gifts for kids that aren't even toys. I kind of wish I had read that before I did my Christmas shopping! While everyone loves a good gift, it's important to remember that there is as much joy in giving as in receiving and Christmas is not just about the presents.  Check out these awesome acts of kindness for kids (and adults too!)
I don't know about you, but our Christmas catch ups started in November! If I'm going to survive all the festive fun, I think I need to pack myself a party kit.
Since I said goodbye to my thyroid, I just cannot handle the heat. I feel like Olaf in summer and like Olaf totally need my own snow flurry.  My body temperature seems permanently set to "Melt" so I'm loving these tips on how to look and feel stylish in summer when the heat is on.
I am totally obsessed with antipasto and charcuterie platters, both in terms of eating and making so I'm going to be all over these 5 tips for an instaworthy cheese board.
Christmas isn't the most wonderful time of the year for everyone, in fact for many, it can be the most difficult. I think there's something for everyone in this list of 24 creative ways to channel depression or anxiety. No prizes for guessing what my favourite is in that list!
I still can't stop thinking (and when I say thinking, I mean worrying) about the US election results. Apart from all the big issues, I bet Trump's dogs aren't as cute as Obama's. Come to think of it, I don't think Trump has a heart, so maybe he doesn't have a dog either. The two things kind of go hand in hand. Anyhoo, it turns out, not only are Obama's dogs adorable, they have a jam packed schedule and they're a bit naughty too!
Now tell me, what's happening in your weekend? Are you a fan of fritters? Will you be involved in some elf espionage this festive season? What's your must-have item on your cheese/antipasto platter? Tell me your tips to keep cool this summer. How do you channel your feels? Tell me all the things!
Every Saturday morning, we will open up the rabbit hole link up for bloggers to add their link list posts or even just their favourite post (if you are not of the link list kind) for the week. Please link only one post. This makes it fair for everyone and allows more posts to be read. Talking of reading, do try and pop along to say howdee to some of  the other lovely linkers. Link up here, over at Calm to Conniption or The Geeky Shopaholic. It doesn't matter where you add your link because it will appear on all three blogs, as if by magic!  The link up will stay open until midnight the following Monday.
Loading InLinkz ...