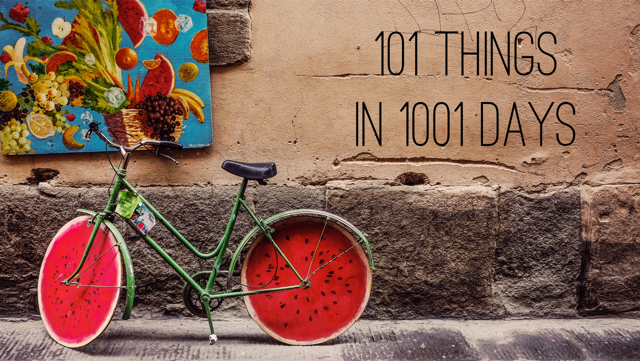 I had such fun ticking things off my last list of 101 things in 1001 days that I couldn't wait to do another one. So just before the new year I sat down, racked my brains and came up with a whole new list. Well, I use the term "new" loosely because some of the things I carried over from my last list, because sometimes 1001 days are just not enough. Plus, I'm working on the premise of second time lucky.
Because patience isn't my strong point, I couldn't wait to publish this blog post to  get started on the new list and what better time to start than a brand new, new year. So I got the 101 things party started on the 1st of the month and by my calculations, I have until September 29th 2019 to tick everything off.
ON THE BLOG
Make an e-book

Make a video.
Host a weekly link up party.
Learn how to use Google Analytics.
Send a newsletter every fortnight for a year.
Make a new media kit.
Update profile picture.
Give the blog a mini makeover.
Publish 100 new blog posts.
FOOD
Make an Angel Food Cake.

Learn to love salad. Add 10 new recipes to my repetoire.
Make 10 new bubblicious drinks in my SodaStream.

Be vegetarian for 30 days.

 
Give up candy for 30 days. 

Currently in progress… 7 days to go!

Learn to make pierogi.
Make Lamingtons.
Make my own mince pies.
Try 10 different juices or smoothies.
Make maple sugar pie.
Cook mussels.
Eat shaved ice.
Dust off sushi maker and learn how to make sushi.
Make Tiramisu
Learn to decorate cup cakes.
Make my own dumplings.
Make 5 Nigella recipes.
Make a delicious gluten free cake.
Make a terrine.
Make a cake from the AWW Birthday cookbook.
RUNNING AND FITNESS
Complete the Disneyland Double Dare challenge

.
Run three half marathons (including Disneyland.)
Reach a 10,000 step target every day for 1 month. 

Currently in progress… 7 days to go!

Learn to ride a bike.
Do the 9 Bridges Walk.
Lose 5kg.
Try a beginners Yoga Class.
Do a basic training class.
Participate in a charity run.
Be flexible enough to touch my toes.
Do 20 gym classes in one month.
Create a new running playlist.
Start a daily meditation practice.
HOME IMPROVEMENT
Keep the plants alive in the back garden.
Organise the hall closet. January 2017
Paint the living room.
Organise the pantry.
Find a storage solution for the laundry room.
Sell 5 things on Gumtree.
Make a home media centre.
Put all CDs in the media centre.
Part company with DVDs (excluding Paddington.)
PERSONAL STUFF
Organise our wedding photos and make an album.
Learn how to apply false eyelashes.
Learn how to do one up-style.
Try something new for 30 days.
Get a dog.
Buy myself flowers.
See a live concert.
Wear red lipstick.
See a musical.
Complete a colouring book.
Get a massage or a facial.
Read 100 books.
Read a book and then see the movie (or vice versa.)
Watch a movie or TV series with subtitles.
Get new glasses.
WRITING
Send 5 thank you letters.
Write my will.
Inspire someone to do the 101 things in 1001 days challenge.
Create another 101 things in 1001 days.
Learn a new word every day for one month.
LEARNING
Attend a TED talk.
Learn how to say "hello" and "thank you" in 10 languages.
Complete 12 units of my Counselling Course.
Learn how to knit.
Do a food styling course.
TRAVELLING
Visit Santa in Lapland.
Explore 5 new cities.

Eat at one of the world's top 100 restaurants.

Fly business class.
Go to 5 different rooftop bars.
See 5 big things. Big Wine Bottle, Big Frilled Neck Lizard
Go on a wine tour.
Swim in an infinity pool.
Visit a World Heritage site.
Take a train trip in another country.
Eat at a new restaurant in Disneyland.
See a parade at Disneyland.
Go to New Zealand.
Get a stamp in my passport.
See fireworks.
Do a brewery tour.
SEE SYDNEY
Get a Sydney Swans season ticket.
Go fruit picking.
Enjoy high tea at a Sydney venue.
Ride the vernicular at Scenic World, Blue Mountains.
Visit a farmers market.
Build a sandcastle.
Play barefoot bowls.
Go on a picnic.
Visit an art gallery/museum I haven't been to before.
I can't wait to get stuck in and go tickety tick all over this list. Would you like to have a crack at 101 things in 1001 days? What would you put on your list?
Linking up with Kylie for IBOT