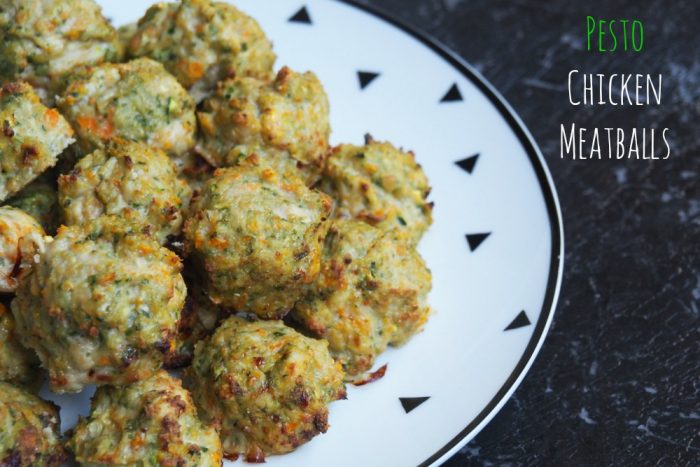 Makes 24 meatballs
My love of pesto really knows no bounds. Ever since my neighbour Luce made me some pesto and then I made my own, I just can't stop and won't stop with the pesto recipes. They're so delicious, no one round here is complaining, let me tell you!
A few weeks ago, we actually had a pesto surplus. I don't quite know how that happened because we virutally inhale the stuff. Anyhoo, I was given a bucket load of basil and was determined to think of new ways to use the pesto. As luck would have it, our new Yumbox lunch box had just arrived and brought with it some inspiration of the amazeballs variety. And that's how these Chicken Pesto Meatballs came to be.
These meatballs are super easy, super tasty, super healthy and take minutes to throw together – literally. I chop my veggies in the Thermomix but like to smush the mixture together with my hands. Made with love, and all that.
I love that these meatballs are gluten free and just packed with the good stuff. I've used zucchini and carrots because I always have some in the fridge, but feel free to smuggle in whatever veggies you have to hand. The pesto takes the flavour to a whole new level and the parmesan in the pesto goes all melty and delicious. I'm actually a bit of a fire hazard in the kitchen so for my own safety and that of others, I will always try and bake if I can avoid the fry. That said, baking makes these morsels so much healthier too!
I ask my butcher to make chicken thigh mince because it's oh, so juicy but whatever chicken mince you can get your hands on will work.
These meatballs make a cracking party snack, can top off some pasta or some salad and go great in a lunch box. However you eat these meatballs, you'll think they're amazeballs.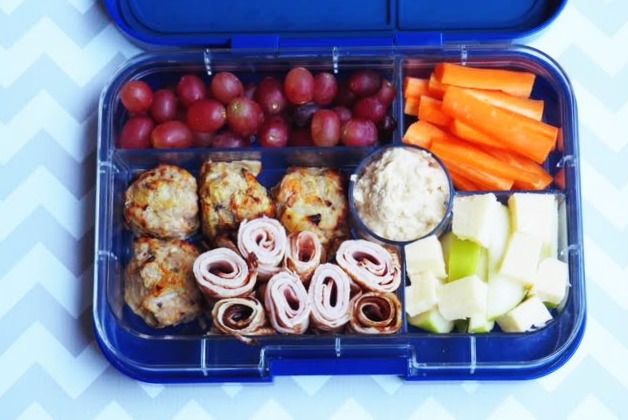 Ingredients
500g chicken mince
1 carrot, finely chopped
1/2 zucchini, finely chopped
3 generous tablespoons pesto
1 egg, lightly beaten
salt and pepper
How to
Preheat oven and line 2 baking sheets with baking paper. Preheat oven to 190C/170C fan-forced.
Place the mince, chopped veggies, pesto and egg into a large bowl. Season well.
Using your hands, gently smush the mixture to bring it all together, and yes, smush is totally a word. Don't be too heavy handed though, gently does it.
Drop heaped tablespoons of the mixture on to the prepared baking sheets.
Bake for about 15-20 minutes until  just browned.
 Other info
Prep time: 5 minutes  Cooking Time: 15-20 minutes
TIP!
If you want to chop your veggies in the Thermomix, chop the carrot for 2-3 seconds on speed 7 and the zucchini for 2-3 seconds on speed 5.
The meatballs can be frozen, cooked or raw.