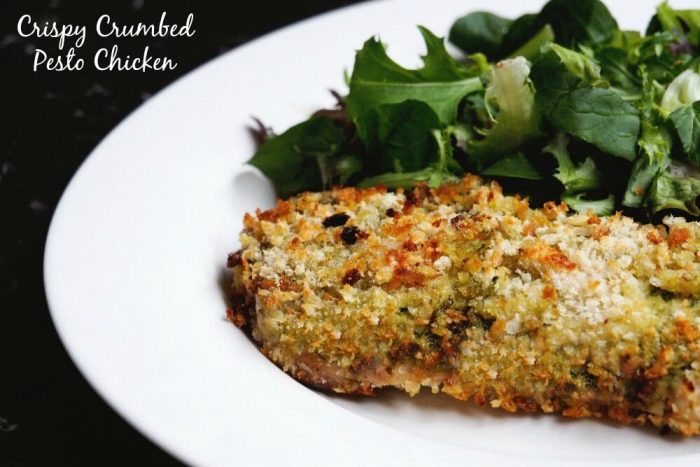 This Pesto Crumbed Chicken is simple, delicious and rustic and with only 3 ingredients, you can put it together in a matter of minutes.
We rarely eat the same meal twice at our place because I'm always looking for the next new blog recipe and David doesn't care for eating the same thing twice. (He's such a prince!) However, we both made an exception for this crumbed chicken which has been appearing on our dinner plates with delicious frequency.
As it turns out, my pesto obsession is still alive and kicking and at this rate I'll be the founder of Pestoholics Anonymous. I think my obsession is that bad because that kale pesto is that good. I make at least a jar a week. Can't stop, won't stop!
We're always looking for new ways to satisfy our pesto craving and this dish is the ultimate winner, winner, chicken dinner. You don't have to be too precious with the chook, just slap on the pesto, pack on some crumbs and you're good to go. Don't worry if some of the pesto peeks through the breadcrumbs, and don't stress if some of the crumbs fall off either, just scoop up the crunchy crumbs at the end and scatter over some salad greens for some value added crunch. I promise you, you won't regret it!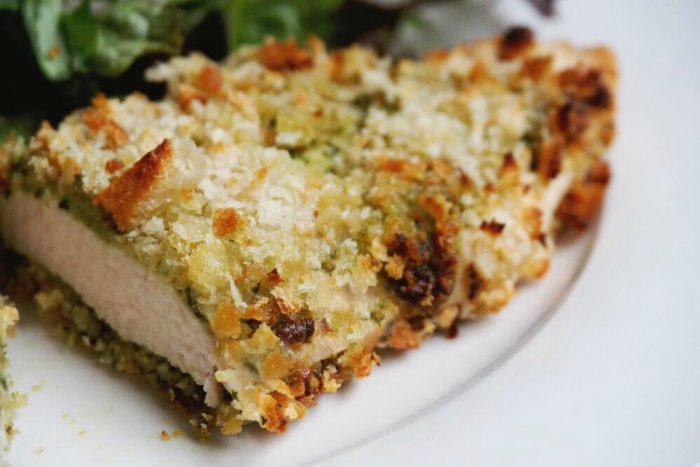 Serves 2 (easily doubled)
Ingredients
2 skinless chicken breasts (about 150g each)
4 tablespoons kale pesto
1 large slice sourdough bread (about 60g)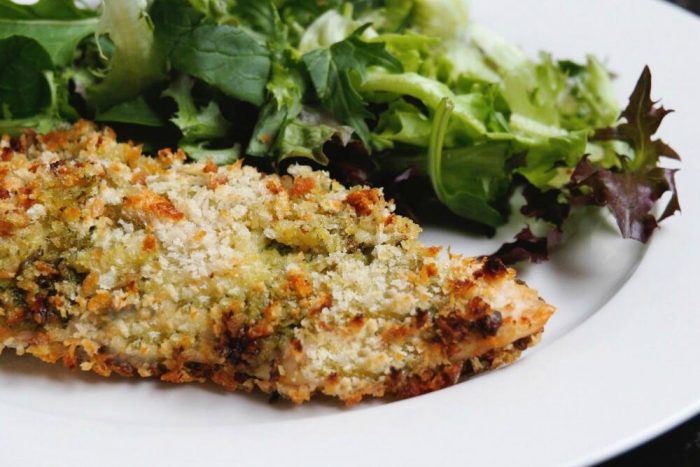 How to
Heat oven to 200C/180C fan-forced and line a baking tray with baking paper.
Blitz the bread into crumbs in the Thermomix or food processor.
Lay the chicken between two pieces of plastic wrap, place on a chopping board and bash with a rolling pin to flatten (this is very good for stress relief!)
Pat 1 tablespoon of pesto on one side of each of the chicken breasts and spread all over until the breast has pesto all over it. Then pack on the breadcrumbs, pressing down firmly with your hands. Don't worry if green bits of pesto poke through, that's all part of the charm.
Using a fish slice, carefully lift up each chicken breast and place on a baking tray crumb side down – you'll have to do some chicken flipping. Then with the chicken on the tray, repeat the packing of the pesto and the crumbs on the other side of the chicken.
Bake for 10 minutes, carefully turning half way through cooking. Don't worry if some of the crumbs fall off, they can be sprinkled over some salad greens when serving.
Cook for a further 10-15 minutes until the crumb is golden and the chicken is cooked through.
Serve the chicken with the some salad greens.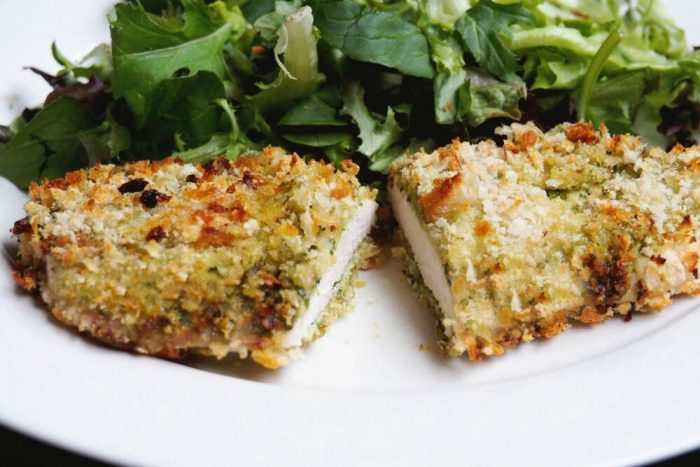 Other info
Prep time: 10 minutes Cooking time: 20-25 minutes
TIP! If you want to make the crumbs in the Thermomix, break 60g frozen bread into chunks and place in TM bowl. Blitz for 10 seconds on speed 8 or until you have fine crumbs.