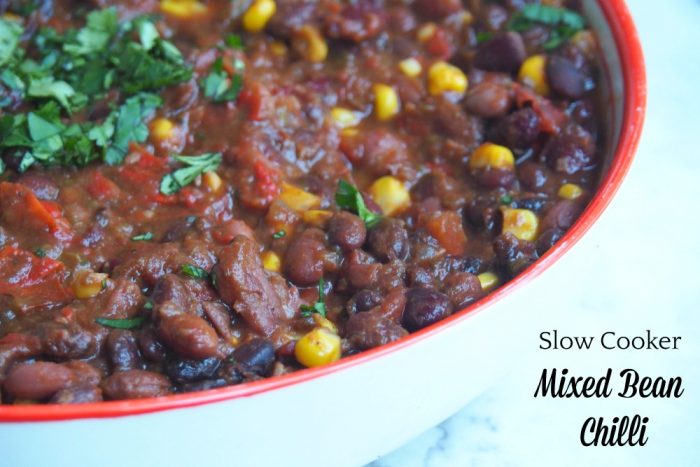 Serves 4-6 generously
This vegan Mixed Bean Chilli is cheap, cheerful and oh, so delicious!
We love our meatless Mondays but never moreso than when we recently saw the documentary What The Health. We've got this strange addiction to food documentaries and while we'll never quit sugar and never stop eating cake, we have been making small changes to our diet and noticing big differences in our general wellbeing.
First we swapped out a lot of our meat-full meals for ones that were meatless, just type "Meatless Monday" into the search bar to see what we've been eating. I stopped drinking Diet Coke and cordials and swapped it for sparkling water instead. We ditched our sweetener in coffee and tea altogether. We swapped from white pasta to gluten free and have just swapped white rice for cauliflower rice. This week, we're going to try swapping over from cow's milk to almond milk. I'm even going to have a crack at making some of my own!
This Mixed Bean Chilli is one of my new favourite dinners because it's cheap, easy, hearty and plant based. I promise you, when you taste it you won't worry that it's never going to win any foodie beauty contests, because it tastes so good! Although, it needs some initial tender loving care in the pan, once you're done, you can just dump this in the slow cooker and go. This recipe uses dried beans which are cheaper and tastier than their canned cousins. I've been putting the beans into soak in the morning before work, prepping the beans in the evening and setting the slow cooker to work it's magic overnight. This chilli freezes fabulously and tastes even better the next day.
It's super versatile and anything goes for serving. It goes great with some tortilla chips, corn tortillas or some rice on the side and if you're not vegan, you can pimp this up with some sour cream and cheese. I think the thing that I love most about this chilli, is the deliciously thick sauce. Sometimes slow cooker dinners can be a bit on the sloppy side, but not so with this chilli. It's the business!
It's perfect for Meatless Monday because it's cheap, cheerful, tasty and you sure are gonna get some bang for your buck!
Have you made any healthy swaps recently? Are you a fan of ye olde slow cooker? Have you seen 'What the Health'?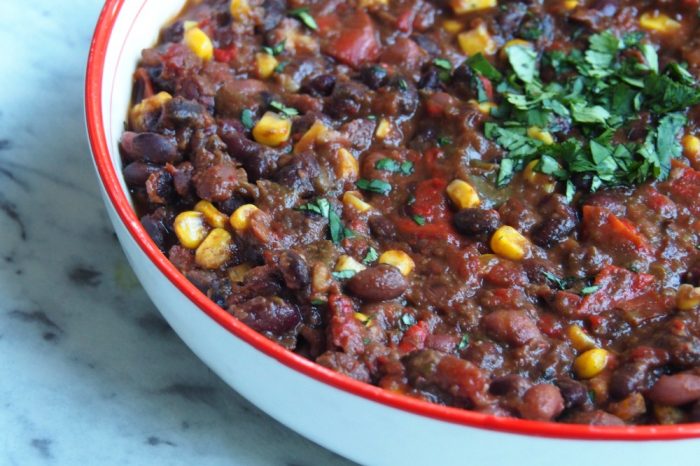 Ingredients
1 tablespoon olive oil
1 large onion, roughly chopped
3 cloves garlic, crushed
1 red chilli, deseeded and finely chopped
3 capsicums (any colour), deseeded and cut into chunks
1 heaped teaspoon ground cumin
1.5 tablespoons Mexican seasoning
175g dried black beans, soaked, drained and rinsed
175g dried red kidney beans, soaked, drained and rinsed
1 litre vegetable stock
400g can chopped tomatoes
1 tablespoon brown sugar
salt and pepper
150g sweetcorn
chopped fresh coriander, to garnish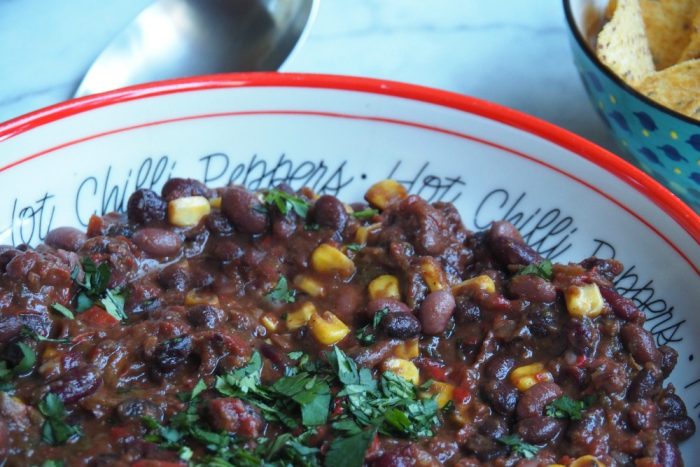 How to.
Heat the oil in large, heavy based pan and add onion, garlic, chilli and capsicums. Cook over a low heat, stirring occasionally for about 5 minutes.
Stir in the cumin and Mexican seasoning for about 1-2 minutes until fragrant.
Add the drained beans and stock and bring to the boil. Boil vigorously for 15 minutes
Transfer the mixture to the slow cooker and stir through the tin of tomatoes. Cook on LOW for 10 hours until the beans are tender.
Season the mixture with salt and pepper. Remove about one third of the mixture into a bowl and mash well with a potato masher.
Return the mashed beans to the slow cooker, stir through the sugar and the corn and cook for a further 10 minutes.
Sprinkle over the coriander and serve.
Other info
Prep time: 10 minutes, plus overnight soaking and 25 minutes pre-cooking Cooking time: 10 hours