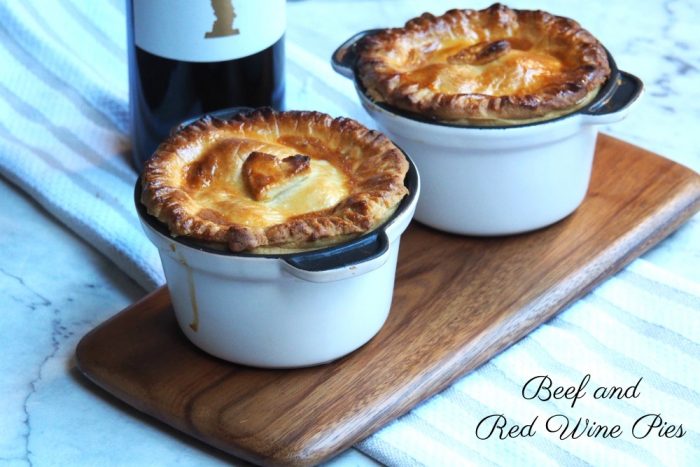 Makes 4 – 6 (depending on size of dish)
We're long time pie lovers, just pop the word "pie" in the search box if you don't believe me. However, since we've been weight watching, pies are an occasional treat rather than a daily dinner.
We usually have pies on special occasions, and when I say special occasions, I mean when someone comes round for dinner. We serve them so often, our guests probably wonder if I can cook anything else apart from pies. Not that pie production is a bad thing, because what's not to love about pies?
These pies in particular are a cut above your regular pie, filled with slow cooked beef and red wine and topped off with short, buttery discs of homemade pastry. Talking of homemade pastry, I like like to make my own pastry in the Thermomix, but if you're short on time, you can use three sheets of store bought pastry instead.
I get four very generous pies out of this recipe, but if you use smaller dishes, you can easily stretch it to six serves. I like to think that these pies don't only taste good but they're good for you too, because they're packed with meat and veg, and just have that one delicious disc of pastry to finish them off.
Are you a pie lover too?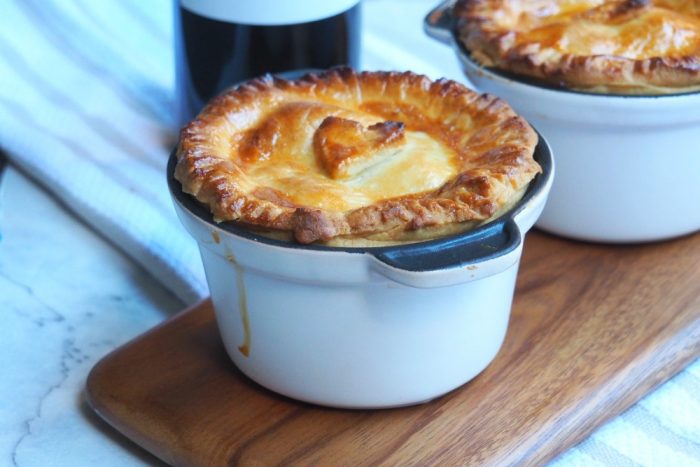 Ingredients
1kg chuck steak, chopped coarsely
1/2 cup plain flour, seasoned with salt and pepper
2 tablespoons olive oil
1 large onion, finely chopped
2 cloves garlic, crushed
450g carrots, cut into chunks
2 bay leaves
2 tablespoons tomato paste
1 cup (250ml) red wine
1 1/2 cups (375ml) beef stock
1 egg, beaten lightly
For the Thermomix shortcrust pastry
200g plain flour
100g cold butter. chopped
1/4 teaspoon salt
1 egg yolk and chilled water (total weight 50-60g)
How to
1. Heat oven to 150C/130C fan-forced. Toss the beef in seasoned flour. Heat the oil in a large flameproof casserole. Fry the beef in batches over a high heat until browned all over. Remove with a slotted spoon and set aside.
2. Add 2 tablespoons of water and the onion, garlic and carrots to the pan stirring until softened.
3. Add the paste and bay leaves and fry for another couple of minutes. Add wine and bring to the boil.
4. Return the beef to the pan, add the stock, then bring to the boil.
4. Cover and cook in the oven for 1¾-2 hours until the meat is tender and falls apart.
5. Remove from oven and allow to cool. Meanwhile, make the pastry.
6. Place flour, butter and salt in TM bowl and mix for 10 seconds on speed 6 until it resembles breadcrumbs.
7. Set dial to closed lid position. Add egg yolk and water and knead for 10-20 seconds on interval speed to form dough. If necessary, add a little more water to bind together.
8. Turn mixture out onto floured board and knead lightly. Wrap in cling film and put in the fridge for about 15 minutes before rolling out and using.
9. Preheat oven to 200C / 180C fan-forced. Lightly oil 4 large pie dishes and place on an oven tray. Divide the beef mixture between the six pie dishes.
10. Divide pastry into four portions. Roll each portion on a floured surface until slightly bigger than the top of the pie dishes. Cut thin strips from the edge of each pastry portion to line the inside edge of the pie dishes. Place remaining pastry rounds on top of pie dishes, trim edges and crimp the edge with a fork. (If freezing, do so now!)
11. Brush top of pies with egg and bake for about 25 minutes until pastry is browned and filling is hot.
Other info
Prep and cooking time: 3 hours
TIP! Don't egg wash the pies before freezing.
To freeze: Complete the recipe to the end of step 10 and then. Cool and wrap in 2 layers of plastic wrap and 1 layer of foil. Label, date and freeze for up to 3 months. Thaw overnight in the fridge. Remove plastic wrap and foil and reheat as in step 11.