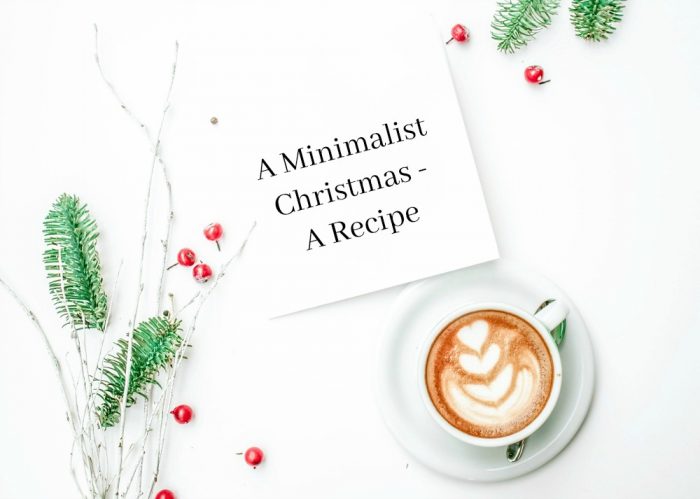 I've written before about the Christmas Crazy and the lengths I will go to avoid it. Granted, our Christmases are by nature low key because we have neither kids nor family (the latter at least not on this side of the pond.) That said it can still get tempting to get sucked up into the festive vortex with friends, family and co-workers. No one loves Christmas more than me, and that's exactly why we're having a minimalist Christmas.
I don't think there's a set "recipe" for a minimalist Christmas – it's about picking and choosing the "ingredients" that add value and meaning to the holiday season for you and yours, because let's face it, feeling happy and joyful over the holibobs is the best gift of all! Here's how our minimalist holiday looks – maybe you'll find some ingredients that work for you too!
Contributing
We love trees and our planet and of course, we love our friends and family too.  We don't need to send a Christmas card to tell our friends and family we love them so, more to the point, if I want to send a card to express my love for the special people in my life, I don't have to wait for Christmas, I have 364 other days to choose from.
We do however, love to keep in touch at Christmas, especially with our peeps across the miles, so we usually don our Christmas jumpers, take a family photo and make our own egreeting with Red Stamp (not sponsored just a festive fan girl.) Sending a greeting is all well and good but nothing beats a real time heart to heart on the old dog and bone (I'm old fashioned like that,) or flashing our gnashers on face time. Modern technology is a wonderful thing!
Christmas is all about giving, and when I say giving, I mean contributing, so we'll be splashing the cash we would have spent on cards and stamps and donating to charity instead. We usually choose a different charity each year and this year, we're donating to the Asylum Seekers Centre, a cause very close to my heart.
If gift giving is your thing, consider a charity gift, where your loved one will receive a card and know that their gift is going to be one that keeps on giving, by delivering help to where it's needed most.
Making Not Buying
There's so much pressure to buy stuff and give stuff at Christmas.  Don't get me wrong, no one loves gift giving, not to mention gift getting more than me, but I'm trying to make my life better with less. I don't want more things, and if there's a thing that I think will add value to my life or for someone else's, I'll buy it and gift it, and I won't wait for Christmas to do it!
That's not to say, I don't give gifts. I love giving gifts but this Christmas I'm making my own. This year, I'm making Sticky Date Cookies, Fantastic Fudge and Mince Pies and I know that the people receiving them will know that they're made with love and given with love too.
Gifting Experiences Not Things
The branches of our tree are anything but minimalist, but under our tree is a different story. This year we've decided to gift each other experiences not things, and have bought ourselves concert tickets and booked a sneaky weekend away for our wedding anniversary too. Spending time with, and giving the people you love your time and attention, is priceless!
I do think  Christmas is for kids (even big ones like me) and gifts for children are exceptions to my very informal rules. Usually I check in with the parents and choose from something they want, something they need, something to wear or something to read. This year, we're gifting an experience to our god children and taking them on an outing for the day. This is also a gift for mum and dad who in effect get free babysitting and some well needed quality time together. Win, win!
If you prefer to give a gift that's a thing, and you have a large family or a group of mutual friends, a KrisKringle affair always goes down a treat. It saves time hunting for gifts and money spending on gifts and no one is left empty handed.
I've spent the best part of this year setting up these gifting expectations with friends and family. Rather than buy each other gifts, we've agreed to spend quality time together, maybe catch a movie, go out for dinner or just hang out in each other's company. I much prefer making memories together than making a collection of things.
Saying No
The pointy end before work and/or school finishes for the festive season can be frantic. It's no secret that my cancer hangover has left me with severe FOMO and a voracious appetite to want to do ALL the things. But you know what? It's just not possible with the time and energy I have available. I have to say no to some things, so that I can say yes to others that mean more. It's all about setting priorities and sticking to them.
Personalise Christmas
We cherry pick the traditions of our Christmases past and keep the ones that comfort us and ditch the ones that don't. We also have fun making new traditions, around gift giving, food, movies and music. It doesn't cost money to make your Christmas you-nique!
Dancing to the Beat of our Christmas Drum
My dream Christmas involves a small number of people, as much time as possible spent in pyjamas and copious amounts of sappy TV. I realise my dream Christmas is someone else's nightmare.  There's so much pressure to do the right thing over the holidays but it's so important to do what's right for you. If you can't please everybody with your Christmas plans, then maybe you can at least compromise with them. For example, we like to spend Christmas Day on our own and then start peopling proper on Boxing Day with our friends who are like family. It's the perfect combination for a happy holiday.
Forcing yourself to hang out with people you don't want to be with and to do things you don't enjoy is not in keeping with the spirit of the season so don't make promises and commitments you don't want to make.
We press the pause button
We take the holidays as our cue to have time out. We switch off from work and we take time not to give presents but be present, for ourselves, for each other and the people that matter.
I'm practicing what I preach and so I'm pressing the pause button here on the blog too and taking a bit of a bloggy break over the holidays. I'll  be back to take stock on the 30th but normal bloggy business will resume on 8 January. Of course, I'll still be oversharing on the socials because I can only take minimalism so far.
So tell me, what are your ingredients for the perfect Christmas? Whether like me, you're choosing to minimise your Christmas or pack it to the max, I hope your Christmas is everything you're wishing for and that all your festive wishes come true. See you on the other side!
Linking up with Kylie for IBOT