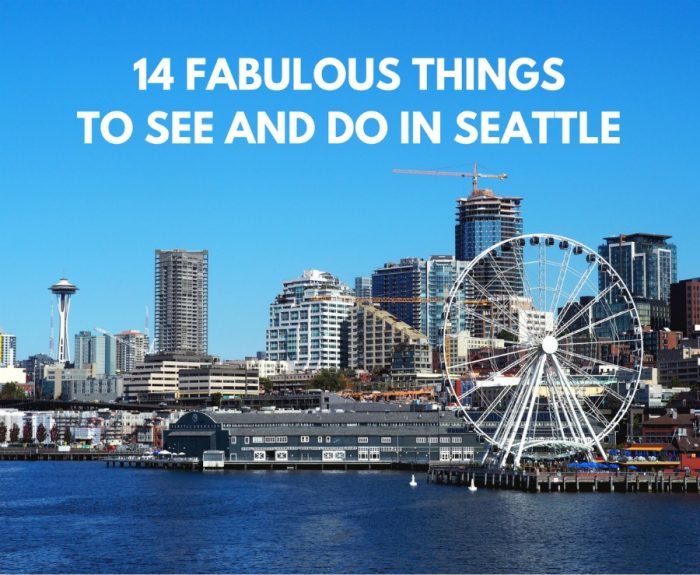 Seattle has long been on my travel wish list and I'm pleased to report, it did not disappoint. Seattle is well known for it's wet weather but all we saw was glorious sunshine, and that was in late September. Weather aside, there's great coffee, cool bars, a vast array of delicious food  and heaps of things to see and do.
Seattle is a very walkable city, albeit very hilly. Rest assured, your legs will get a thorough workout. We based ourselves in Capitol Hill and were able to walk everywhere, in fact, the only time we needed transportation of any kind was an Uber to/from the airport.
If you're lucky enough to find yourself in Seattle, here are our fourteen favourites you won't want to miss!
1. Climb the water tower at Volunteer Park
It's not surprising that this park is so beautiful. It was designed by the Olmsted brothers who also designed Central Park in New York, Golden Gate Park in San Francisco, and Balboa Park in San Diego. There's heaps of cool stuff; a walking track around the outside of the park, the art deco building that is home to the Seattle Asian Art Museum (SAM),  koi ponds, the a wading pool (open in summer only) and the red brick water tower.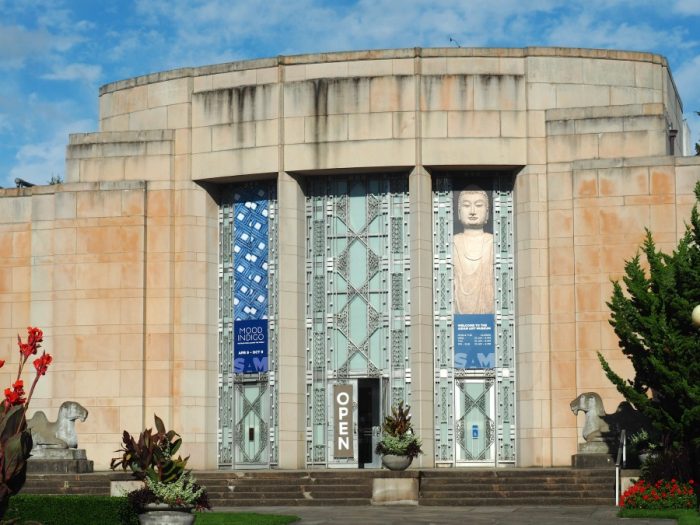 If you don't mind stretching your legs, climb the 107 steps to the top of the tower to the observation deck and you will be rewarded with 360 degree views of the Seattle skyline. There are bars and grating on the windows, so it's not ideal for photography (hence the blur,)  but you will get a great view of downtown Seattle including the Space Needle.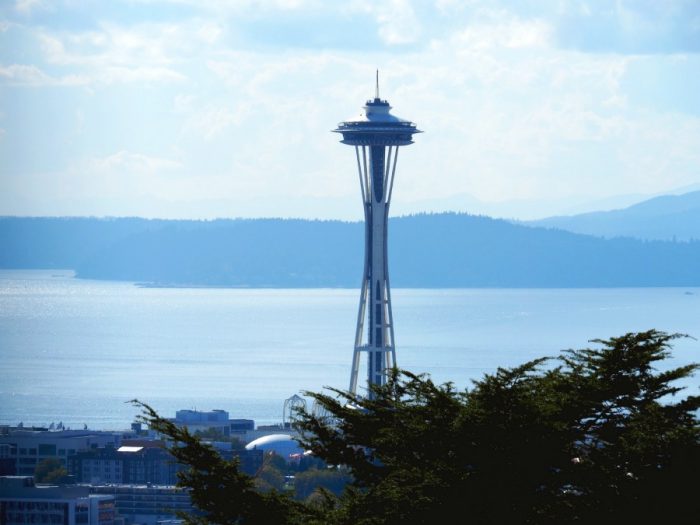 The Monorail has been the fastest way to travel between downtown and Seattle Centre since 1962. It's not cheap at $2.25 a pop for adults ($1 for children and seniors) but it's a fun ride, even if it does only last 2 minutes. Let's face it, it's a hell of a lot quicker than walking! It's well worth a ride if you're travelling to or from Seattle Centre.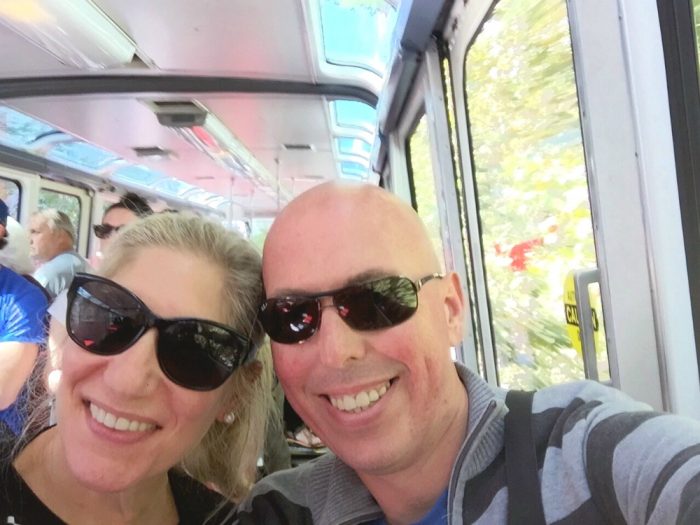 3. Go to Chihuly Garden and Glass
Chihuly Garden and Glass is a marvel of glass artworks that explores the inspiration and influences of Northwest artist Dale Chihuly. This is where glassblowing becomes mindblowing!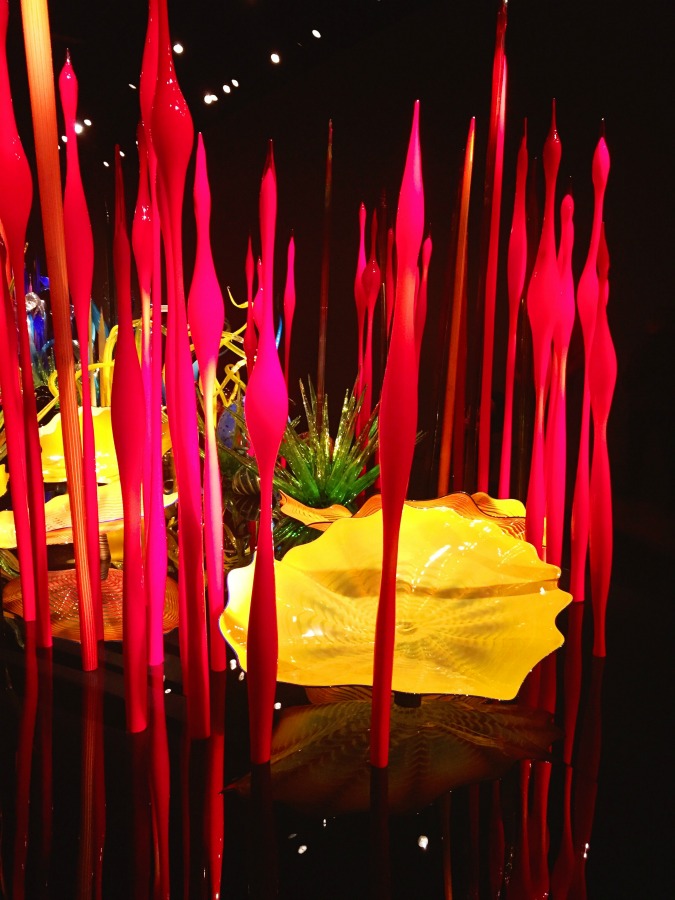 The museum showcases his amazing and beautiful arrangements of glassworks, both inside and outside, and now, in a new Glasshouse.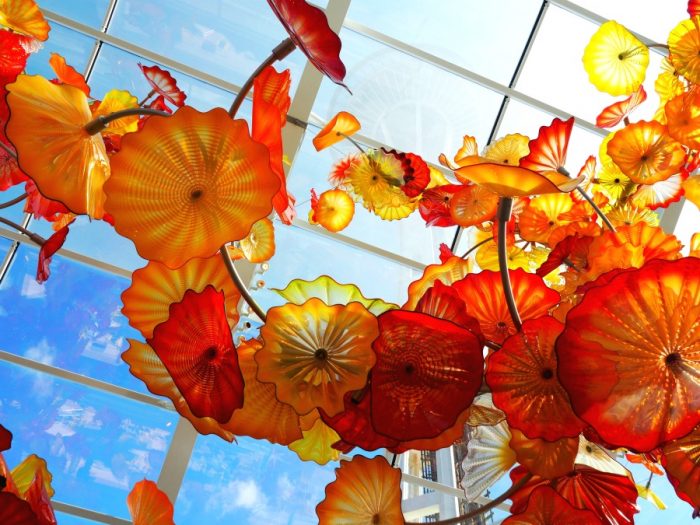 Chihuly said that  he wanted "people to be overwhelmed with light and colour in a way that they have never experienced" and here he has totally nailed it. There's also a free in depth audio tour with details about the works and the inspiration behind them and lots of input from Chihuly himself.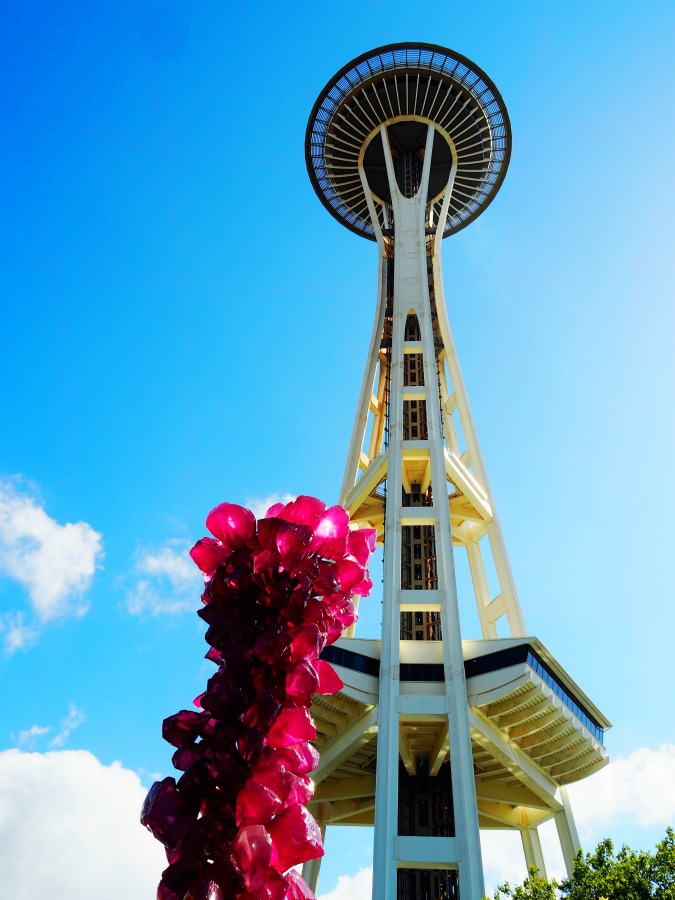 4. Be inspired at the  Bill and Melinda Gates Foundation Visitor Center
The world's richest billionaire is a Seattle native and at this high tech visitor centre you can find out more about his philanthropic endeavours.  Entry to the visitor center is free, and the center itself is spread over five rooms with all kinds of interactive exhibits where you can  see, learn and experience what Bill and Melinda are doing and the changes they are facilitating on a daily basis. There are lots of opportunities for visitor involvement including screens and  notepads and visitors are invited to contribute to the 'intellectual bank." A visit here is super inspiring because the Gates' work shows that together we can make a difference.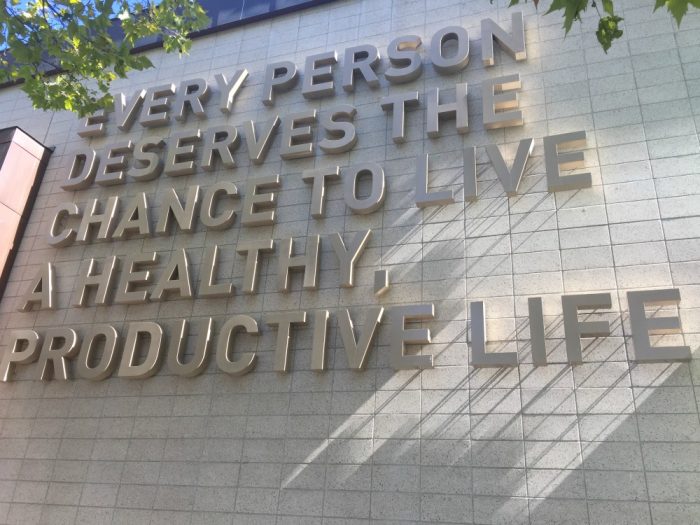 Seattle Free Walking Tours offer two free tour options, a 1 hour tour of Pike Place Market and a 2 hour tour called Seattle 101. Guides are friendly, funny and informative. On the one hour market tour, you'll find out about the history of the market, learn some fun facts, meet some of the vendors and taste their wares aswell as see all the market highlights. Bear in mind that the existence of SFWT relies on voluntary contributions, so although the tour is technically free, don't forget to tip your guide!
6. Shop til you drop at  Pike Place Public Market
If there's one thing you don't want to miss in Seattle, this should be it! Overlooking Elliot Bay waterfront, Pike Place is the oldest continually operated farmer's market in the US and first started trading way back in 1907. The market is always busy, so it's a good idea to come early, if you rock up by 9.30 you should beat the crowds.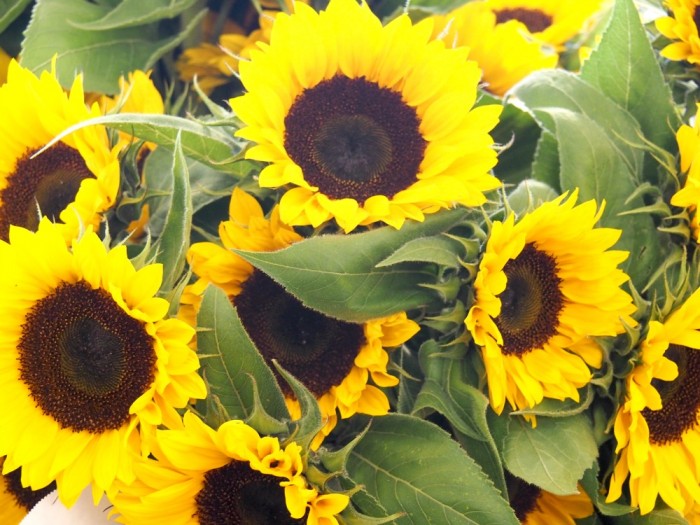 You won't be able to miss the Public Market sign and if you walk right into the market, you'll see Rachel the pig. Do stop and rub the bronze snout  of this life size piggy bank which collects about $10,000 a year!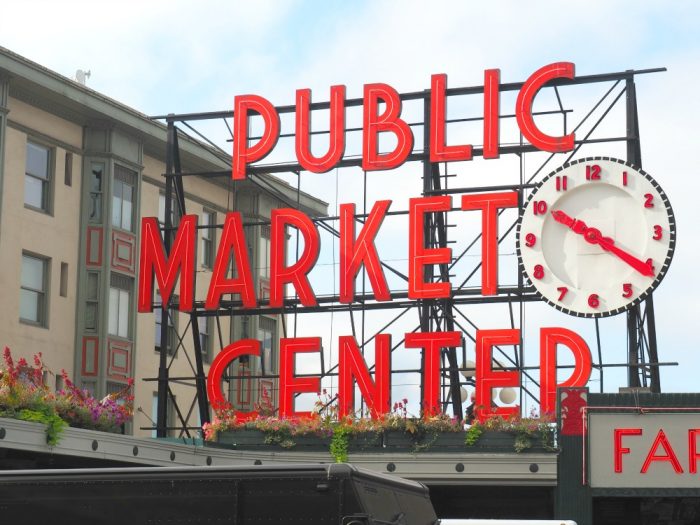 Don't miss the famous Gum Wall (yep, you totally read that right,) which is situated at the southern end of Post Alley. This once red brick wall was covered in used chewing gum from bored theatre goers waiting in line for a nearby box office. In 1999, the wall was declared a tourist attraction. Occasionally the gum situation gets out of hand, the wall gets cleaned, and the gum goes on again. Feel free to get in on the gummy action.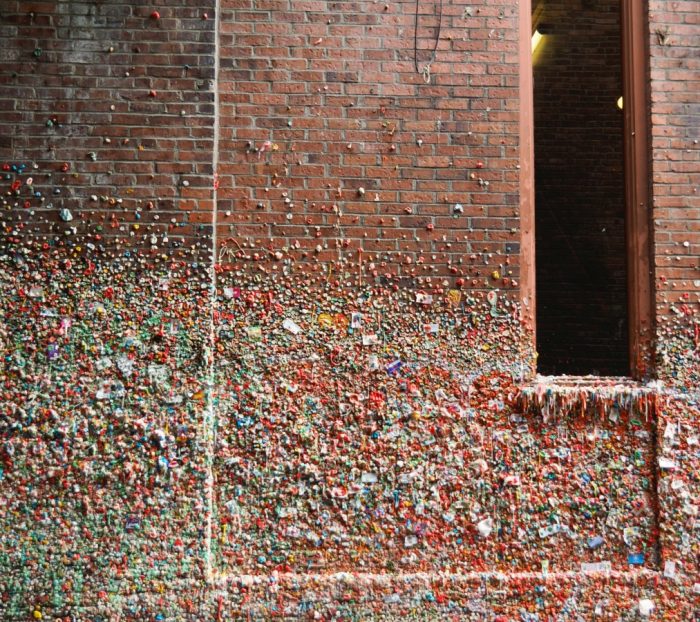 If you're lucky, you'll see some of the fishmongers in the main arcade throwing salmon around as if they were baseballs. It's hilarious to watch. Many of these fishmongers will pack up fresh seafood for overnight delivery, which is great, unless you live overseas. The FOMO is real.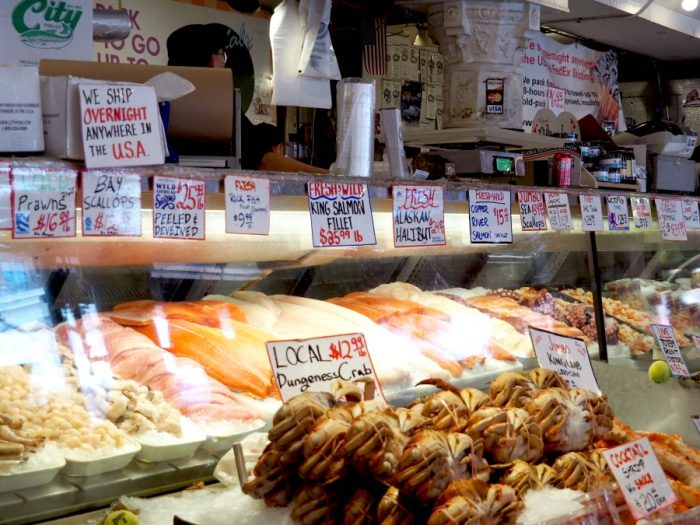 The range of fresh produce here is mind bogglingly good and also a wonderful selection of local artisan products, hand crafted goods and speciality items. If you look down, you'll see one of the 46,000 tiles that were sold to the public in the 1980's for $35 a pop. Buying a tile, got your name on it and you could feel happy in the knowledge that you helped save the market floor. See if you can spot some of the most famous tile owners,  including ex-president Ronald Reagan and children's literary legend, Dr Seuss (not pictured.)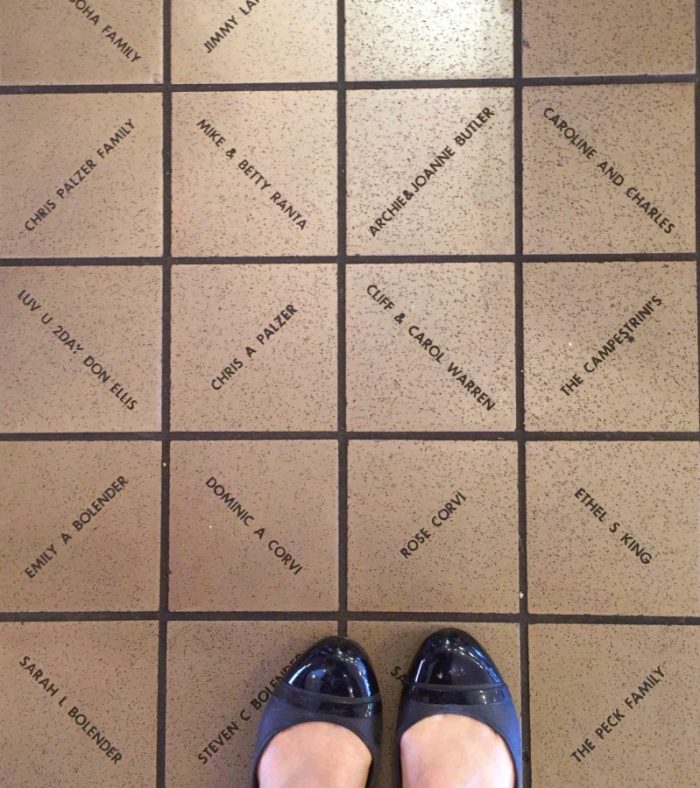 For the coffee fans, don't miss the original Starbucks which dates back to 1971, the year I was born. Don't be disappointed, but technically the store at 1912 Pike Place is not the original because there was a fire in it's first home and it moved to it's present location in 1976,  but let's not split hairs! Whatever you do, make sure you come to the market hungry because when it comes to food options, you will simply be spoilt for choice. Here are my favourite foodie finds.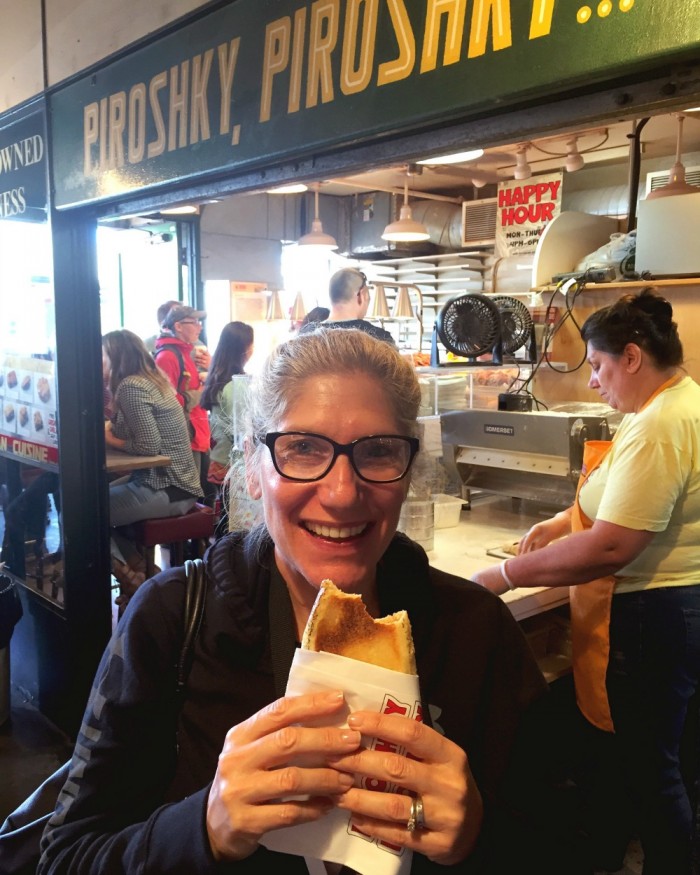 7. Take a step back in time at the Klondike Gold Rush National Historic Park
Despite it's name, this is not a national park at all, but a museum, although it is run by the US National Park Service which is probably why it's so good and why just like the best things in life, it's free. It gives a fascinating insight into the 1897 Klondike Gold Rush with exhibits, photos and news clippings.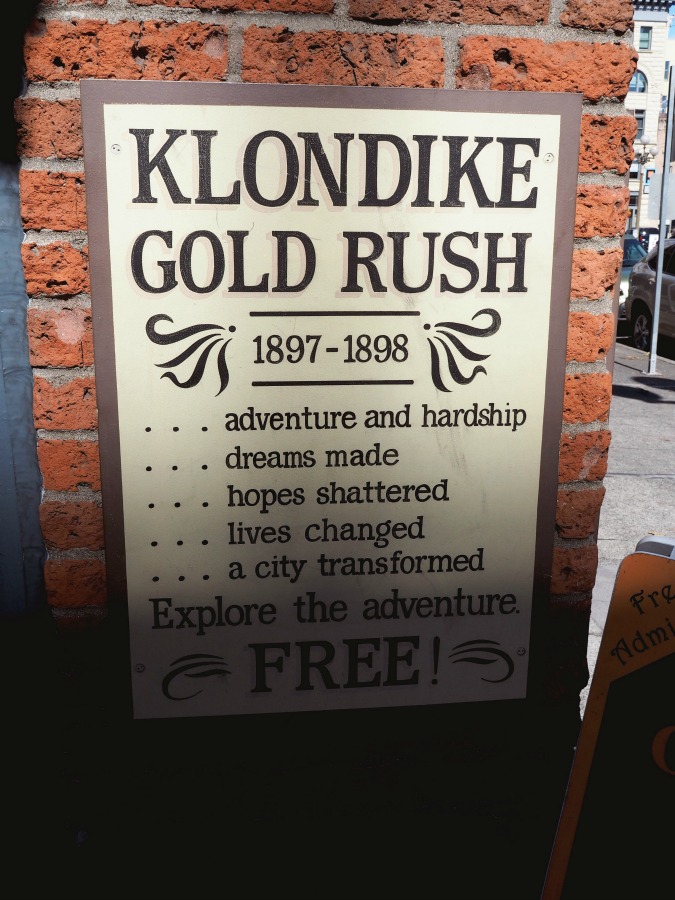 At the start of the exhibits, you are introduced to five local characters and Klondike prospectors in the 1890s and you follow their journey and their fortunes as you move through the museum. And that's not all, the museum is housed in the old Cadillac Hotel that dates back to 1889. It nearly got flattened in the 2001 Nisqually earthquake but has been lovingly restored to the gem that it is today.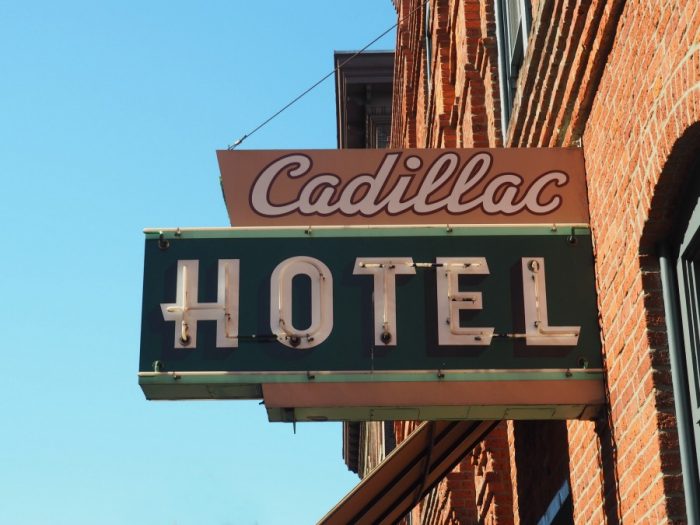 8. Bill Spiedel's Underground Tour
Who knew there was so much history in Seattle (literally) right under your feet? Not me, at least not until I did this tour!  This immensely popular  75 minute guided tour takes you through subterranean sidewalks and shop fronts that became entombed when the city literally rebuilt on top of itself after the Great Fire of 1889. The tour runs with large groups, has more gags than you can shake a stick at and runs on the hour every day. You can just rock up and try to score a spot on the next tour, but if you don't want to miss out, you can book your spot online ahead of time.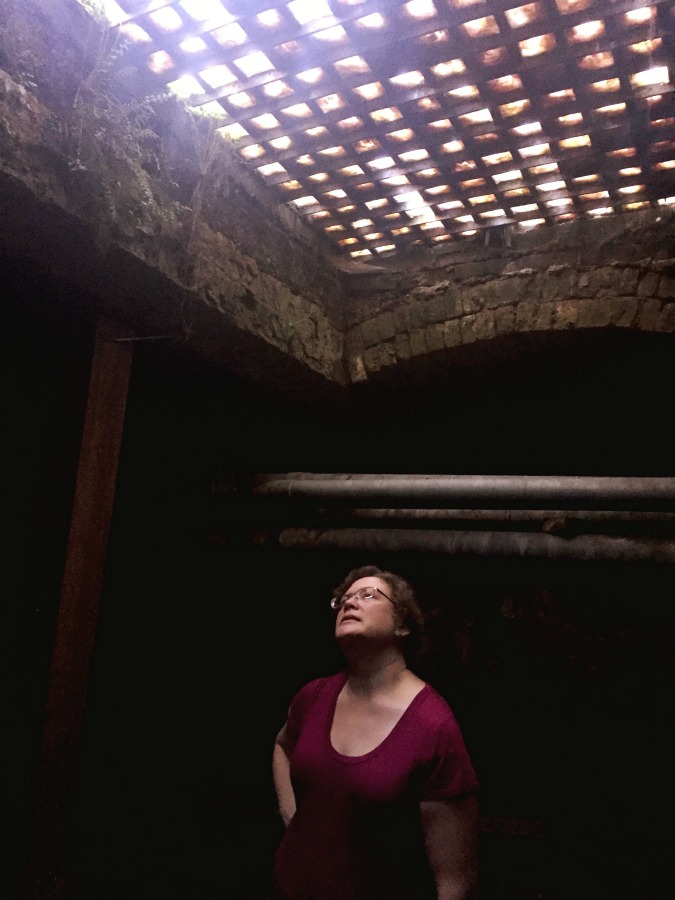 9. Hang out at the speakeasy at the top of  Smith Tower
This beautiful terracotta neo-classical building is the oldest skyscraper in town and when it was completed in 1914, it was also the tallest! The 37 floor, 148m high building has just had an extreme makeover and features a brand new visitor experience.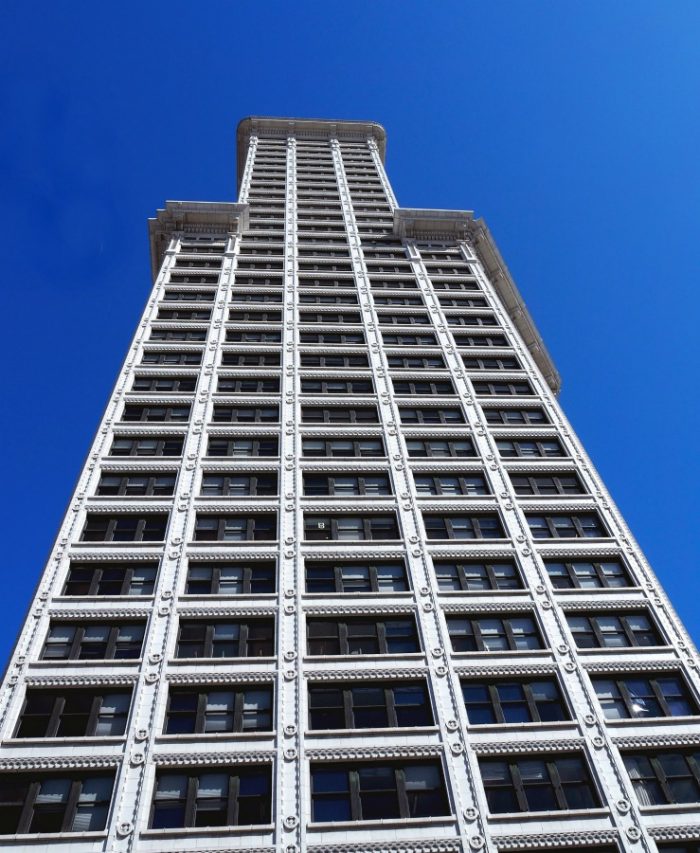 Step back in time to the roaring twenties when prohibition was the law and bootlegging was all the rage. Even the elevators are in keeping with the theme, with gated doors, brass fittings and uniformed operators. Don't miss the ride.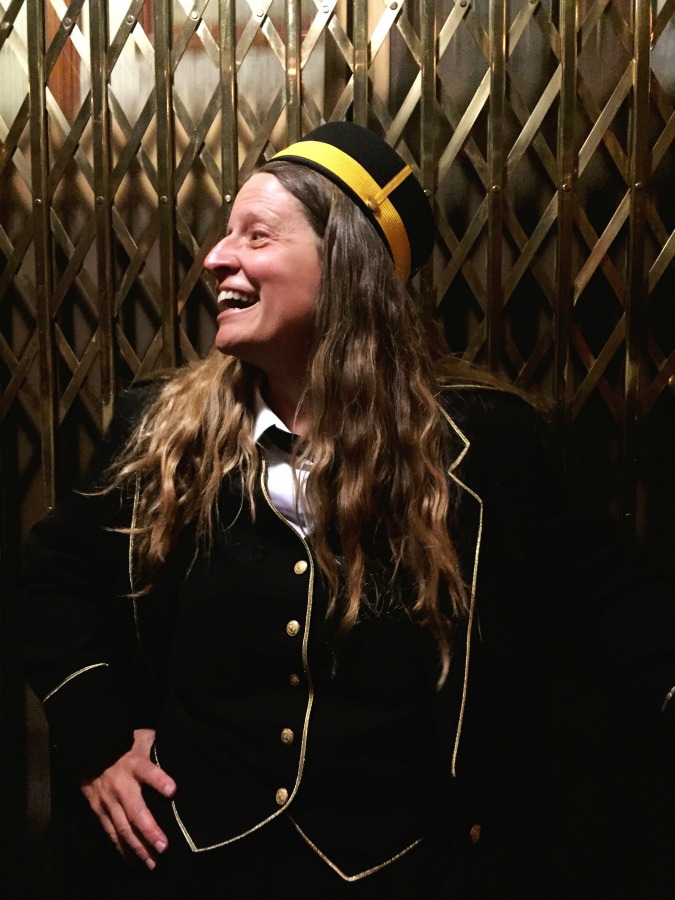 There's some interesting and interactive historical exhibits, a speakeasy inspired cafe and bar nestled in the observatory and the jewel in the crown, is an open air viewing deck with 360 degree views of the city. Grab yourself a cocktail and enjoy the view!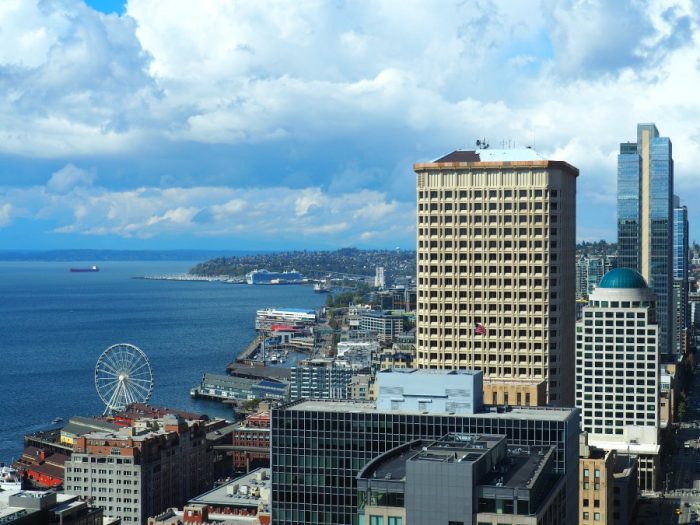 10. Get roasted at Starbucks Reserve Roastery and Tasting Room
This is definitely not your common garden Starbucks, this, the flagship store is geared towards the coffee connoisseur. The 15,600 square feet interior is as unique as the coffee and the roasting happens right in front of your eyes!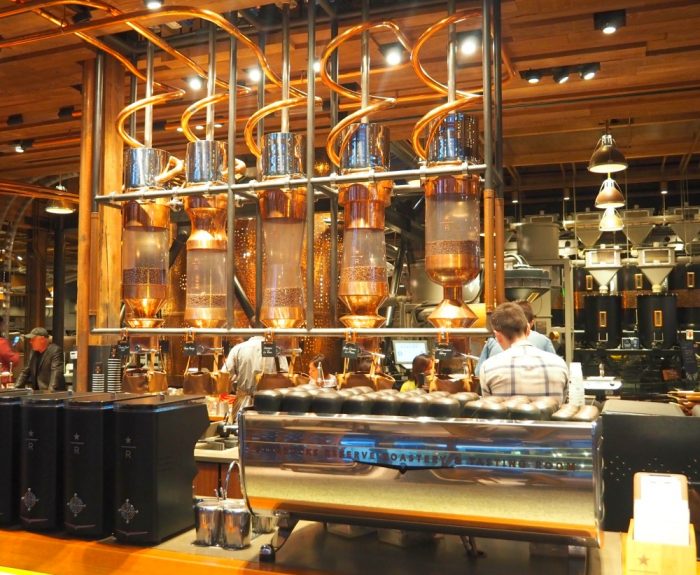 Don't expect to get a normal latte or cap here, they serve top notch coffee with a hint of this and infused with that! If you're game, there is even chemistry coffee, made in what looks like test tubes, heated to the perfect temperature and all made right in front of you as if you were in a coffee laboratory!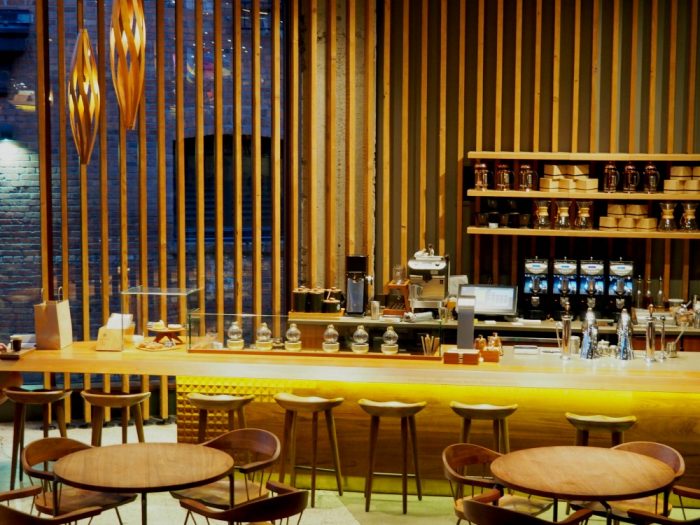 You can even take a tour of the roastery and for the ultimate coffee souvenir, be sure to check out the unique coffee paraphenalia available for purchase.
11. Take a free Brewery tour at Pike Pub and Brewing
This busy European-pub style pub offers free evening tours Wednesday through Saturday, Find out how beer is brewed and tour their gravity flow brewery. The fun kicks off at 6.30 and although there are no free samples, you can buy a beer and take it on tour with you. Just remember to book ahead for the tour, wear closed in shoes and don't forget to tip your tour guide!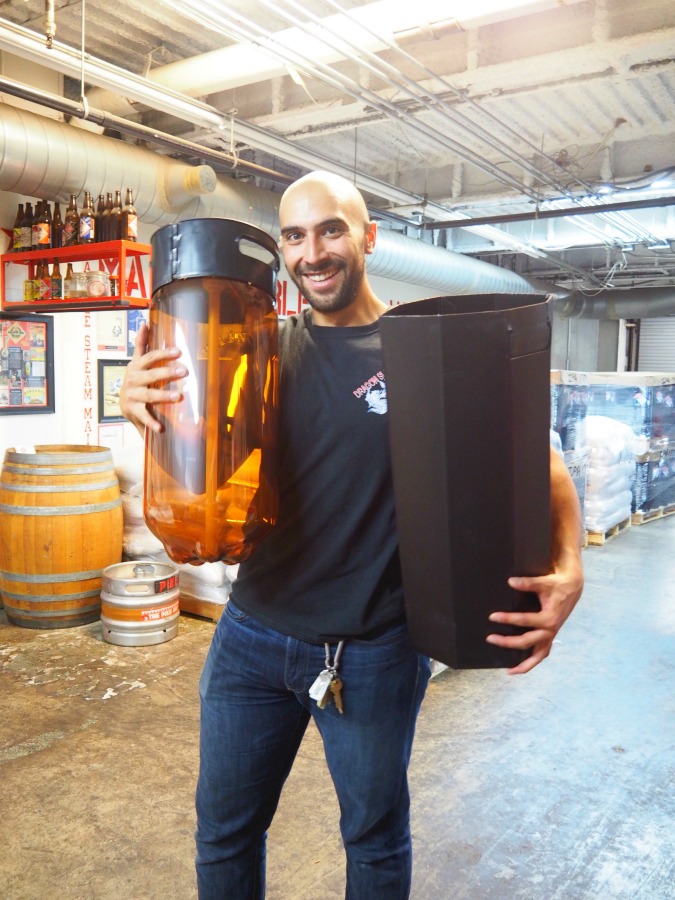 12. Tower Over Seattle at the Skyview Observatory
If you like a good view, give the Space Needle a miss and head to the Skyview Observatory instead! Not only is it considerably cheaper and much less crowded than the Space Needle, at 902 feet it's taller too!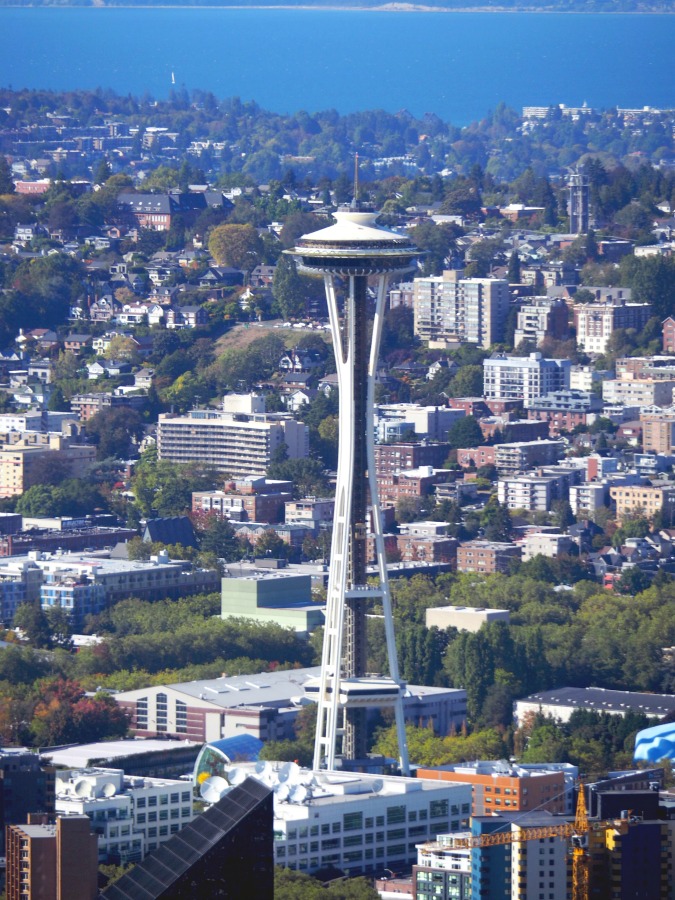 From the 73rd floor observatory you can enjoy 360 degree panoramic views of Mount Rainier, Elliot Bay, the Cascade Mountains, the Olympic Mountains,  downtown Seattle and look down upon the Space Needle and Smith Tower too!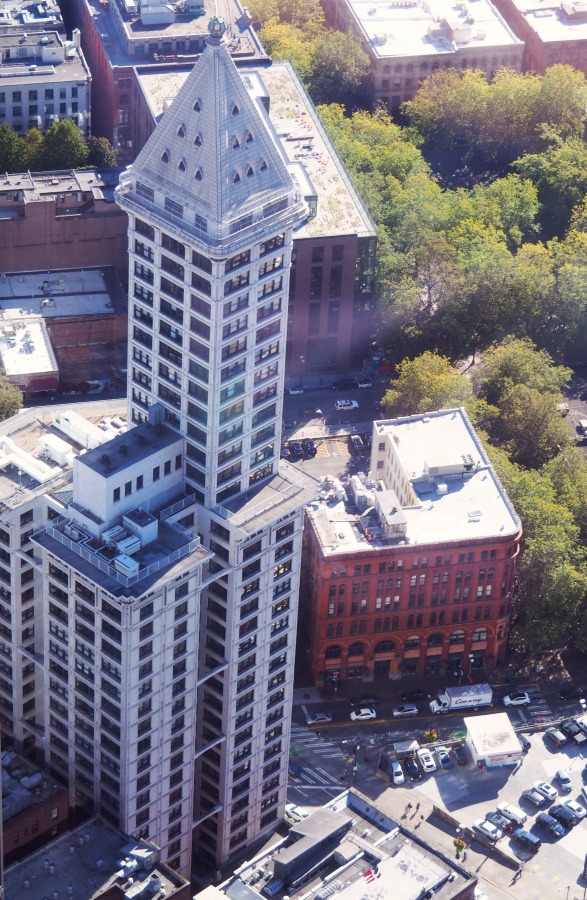 Best of all, get a stamp on your hand and you're free to return later in the day if you want to catch the sunset. Views aside, the observatory is tastefully laid out with plenty of seating, fascinating facts and a neat and reasonably priced bar/snack area. There's even photography tips to help you get the perfect picture.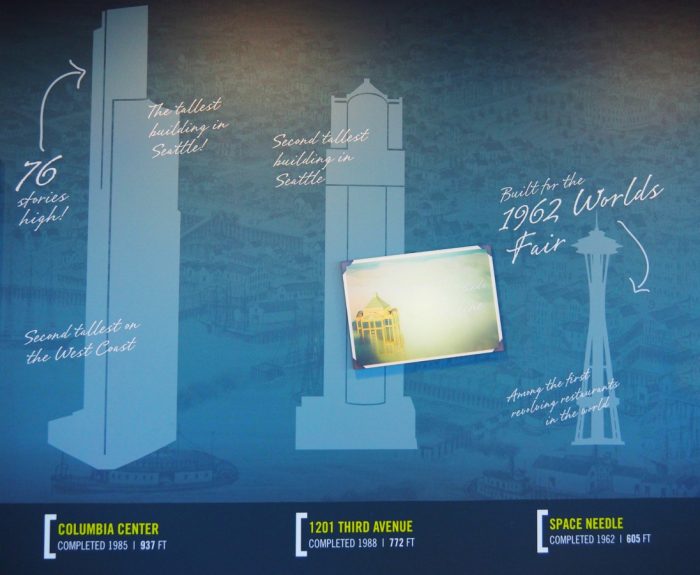 13. Take the Washington State Ferry to Bainbridge Island
Getting to Bainbridge is half the fun – you should totally take a ride on the Washington State Ferry while you are in town, if only for the view! You only pay for the outward journey, (the return is free,) and the ticket price is worth it just for the views of the Seattle skyline and the Sound.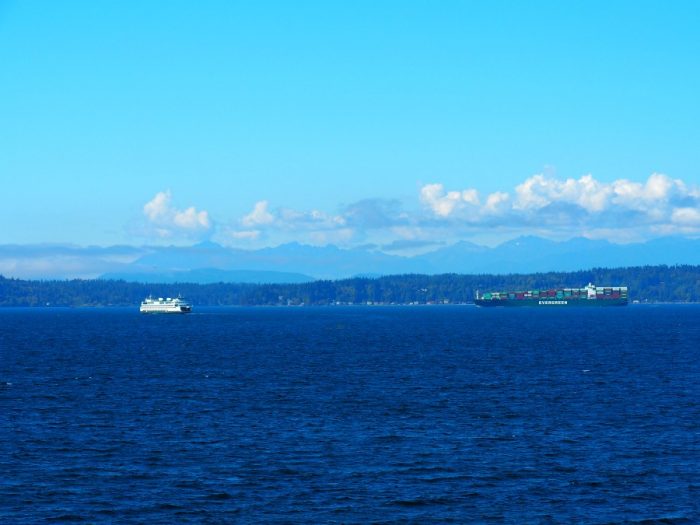 You don't need a car to explore Bainbridge Island, when you get off the ferry, you can take a short walk into downtown  with lots of chi chi shops and eateries and a beautiful waterfront walk. It's about as pretty and relaxing a way to spend an afternoon as you can get.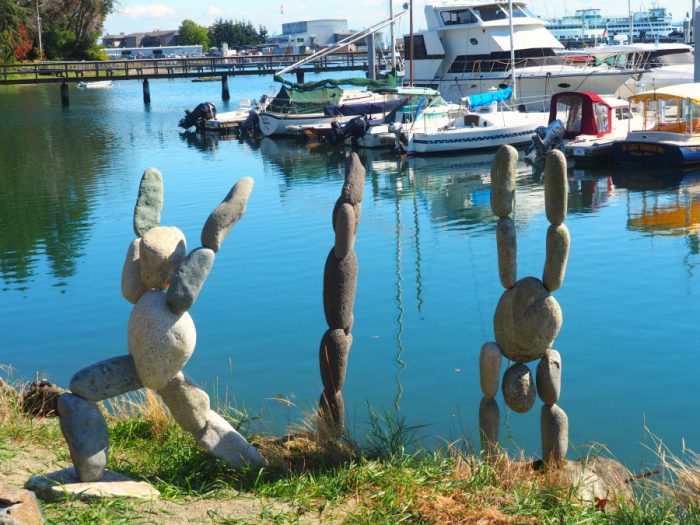 14. Pay Your Respects to Bruce and Brandon Lee
Admittedly, this isn't going to be on everyone's list of must-dos in Seattle, but Lake View Cemetery, located in the leafy suburb of Capitol Hill is well worth a visit. Despite the number of tourists who visit to pay their respects to these martial arts greats, as final resting places go, this is about as peaceful and pretty as it gets.  Bruce and Brandon's memorial is a humble affair towards the back of the cemetery with beautiful views of the mountains and Lake Washington in the distance.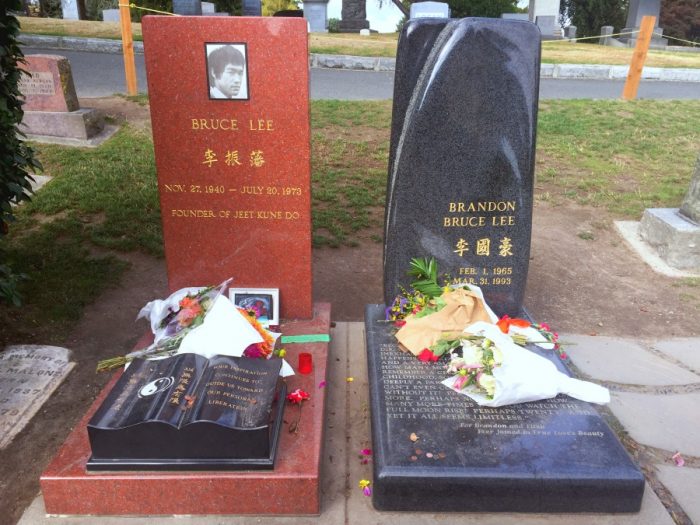 Have you ever been to Seattle? Have you got anything to add to the list? What was/would be your best bit?
This post is not  sponsored in any way. We experienced all of these activities and any costs or fees were independently paid for.