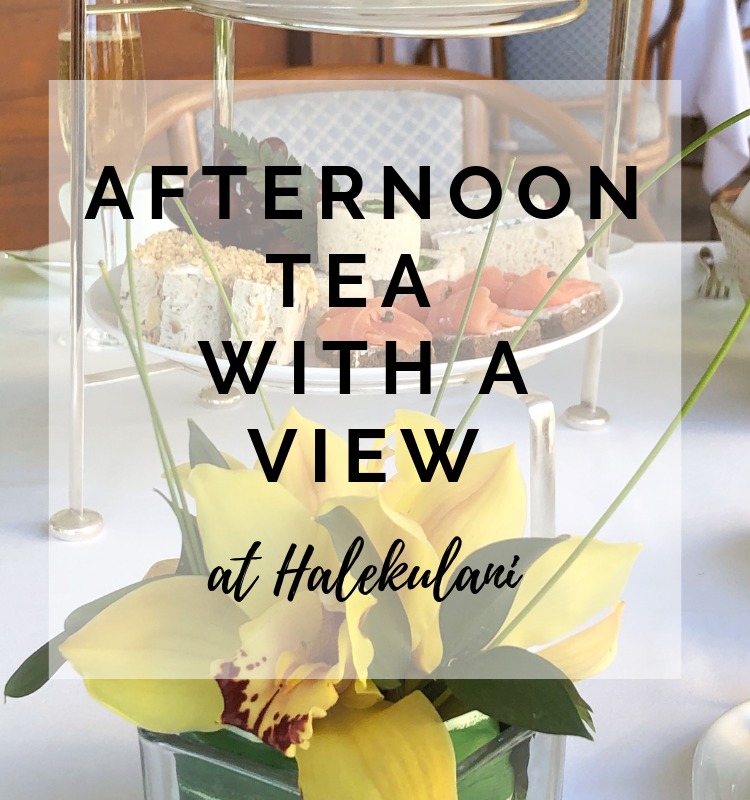 Afternoon tea – scones, sarnies, endless cups of tea and delicious sweet treats – what's not to love? I can't think of a better way to while away an afternoon, especially at the Halekulani hotel where it's served with a side of ocean views and a generous glimpse of Diamond Head. Swoon!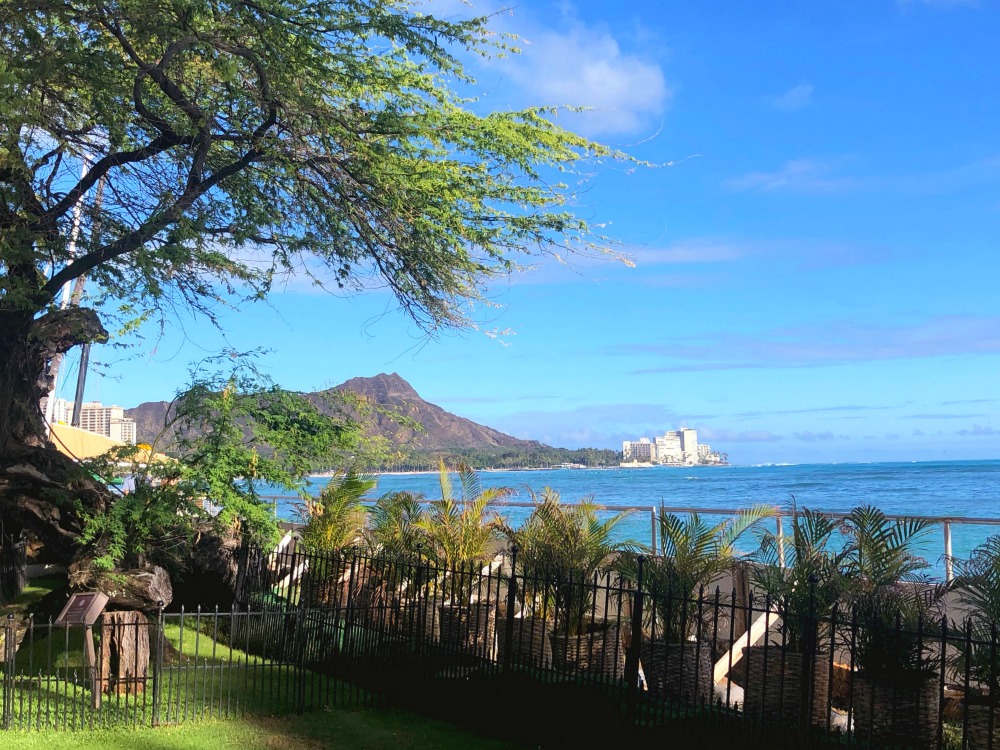 It's no secret that I'm obsessed with afternoon tea, especially with afternoon tea with a twist. Remember that time I climbed all aboard the Afternoon Tea Bus? What about when I stepped back in time to the Edwardian era to Lady Rose's and felt like an extra in Downton Abbey? And let's not forget that one time I learned an important life lesson from a cucumber sandwich!
Ever since my friend Leonie told me about the amazing high tea at the Halekulani, it's been top of my Waikiki Bucket List and yes, a Waikiki Bucket List is totally a thing! Despite our best intentions, we missed out on the Halekulani afternoon tea on our visits in 2017 and 2018 so on this trip, I had to make it happen. I'm pleased to report that after three years of waiting the experience doesn't  just live up to my expectations, it exceeds them!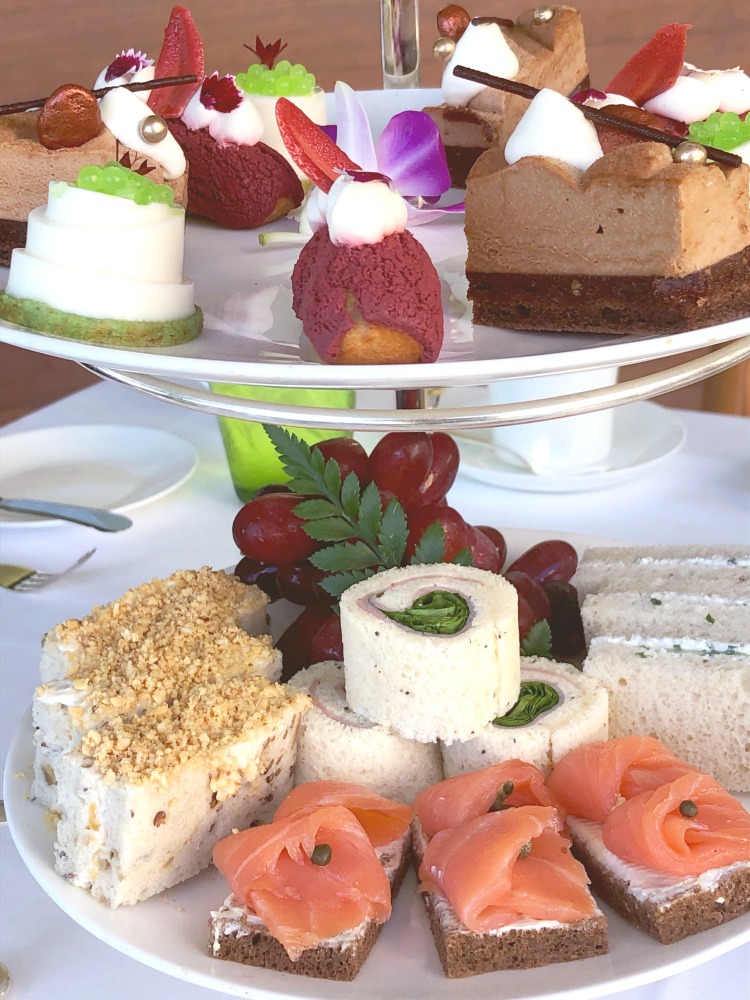 In the past, afternoon tea was served on the veranda of the main building but now it's also being served al fresco on the terrace at Orchids where you look out over the ocean and on to Diamond Head – it really is afternoon tea with a view.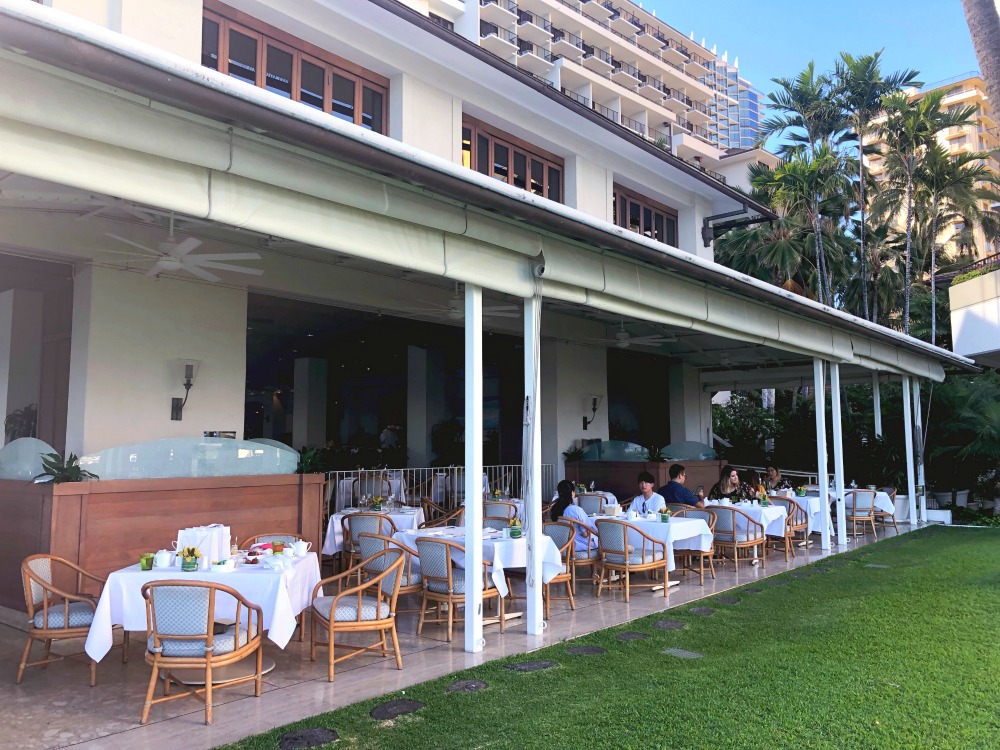 The Halekulani is a large property but it has a wonderfully calm and quiet feel. I find it a veritable oasis in the heart of  Waikiki and the terrace is the perfect spot for some afternoon teatime indulgence. There are three choices of afternoon tea at the Halekulani, the Classic, the Champagne and the Celebration. We opt for the Champagne Afternoon Tea which includes everything on the Afternoon Tea Menu plus fresh strawberries with cream and a glass of Halekulani's designer champagne. Here's to bubbles not troubles!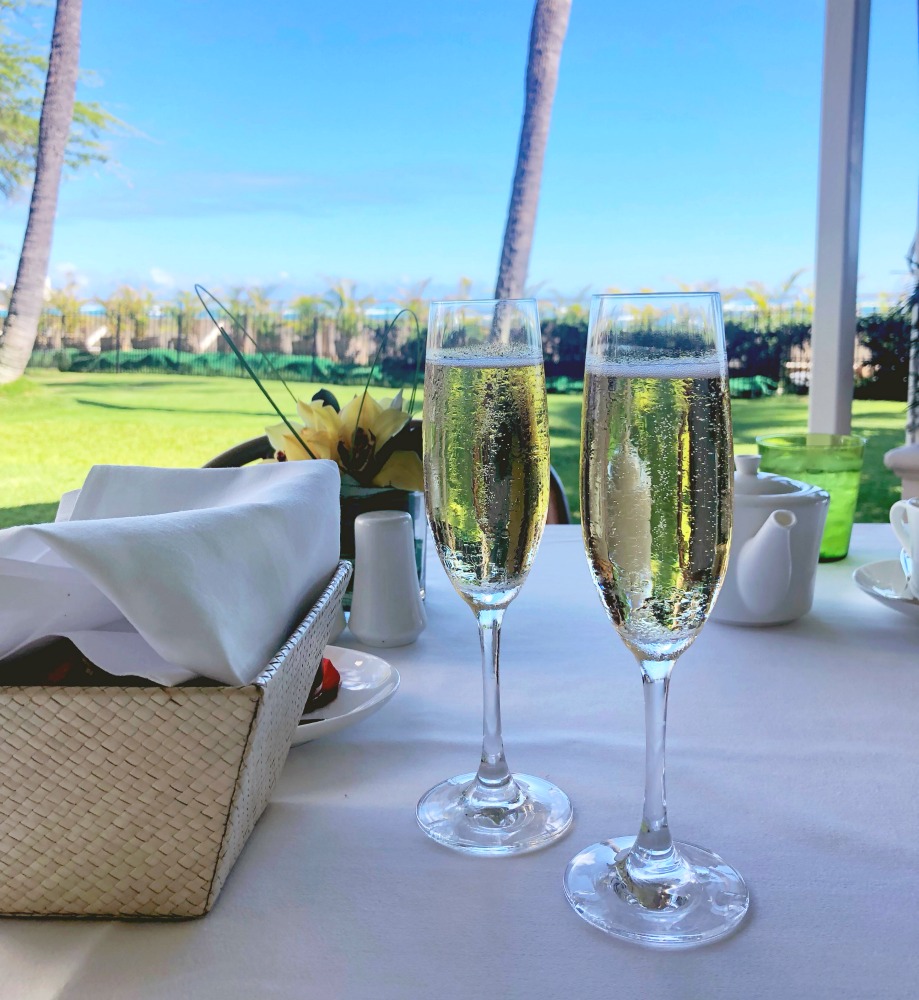 We then have the important decision of which tea to choose from the Halekulani's Fine Tea Selection. This is my kind of menu, hands on and multi-sensory. Each tea comes with a description and a sample so that you can have a sniff. All teas smell different and smelling the tea, is just like tasting it, only with your nose! In case you're wondering, I go for Eden Rose. What would you pick?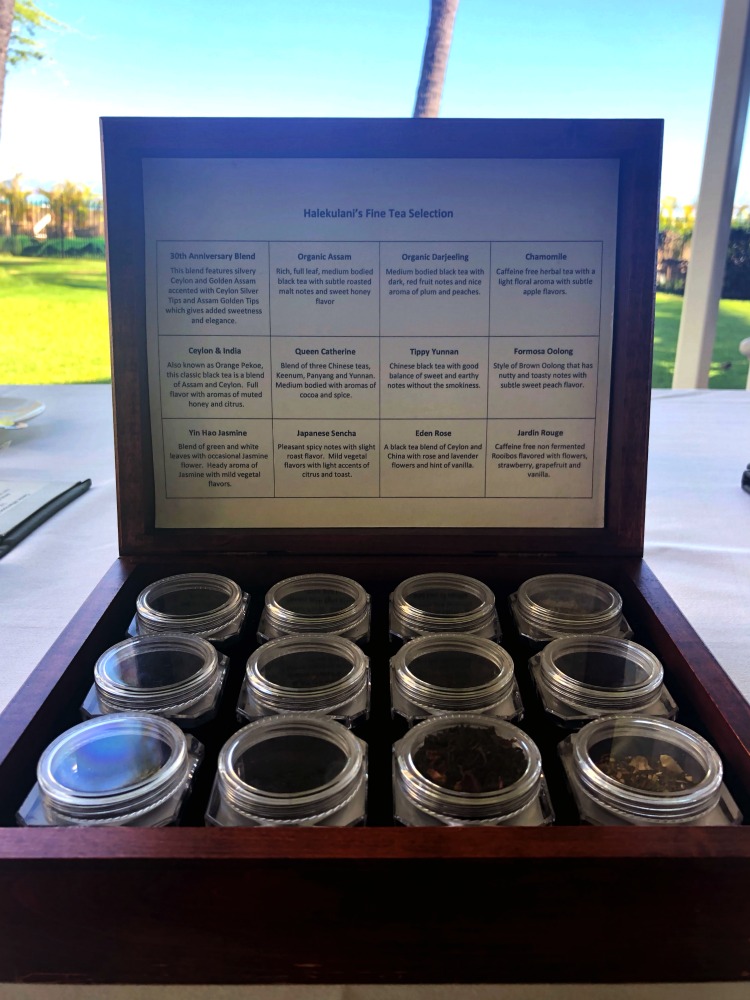 Service here is impeccable and before we know it our tea stand has arrived. Between you, me and the rest of the interwebs, the sandwich selection is my favourite item on an afternoon tea stand and the Halekulani Afternoon Tea does not disappoint. There's Ham, Watercress and Wholegrain Mustard Pinwheels on Poppy Seed Bread, Chicken with Horseradish on Wholegrain Bread, Smoked Salmon with Lemon Cream on Rye Bread and with a nod to tradition (and a tiny bit of a twist) there's the Cucumber with Cream Cheese and Chives on Caraway Seed Bread. They're all very delicious, although the Chicken Sandwich with the delicious crushed peanut crumb is my favourite.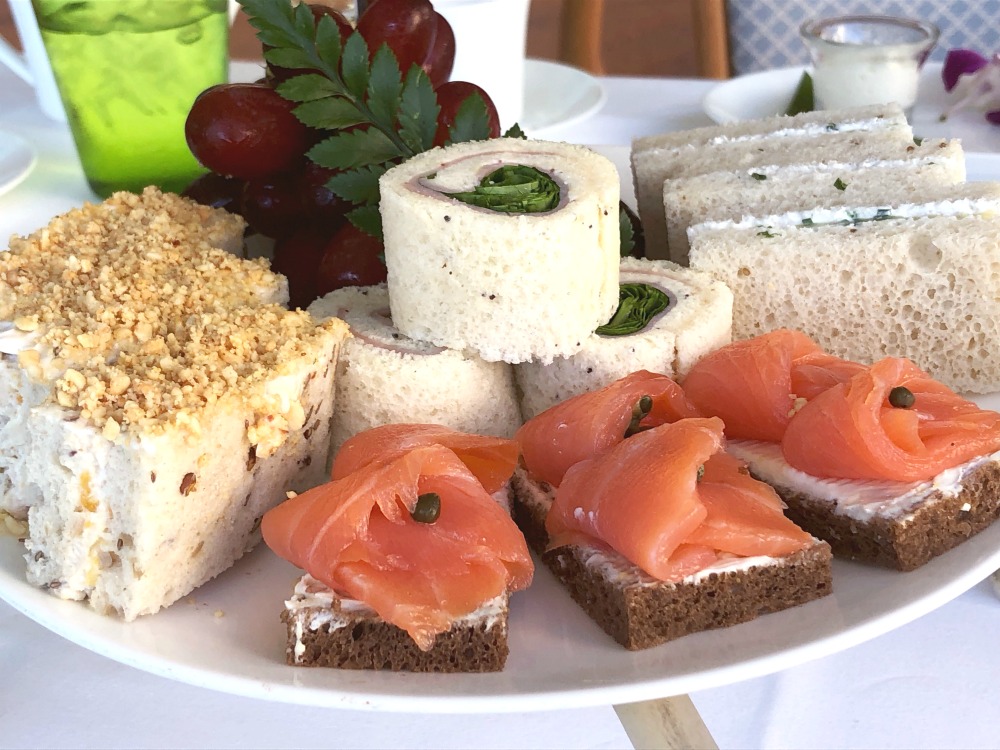 The top tier of the tea stand is laden with delicious island influenced pastries. I have to be honest, I am so mesmerised with the tea stand that  I can't remember for the life of me what they all are but I do remember that they are all thoroughly delicious. The teatime pastries and cakes are made fresh and the cake menu changes each day so while you don't know exactly what you'll get, you do know that you are in for a delicious surprise!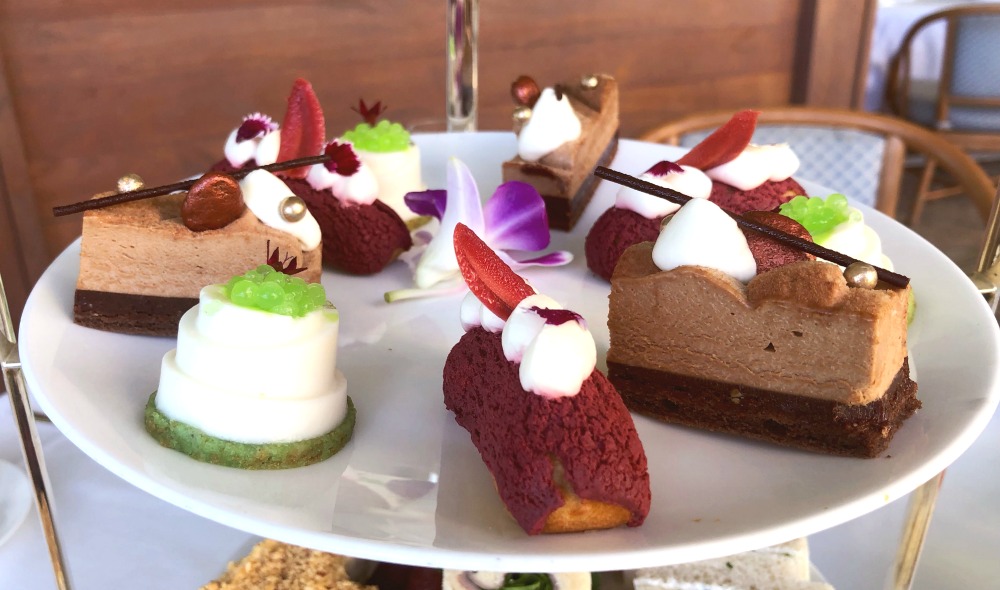 Now I don't know about you but I think an afternoon tea without scones is not an afternoon tea at all. Clearly, the Halekulani Teatime Team share my opinion because the scones are served warm – as the best scones always are – in their own basket alongside some very moreish Lemon and Poppyseed Muffins. The currant scones are small but perfectly formed and have the perfect texture, firm but not fluffy and with just the right amount of crumb.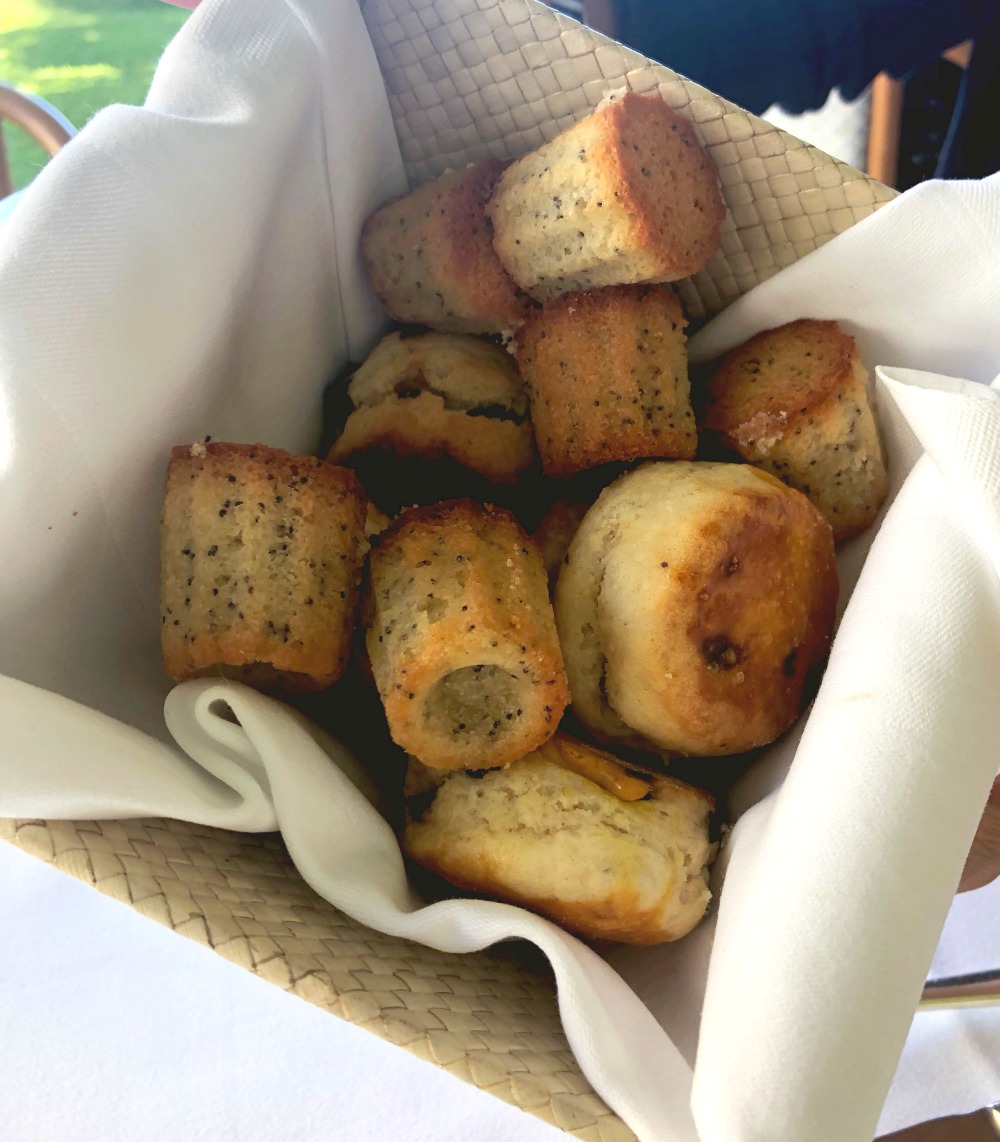 Best of all, they're served with house made Double Devonshire Cream, house made Lemon Curd and Kula Strawberry Preserve. Now there's much debate about whether you put the cream or jam first. In Cornwall, the jam goes first and is topped with cream but their Devonshire neighbours put the cream first and then the jam.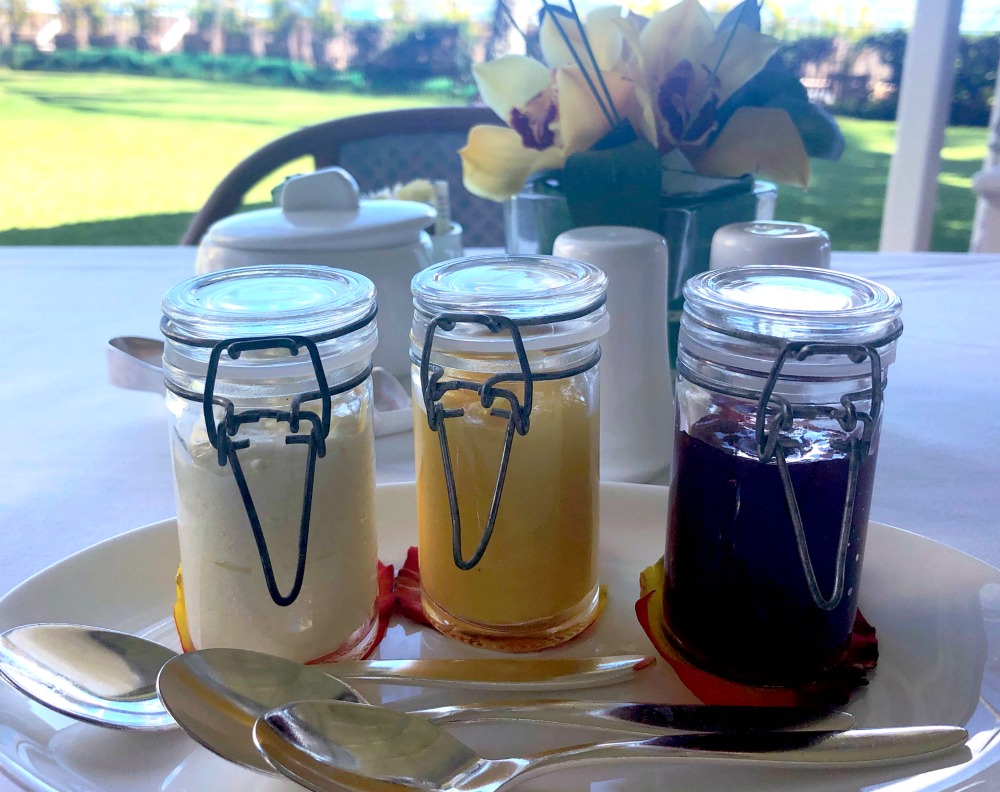 Apparently the Queen is on Team Cornwall but I'm going to have to break with tradition and join Team Devon here because when afternoon tea is served with proper clotted (or in this case Devonshire) cream, the best way to enjoy the scone is with thickly spread cream topped with jam.  I haven't had clotted style cream, or scones for that matter, this good outside of the UK. I'm in scone heaven.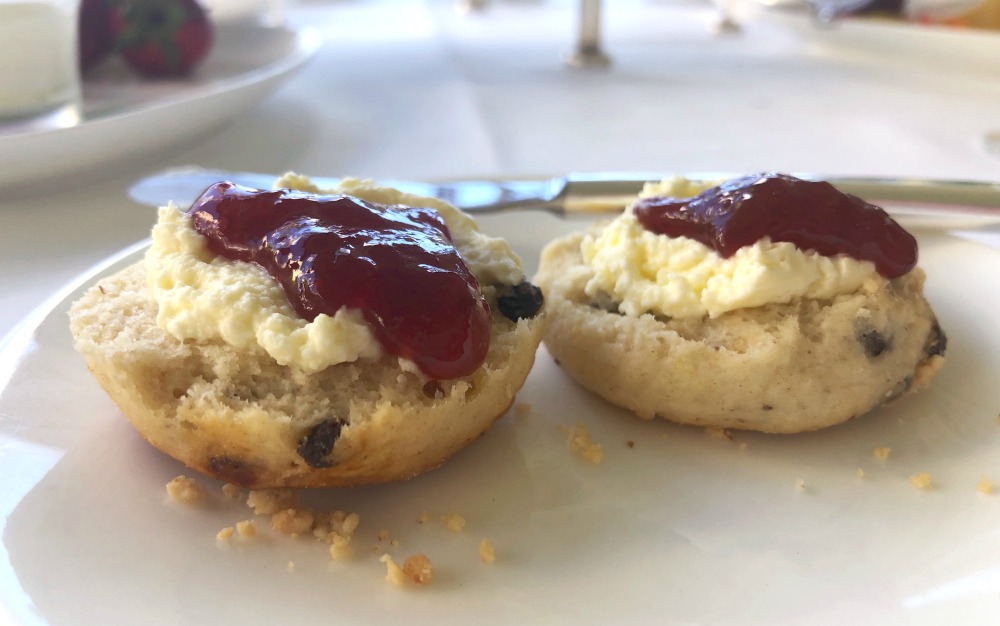 Actually, we're so busy discussing the jam and cream situation, enjoying the view and savouring the experience that it's nearly time for the staff to set the tables for dinner! When teatime treats are this good, it's a crime against baked goods to leave them behind so the staff kindly box them up so we can take them home and enjoy them later. And enjoy we do.  Then, after one last photo opportunity, we head home with happy hearts, full bellies and some magical memories.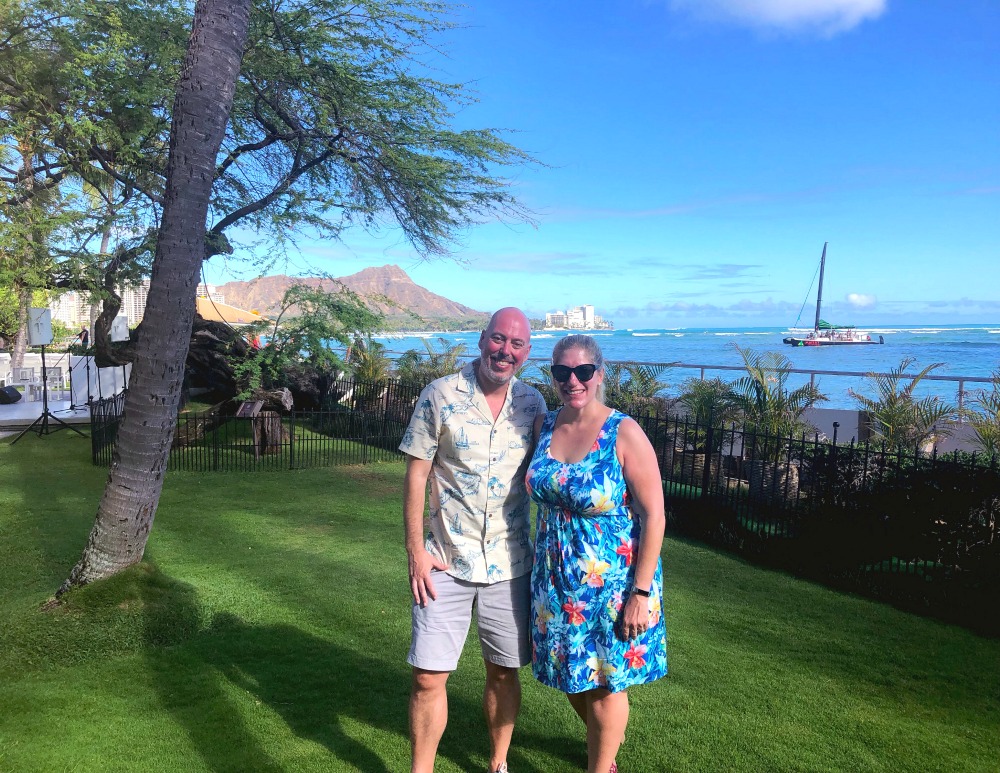 Are you a fan of afternoon tea? What goes first on your scone, cream or jam? And what's your favourite part of the afternoon tea menu?
Need to know more?
The Halekulani Afternoon Tea starts from $36 per person
Afternoon tea is served:
On the veranda  Daily from 3:00 p.m. – 5.30 p.m.
At Orchids –  Monday to Saturday from 3:00 p.m to 4:30 p.m
Reservations are welcome for Orchids by calling (808) 923-2311, (844) 288-8022 or by email at dining.reservations@halekulani.com
Find out more about the Halekulani
David and I enjoyed our afternoon tea as guests of the Halekulani but all opinions are honest and my own.