With it's beautiful beaches and cracking coastline, Port Stephens is the perfect pet friendly getaway.
Before we welcomed Teddy Roosevelt into the family, we loved a good weekend away and so we couldn't wait to take Teddy on his first road trip to enjoy a bit of weekend wanderlust. Travelling with your furry friend is so much fun but it does require some ninja planning and a certain level of organisation and research.
It's not Teddy that makes pet friendly getaways tricky, it's the lack of quality pet friendly accommodation and dining options that can make a holiday with your pet a bit of a challenge.
However, on our first fur-family getaway to Port Stephens, a mere 2.5 hours from Sydney, where we stayed, ate and played ticked all the boxes and the holiday was enjoyed equally both the humans and the hound.
Where we stayed
There's a real gap in the market for high end pet friendly holiday accommodation but in Anna Bay, Ruby Tuesday has definitely filled it. This gorgeous house is modern, clean and had plenty of space inside and out.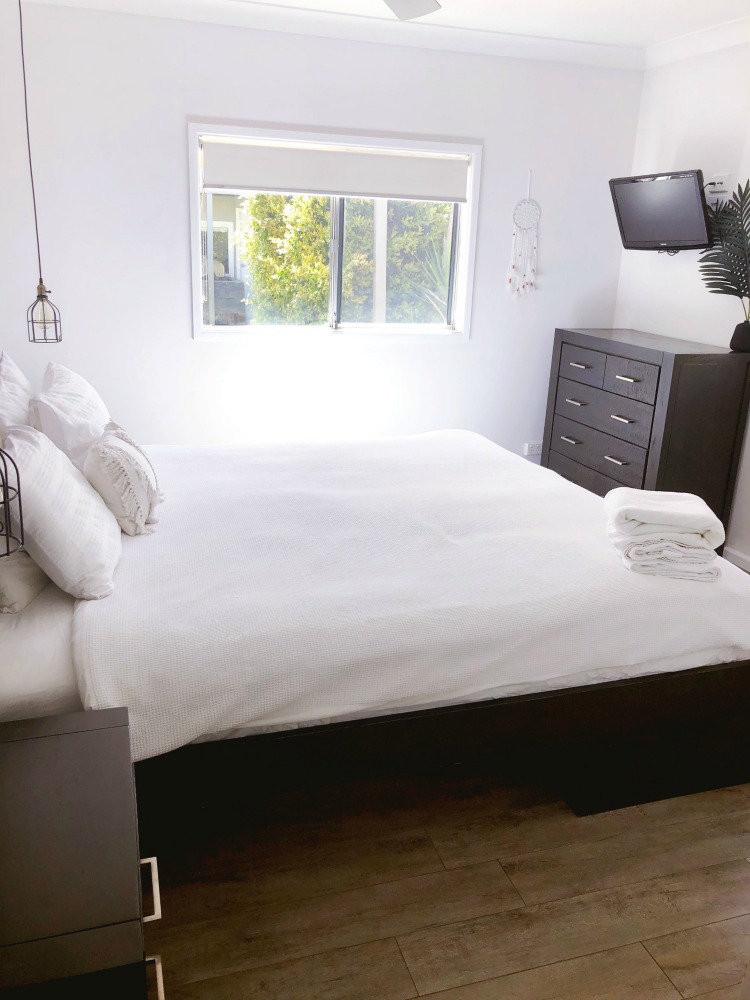 There's two spacious bedrooms, a light, airy open plan lounge, diner and kitchen (all tiled and very pet friendly) a modern bathroom (complete with rain shower) and the piece de la resistance is the fully enclosed back garden with so much space for Teddy to stretch his legs!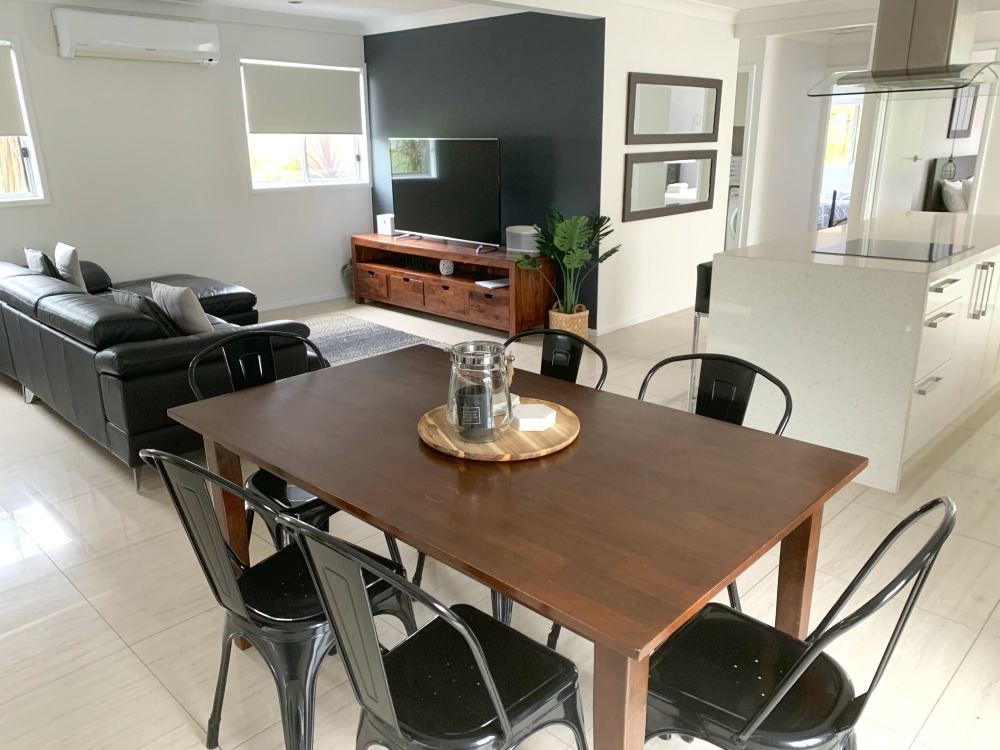 As if all that wasn't enough, location, location, location! Ruby Tuesday is just a two minute drive from the brilliant dog friendly Birubi Beach and within walking distance of the local pub, IGA and other local shops. It is the perfect base for our Port Stephens getaway and everything we want to see and do is within a 15 minute drive – winning!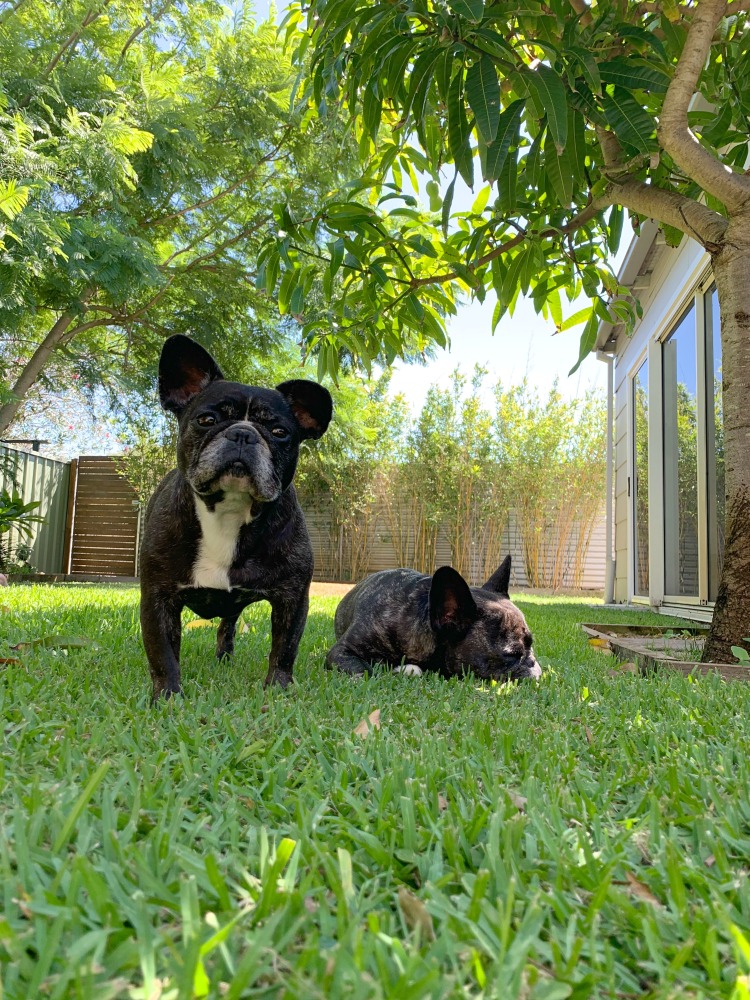 Here are my top tips for picking the perfect Airbnb. If you're new to Airbnb, click my referral link here and you'll score $76 credit off your first stay!
The Kiosk Birubi Beach
73 James Paterson Street, Anna Bay, NSW 2316
Anna Bay mornings are best spent on Birubi Beach – where dolphins frolic in the waves and the dogs play on the sand. There's a cafe with a view here called Crest but it's not dog friendly so we pop around the corner to the kiosk where they serve coffee and take away breakfasts. The coffee here is pretty decent and it's definitely a brew with a view!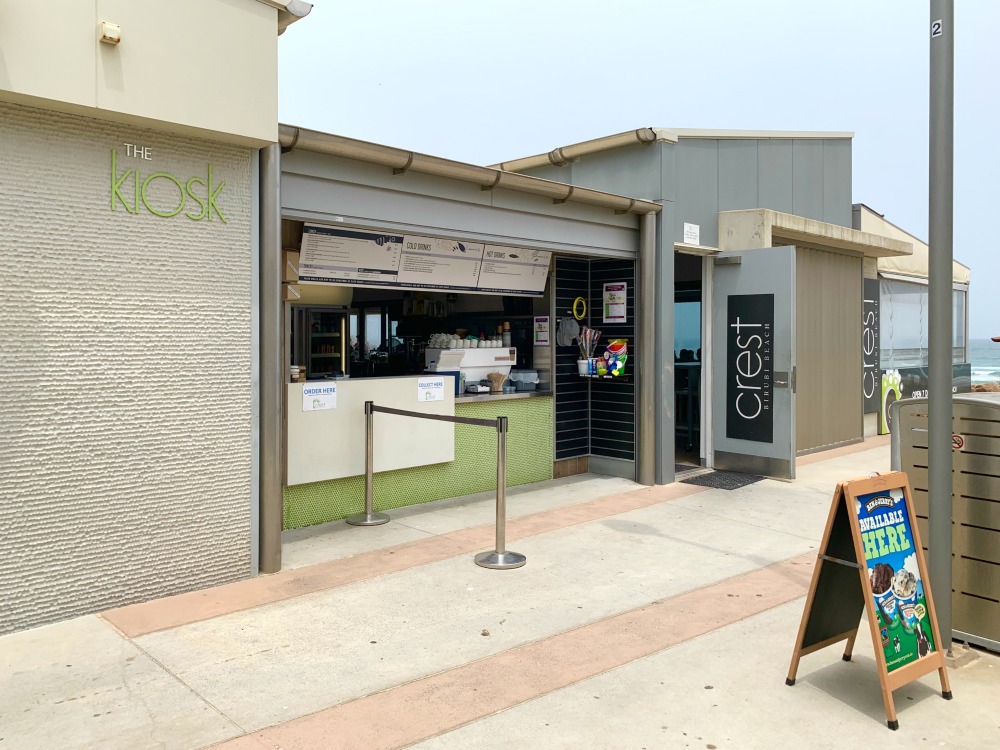 124 Gan Gan Road, Anna Bay, NSW 2316
Having a pub around the corner from our holiday home is almost too good to resist. The pub has an extensive bistro menu but alas, dogs are only allowed in the front garden AKA the the smoking area and all that cigarette smoke totally kills our appetite. If you're feeling thirsty, it makes a good pit stop stop for a quick drink.
3834 Nelson Bay Road, Bobs Farm, NSW 2316
Inspired by Nordic legends, this pizza restaurant welcomes dogs on it's outside verandah. It's a really quiet night when we visit but we are made to feel most welcome, there's even a bowl of water waiting for Teddy.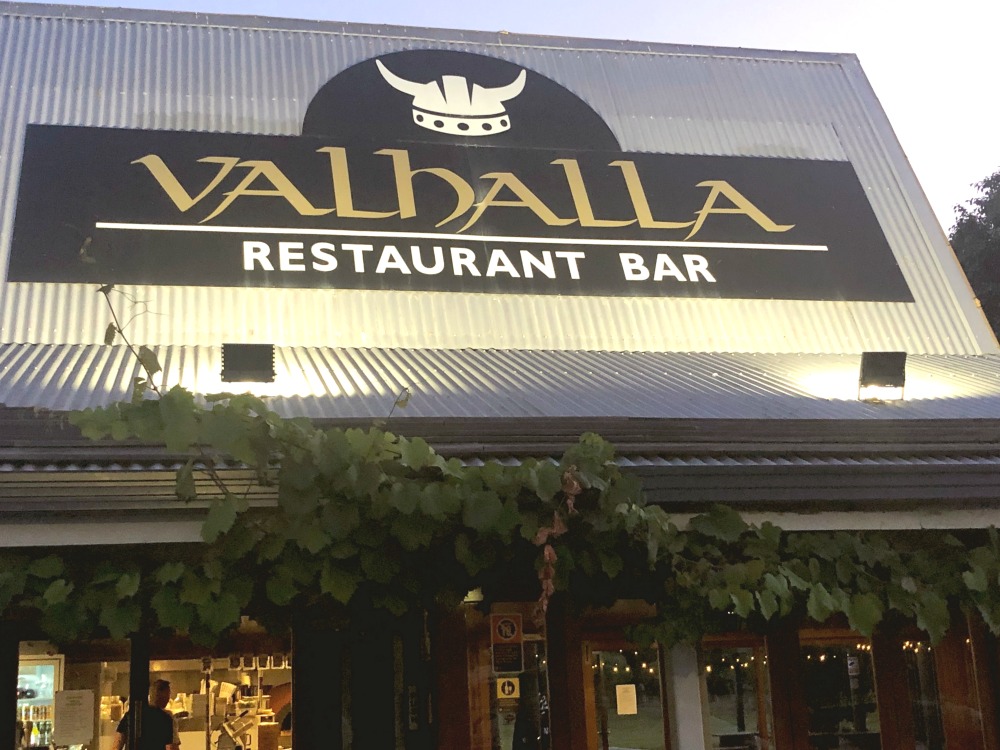 The menu has a viking size selection of pizzas (27 in fact) but that's pretty much all there is, pizza (with the exception of some garlic bread style starters.) There are some gluten free and vegan options although you won't find any half and half options or be able to make any menu changes here. We share a large Gefion pizza ($29) with Valhalla Secret Tomato Sauce, ham, mushrooms, artichokes, olives and mozzarella. The pizza hits the spot, there's a really relaxed vibe and a decent selection of drinks at the bar.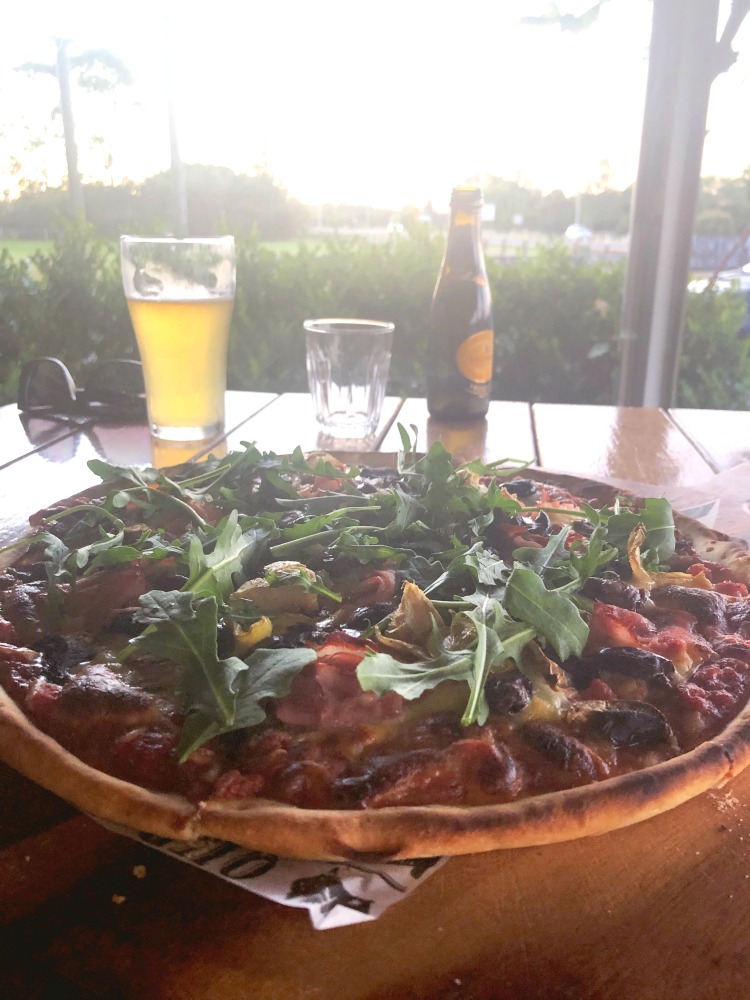 3/7 Government Road, Nelson Bay, NSW 2315
This modern, leafy cafe just off the main drag is one of our Port Stephens favourites and we can't get back there quick enough.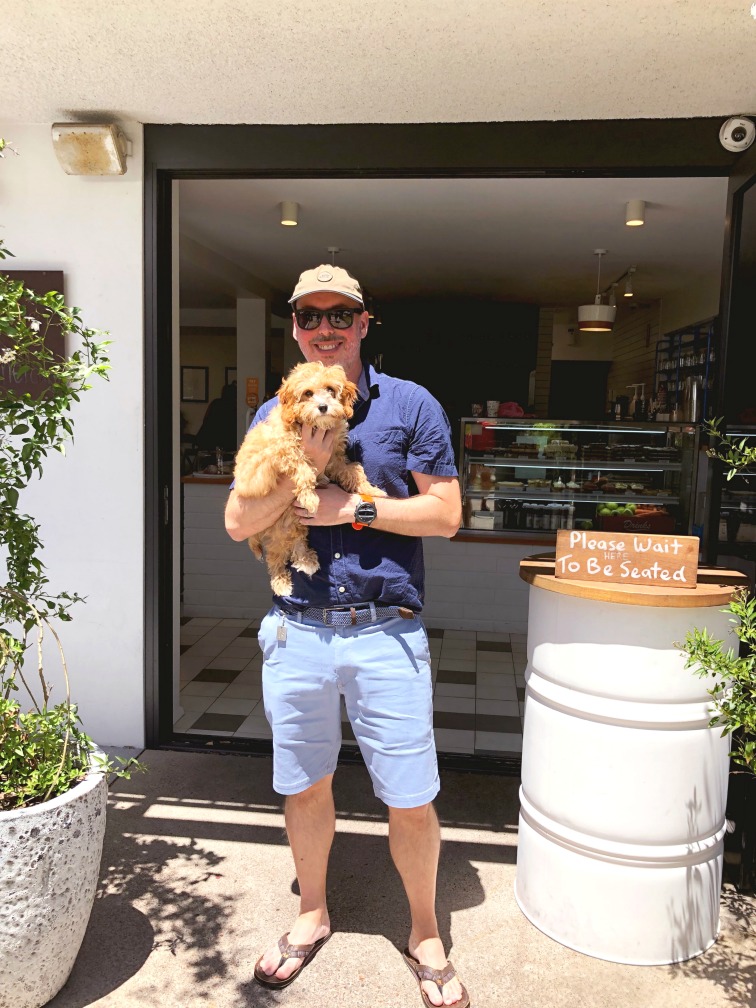 Dogs are welcome on the sunny, front terrace and Teddy receives a very warm welcome. The variety on the menu and the quality of the food here really is outstanding. I can not go past the Falafel Bowl ($21) with pumpkin hummus, cucumber coconut yoghurt, dukkah crusted avo, roasted cauliflower, quinoa, baby kale and of course, falafel! I enjoyed it so much on my last visit, I have to have it again!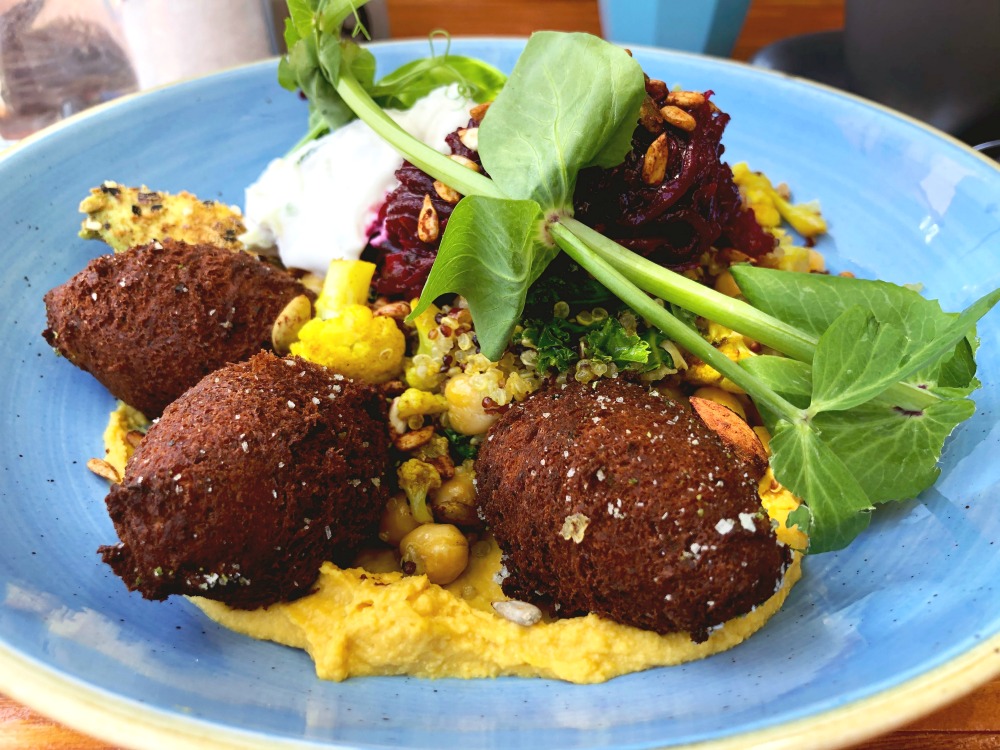 147 Soldiers Point Road, Soldiers Point, NSW 2317
Since we've had a dog, we've felt like we've been eating out in exile. There are so many places that don't welcome our fur friends but not so at Bannisters, Port Stephens. Not only is your dog welcome to stay with you at the hotel, it's welcome to join your for food and drink at the Terrace Bar too. Located next to the hotel's infinity pool and with a glimpse of ocean views, the bar offers casual dining with a menu that has something for everyone. Best of all, you can book ahead so you and your fur-friend can be guaranteed a spot and of course, a warm welcome.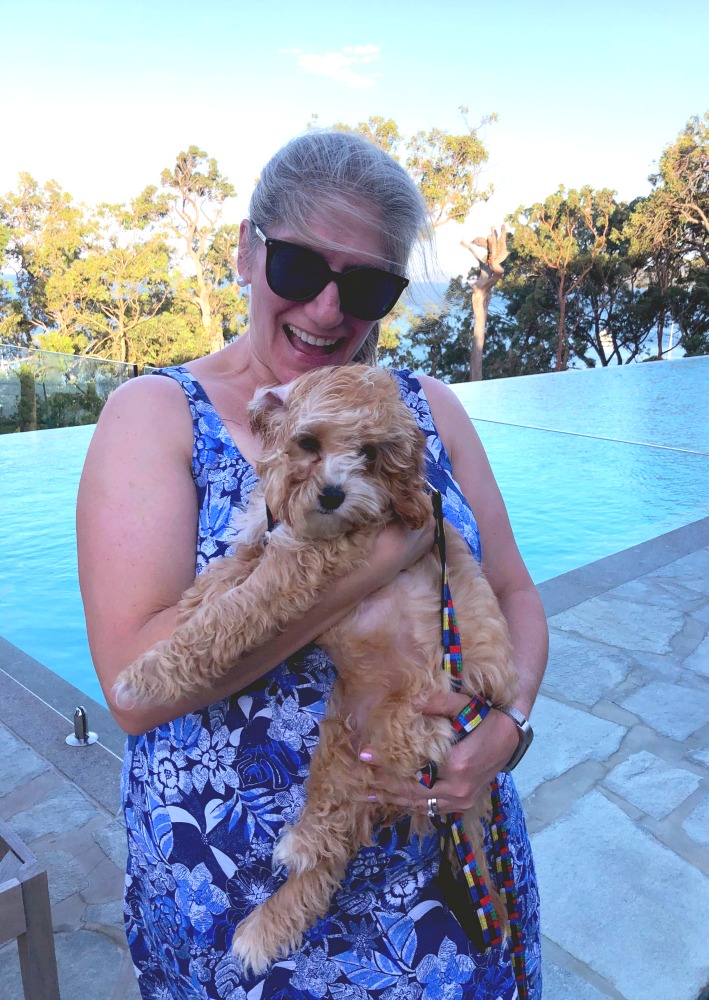 As we visited on a really hot day, we had thoughtfully been allocated an inside table terrace side and when the bifold doors open, we could appreciate the view, enjoy the breeze and stay cool too. Teddy definitely got the VIP treatment and it is definitely one of our best pet dining experiences to date!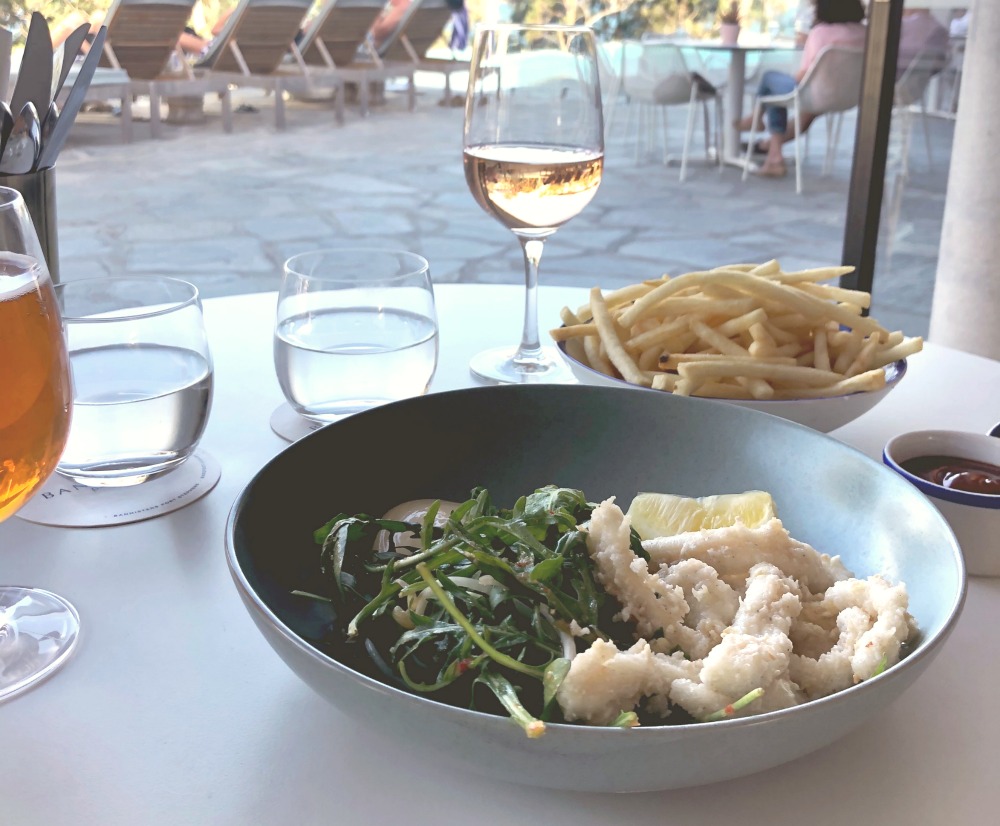 41 Donald Street, Nelson Bay, NSW 2315
This vibrant cafe is part of the Home Interior, a store which is a home styler's paradise. The cafe is huge, light and airy and packed to the rafters when we visit but luckily we score a table outside where dogs are welcome. The menu is fresh, tasty and full of delicious twists – one of those that makes it so hard to decide because you want to try everything!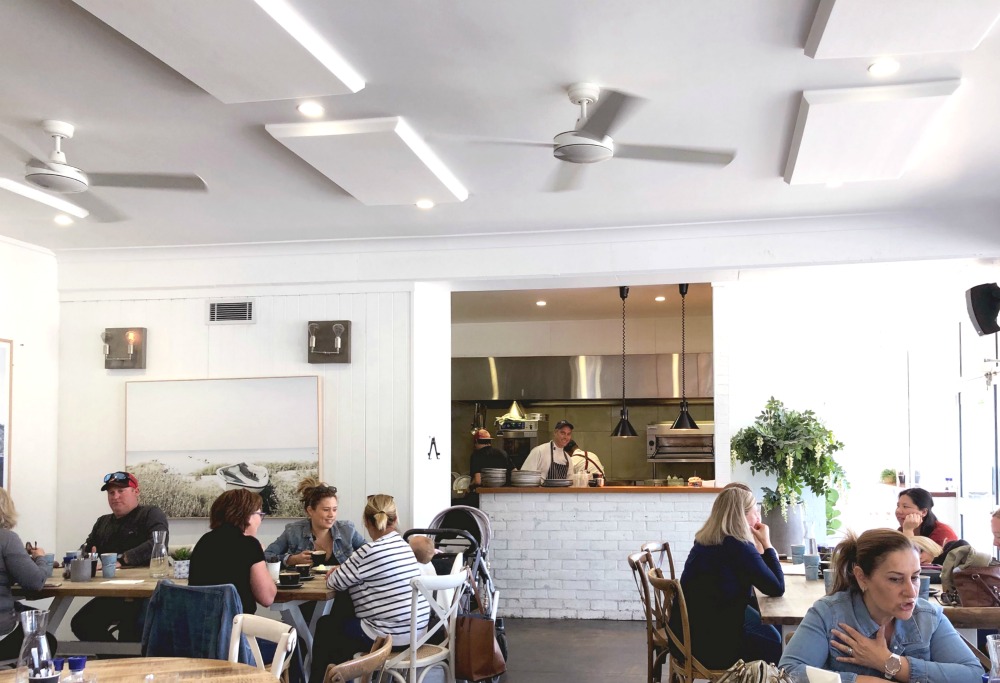 My Lemon Myrtle, Coconut and Chilli Crusted Avocado served hummus and two slices of Two Bob's Sourdough ($16) is as generous as it is delicious. It's too bad we are too full to indulge in some of the mouth-wateringly delicious baked goods on offer inside the cafe but I do some shopping (as cardio) in the shop after because isn't life all about balance?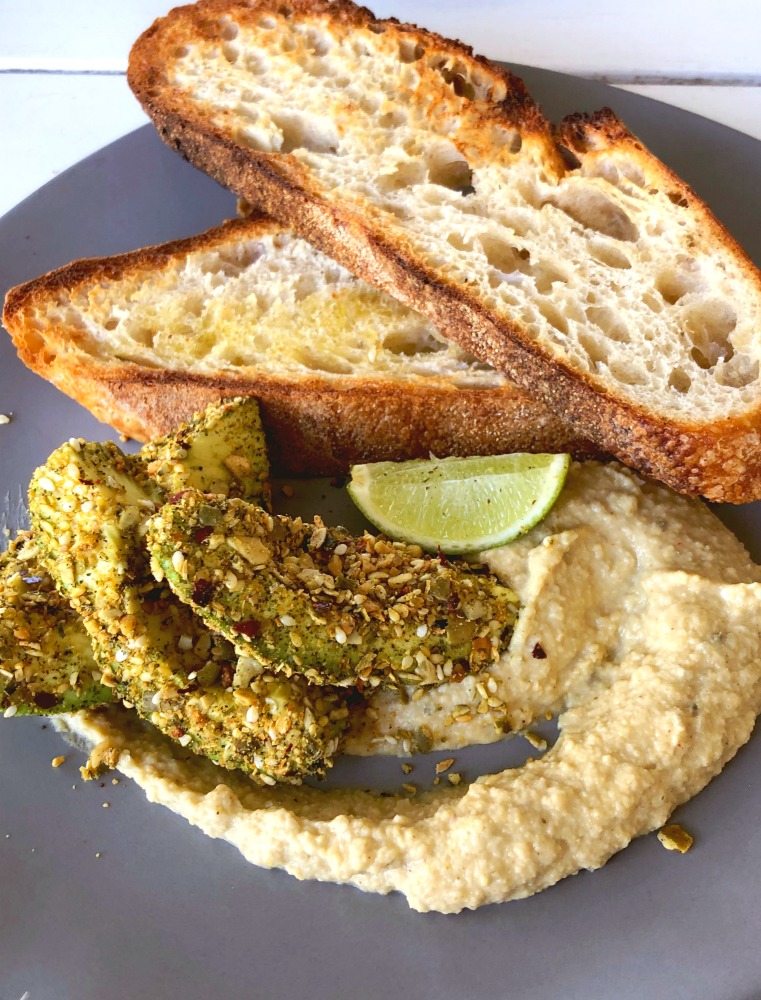 Little Beach Boathouse Below Deck
4 Victoria Parade, Nelson Bay, NSW 2315
Although dogs are not permitted in the restaurant proper, they are welcome Below Deck, a super relaxed spot right on the water. I imagine the sunset is spectacular here but we swing by mid afternoon and the place is packed. There are separate menus for Breakfast, After 12 and Sunset, all are small but perfectly formed.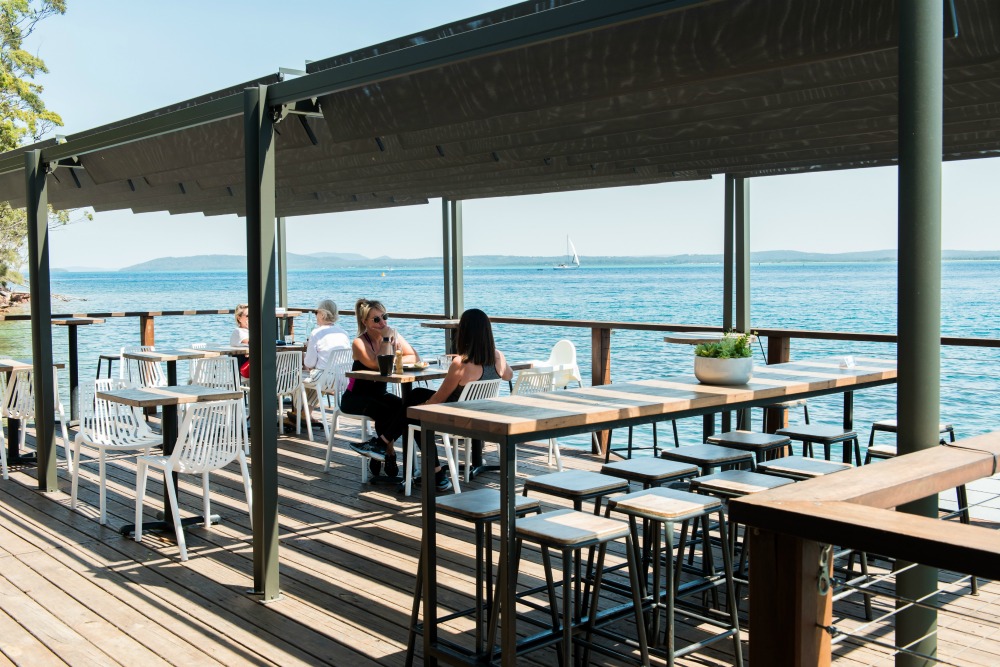 We try the Fried Squid ($17) with a side of fries ($8) from the After 12 menu and enjoy our food with a view. Unfortunately, you can't book ahead here so you have to cross your fingers and hope you score a spot. The views are definitely worth it.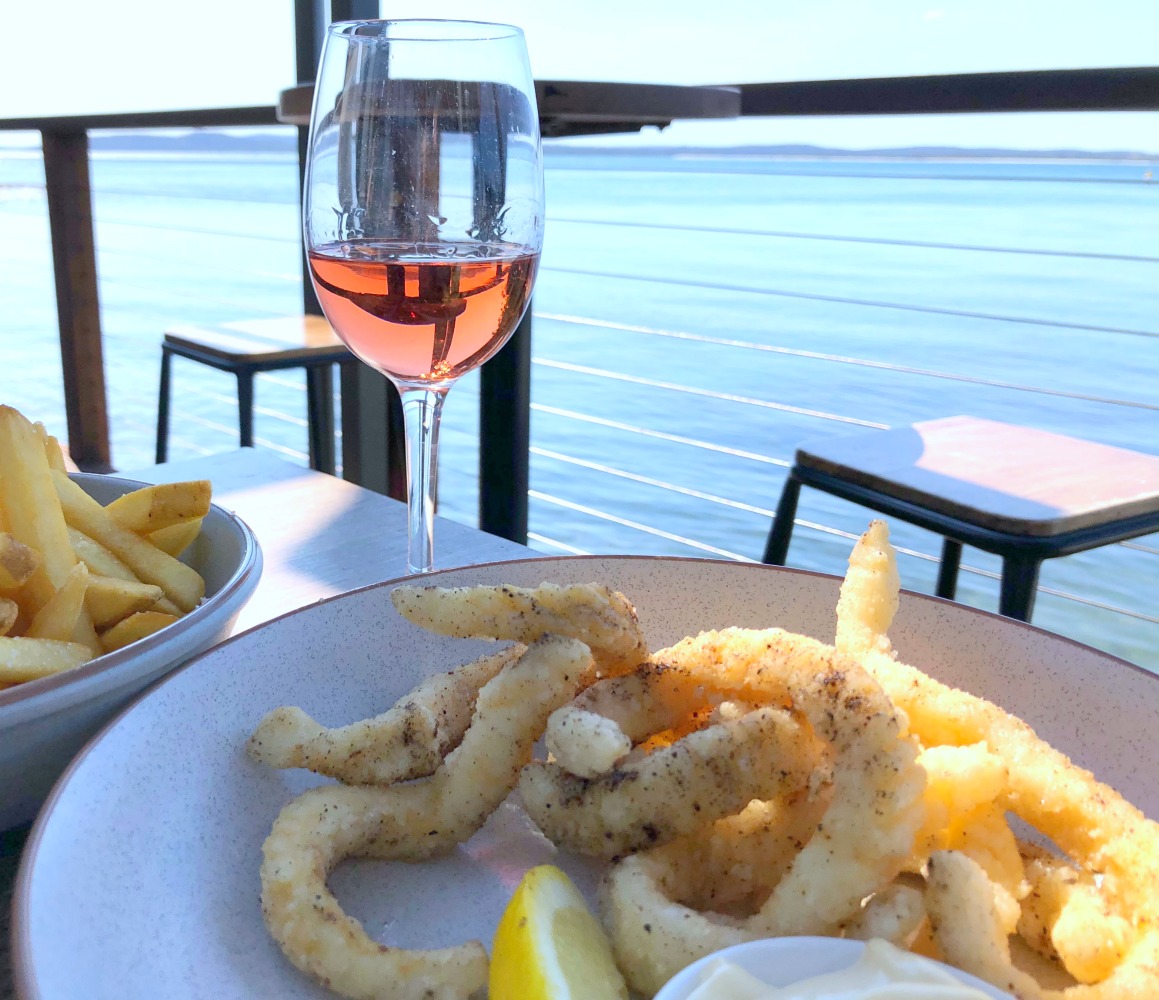 Where We Played
This is actually the most northern section of the 'Golden Bight,' a huge expanse of beach that stretches from Stockton near Newcastle, all the way to Port Stephens and it's a two minute drive from our holiday house!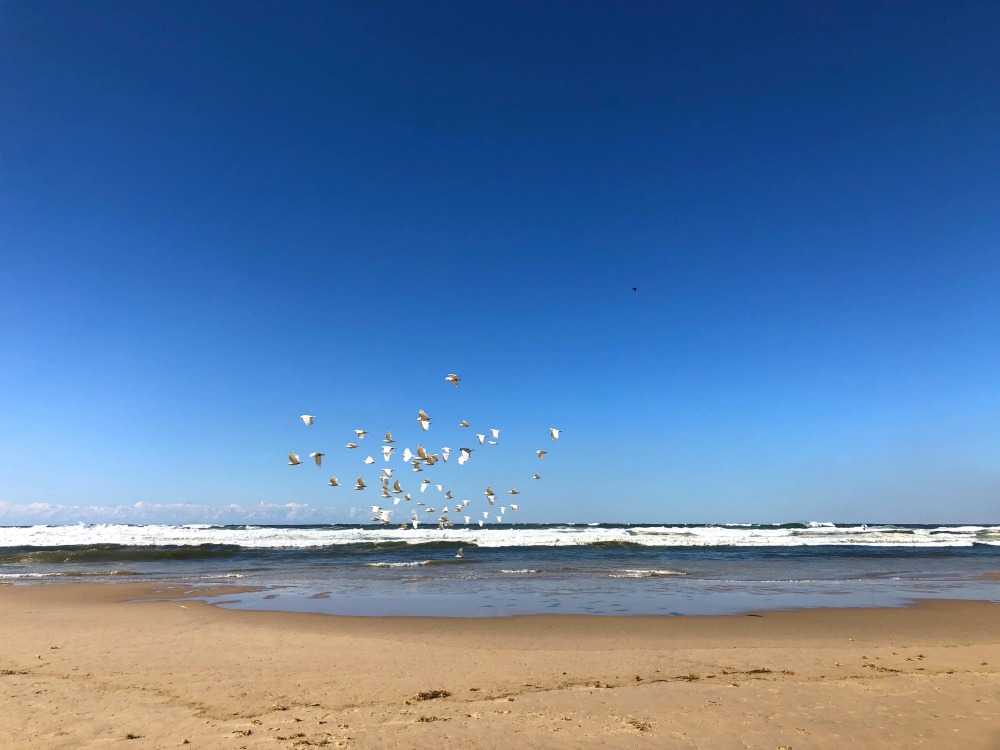 Here you'll find big waves, a stunning surf patrolled beach and lots of dogs! Birubi Beach is dog friendly and more to the point, has heaps of friendly dogs and bonus, it's off leash before 9am and after 5pm. Teddy's first time at the beach does not disappoint!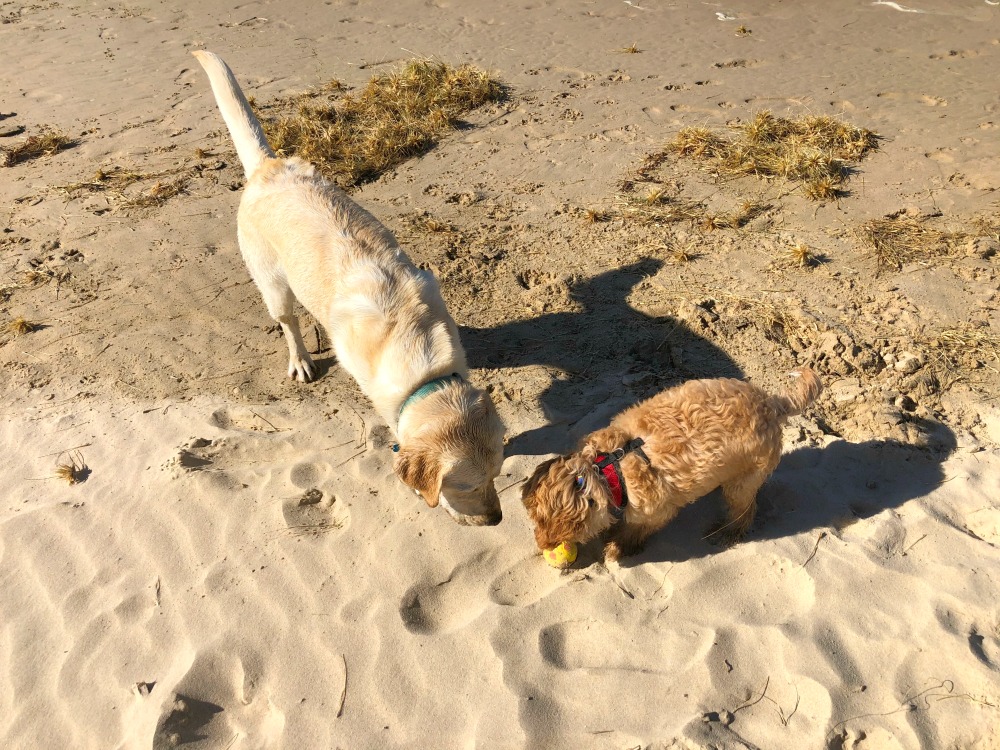 Just down the road from Nelson Bay, this super dog friendly beach is a beaut! The water is crystal clear and there are almost no waves so it's the perfect place for pooches to get their feet wet.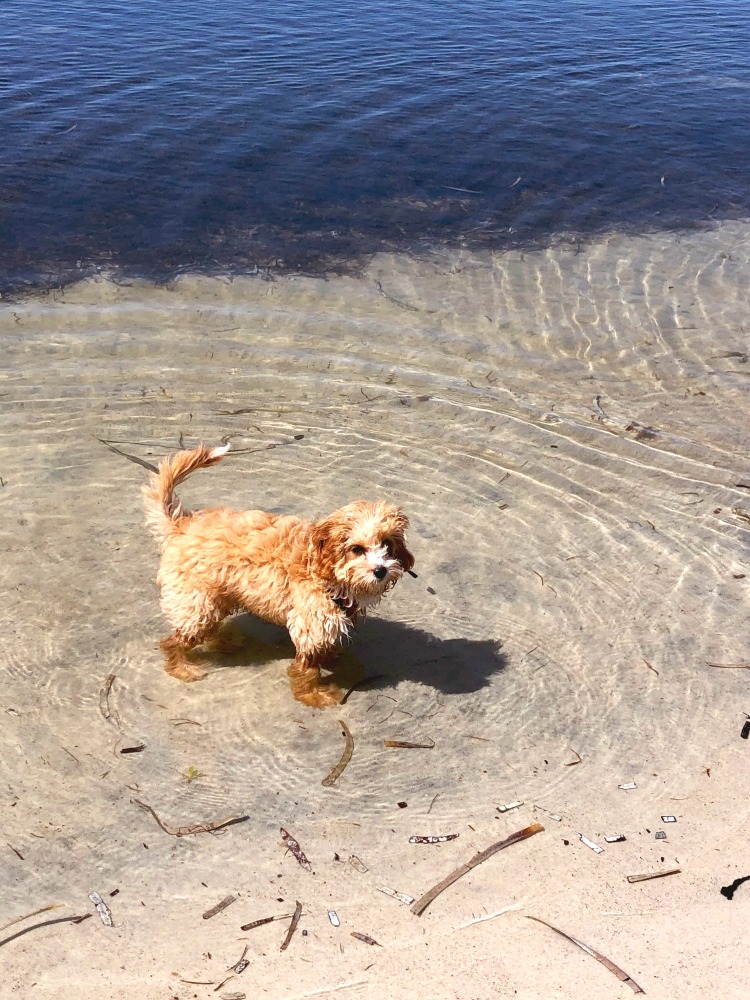 It's an off leash beach so dogs can really stretch their legs and bonus points if you take a sunset walk, the sunsets here are just magic!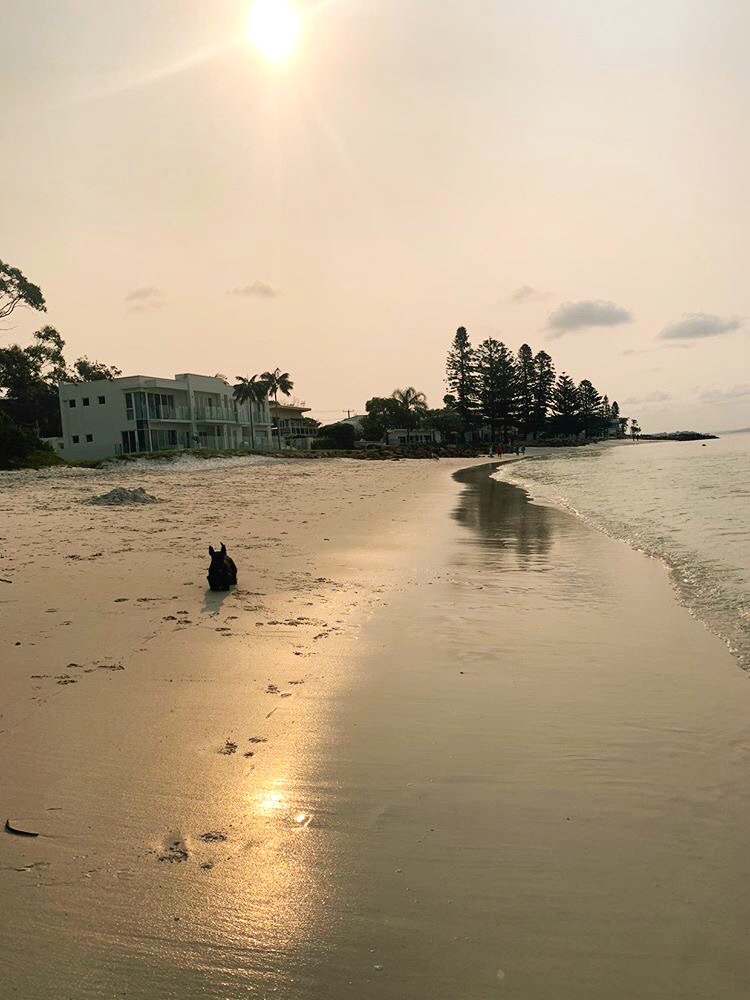 Have you ever been to Port Stephens? What's your favourite pet friendly destination?
All food, drinks and experiences were thoroughly enjoyed and independently paid for.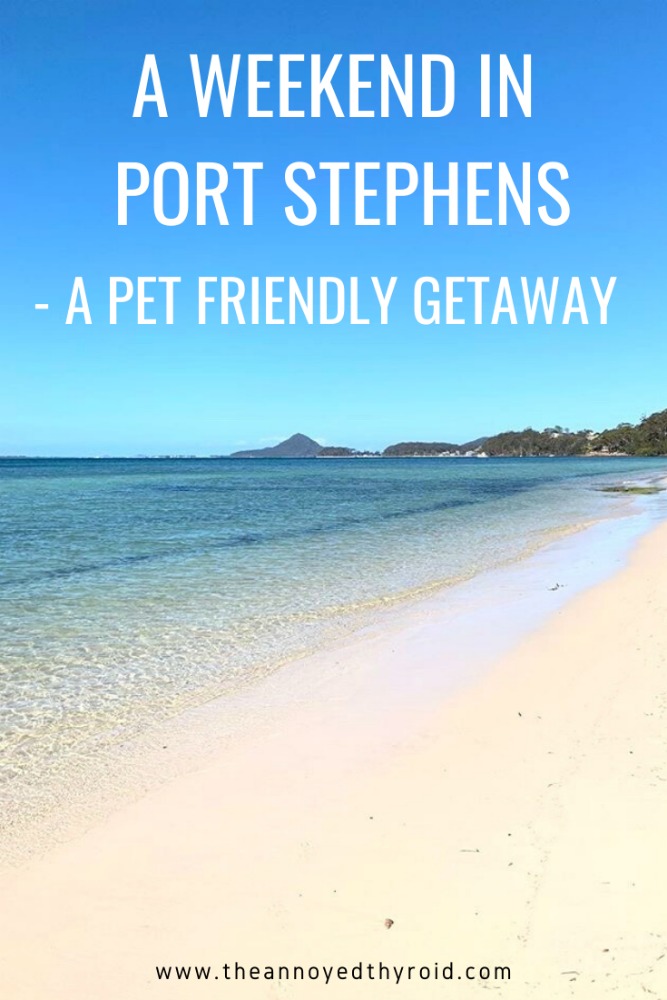 Linking up with Denyse for Life This Week