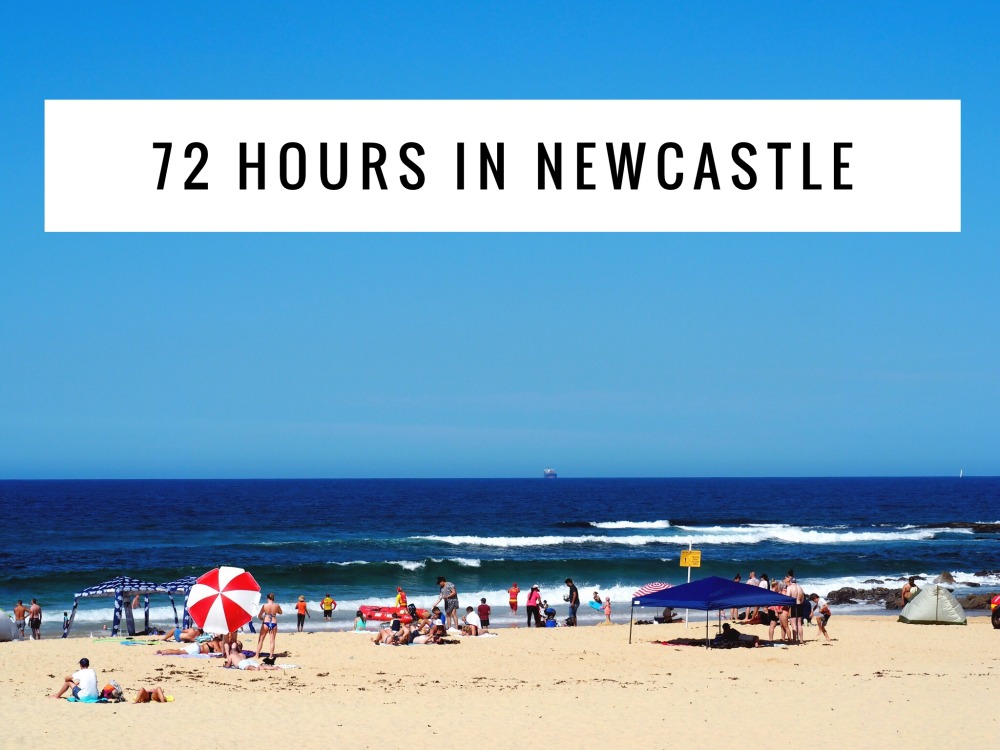 Oh, what a jolly time we had when our visitors came to stay! We had an action packed time in Sydney seeing and doing all of the things and eating all of the things too! But inbetween all the fun and frolics in Sydney we had the loveliest long weekend in Newcastle.
Incidentally, Newcastle was the first place I ever stayed when I first came to Australia way back in 2002 and it will always have a special place in my heart. It's changed a lot over the years (in all the best ways) and it's a great weekend destination, not least because it's just a 2.5 hour drive from Sydney.  It has a fantastic food scene, beautiful beaches, wonderful history and it's the perfect place in which to base yourself for a weekend exploring the NSW coast and the Hunter Valley.
That's why it was the perfect place to take our visitors. Between you and me, I think they left a little piece of their hearts there and our 72 hour itinerary probably explains why!
Friday
1:00pm Pit Stop at The Entrance
We make a pit stop at The Entrance because it's too pretty to miss. It's Good Friday and the place is buzzing. Unfortunately, we're too early for the pelican feeding which takes place daily at 3pm, but we do spot some pelicans as we stroll along the boardwalk. We have time to stop for a coffee, watch the world go by and the Easter fun fair ferris wheel go round and of course, use the facilites before we're on our merry way. Lunch is a picnic in the car which saves both time and money!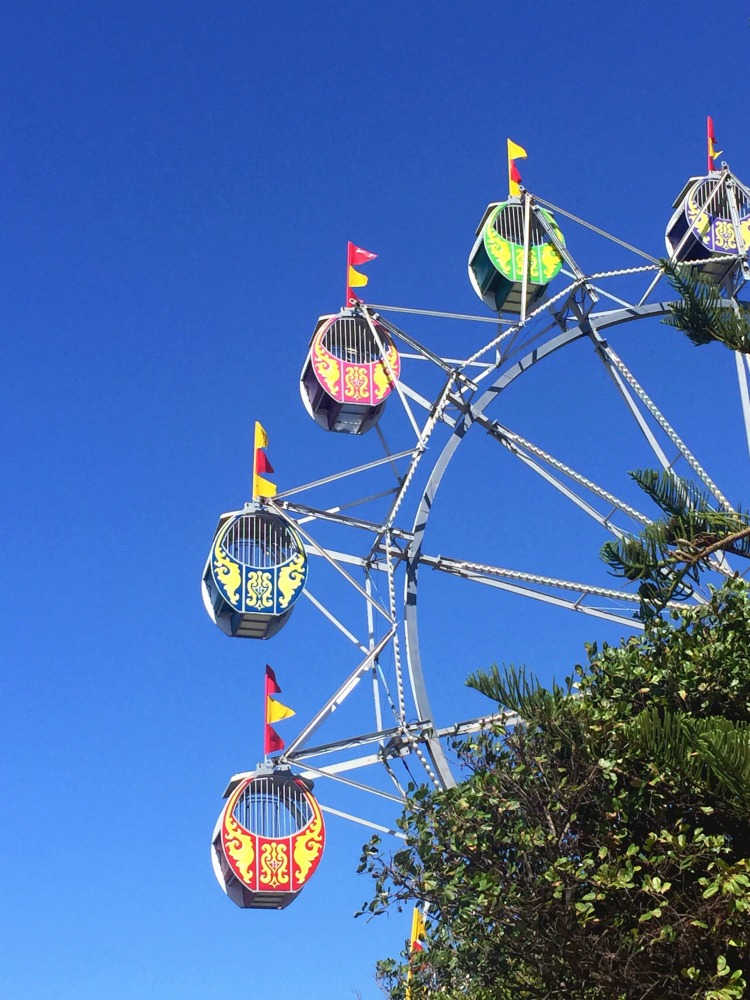 2.30pm Explore Caves Beach
Our last stop before Newcastle is at this super popular beach in Lake Macquarie. As it's name suggests, it's famous for the caves at the southern end of the beach. The caves are exposed at low tide, so if you want to make the most of your visit, check the tides before you go.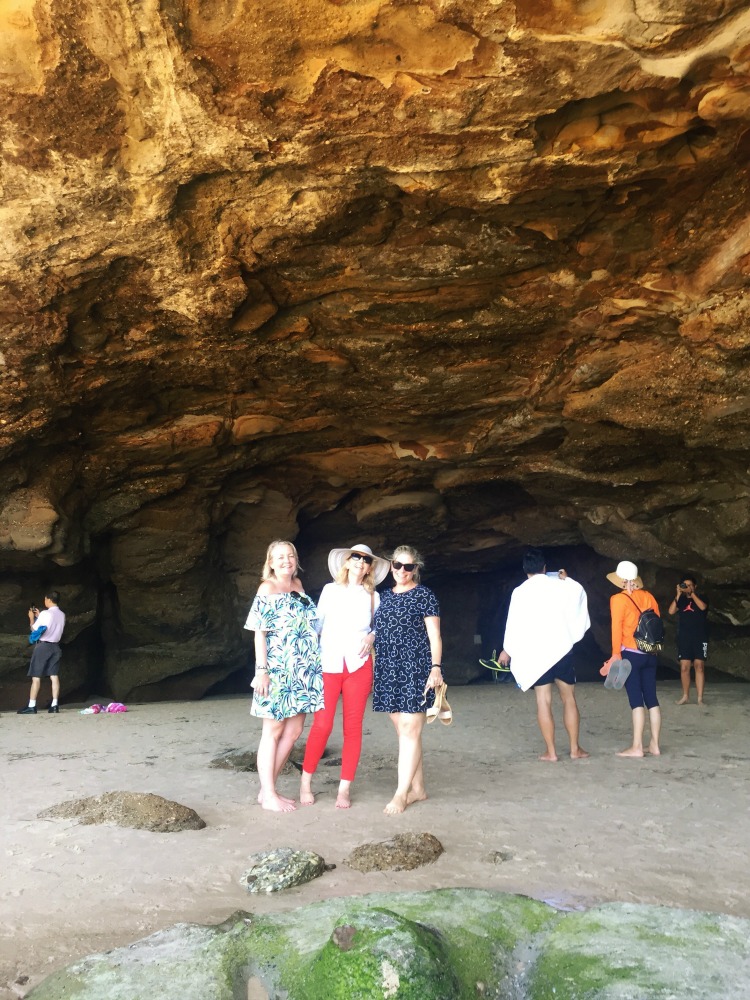 Even with a plethora of people, the caves are still a sight to behold and the beach is a beaut too!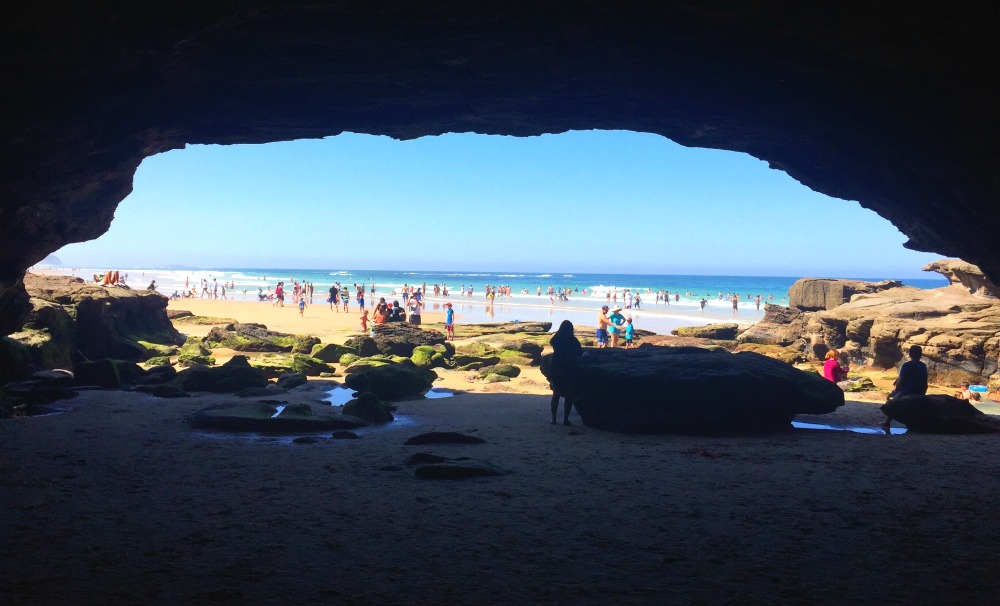 3:30pm Arrive in Newcastle
We check in to our Airbnb and this townhouse in the heart of the city of Newcastle is a real gem. There's 2 double bedrooms, a large living area, a big eat in kitchen and a modern bathroom – more than enough space for the four of us! The location is fabulous (we even have a park for the car,) and our host, Leonie has thought of everything.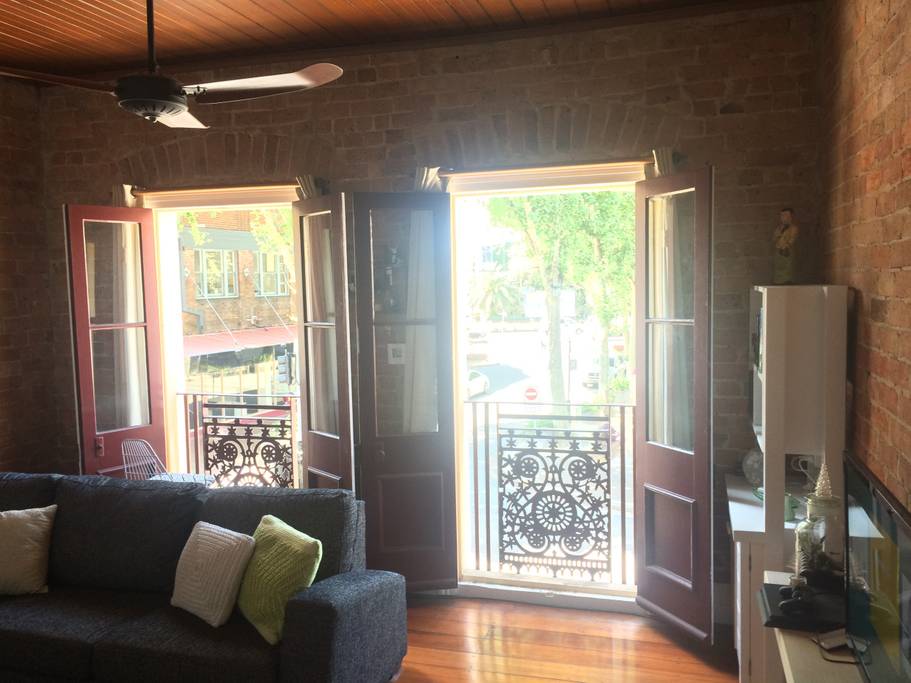 photo credit Airbnb
Here are my top tips for picking the perfect Airbnb. If you're new to Airbnb, click my referral link here and you'll score $55 credit off your first stay!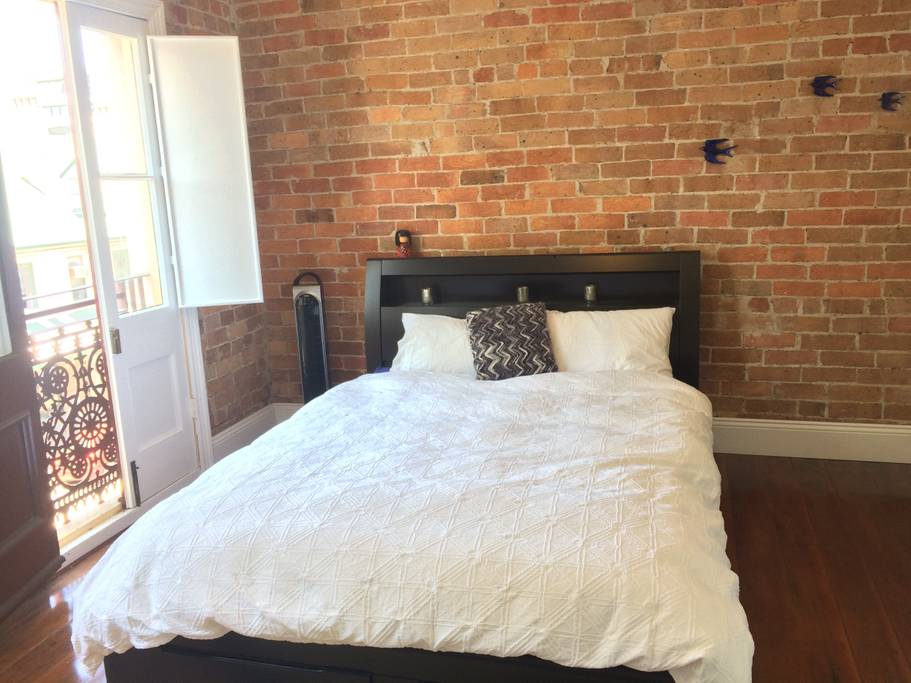 photo credit Airbnb
I love Newcastle hard and I can't wait to show off the city to our friends. We head down to the Honeysuckle Hotel at Honeysuckle Wharf because road tripping is thirsty work! We then stretch our legs and take a leisurely walk along the wharf. Newcastle is looking mighty fine!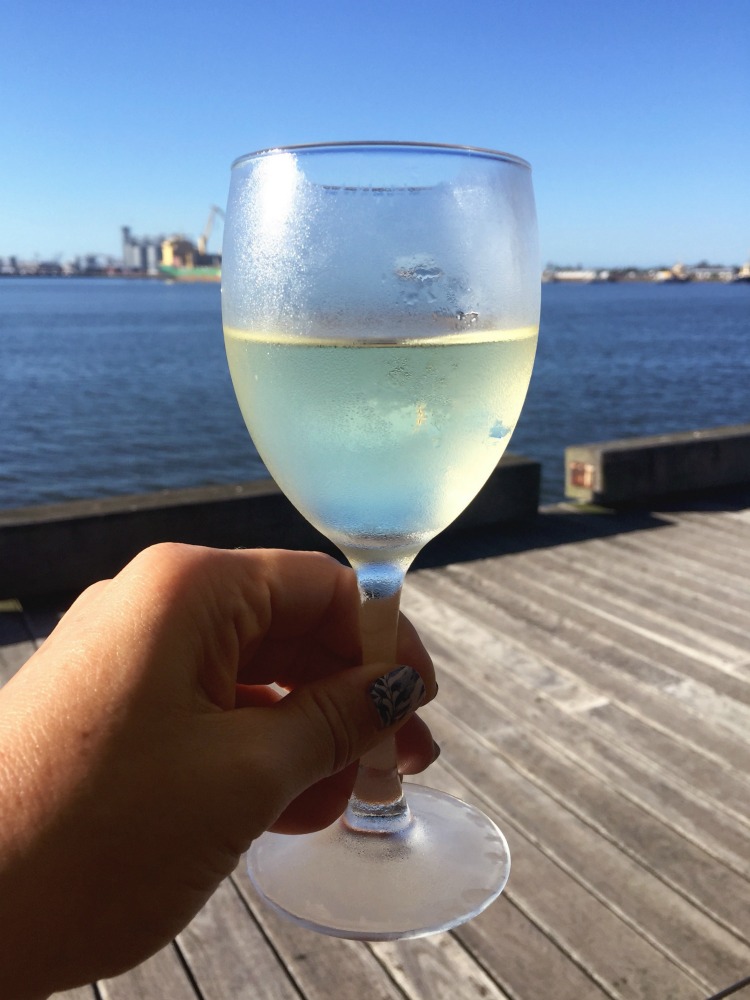 After a little power nap, we're all ready and raring to go for dinner. Lucky we don't have to go far because dinner is served downstairs at Napoli Centrale. We've booked ahead because we weren't sure how tired we'd be and what would be open on a public holiday but it's just as well we did, because this place is always busy! When we order our food, we see why this place is so popular. We love the authentic wood fired pizzas and the Italian wine list and the service is friendly too. It's pizza perfection!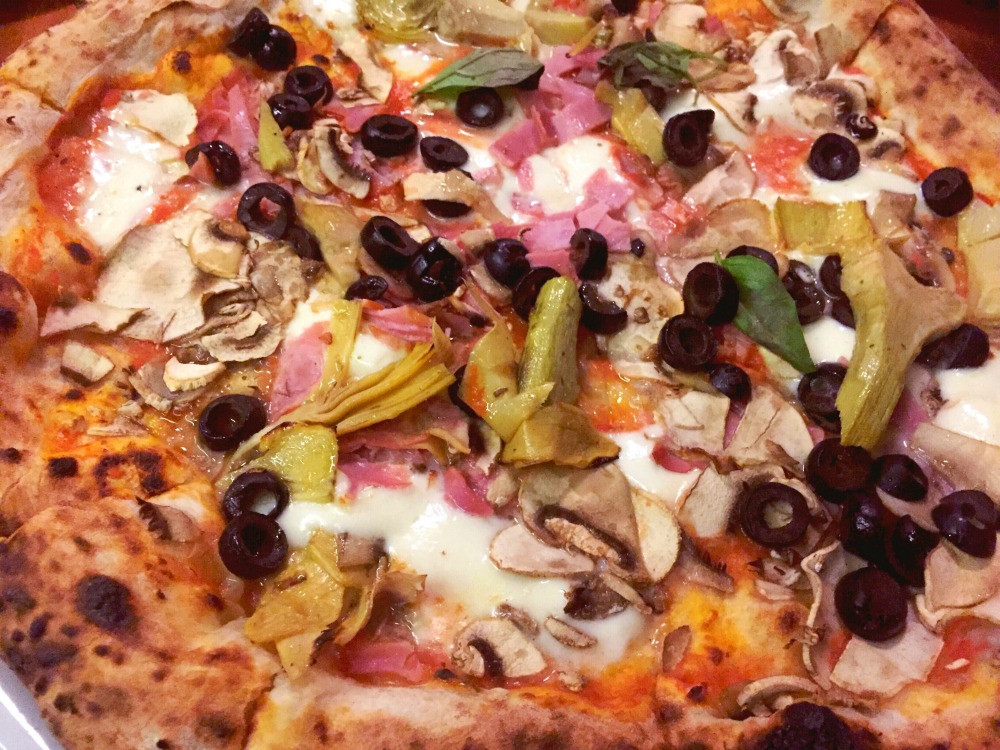 Saturday
9.15am A big start to the morning at The Big Boomerang
Last time I was in the hood, I found 10 big things in and around Newcastle and this Big Boomerang was one of them. I think today is going to be a big day!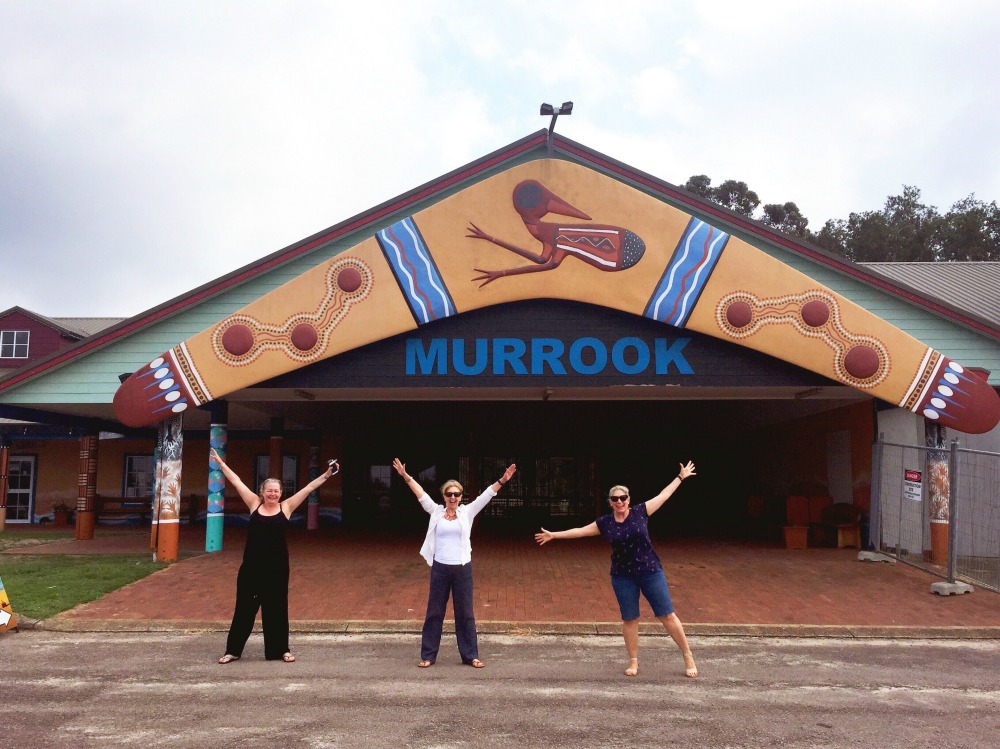 Murrock Cultural Centre, 2163 Nelson Bay Road, Williamtown
Beverley is desperate to get up close and personal with marine animals and Irukandji is just the ticket! It's a totally unique and interactive aquarium that allows visitors to experience ocean life in a first hand in a new and exciting way. At Irukandji, you can get in to the tanks with sharks and rays and even touch them and feed them. Irukandji isn't massive and it gets busy quickly so we make an effort to be one of the first people through the door.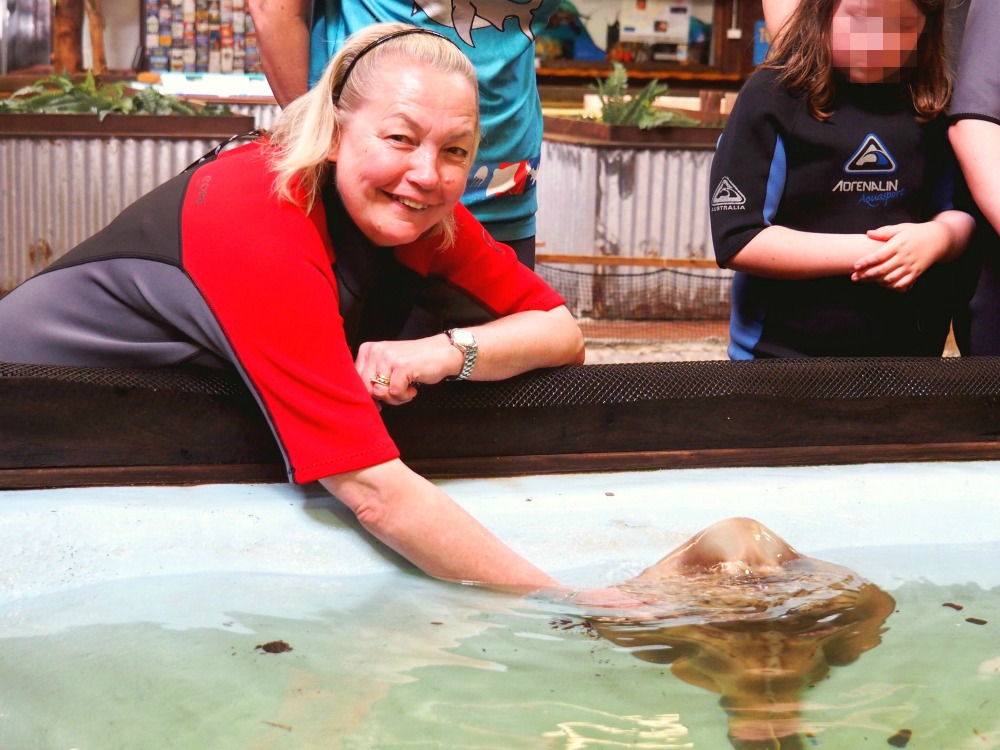 Beverley is so excited, she can't wait to get in her wet suit and in to the tanks quick enough. FYI, all wet suits and waders are provided and included in (the very affordable) admission price ($31.50 for adults plus $18 shark encounter.) You tour the tanks in groups and there's no minimum or maximum age limit, everyone is welcome in the water.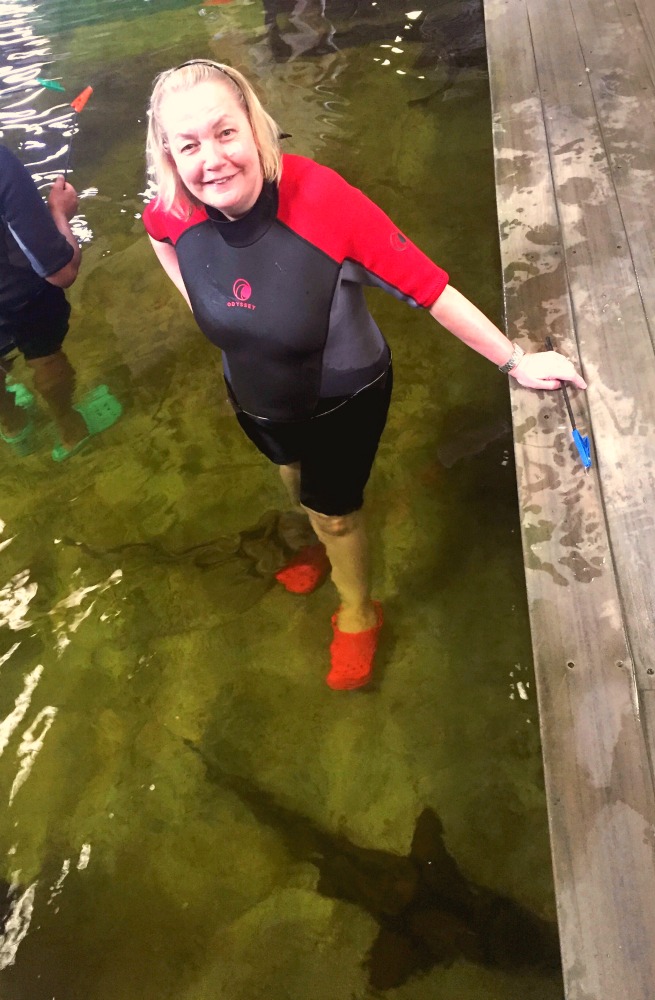 Joan and I volunteer to take pictures and watch on from outside the tank although we too are offered plenty of opportunities to both feed and touch the rays. Irukandji is more than just a fun, photo opportunity, the staff here are committed to education and conversation of our oceans and their empathy for marine life shines through.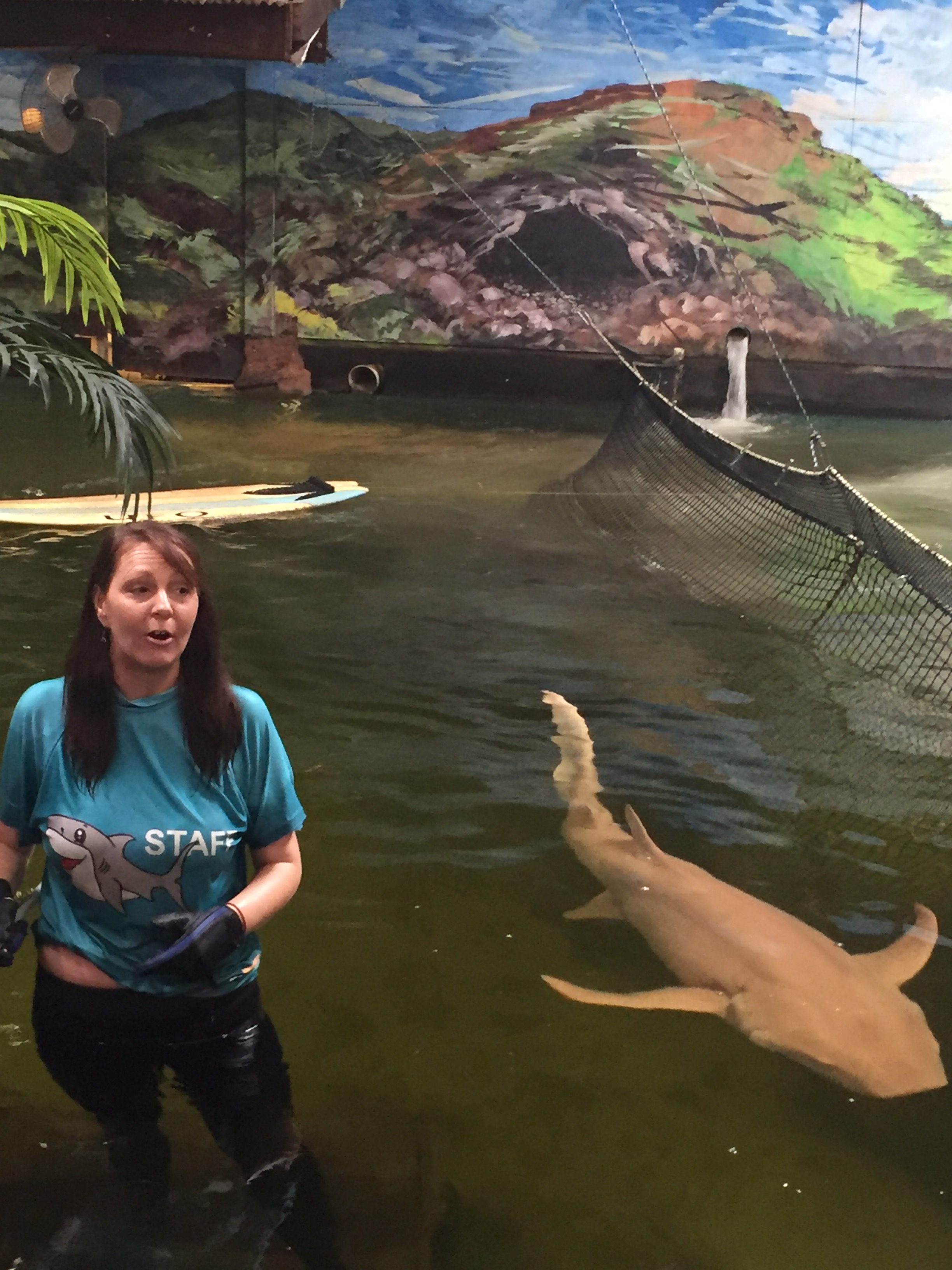 It's not just quality time at Irukandji, it's quantity time too. Bev gets to enjoy a full two hours in the tanks and when our tour is complete, we're free to explore the aquarium independently. It's great fun, great value and is one of our weekend highlights.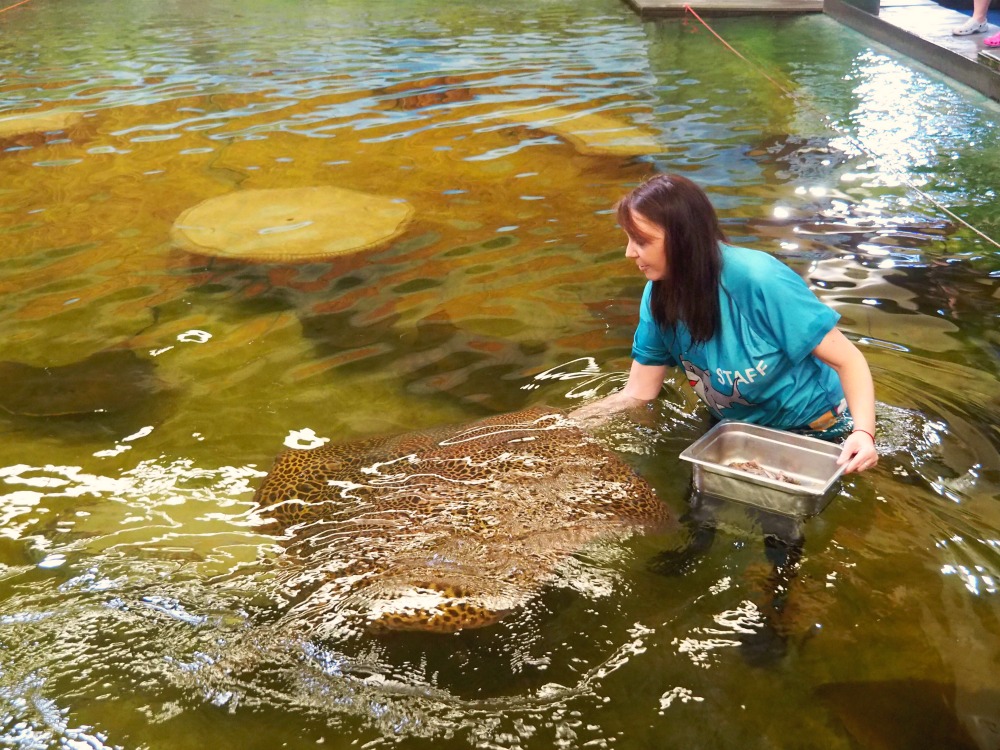 686 Marsh Road, Bob's Farm
We have good intentions to do the Tomaree Head Summit Walk but none of us can face hiking in these sizzling temperatures so we make the hair raising drive up to Gan Gan Lookout instead where we are lucky enough to score a car park (it can get crazy busy up here) and even on this cloudy day are rewarded with panoramic views of Port Stephens and beyond.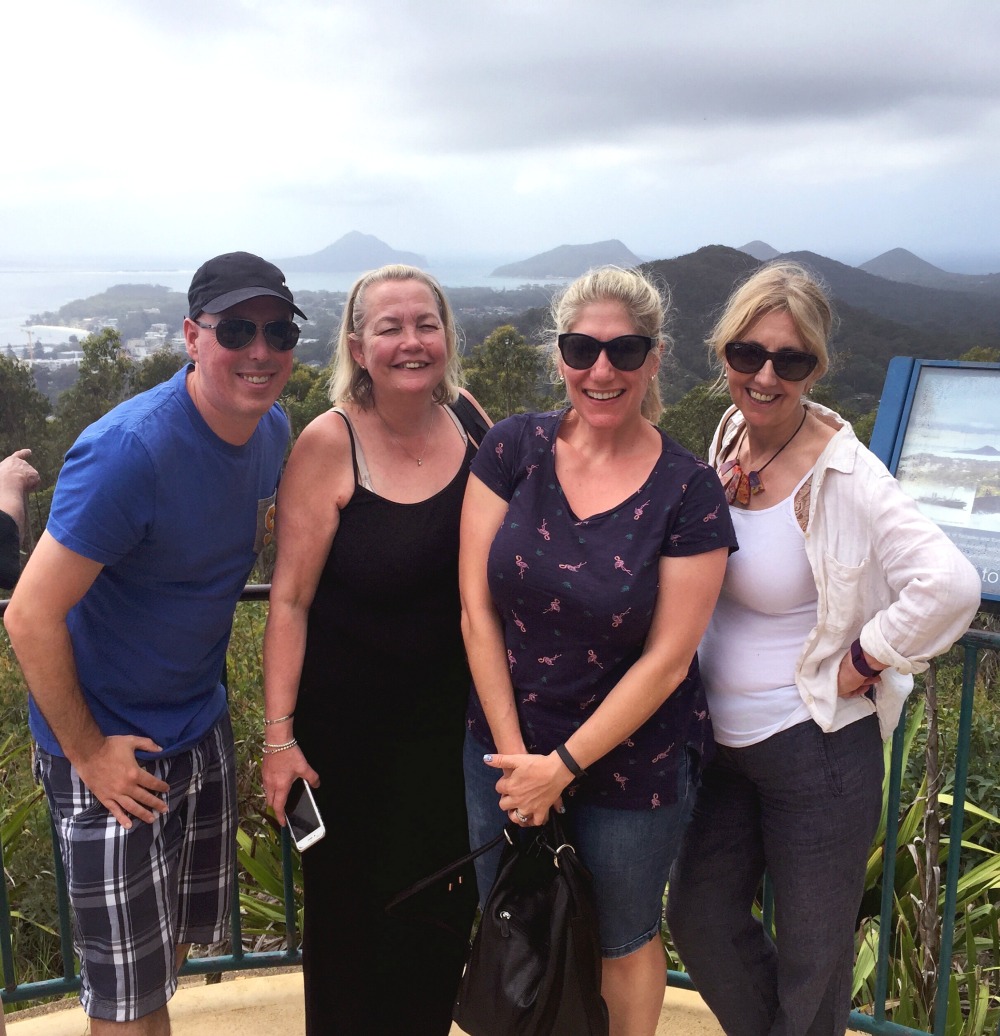 Lily Hill Road, Nelson Bay
All that shark feeding and sightseeing has made us more than a bit hungry and we head to The Little Nel for some sustenance. The Little Nel is little in name only, this modern, airy eatery is really rather large with tables both inside and out, and the menu is big too with something for everyone. There's a relaxed friendly vibe here and everything we order is fresh and delicious. Between us we cover all the bases with pasta, burger and salad although I think we all agree that my Middle Eastern Felafel Bowl wins dish of the day!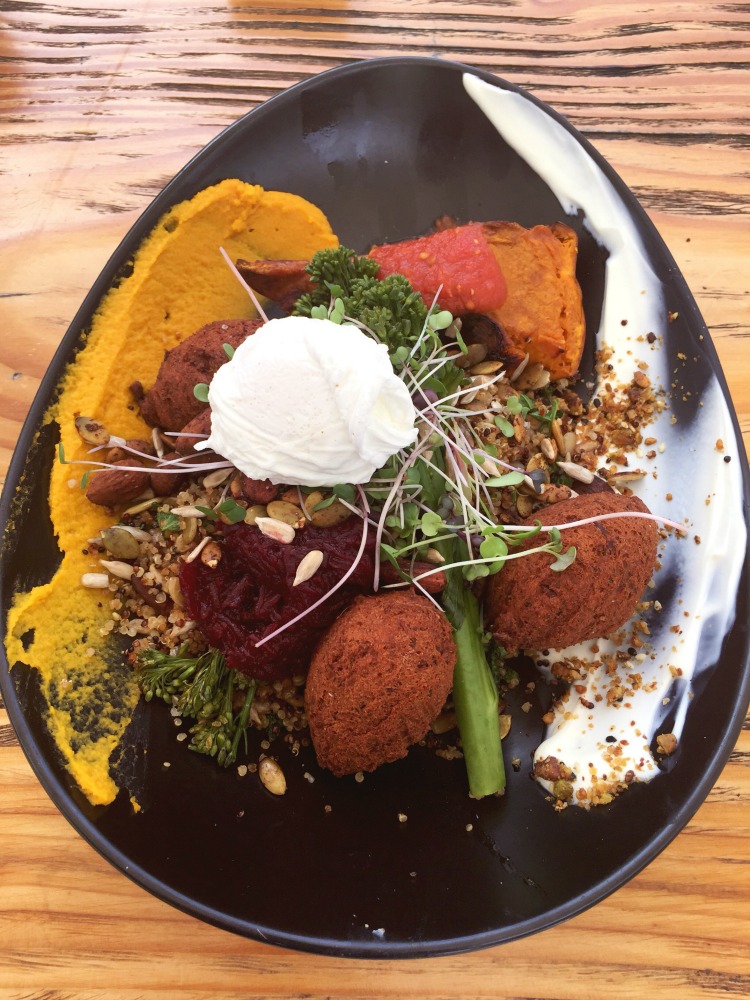 3/7 Government Road, Nelson Bay
I might be a minimalist but I still like to look round the markets, even if I don't buy. There are a few local markets around the area but this one features local artists, creatives and producers. There's also live music, street entertainment and food trucks and a fabulous foreshore setting. It's a market with a view!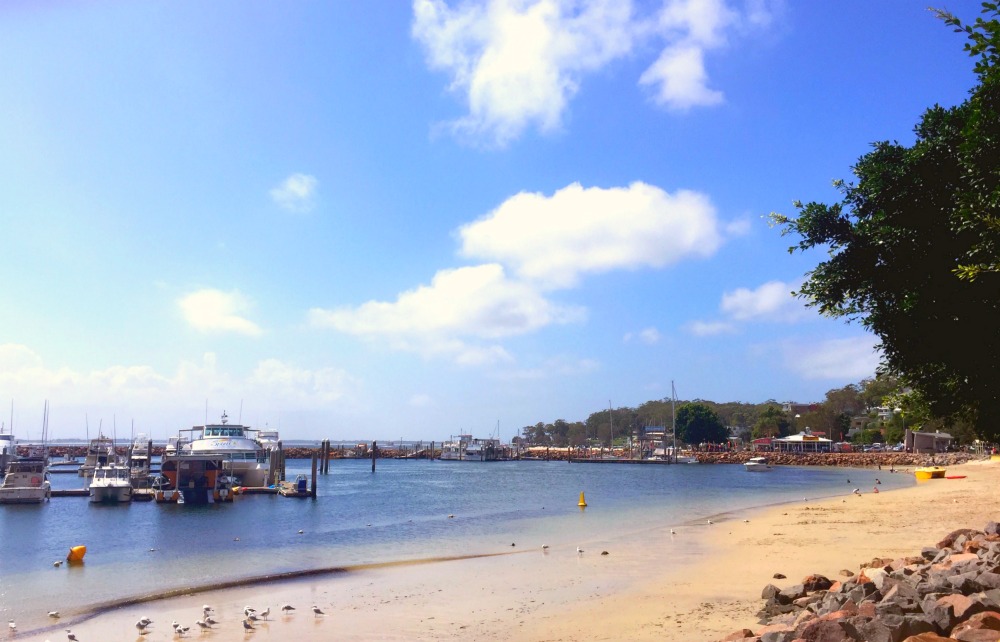 Nelson Bay Foreshore, Victoria Bay, Nelson Bay
3:00pm Spotting all the Big Things
It's no secret that I'm obsessed with Australia's big things. In fact, There's quite a few in these parts, 10 to be exact, although today we only have time to see two on our way back to Newcastle. First we stop at The Big Whale, which can be found at the foot of the road that leads up to Gan Gan Lookout and later we manage to snap a selfie by the Big Koala which can be found at the entrance to Oakvale Farm and Fauna World. I love that Joan and Beverley share my enthusiasm for big things!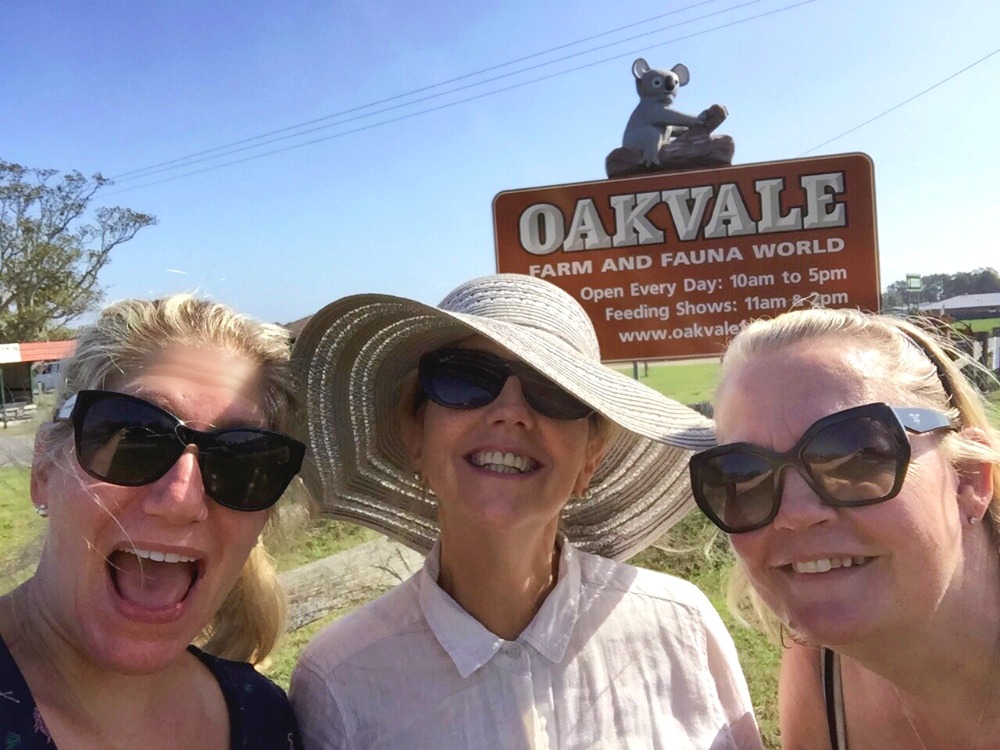 We start our night at one of my Newcastle favourites. This prohibition themed bar is a little bit tricky to find and when you do find it, you'll need to text a password to be ushered in through the hidden door. It's all very secret squirrel on the outside but inside there's a great atmosphere, knowledgeable bar staff and some cracking cocktails.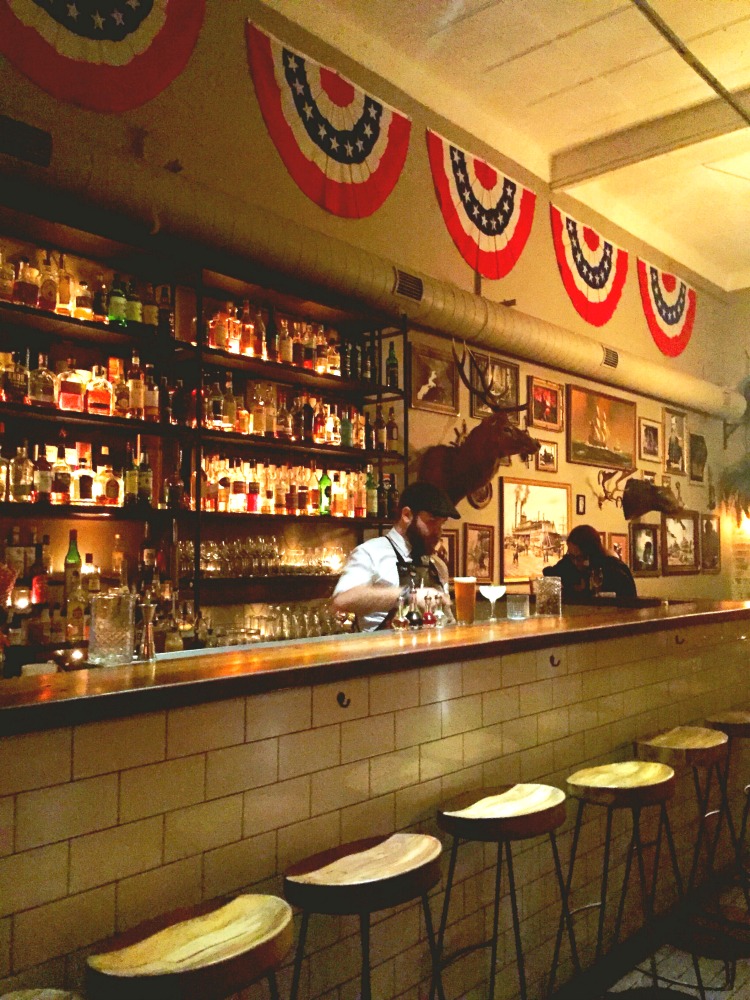 380/382 Hunter Street, Newcastle
I must confess, one of the reasons I want to eat here is the name – wombats are my favourite Australian animal. However, there's a lot to love here apart from the animal inspired name. There's a large and varied menu, a good craft beer selection, a great vibe and super friendly service. The main room of this boutique cafe is bustling and book lined but our reservation takes us into the dining room which is both cosy and quiet. We eat, drink and have a very merry time indeed.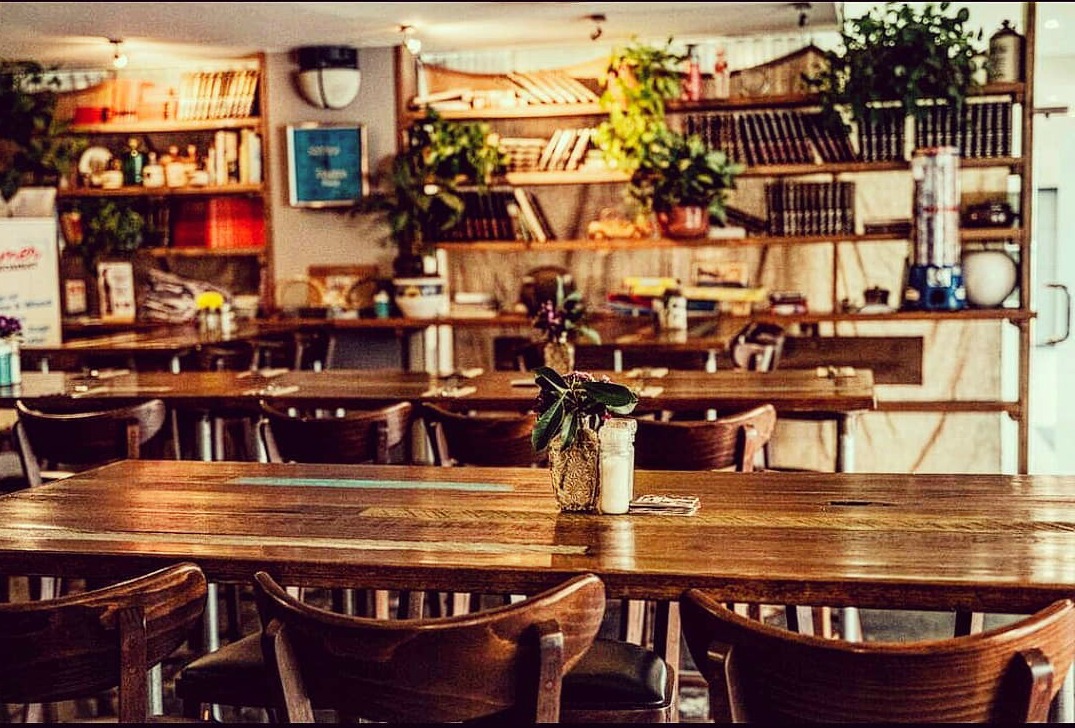 575 Hunter Street, Newcastle
I've been visiting Newcastle since I first came to Australia in 2002 and I think every visit has included a visit to Goldbergs. Why break the (delicious) habit of a lifetime? This place is just as busy as I can remember, full of people wining and dining, caffeinating, or like us, indulging in a bit of dessert. I am pleased to report that the serve of the Sticky Date Pudding is just as generous and delicious as I remember and is enjoyed by all.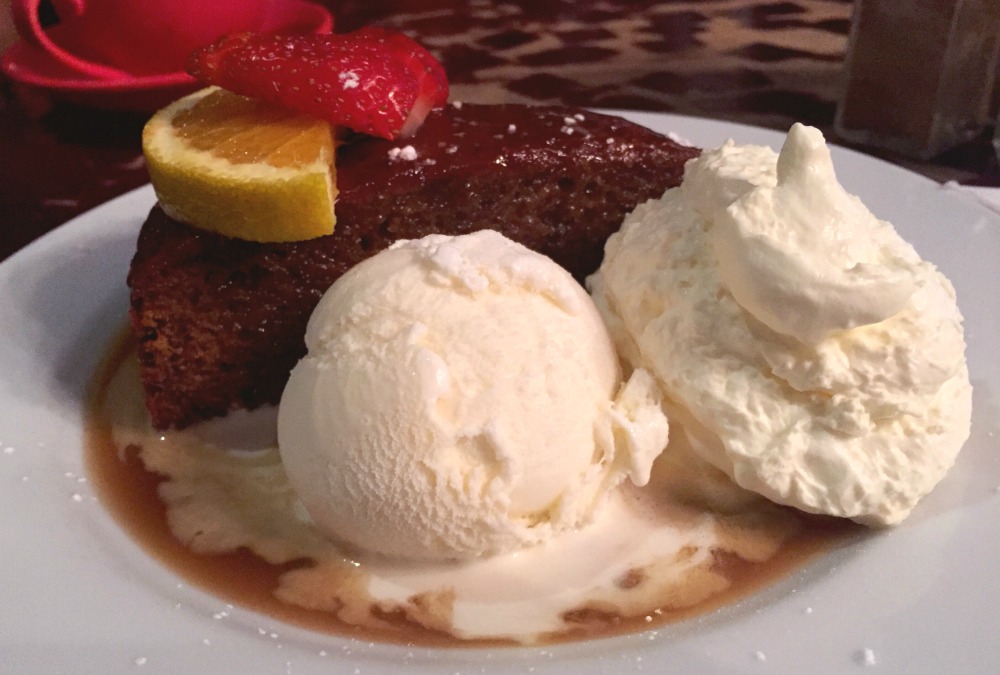 137 Darby Street, Cooks Hill
Sunday
After breakfast at home, we stock up on salad at the supermarket and then stop off for a coffee and doughnuts because life is all about balance, right? Besides, you know it's going to be a good day if it starts with a doughnut. It's so hard to choose here because everything looks next level delicious but in the end I settle for the Apple Crumble; cinnamon sugar, spiced apple filling, oven baked crumble and let's not forget the caramel syringe. By the time I leave, I'm almost doughnut shaped!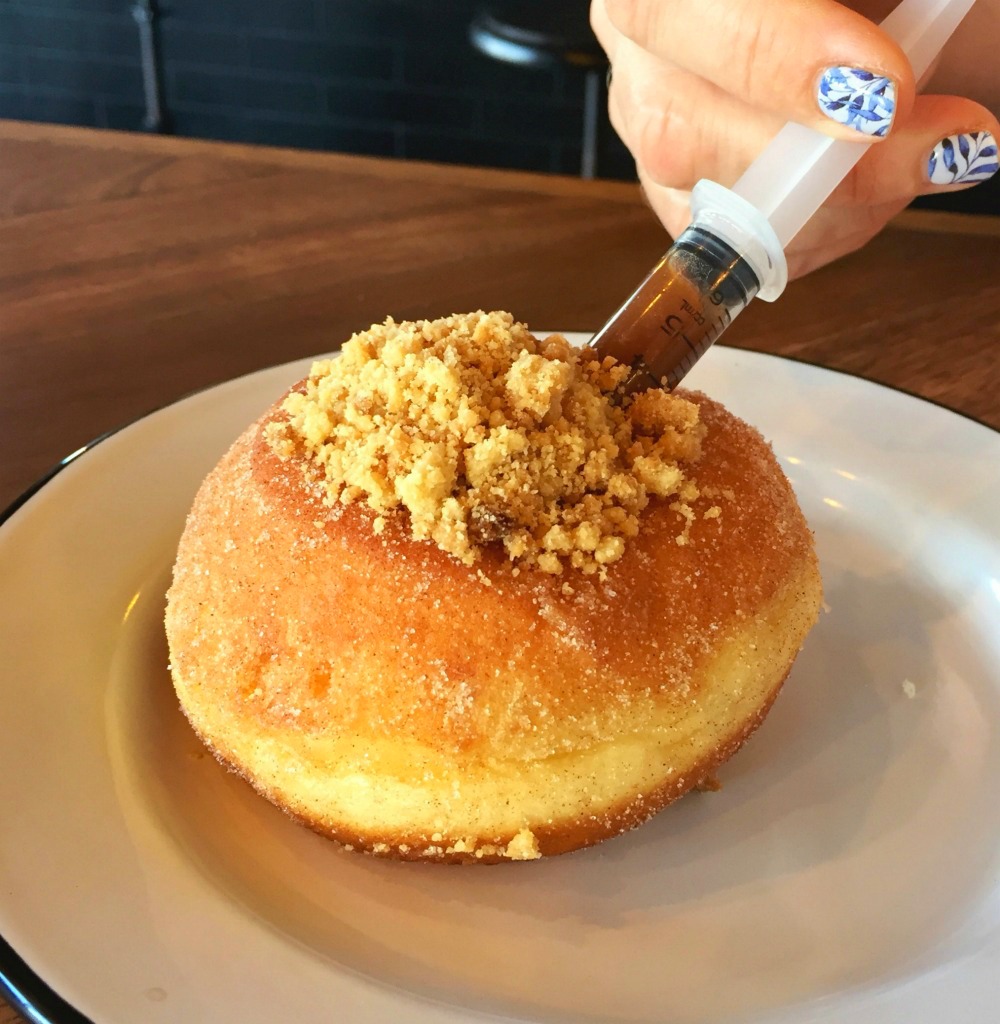 Juntion Fair, Newcastle
12:00pm Drive by at Merewether Beach
I have fond and happy memories of Merewether – it's my favourite Newcastle beach. It's one of only 20 National Surfing Reserves in Australia, home of the annual Surfest competition and this year was named Australia's Best City Beach, pipping Bondi and Surfer's Paradise to the post! We feel the sand between our toes and  dip our feet in the ocean before heading off for our next adventure.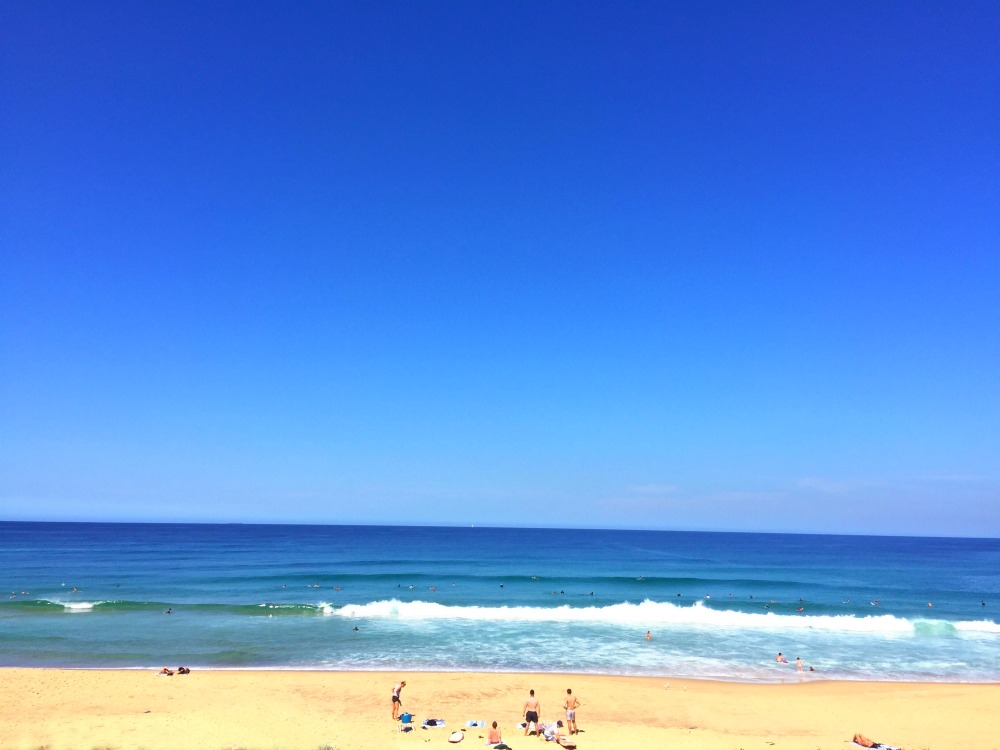 1:00pm Feeling fortified at Fort Scratchley
Although it was built in 1882 to defend the city against a possible Russian attack, the guns at Fort Scratchley weren't fired until 1942 when Newcastle was shelled by a Japanese Submarine. The Army vacated the site in 1972  and this former coastal defence installation is now a museum. It seems to be closed, it being Easter Sunday but we soak up the history, enjoy a stroll in the sunshine and take in the breathtaking views.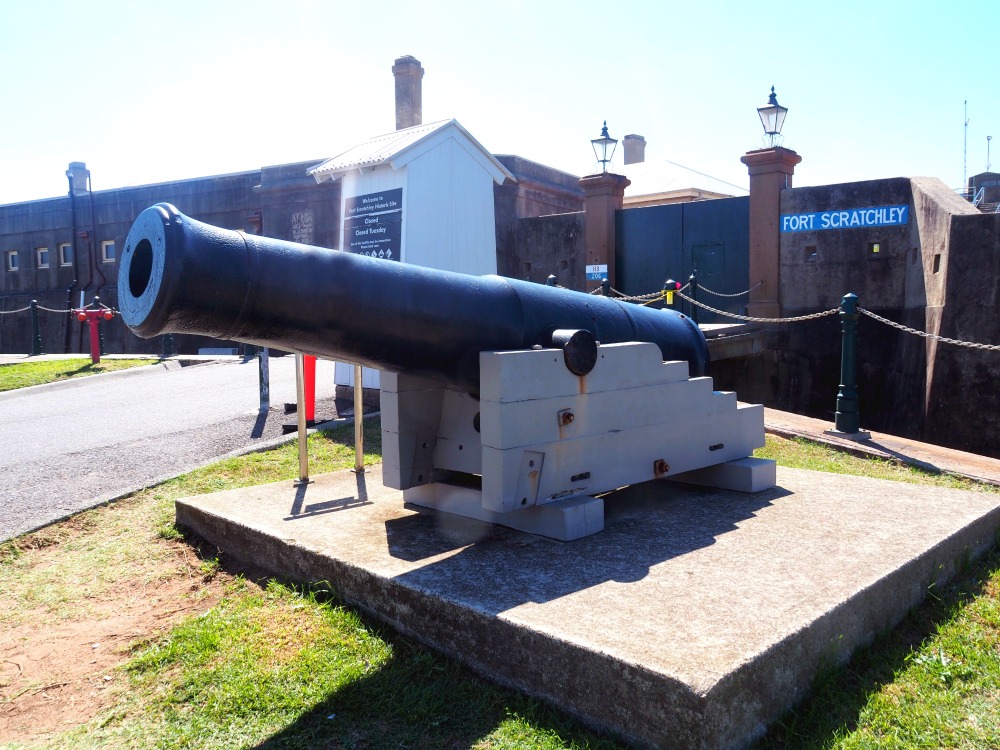 1-3 Nobby's Road, Newcastle East
Starting at Nobby's Beach, we weave our way along the coastal path. Highlights include the Art Deco Pavilion at Newcastle Ocean Baths and bumping into my friend Belinda along the way!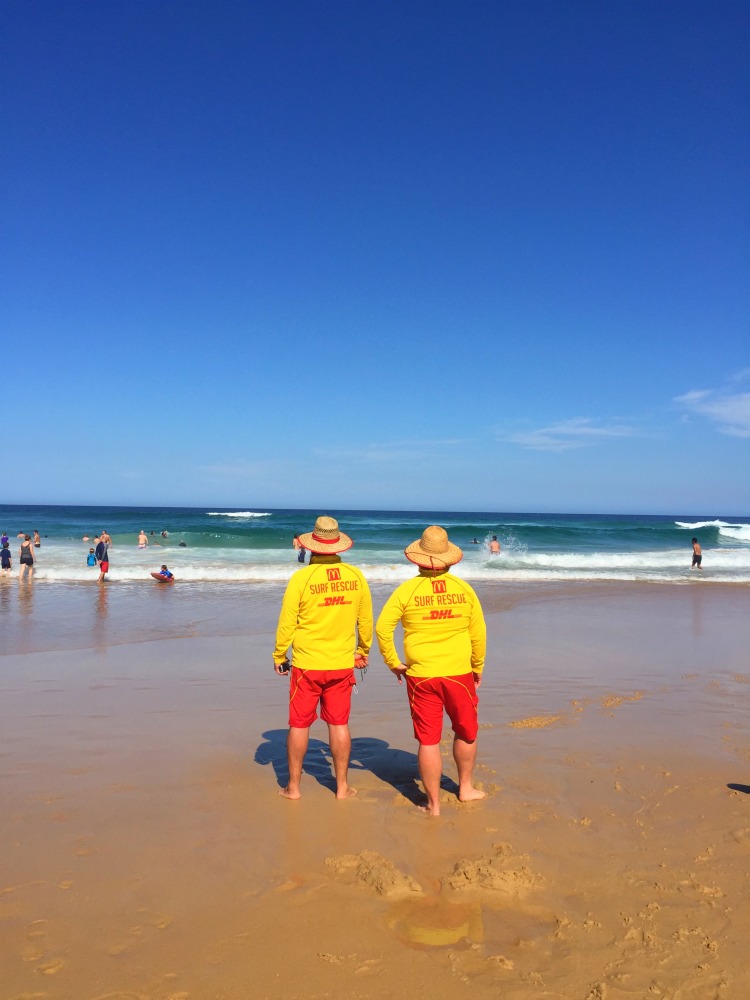 We make it as far as the Bogey Hole, a pool cut into the ocean rocks by convicts in 1819. We look at the waves crashing into the pool and think that those convicts must have been made of strong stuff!  If you're wondering about the name, it's has no relation to nose picking, rather it refers to the indigenous word meaning to bathe.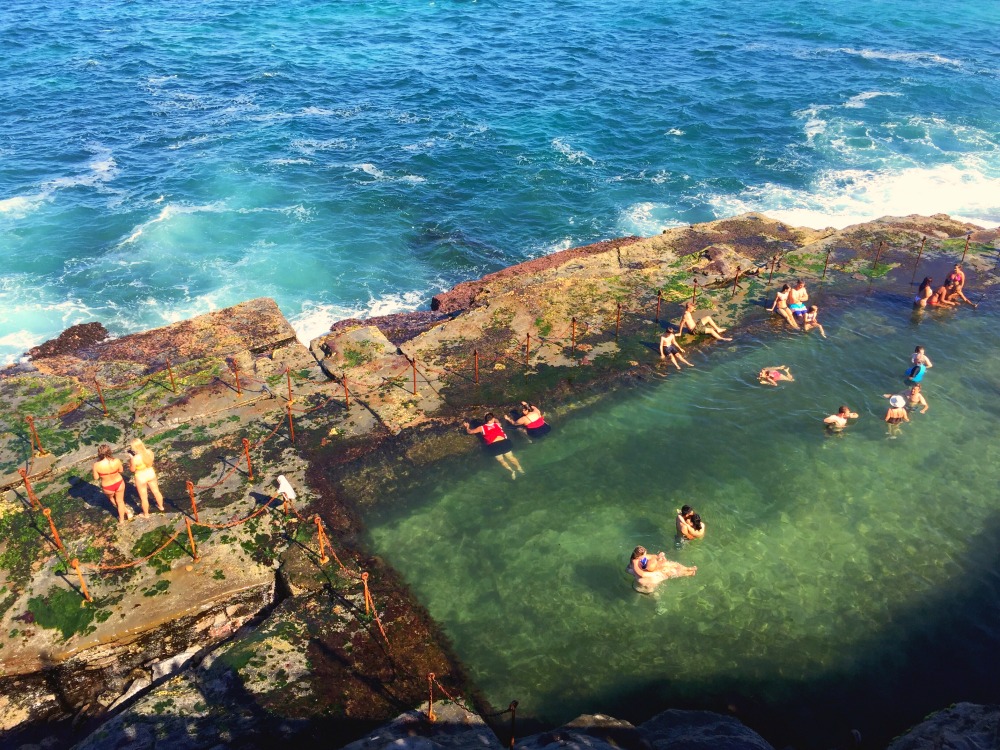 It's a stinking hot day so we cut our 5km walk short and ask our driver AKA David to pick us up and drive us the short distance to the ANZAC Memorial Bridge. The 450m bridge and boardwalk was opened in 2015,  to commemorate the 100th anniversary of the ANZAC landing in Gallipoli and the start of steel making in Newcastle.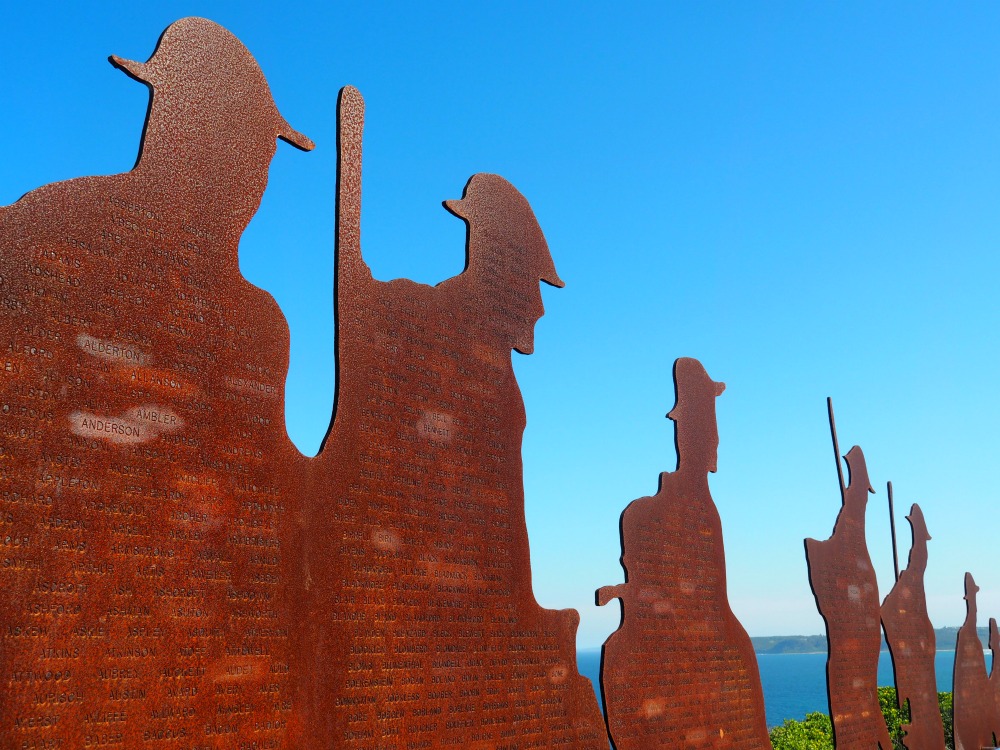 The bridge itself is adorned with more than 400 silhouettes of soldiers and inscribed with up to 4,000 family names of almost 11,000 known Hunter Valley men and women who enlisted during The Great War. It's a most beautiful tribute to those that made sacrifices for the freedoms that we enjoy today.  The walkway winds around the cliff edge and from the viewing platforms there are some amazing 360 degree views of the city of Newcastle, the stunning coastline and the Hunter Valley.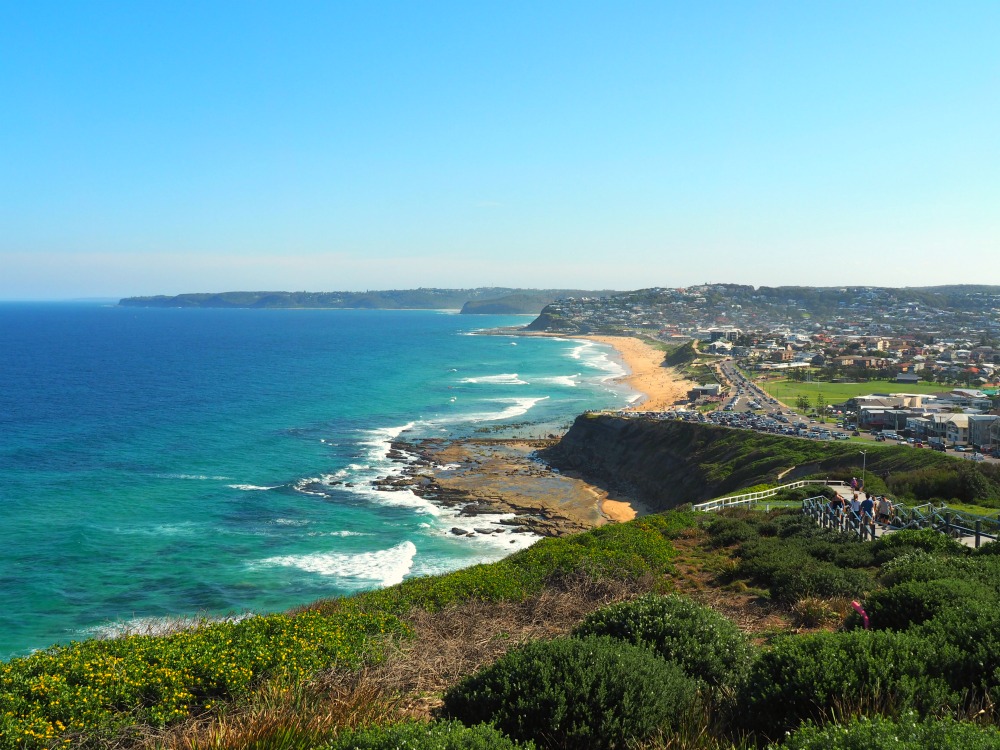 24 Memorial Drive, The Hill
Walking is thirsty work so we take a break at historic Customs House. Located on the harbourfront, this heritage listed building has a bar , restauarant and a beer garden. We grab a table on the verandah and kick back, relax and enjoy the live music, the historic setting and of course the company!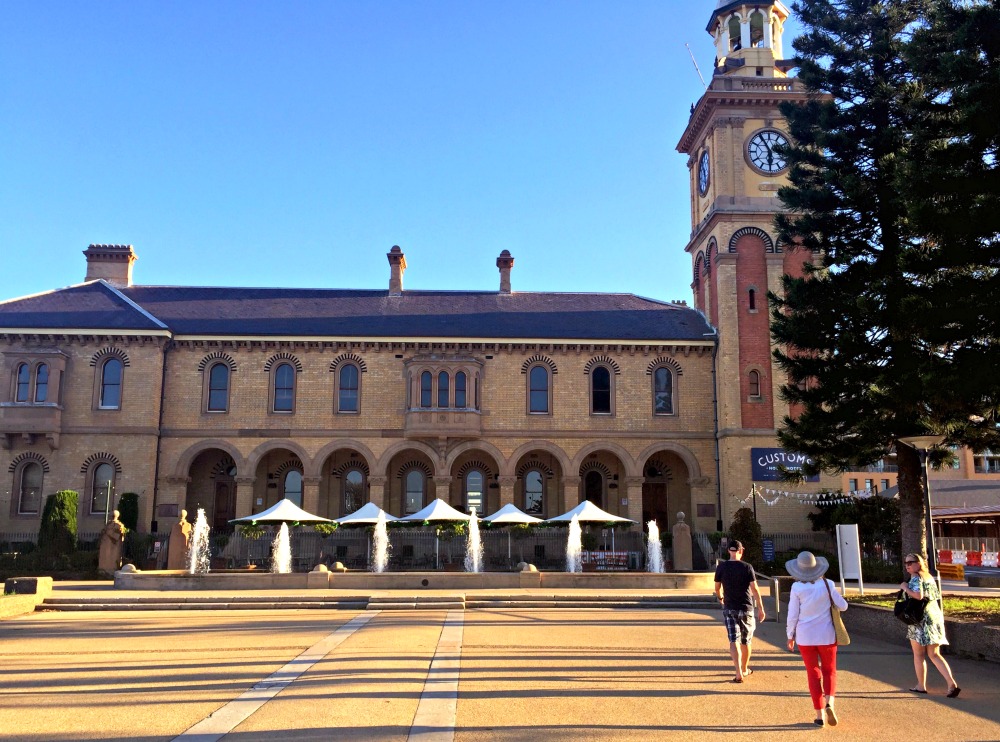 1 Bond Street, Newcastle
It's Ladies Night as me, Bev and Joan head to the Spiegeltent for Blanc de Blanc – a night of vintage glamour, risque cabaret, breathtaking acrobatics and big moves, not to mention more boobs, bums and six packs than you shake a stick at. The bubbles are flowing and the laughs don't stop. Technically, we should now all have six packs too, heaven knows we get a thorough abs workout from all the belly laughing.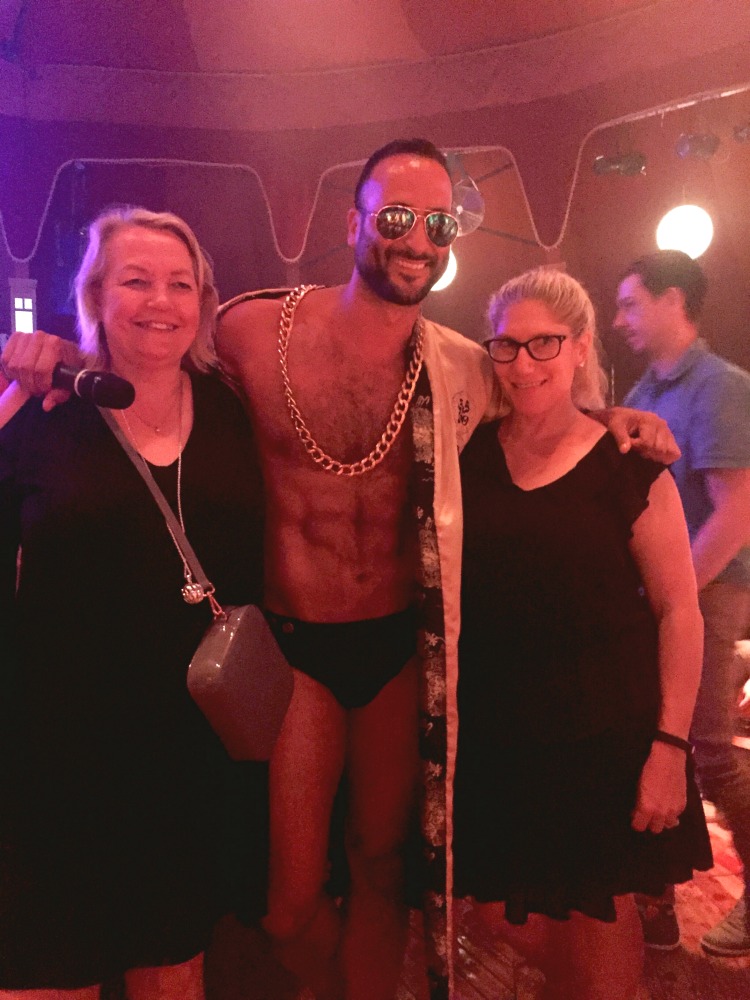 Monday
We've covering all our animal bases this weekend, we've already been up close and personal with the marine life so now we're taking a walk on the wild side checking out some of Australia's well known native animals. The wildlife exhibits here are free and they're also very popular. Even though they open at 10am, there's already a lengthy queue forming.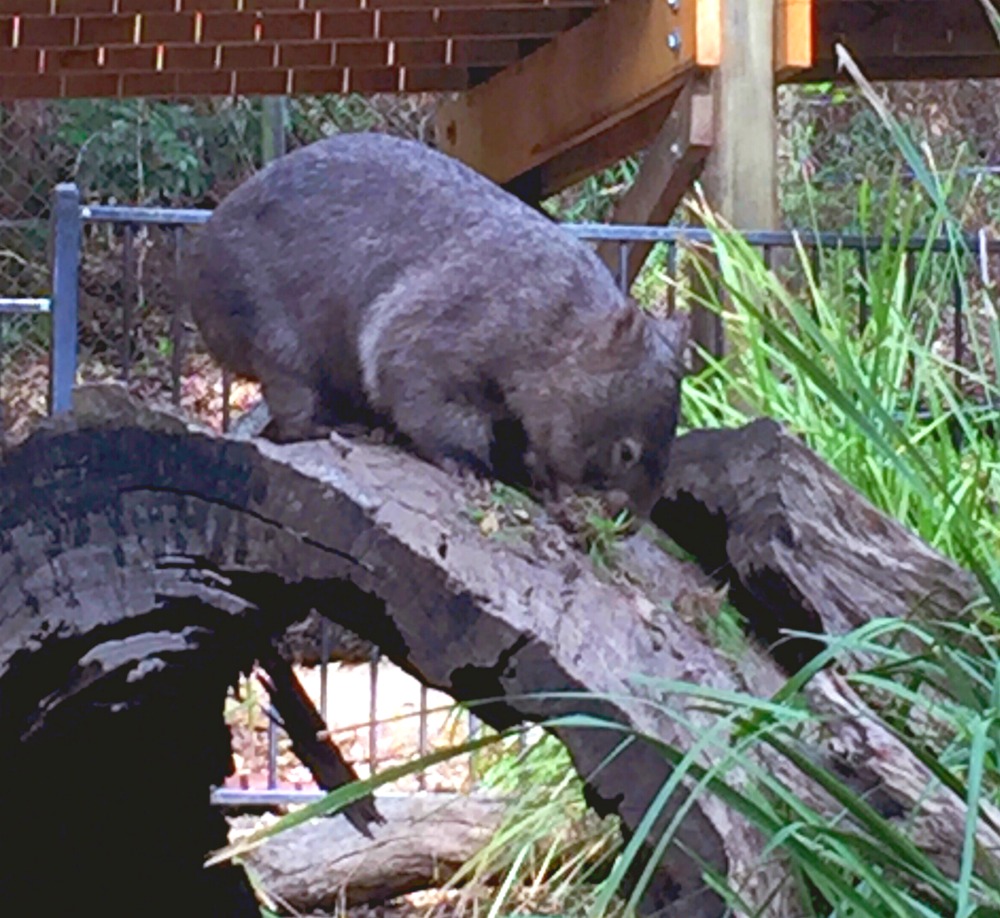 Here you'll find award winning exhibits,  informative signage and a wheelchair and pram friendly accessible boardwalk. There's a good range of animals with all the usual suspects including koalas, wombats, roos and wallabies with a variety of birds and reptiles too. Call us biased but the koalas are our favourite! If you time your visit right, you might be lucky enough to see feeding time at one of the enclosures or get up close and personal and even pat one of the resident reptiles at the reptile show ($3 per person.) There are two lovely picnic areas,  a children's playground and a number of beautiful  bush walks around the reserve. Today we're tight for time so we just check out the wild things and go.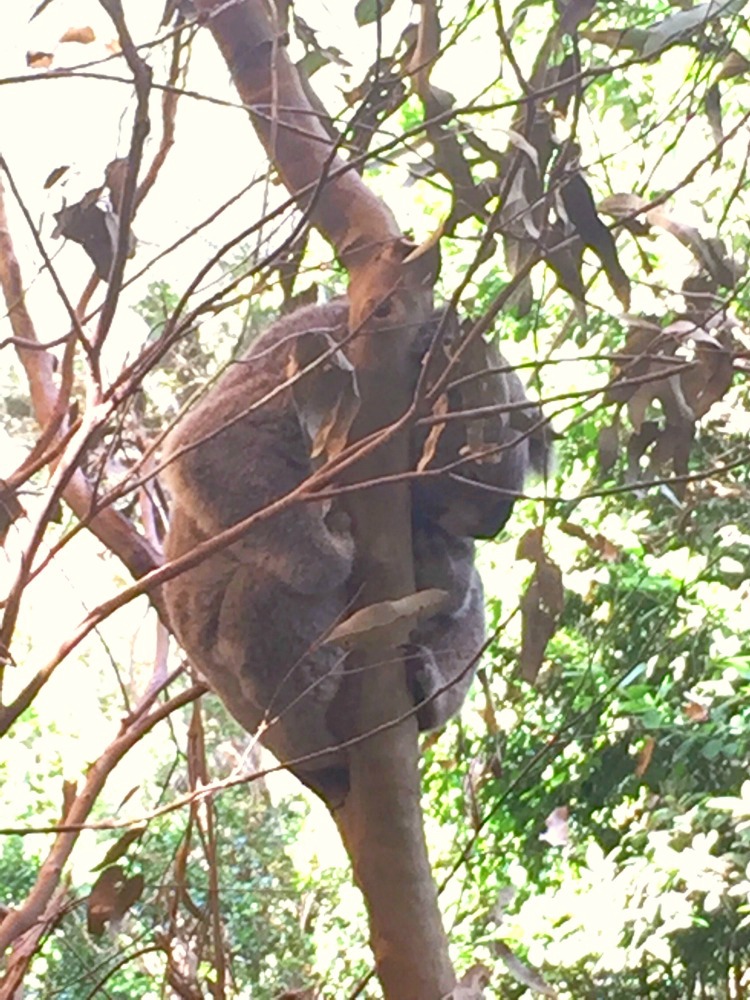 Camley Avenue, Kotara
We can't head home without a pit stop at the most bootatlicious big things of all, the big ugg boots! the The boots are made from fibreglass and steel and measure 5 metres high and weigh approximately 600 kilograms each. Now that's what I call heavy footed! Here you'll find an Ugg outlet, sheepskin factory tours, and a cafe but we're just here for the photo opportunities! And because it's Easter, there's an added egg-stra, a big Easter egg!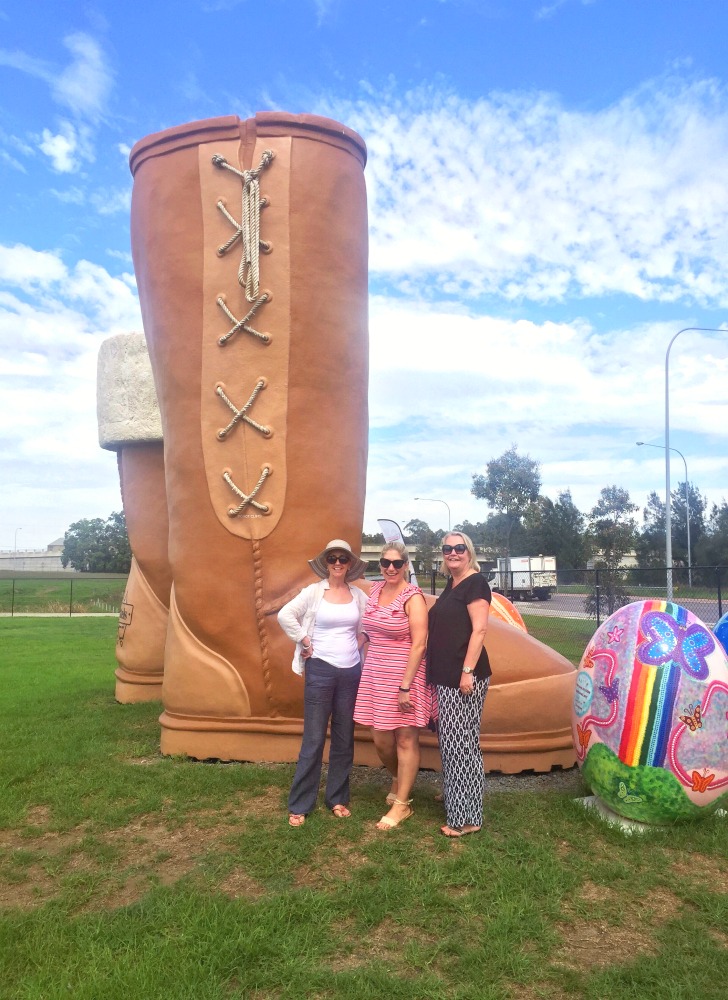 Glenwood and Weakleys Drive, Thornton
11.30am Exploring Historic Morpeth
Nestled on the  Hunter River, the historic town of Morpeth has heritage buildings and beautiful boutiques in equal measure. It being a Monday and a public holiday, many of the shops and eateries are closed but our walk along the Main Street brings us to  Morpeth Museum, a treasure of a find. Located in the old courthouse, there are a range of exhibitions and displays with everything from early family history to specific industries and it takes us all the way down Memory Lane, and beyond. At $2 a pop (children are free,) it's a gold coin well spent.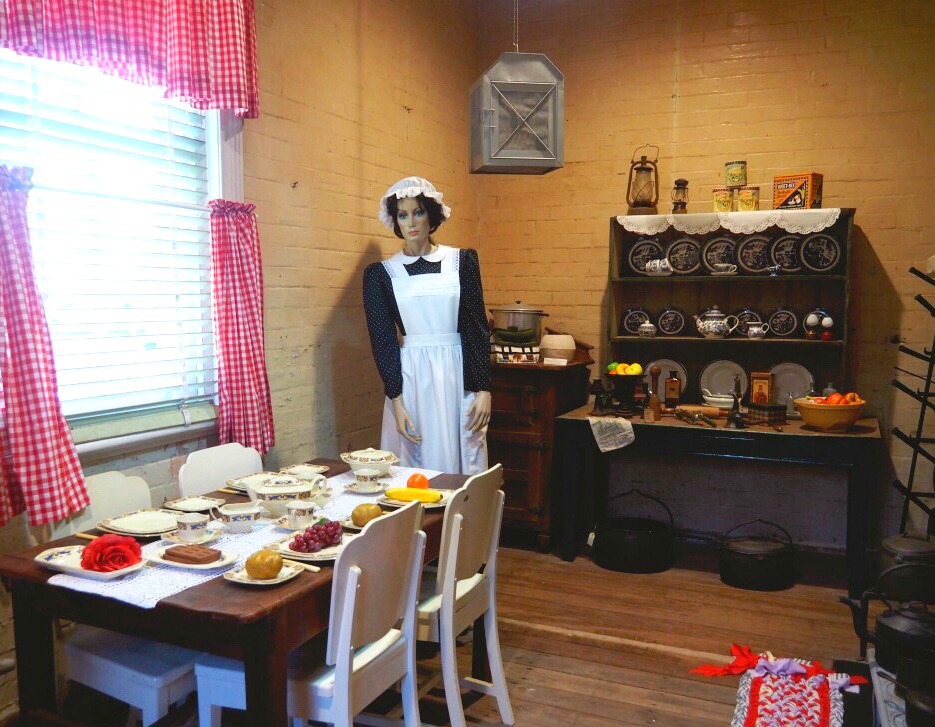 123 Swan Street, Morpeth
1.30pm Wine Tasting in the Hunter
We just have time to taste some wine and fill up our wine rack before we head home. First we stop at the Hunter Valley Gardens to check out the Big Wine Bottle and I can't resist a visit to the British Lolly Shop  in the shopping village – we can't miss it, there's are two life sized toy soldiers standing to attention outside. It has almost every kind of British confectionery imaginable but Beverley and Joan arrived bearing lots of lolly gifts and I must not be greedy! I am however, still on the search for some American Hard Gums so if anyone knows where to find them down under, pray do tell!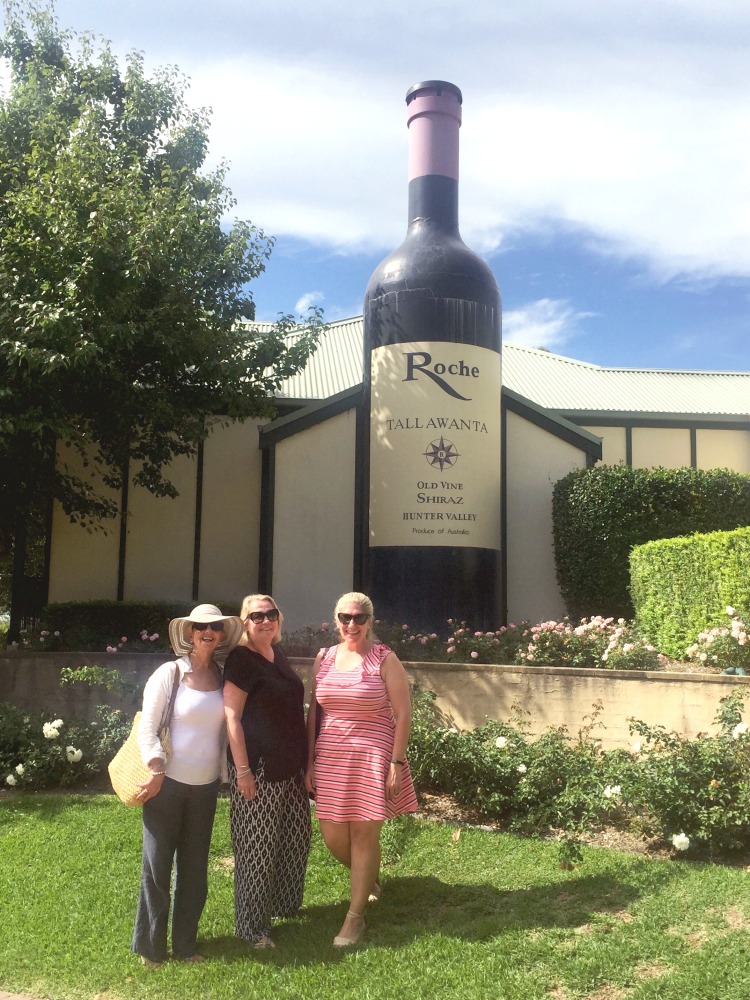 Next stop is at the cellar door of one of my favourite Hunter wineries, Audrey Wilkinson. Wine tasting is $5 per person but it's redeemable against any purchase. You can book ahead for wine tasting and it's recommended for weekends or busy periods but today we're flying by the seat of our pants. We head downstairs where we explore a wide range of wines and have a barrel of laughs while we do it. The staff here take a pride in their work as well as their wine and the personal service is appreciated.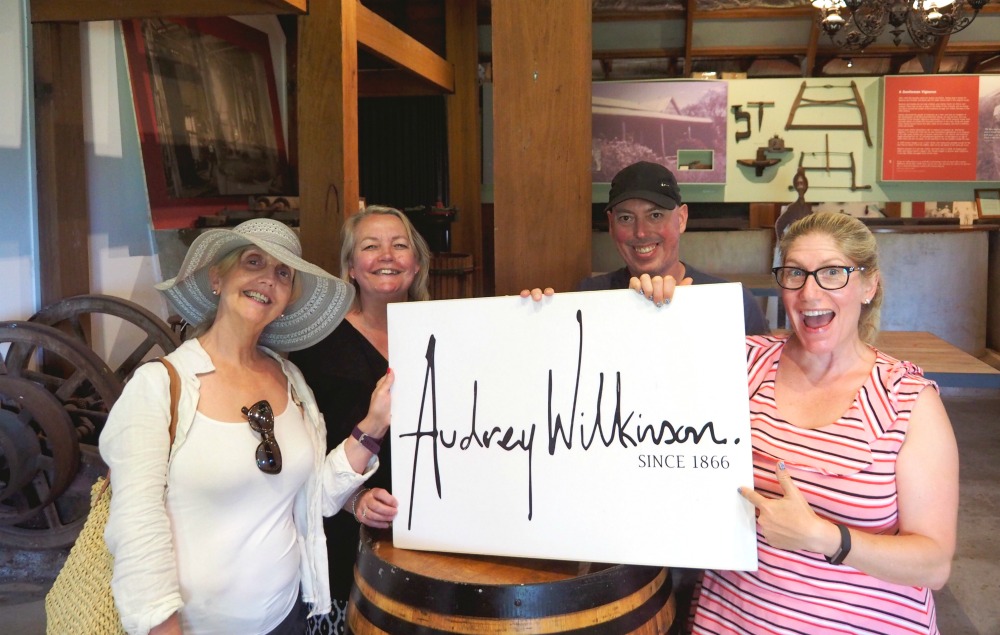 We don't have enough time to visit the museum today but we take some time to appreciate the scenery – this is what you call a cellar door with a view!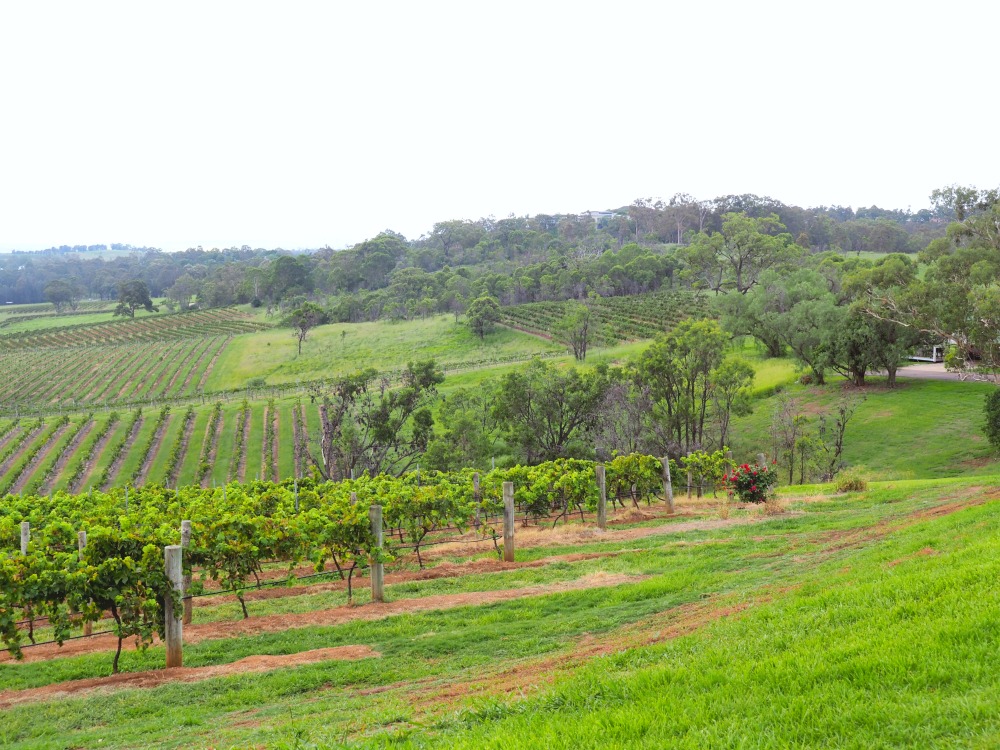 We make one lucky last stop at Tullochs, another of my favourite cellar doors. The team here is fun and friendly and tastings are personalised to suit our tastes. Joan likes red, Bev likes white and I like pretty much anything, although I must say, I have a penchant for port. We don't leave empty handed!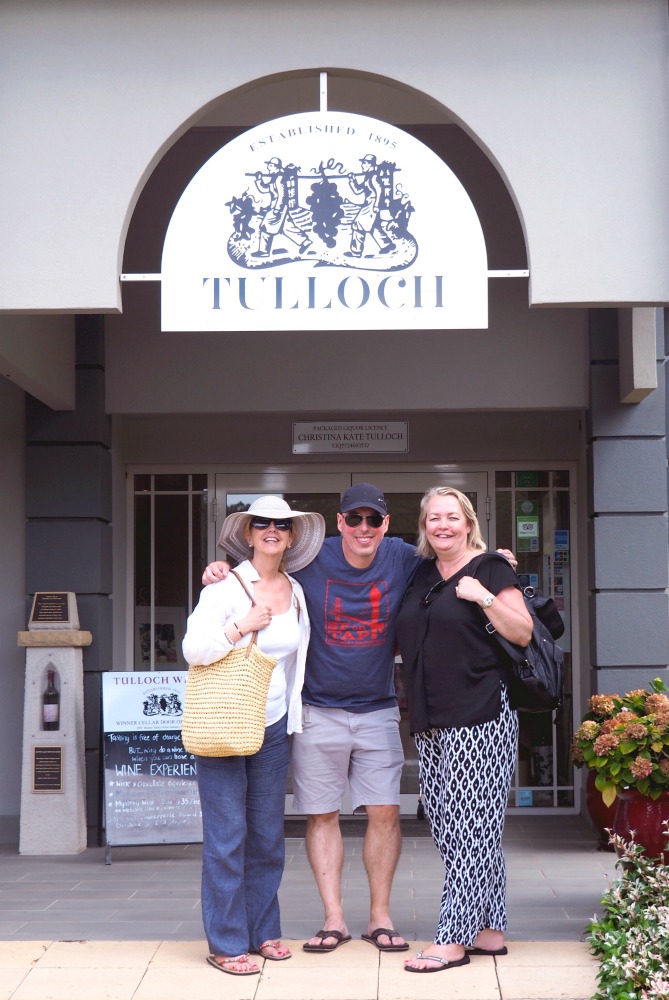 Nothing good lasts forever, even long weekends but we head back to the smoke with memories of good wine and good times. Newcastle – that's a wrap!
I was a guest of Irukandji Shark and Ray Encounters (Bev and Joan paid for their own,) all other admission fees, food, drinks and accommodation were thoroughly enjoyed and independently paid for. As always, all opinions are honest and my own.
Linking up with Kylie for IBOT