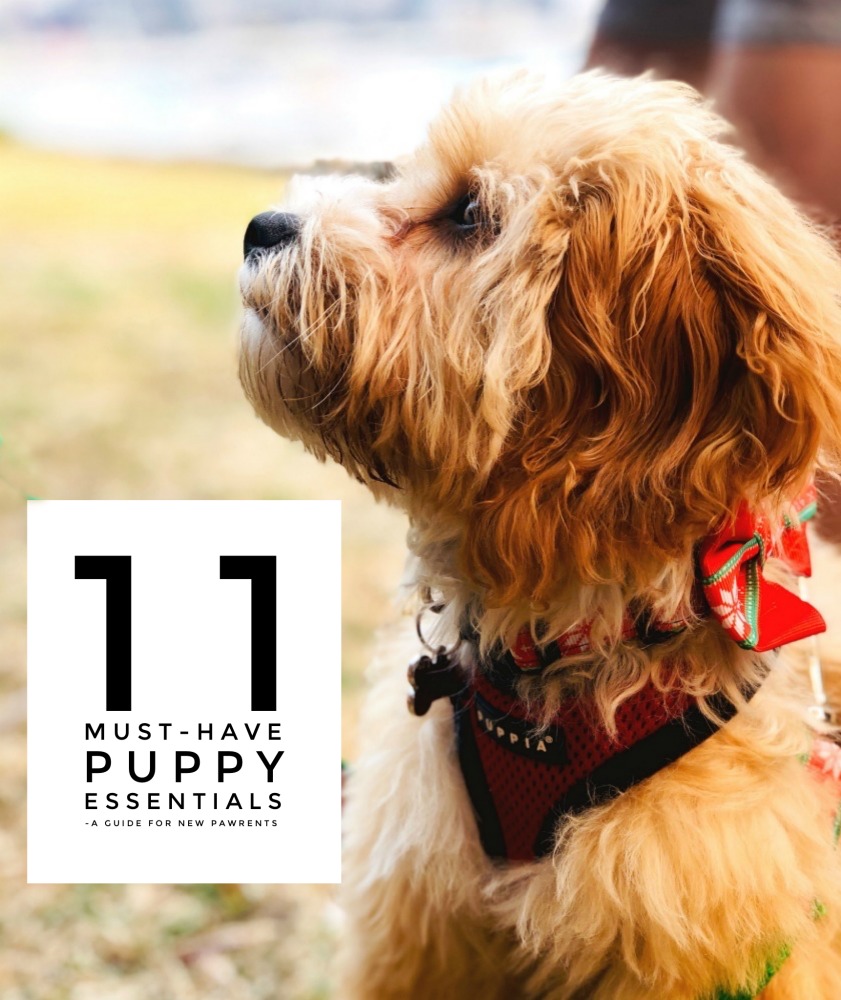 Want to know what you'll need when you bring your puppy home?
I did! Before we brought Teddy Roosevelt home, I carried out extensive research on what we would need and now that Teddy has well and truly made himself at home I can now report back on the best buys puppy wise, many of which still add value and are used even now.
Lamaze toys
Lamaze toys aren't just good for babies, they're perfect for pups too. They're actually designed to engage babies and stimulate their brains and that's what they do for puppers too! Teddy grew up with some quality Lamaze toys at his birth home.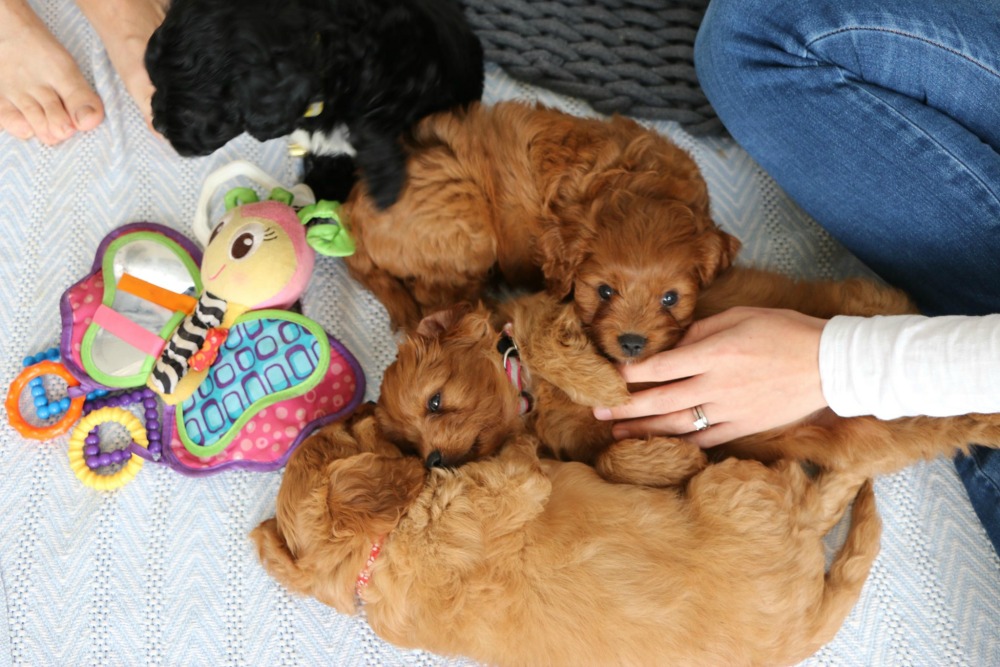 They're a little bit exxy to buy in the shops but we sourced a load of pre-loved Lamaze toys from Gumtree and Facebook Marketplace and never paid more than $5 a pop! If buying second hand, try and buy from pet-free, smoke-free homes and hand wash the toys before giving them to your pup.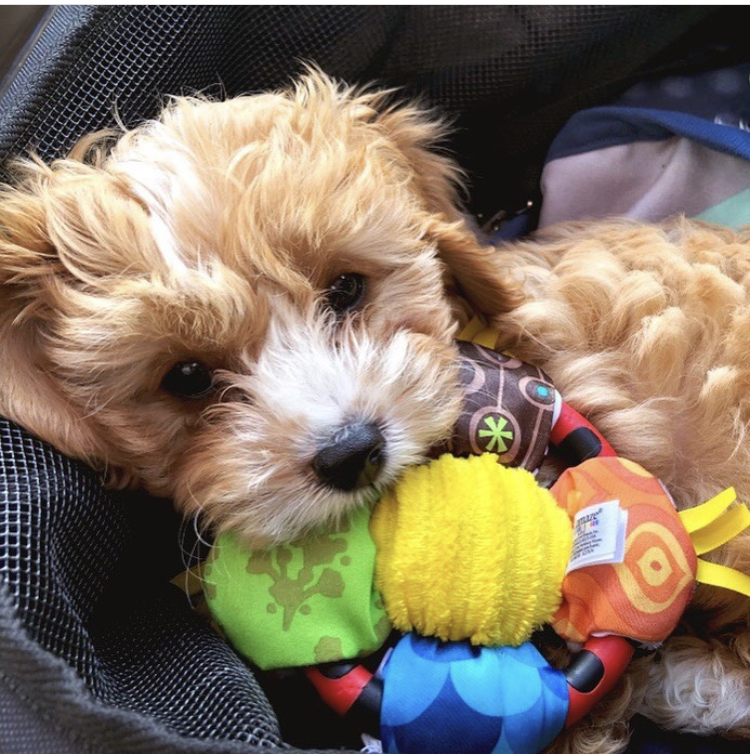 Lamaze toys are the toys that keep on giving, 10 months later and these toys are still his favourite!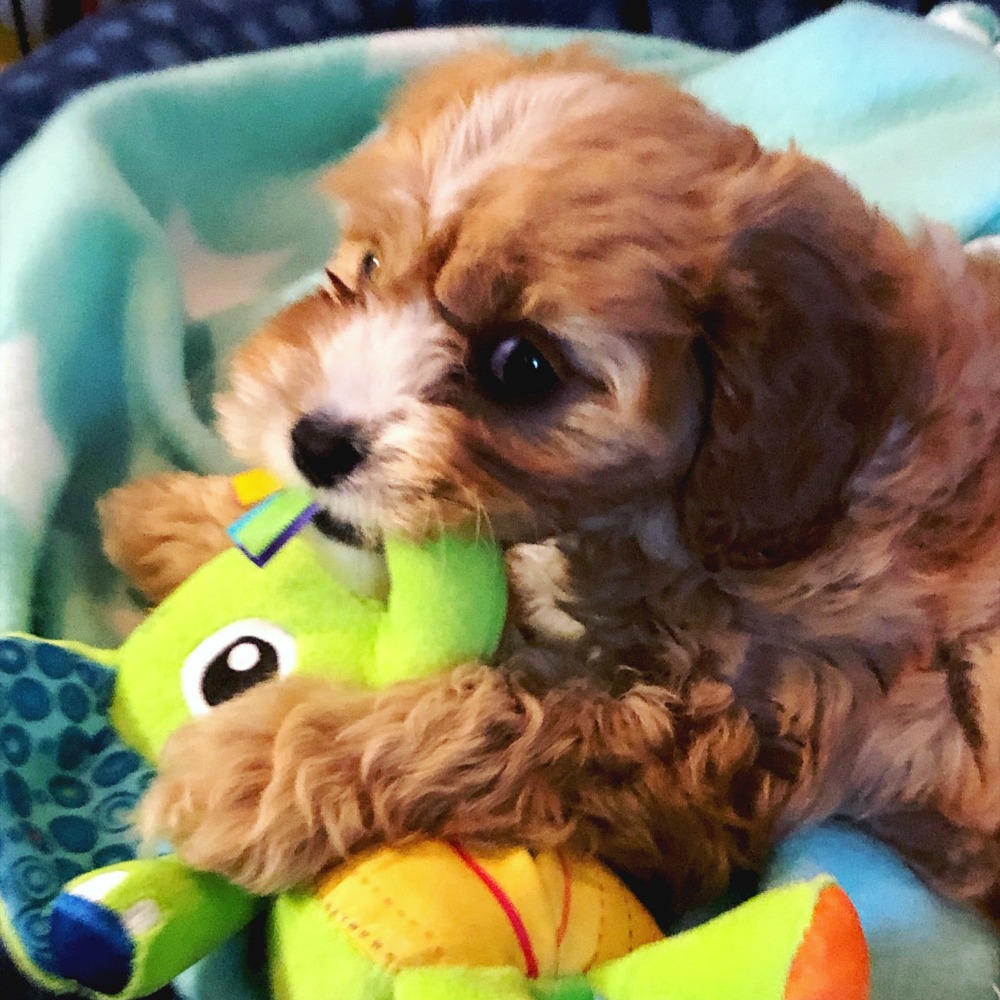 Teddy had a fake grass pet potty in his playpen at his birth home and living in an apartment it made perfect sense to get one for his fur-ever home too!
Although we made our own fresh grass dog toilet for the balcony, we had a fake grass one inside (and still do.) The fake grass version is super versatile and can be used in or outdoors.
Although the fake grass pooch potty is very convenient, it can become quite smelly if your dog is using it for all their toilet times and ideally needs to be sprayed down each day. We bought some replacement grass so we could use one and wash one – it's much less smelly that way!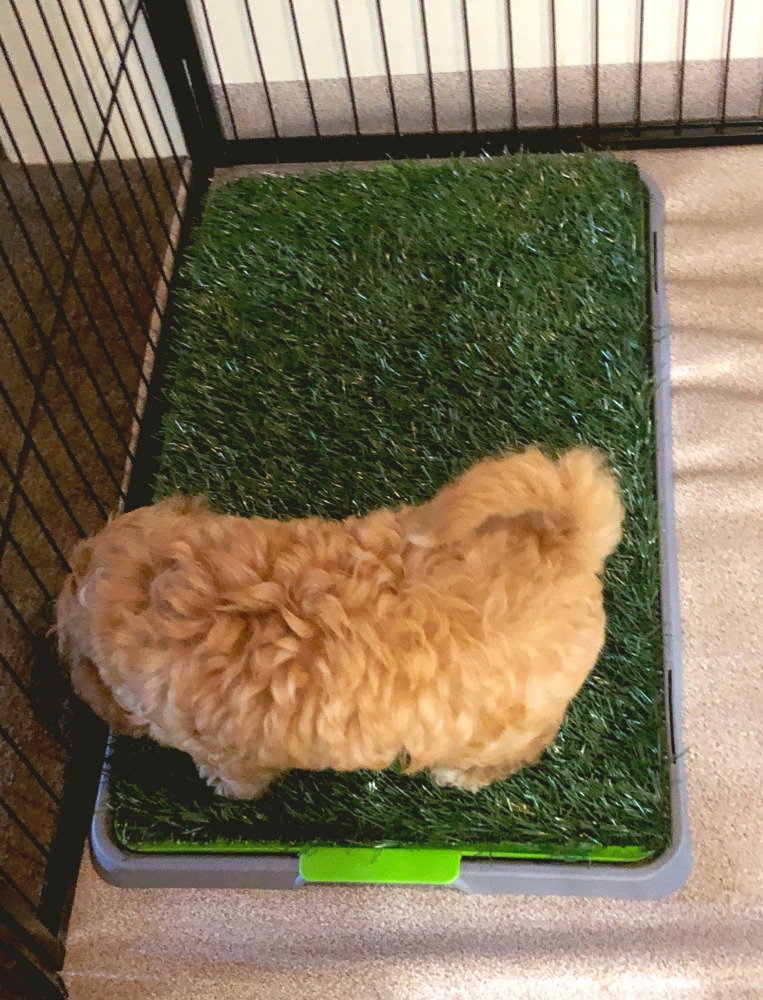 If you live in an apartment you'll likely not have a garden but you'll still want your puppy to pee on real grass so a real grass toilet might be the next best thing!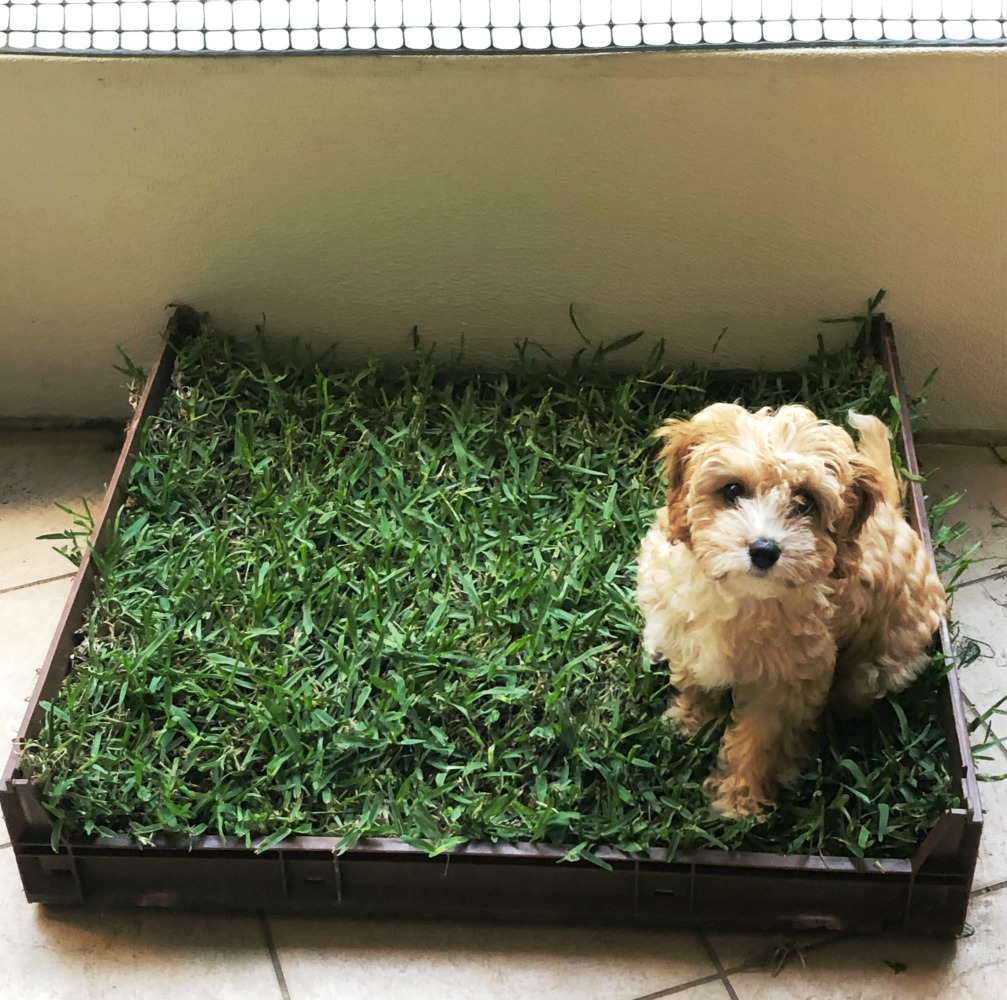 There are a number of real grass subscription delivery services on the market but they are very costly and with this simple DIY – you can make a great fresh grass dog toilet for less than $20!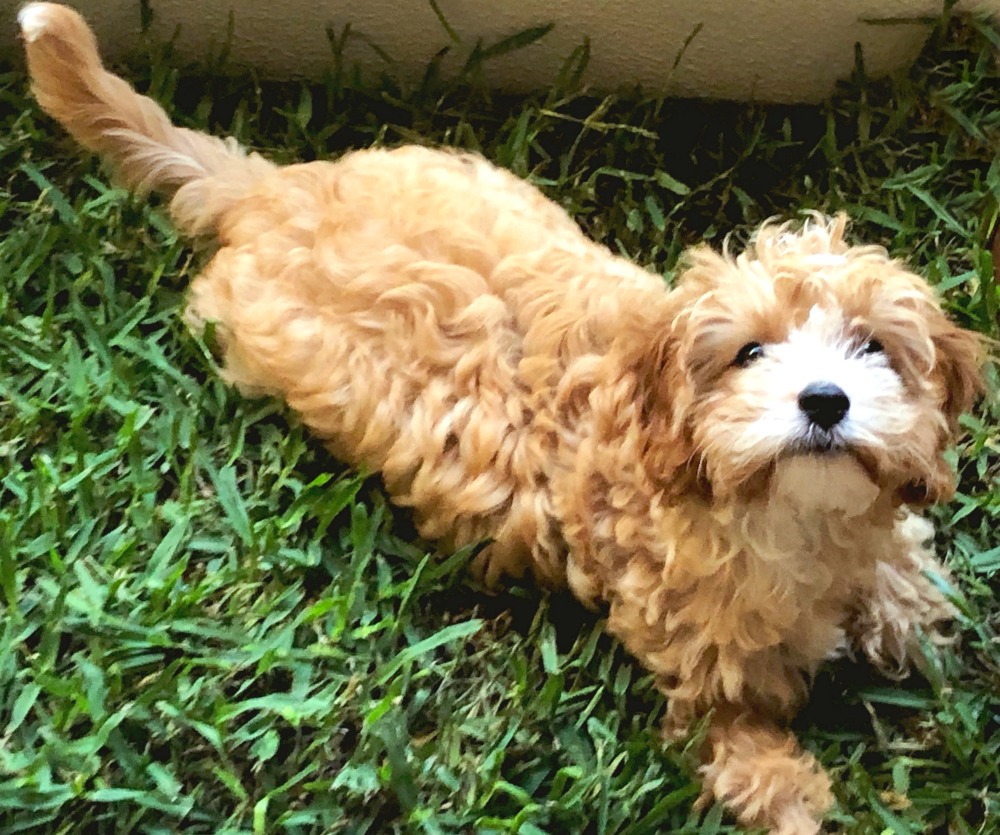 It's so easy even we can do it! And as you can see, it's big enough for 2 puppies. It certainly gets Teddy and his sister Bella's seal of approval!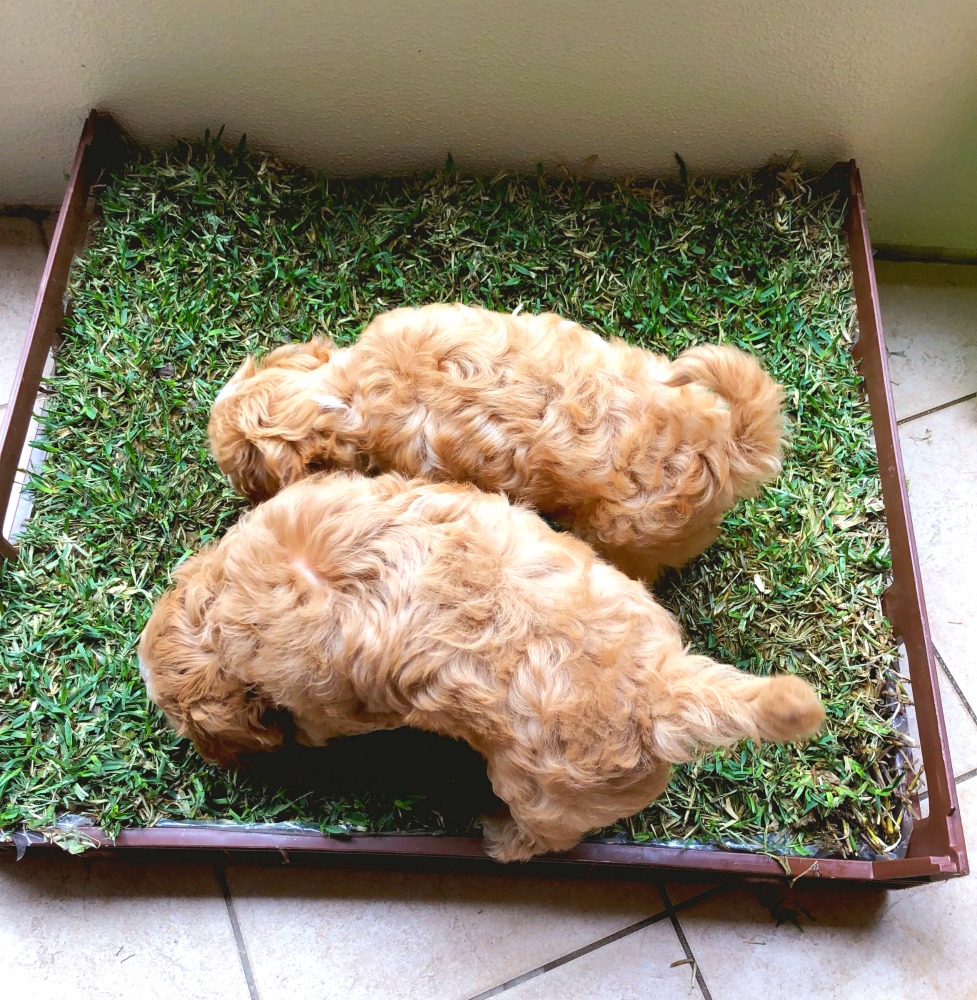 We had heard great things about this and it did not disappoint. Nothing is more comforting for a puppy than the sound of their mother's heartbeat. You can replicate this with a ticking clock but this comforting toy is so much cuter, not to mention softer.
You just push on the belly of the sheep to active the heart and it will "beat" for about 20 minutes. This toy comes Teddy approved – he loves his sheep and with it always has a calm, contented and good night's sleep!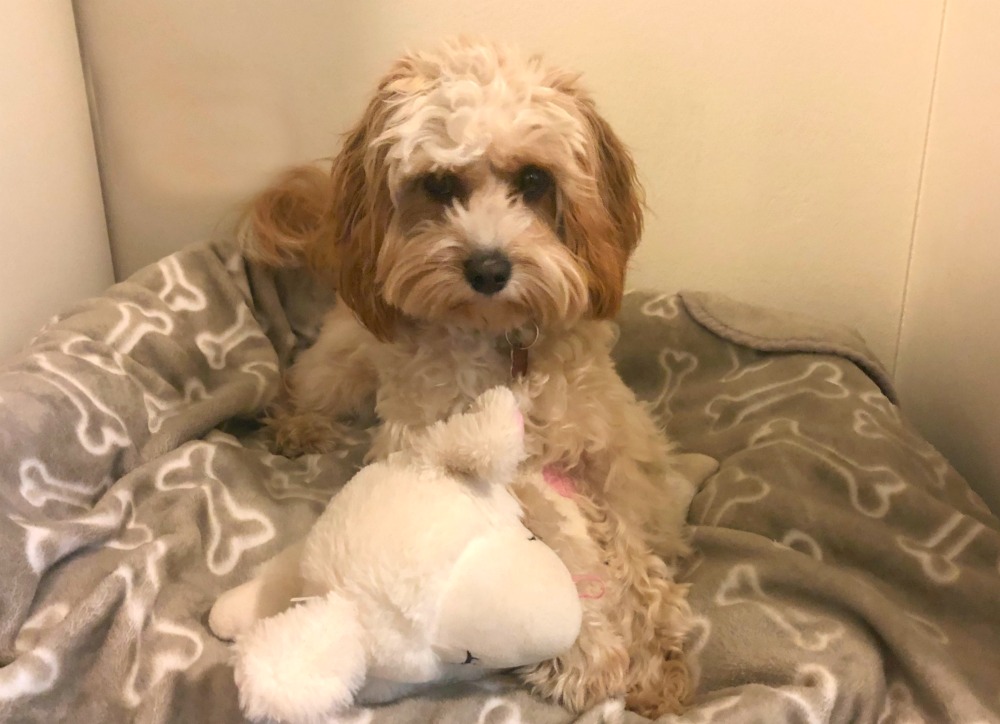 Baby Gates
Puppy proofing your home is as important for humans as it is for puppies and baby gates are super useful for blocking off any areas of the house you don't want your puppy to have access to.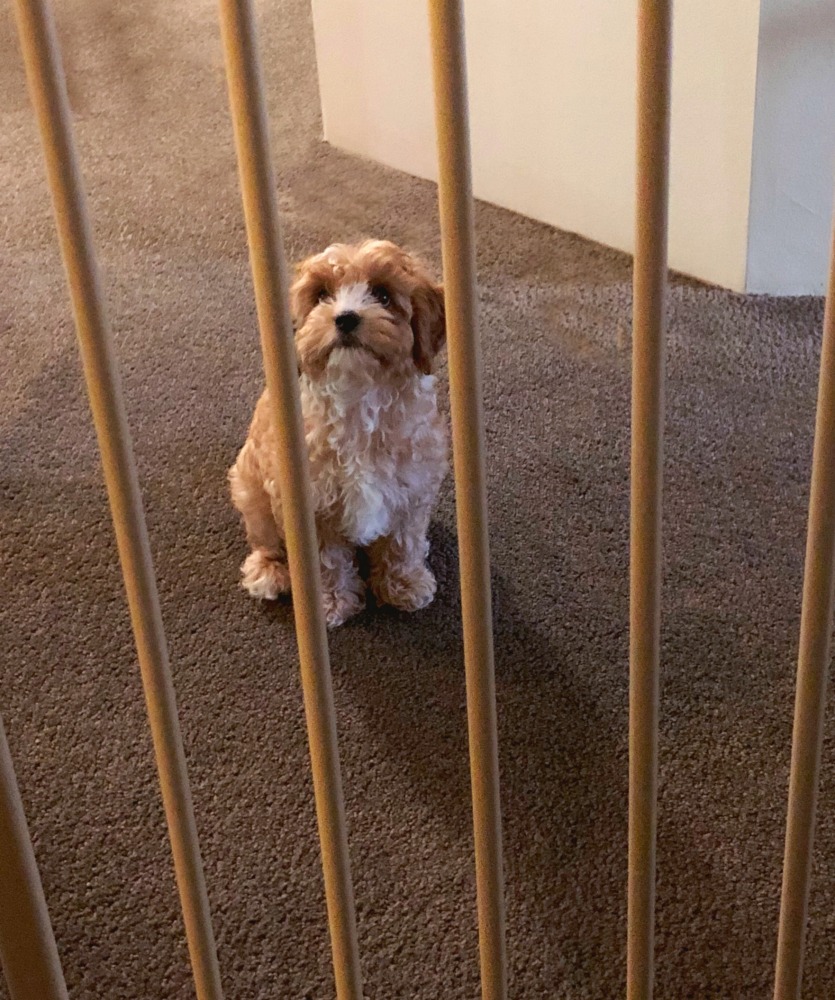 There are different types and sizes of baby gates available, many which have easy installation and require no drilling which is perfect if you are renting and/or don't want to mark the walls.
If you're lucky you can save some serious dollars buying gates second hand on Gumtree or Facebook Marketplace and even if you pay full price and buy new, you'll be able to sell them on when your pup is more mature and ready and able to access all areas.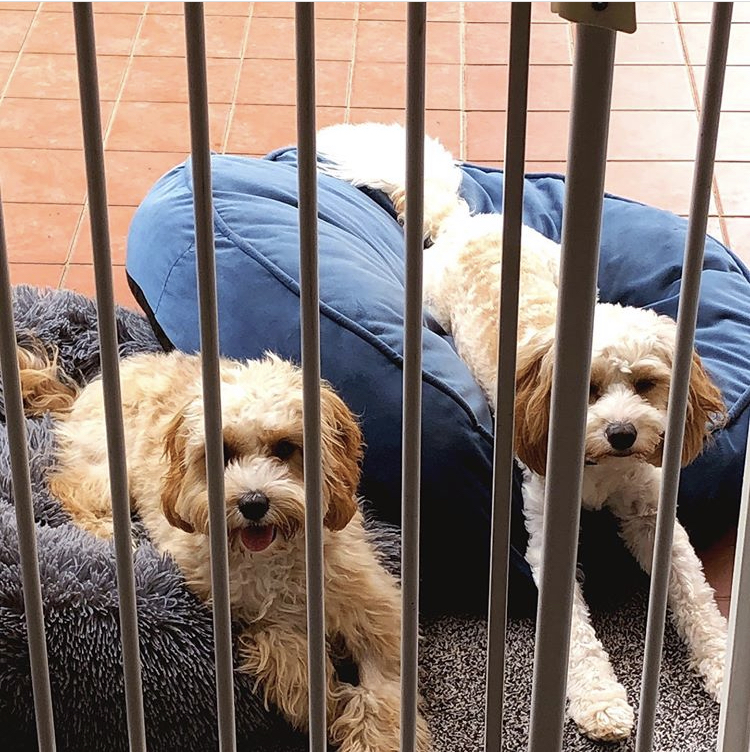 A play pen is super useful for both toilet training, when puppy his home alone and times when you're not able to supervise him.
We kept our playpen in the living room where we spend most of our time because that way Teddy could be near us but we weren't tripping over him and we knew he was safe.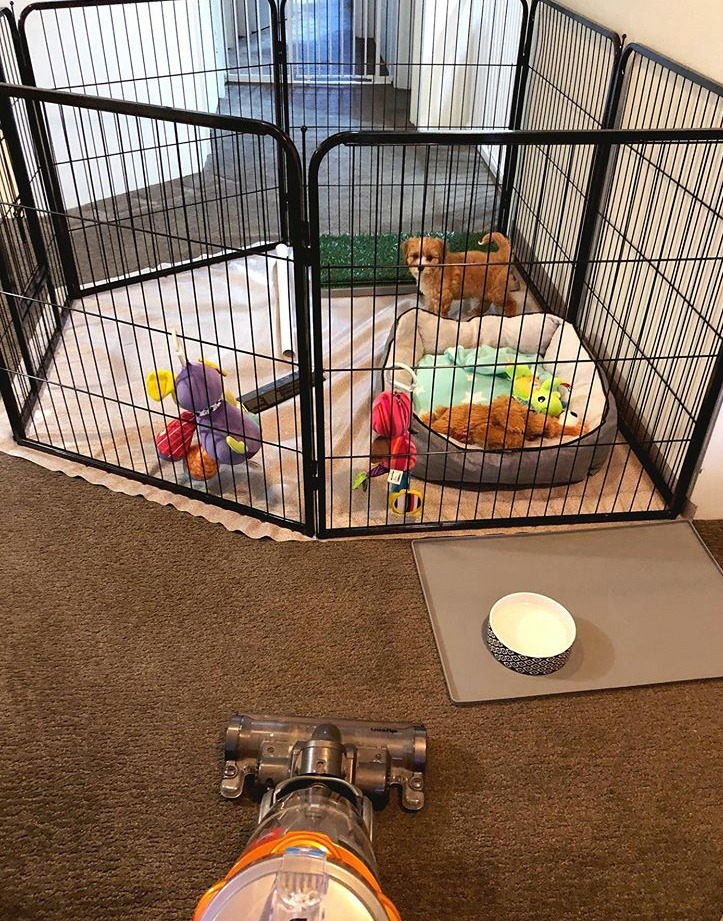 We chose this playpen because it has bars going vertically and horizontally, is super sturdy and can be arranged in a variety of shapes (and you can add and remove panels as necessary.)
Your playpen should have a bed, water (in a ceramic bowl so it can't be knocked over,) toys and somewhere for puppy to toilet (either pee pads or a fake grass pet potty.)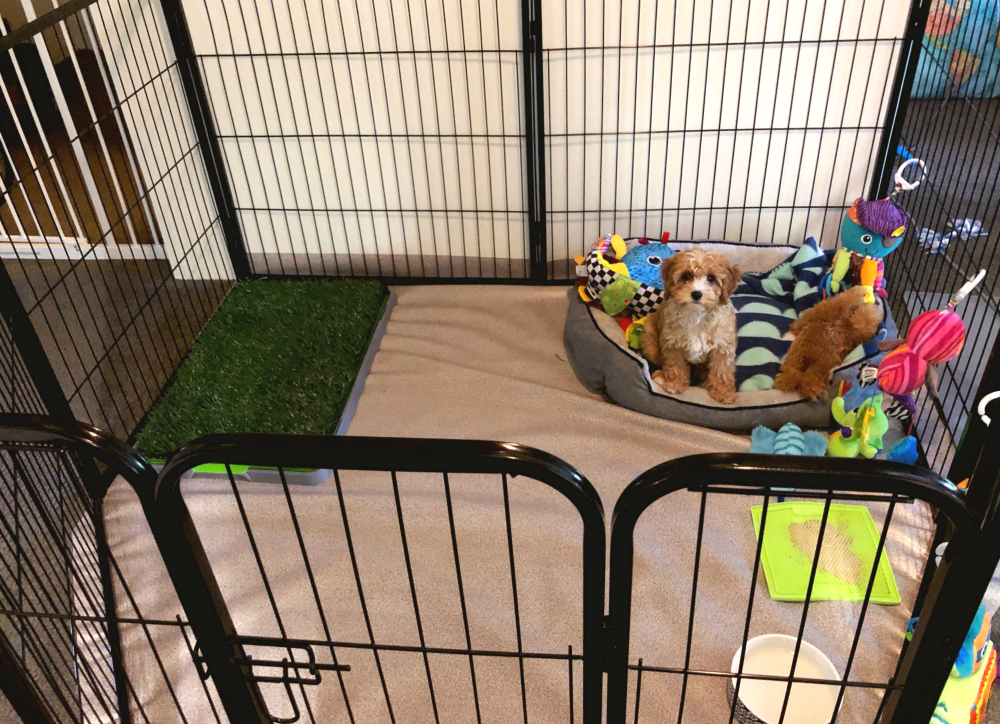 Having a security camera was great for monitoring Teddy as he got used to being home alone. We gradually increased the time we left him in his pen and the camera really reassured us because although he seemed distressed when we left, he would settle quickly playing with his toys or enjoying a power nap.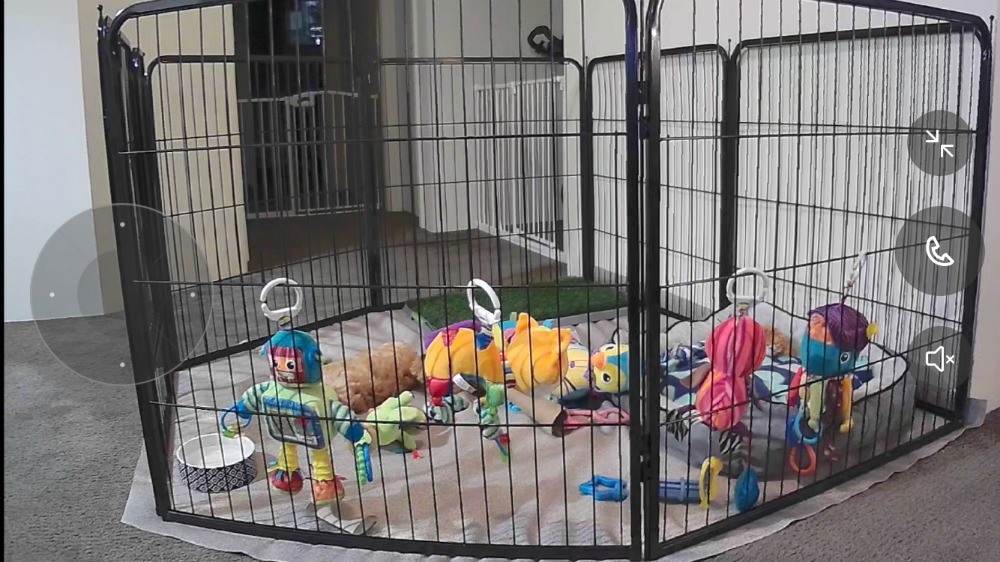 Having a camera is also important for us as we live in an apartment and we need to know that Teddy is not disturbing the neighbours. The flip side of that is that if our neighbours or strata do complain about Teddy, we will have CCTV evidence to back him up! The camera is very affordable, easy to set up and has been worth every penny for the peace of mind it has given us!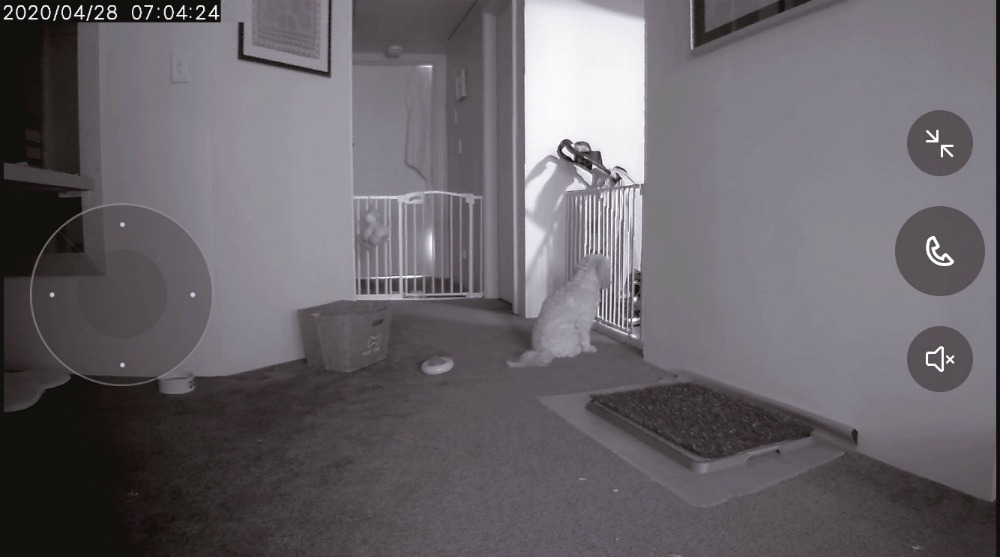 Crates
Crate training is super useful for teaching your puppy boundaries and keeping it safe. Our breeder had started crate training and it was something we were more than happy to continue.
We got this soft travel crate to bring Teddy home from the breeder, take him to the vets and for sleepovers at friends/holiday houses. It's worth remembering though that fabric crates aren't ideal for leaving your dog for really long periods because they can scratch their way out.
We settled on this Kmart crate for Teddy's sleeping spot. Inside we put this bed, a soft fluffy blanket, a toy from the breeder and the heartbeat sheep. We covered the back of the crate with a sheet at night, for maximum cosiness factor!
The crate should be big enough for your dog to stand up and turn around. Once you get puppy used to sleeping in the crate, he will feel happy and relaxed when inside. This really helps with toilet training as puppies won't soil where they will sleep.
If you're worried about the look of the crate and are worried about what your dog will think, don't! You're providing your pup with it's own safe space and they'll love you for it.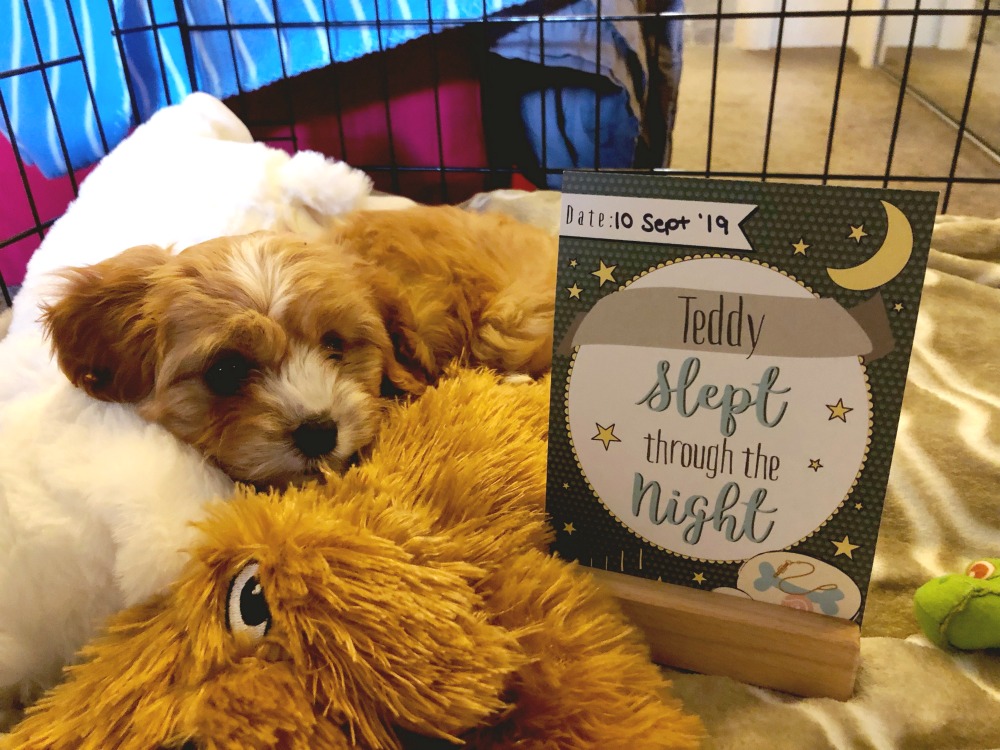 Car Restraints
Car seats and harnesses are essential because you when you strap your puppy in, you can be confident they'll be safe for the ride. Restraining your puppy not only gives you peace of mind, in NSW it also avoids a hefty fine and/or demerit points so a puppy in your lap just isn't going to cut it.
In the early days, Teddy travelled in his soft crate which was secured to the back seat. Be sure to check that your crate is big enough for your pup to stand up, lie down and turn around. We bought a medium size crate to allow for some growing room.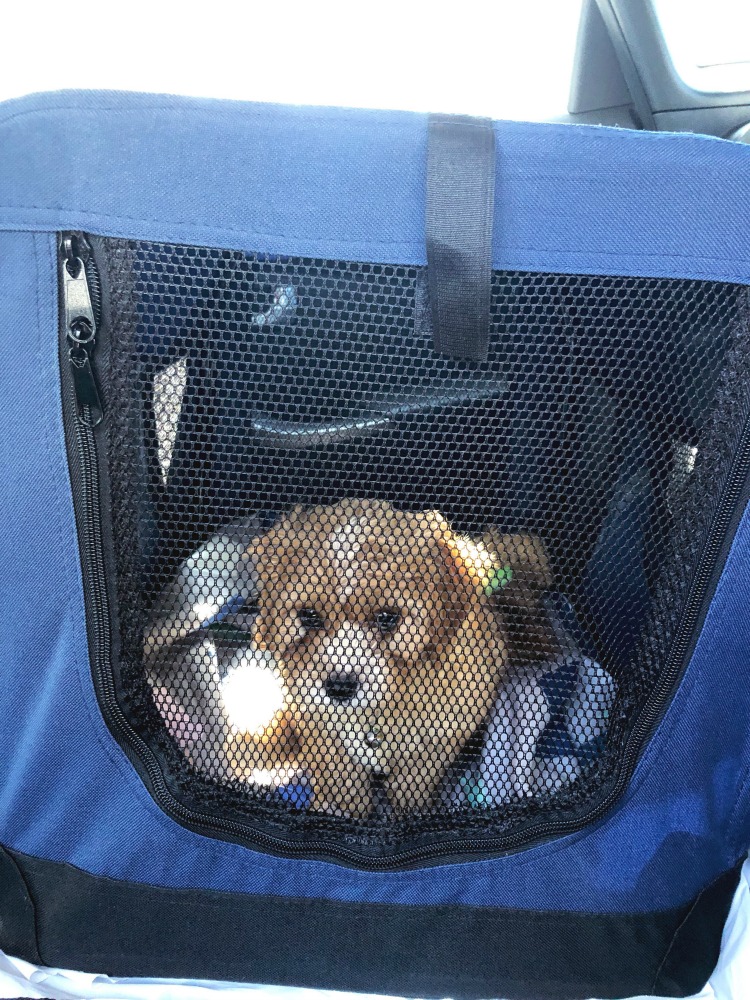 We graduated to a car restraint which simply anchors to the seatbelt and on to Teddy's harness. It's a really affordable option and really convenient if you're travelling in other people's cars. Teddy and his sister Bella love a good car ride situation and thy both have car restraints. As you can see they're super comfy and they can sit up or lie down.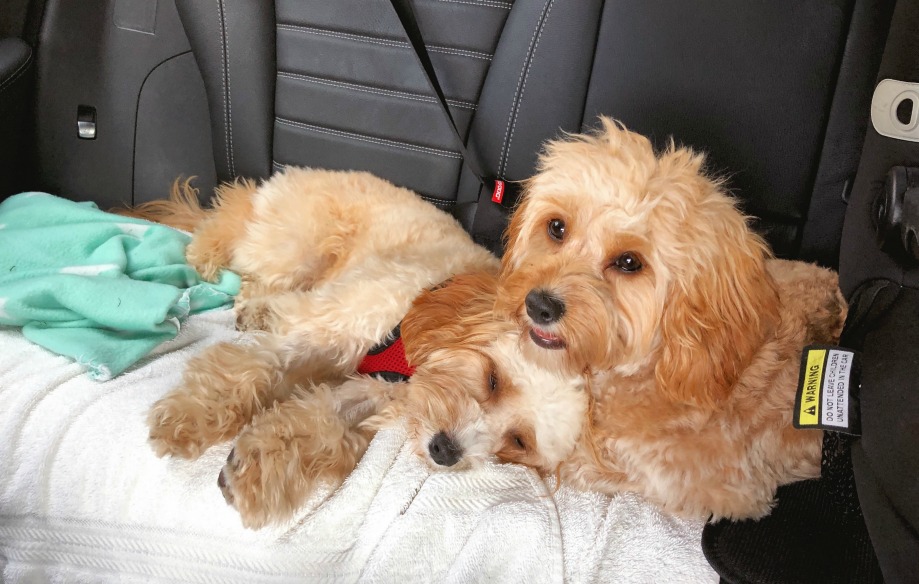 For the ultimate in canine car travel, your dog can travel in a booster seat, allowing them to be safe and look out of the window and enjoy the ride. We scored this pre-loved Kurgo Skybox Car Booster Seat on Facebook Marketplace and Teddy's been travelling in it since he was 3 months old. He loves it and can sit up and look out of the window or lay down. It's worth noting that the tether in this seat is quite chunky and should only be attached to the harness.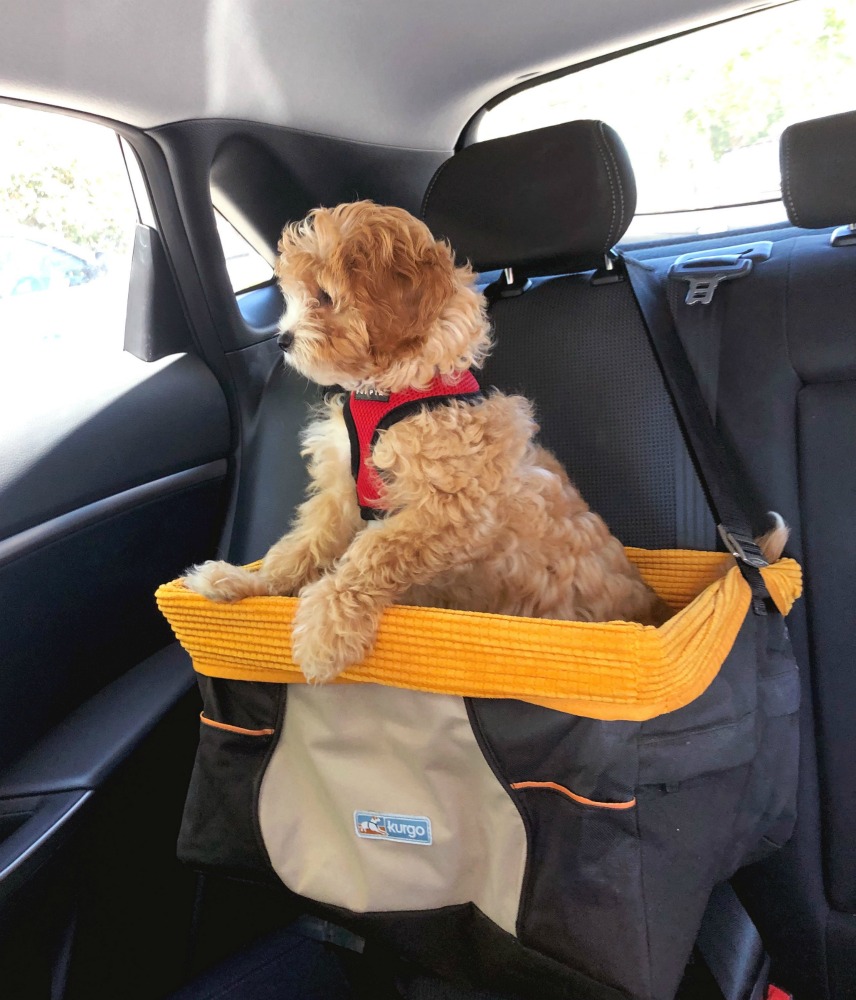 Teddy has now graduated to the super luxe I Can See Dog Car Seat. The I Can See car seat is quite unique because not only does it keep your dog safe and secure, it allows them to look out of the window and see what's going on.
These seats are hand made on the Gold Coast and are just like a bed, so your pup can lie down and have a nap on longer car trips. Teddy says it's the best in class when it comes to dog car seats.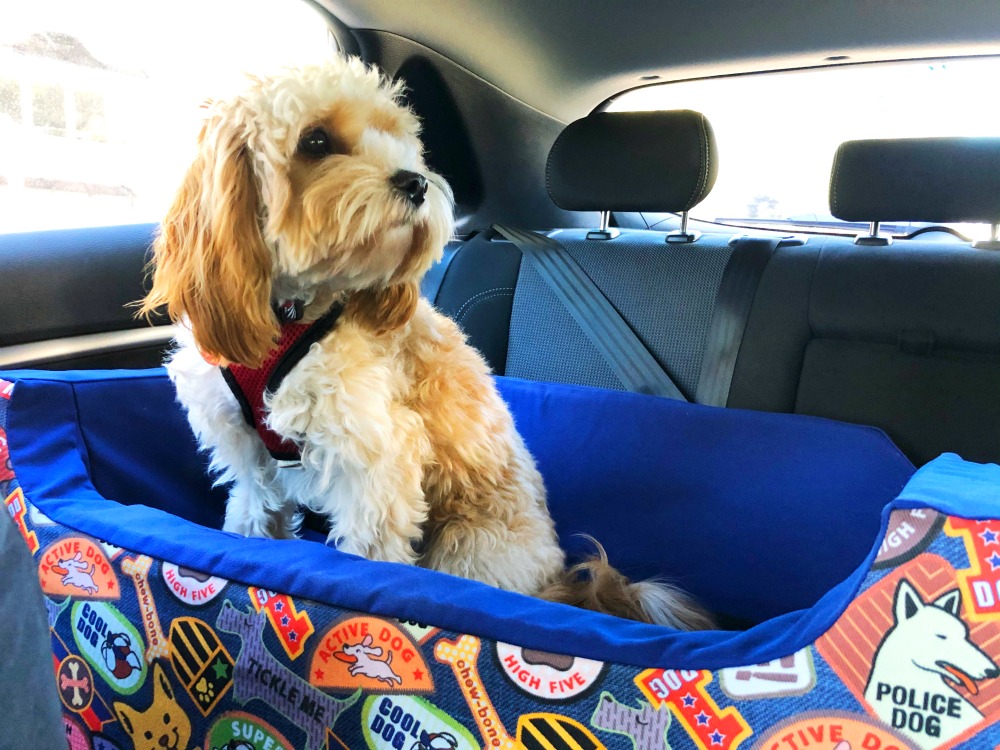 This is definitely one of the biggest ticket items but one from which we get so much bang for our buck. Depending on where you live and vet advice, puppies can't go outside on the ground for two weeks after their final vaccination which in Teddy's case was 16 weeks!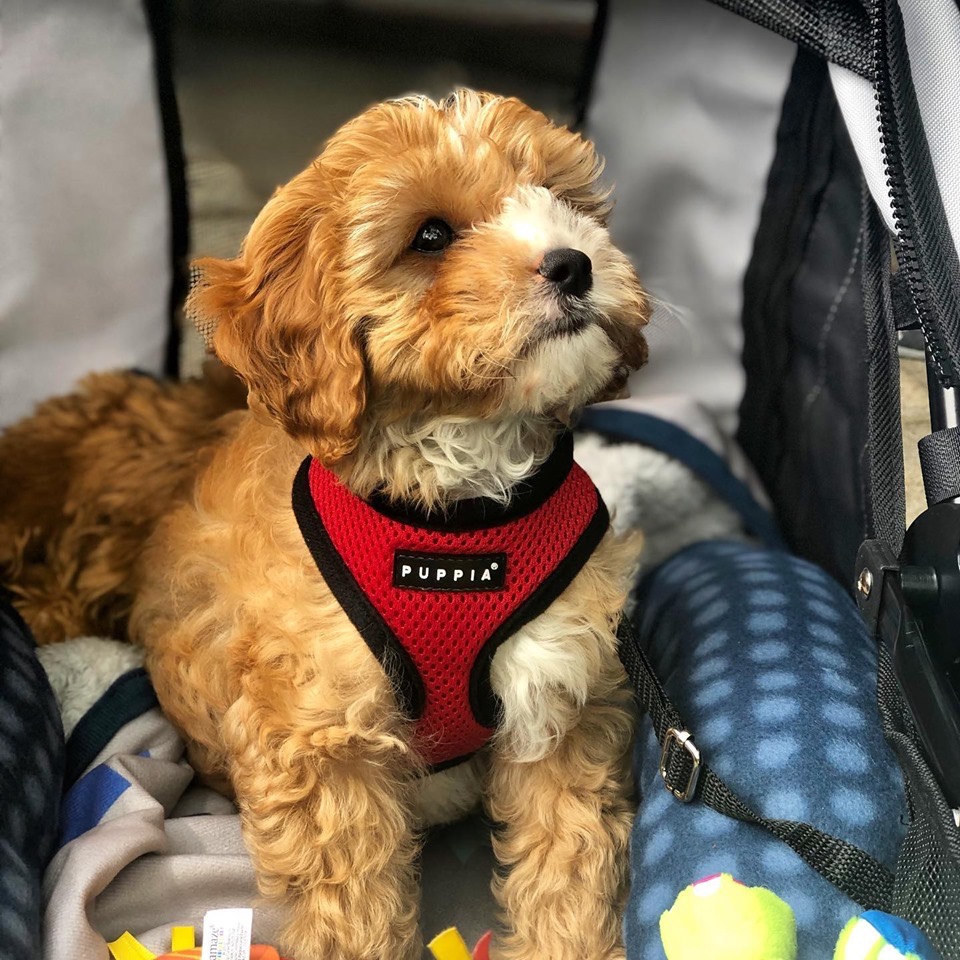 Of course, you can carry your pup around in your arms or in a bag but Teddy was far too wriggly for the former and finds the latter too uncomfortable. The pram is a perfect compromise because it's easy for humans and super fun and comfortable for the pup.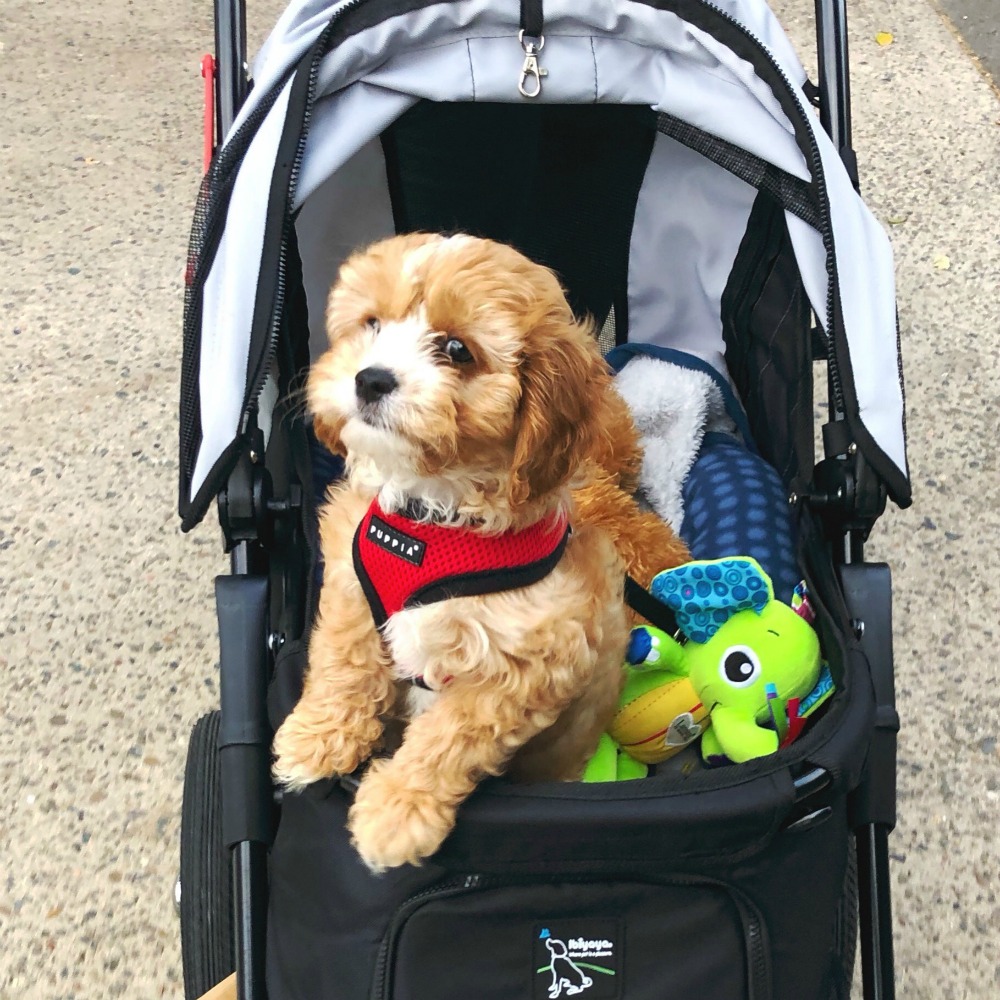 It was a great way to get Teddy socialised with all the sights, sounds and smells of the neighbourhood and he's enjoyed visits to cafes, shops and restaurants and loved meeting so many new people. A dog stroller is quite the talking point!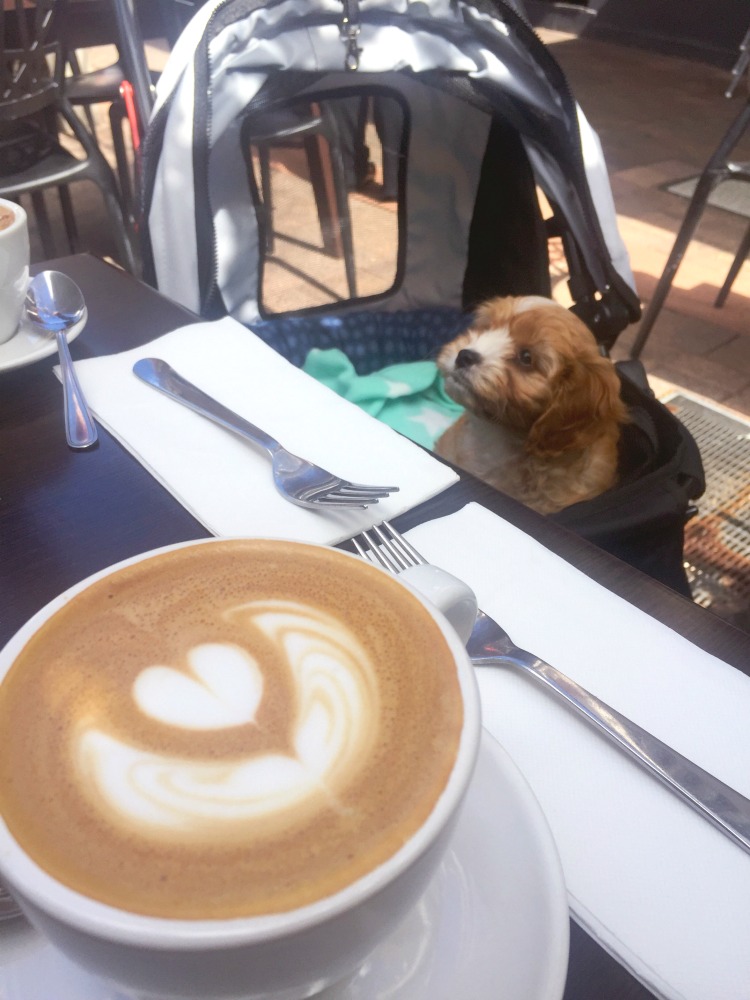 Although I never thought I'd be on of those dog moms, I don't know how we would have managed without the stroller. Even now that Teddy is fully vaccinated going on 10 months old, the pram still gets a thorough workout because it's great for shopping trips, tired little legs, busy places (like farmers markets etc,) and in summer when the ground gets too hot.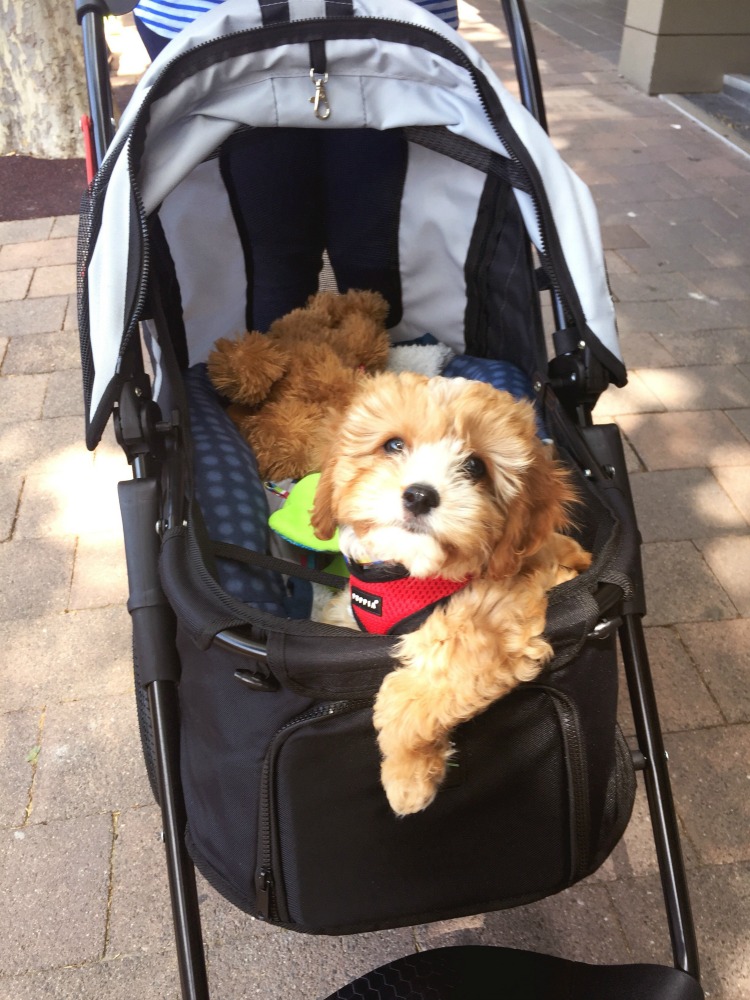 Remember that puppies should only exercise 5 minutes for every month of age, twice a day until they are fully grown so it's great for extra long walks. This model is actually a jogging stroller so maybe Teddy can join in the family run fun!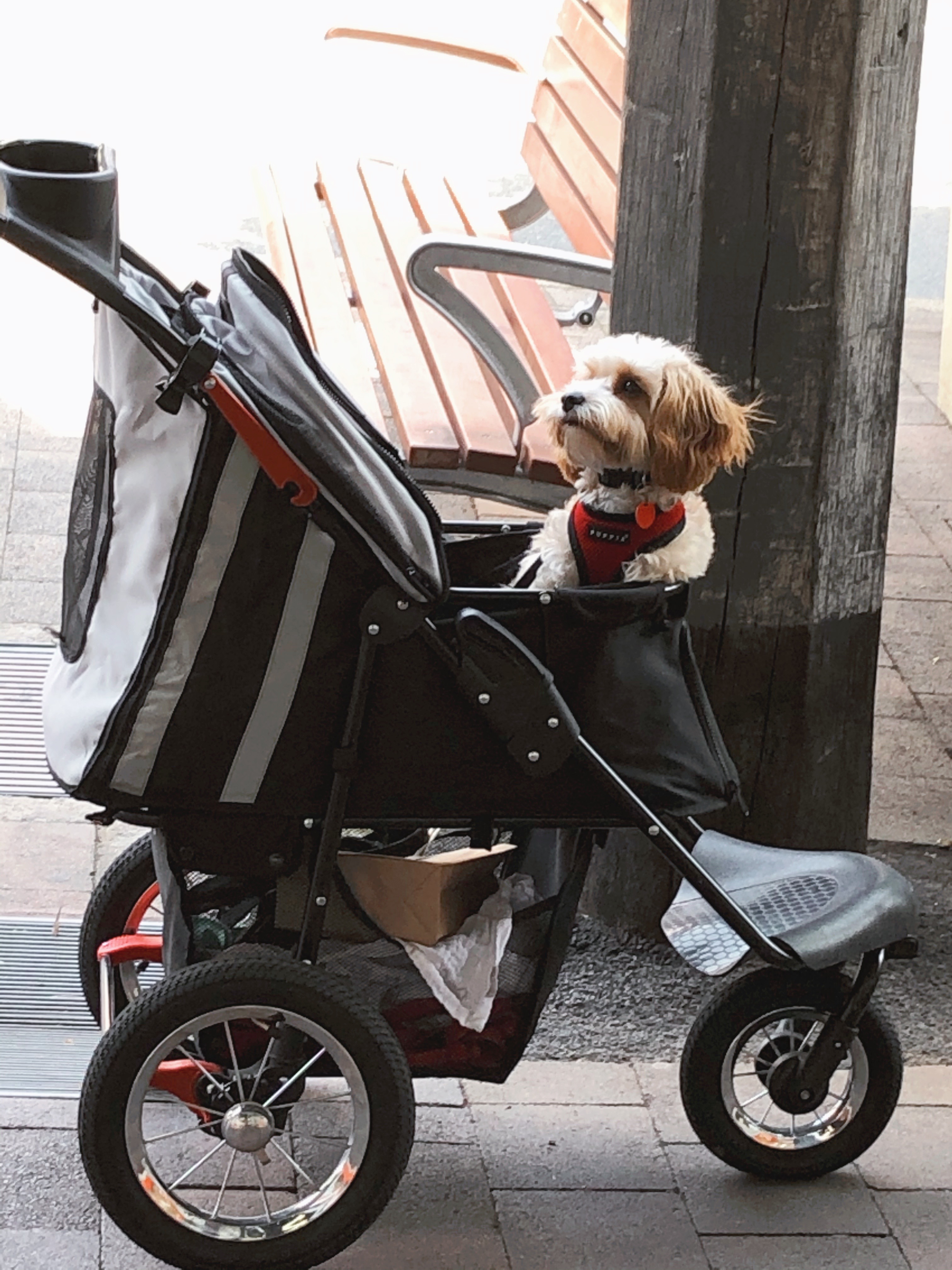 Some people don't believe in pet insurance but I'm not one of them. We did a lot of research and although many pet insurance companies share the same underwriter, it's really worth comparing the policies and reading the small print.
We were keen to take out pet insurance from the very start to ensure that Teddy was covered before any pre-existing conditions were diagnosed.
Ted is insured with Bow Wow Meow based on excellent reviews, a competitively priced policy, an easy to use pet portal (our vet submits claims electronically and the money arrives back into our account,) and the first 2 months for puppies are free.
There's no excess, you can choose the percentage you want to claim back and in a few months, the policy has paid for itself!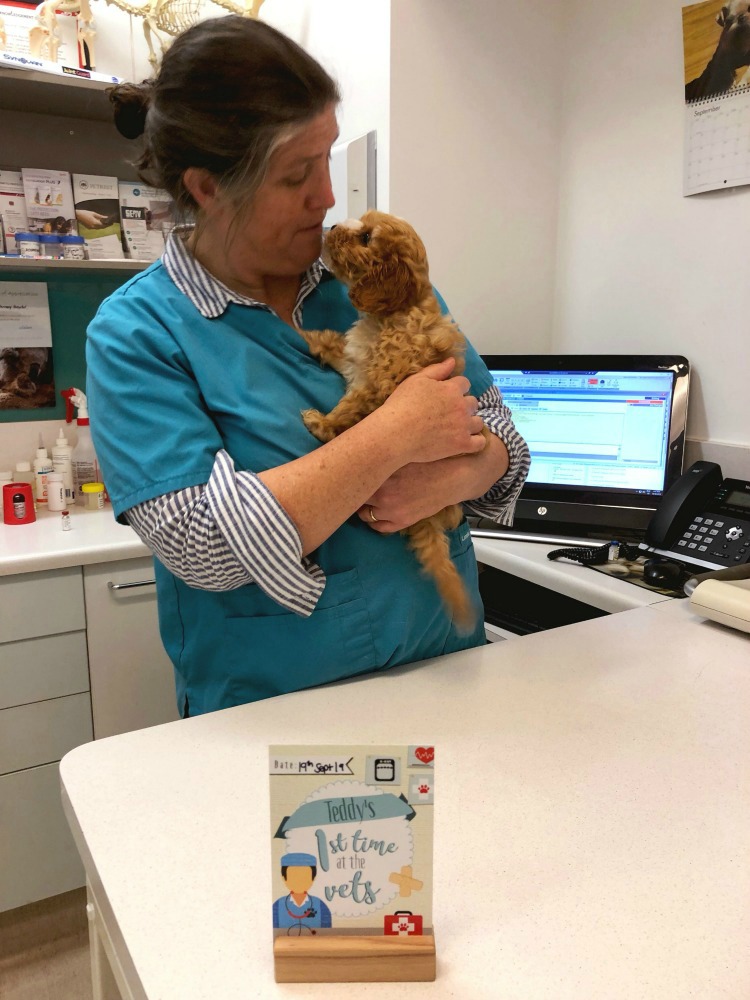 That's our list of Teddy-approved pup essentials. Have you got anything to add to the list?
Some of the links in this post are affiliate links. If you click to buy the item, I make a little commission but you don't pay any extra.
Linking up with Denyse for Life This Week