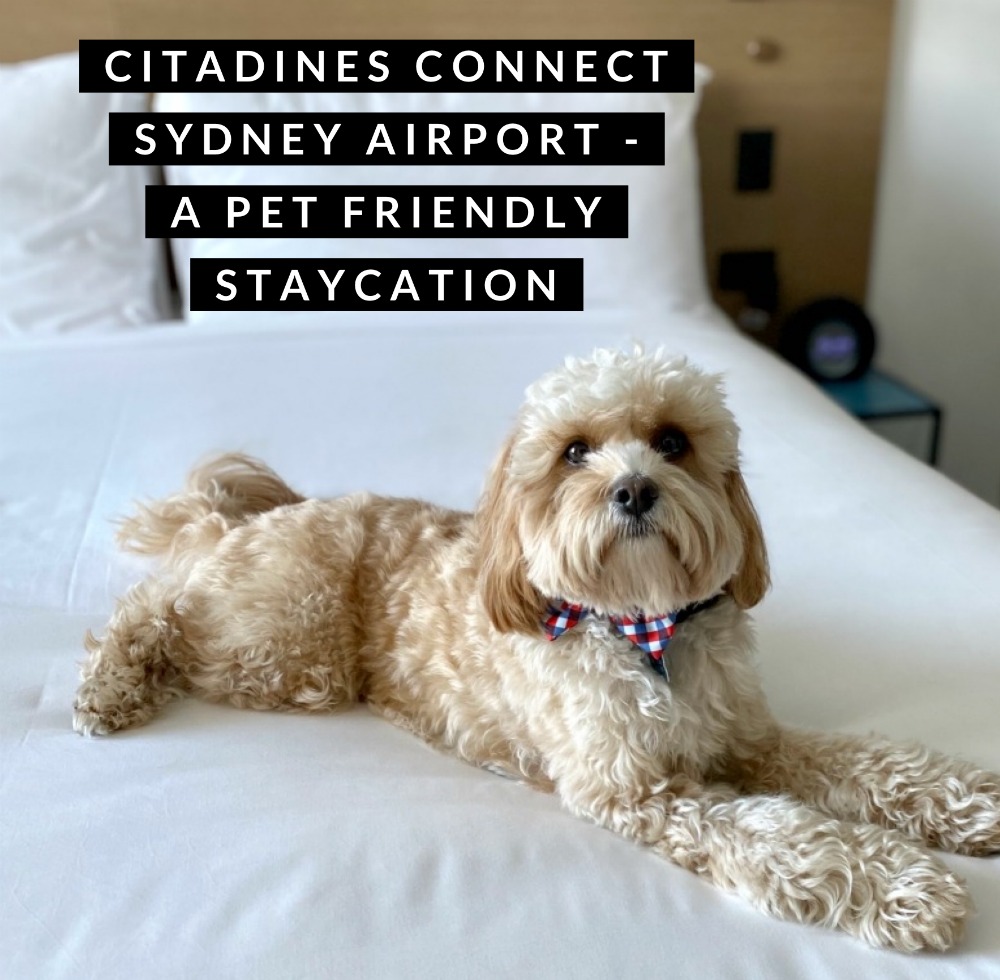 I've turned into one of those people who say, if I can't take my dog, I'm not going. Well, at the Citadines Connect Hotel you can go and your pup is most welcome to join you!
With travel restrictions being what they are, staycations are where it's at, especially if you can take your dog! And being within a 15 minute drive of Sydney's CBD and close to Botany, Mascot and Waterloo, the Citadines Connect Sydney Airport ticks all the boxes!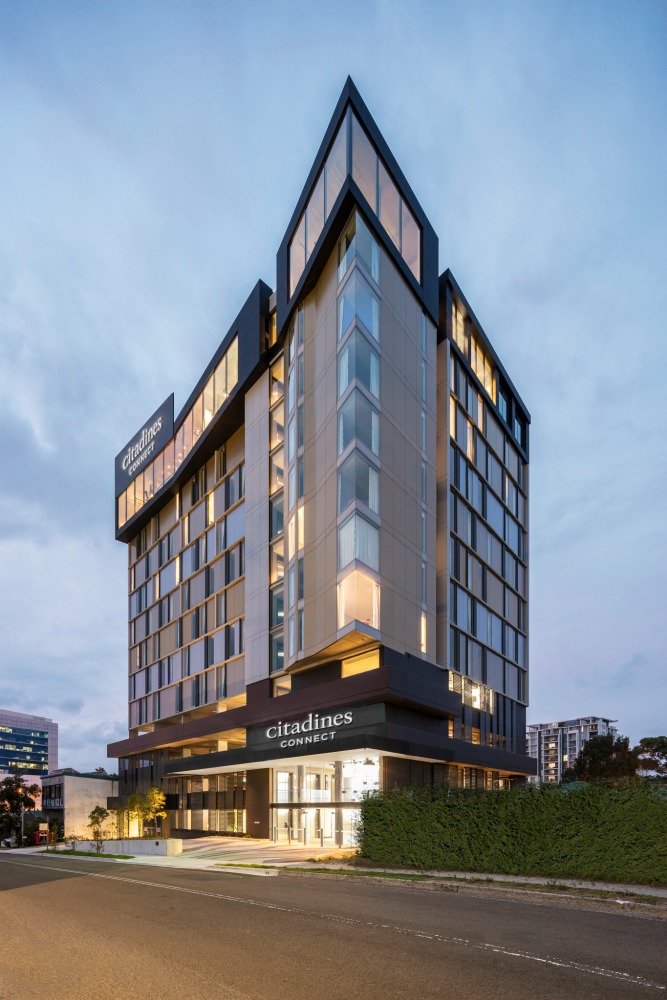 In the spirit of disclosure, I should say that Teddy Roosevelt won a night's stay here in an Instagram competition with the Social Dog Company way back in February. Isn't he a clever little pupper?!
The prize was actually for a romantic family getaway for Valentine's but as I was overseas and then a global pandemic hit, the hotel graciously let us reschedule and we finally got to enjoy our staycation in September, better late than never, eh?!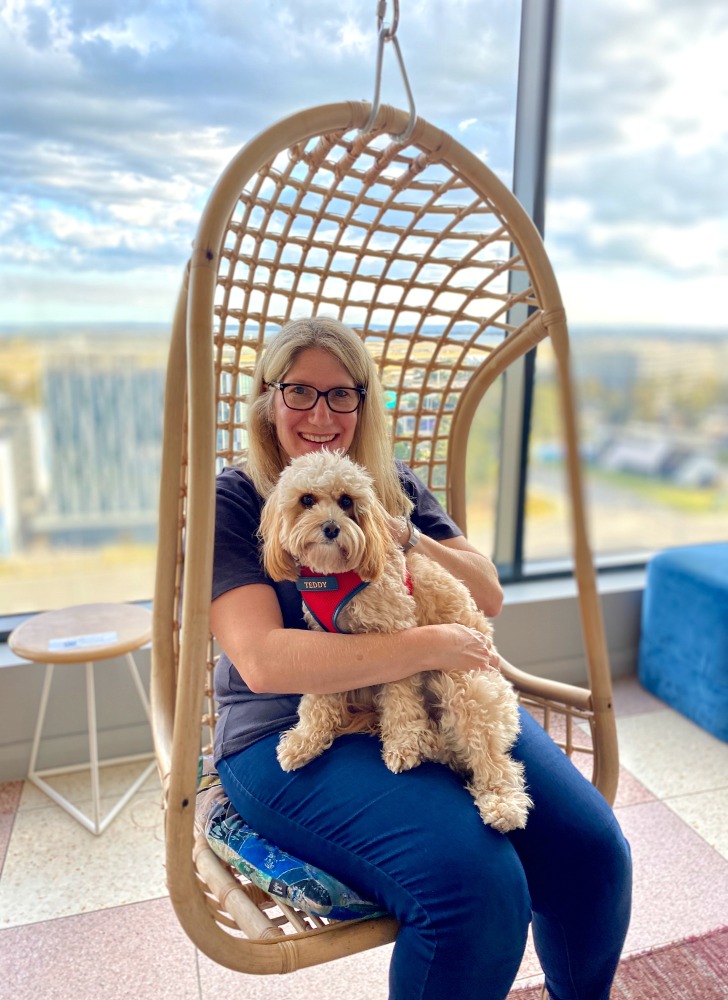 With it's retro chic and pops of pastel, the hotel is bright, fun, modern and thoroughly instagrammable! It's not just the decor that sets this hotel apart, it's the high standard of customer service. Seriously, the staff couldn't do enough for us and everyone called Teddy by name, he felt like a legit VIP (Very Important Pupper.)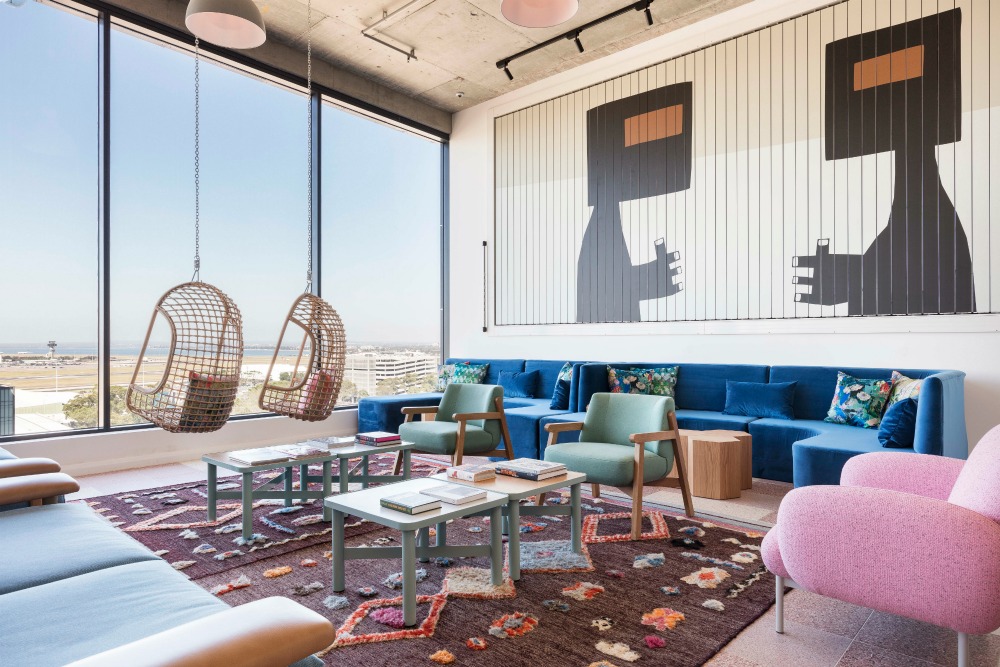 Of course, I didn't have to write about our stay but knowing how hard it is to find quality dog friendly accommodation and having such a good experience I felt I had to. Plus if you're a long time reader, you'll know I love oversharing!
Check In From the Top
This hotel is a refreshing change from other hotels not least in that check in starts at the top on the Penthouse level and all rooms are accessed via reception.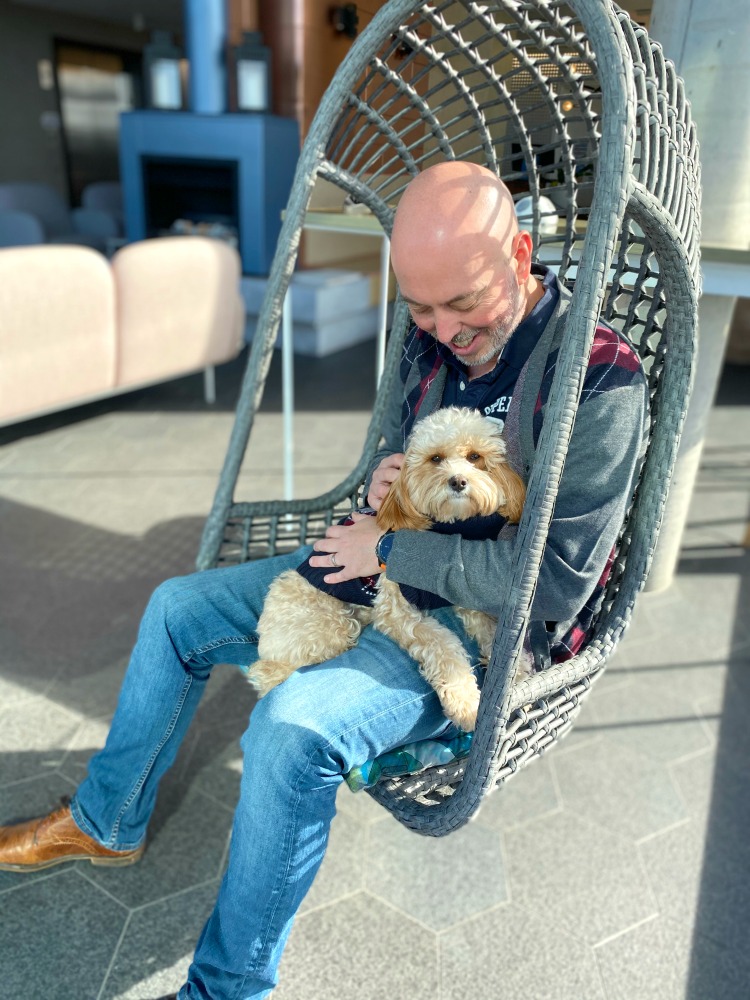 This light, bright space takes you back to a bygone era of travel – remember the days when you could just leave on a jet plane? – and makes you feel right at home.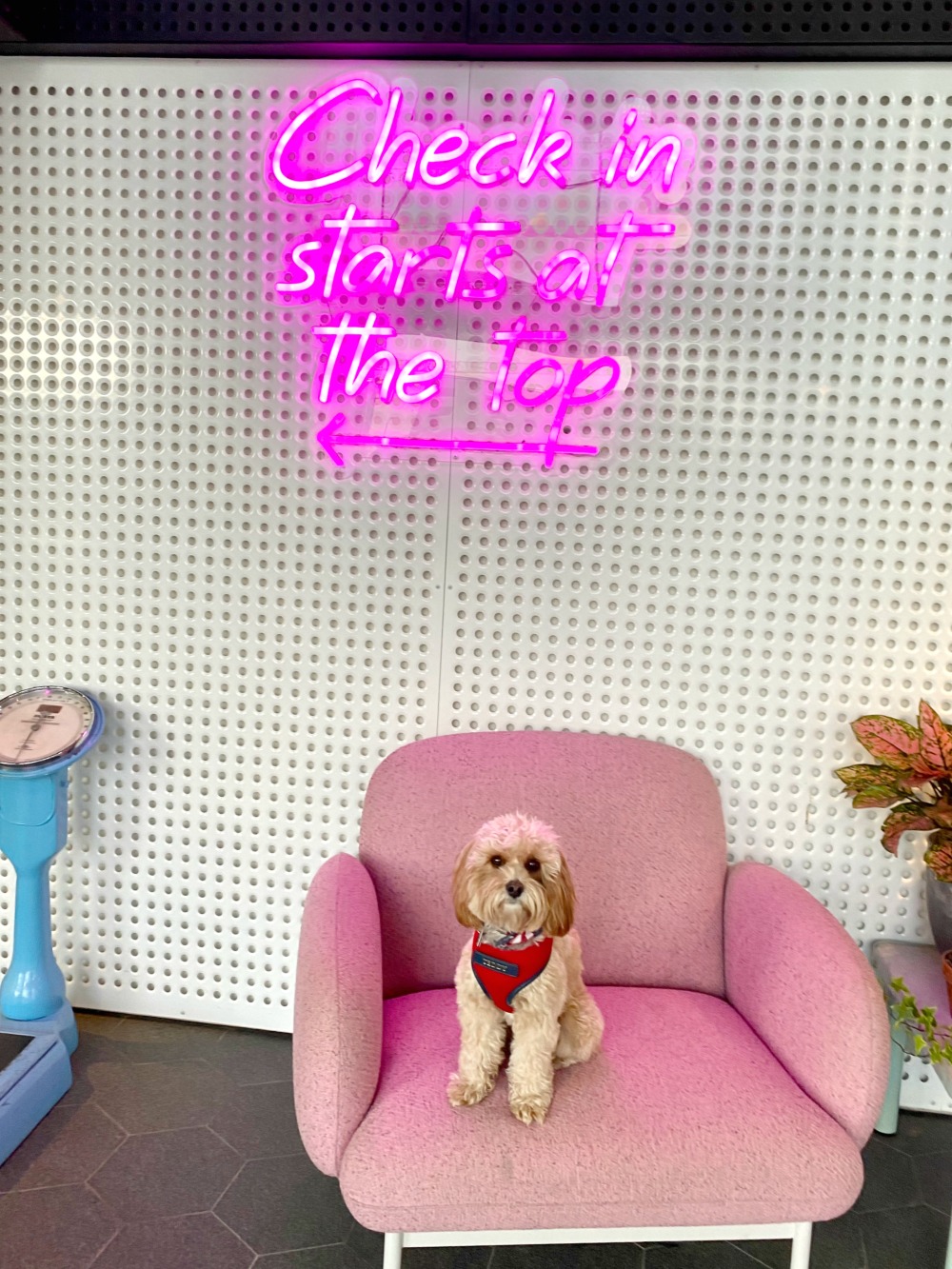 Best of all, Citadines Connect doesn't just allow cats and dogs to stay at the hotel, it welcomes them with open arms with their unique #PENTHOUSEpups package.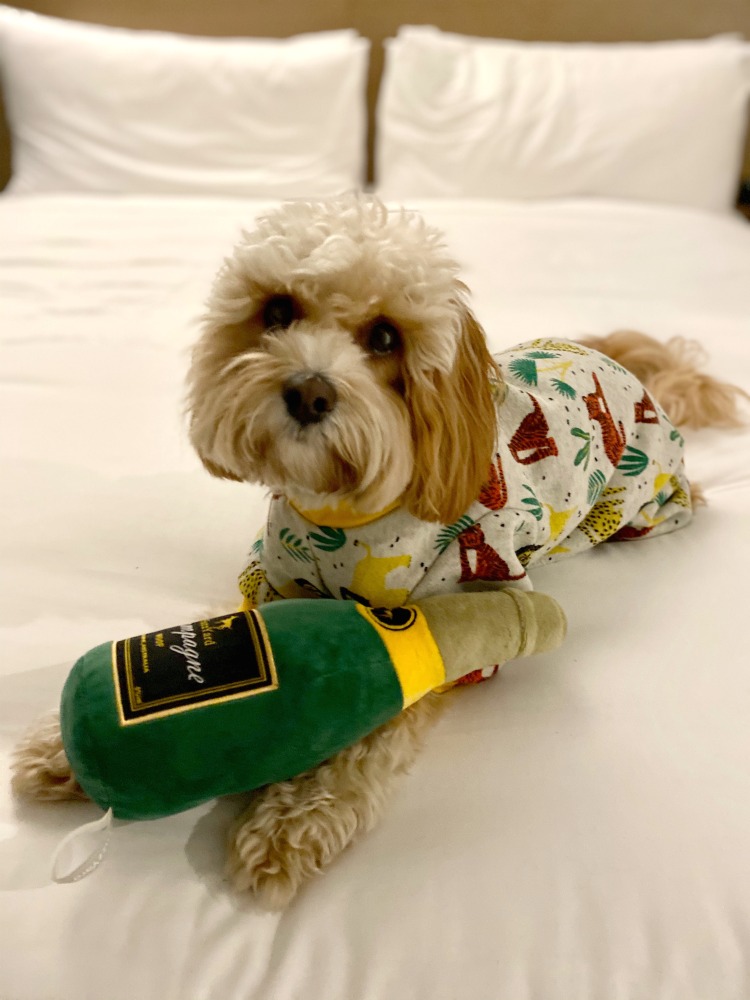 The truth is when you book in for the Penthouse Pups experience, you can be sure that your pet will be treated like a legit VIP. If you don't believe me, ask Teddy Roosevelt!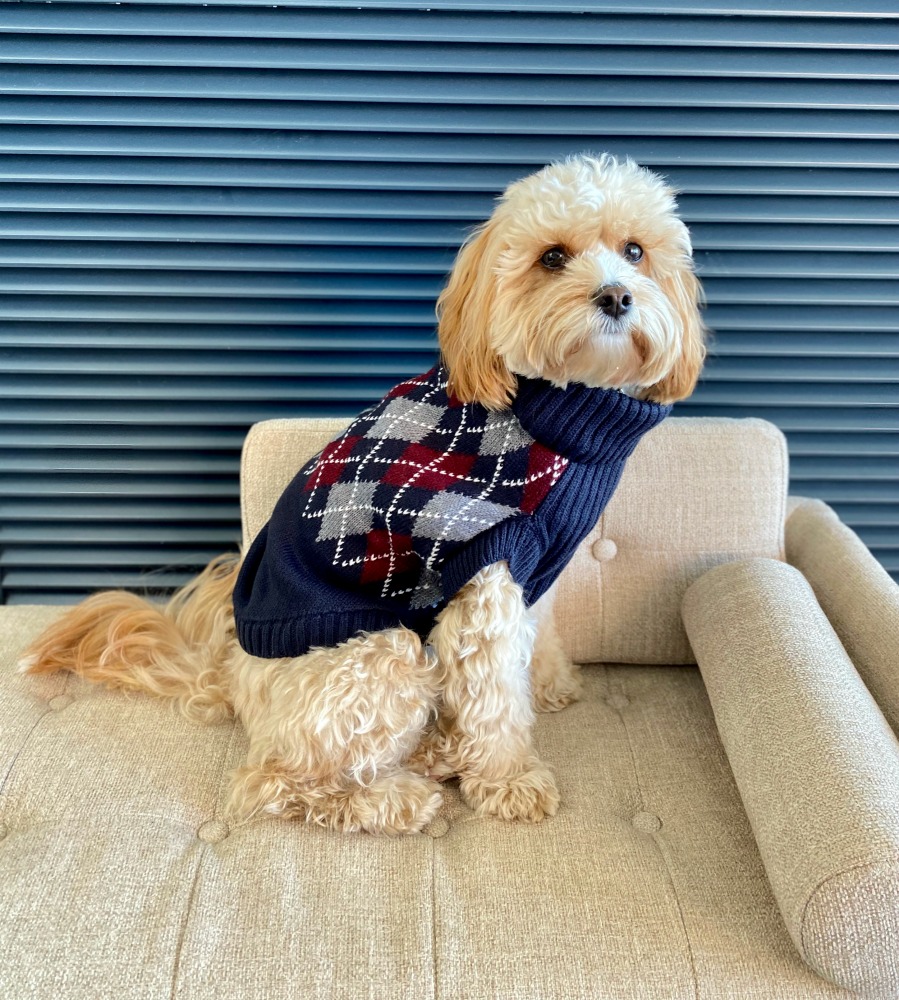 Pup Friendly Rooms
We stay in a premium economy room on the first floor with a king bed, desk, safe, bar fridge and super modern bathroom with rain shower. Oh and let's not forget the giant TV with Petflix, oops, I mean Netflix!
photo credit: Citadines Connect
All pups receive a welcome gift, it's all part of the #PENTHOUSEpups experience but Teddy gets a few extras, being a prize winner and all! We especially love the handmade creations from The Doggie Bakery – our preferred choice of healthy, delicious, locally made treats. Incidentally, did you see the interview with Kylie and Denise?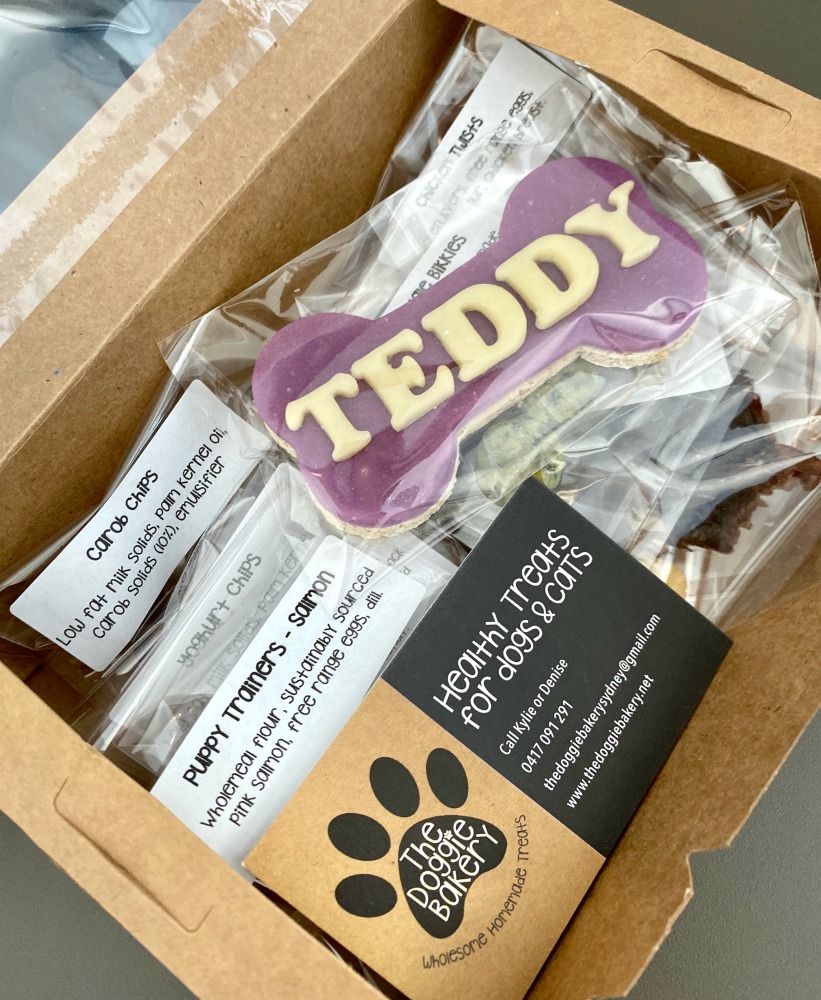 Side note: There is usually a one-off $55 fee for the #PENTHOUSEpups package but your pet is worth it, amirite or amirite?
All pups or purring companions get their own bed, blanket, food and water bowls and a treat, toy and a surprise gift. As comfy as the dog bed is, Teddy makes the most of the extra space on the king bed and claims his spot. That's another thing I love about this hotel, pups really can access all areas (apart from the 24 hour food shop obvs!)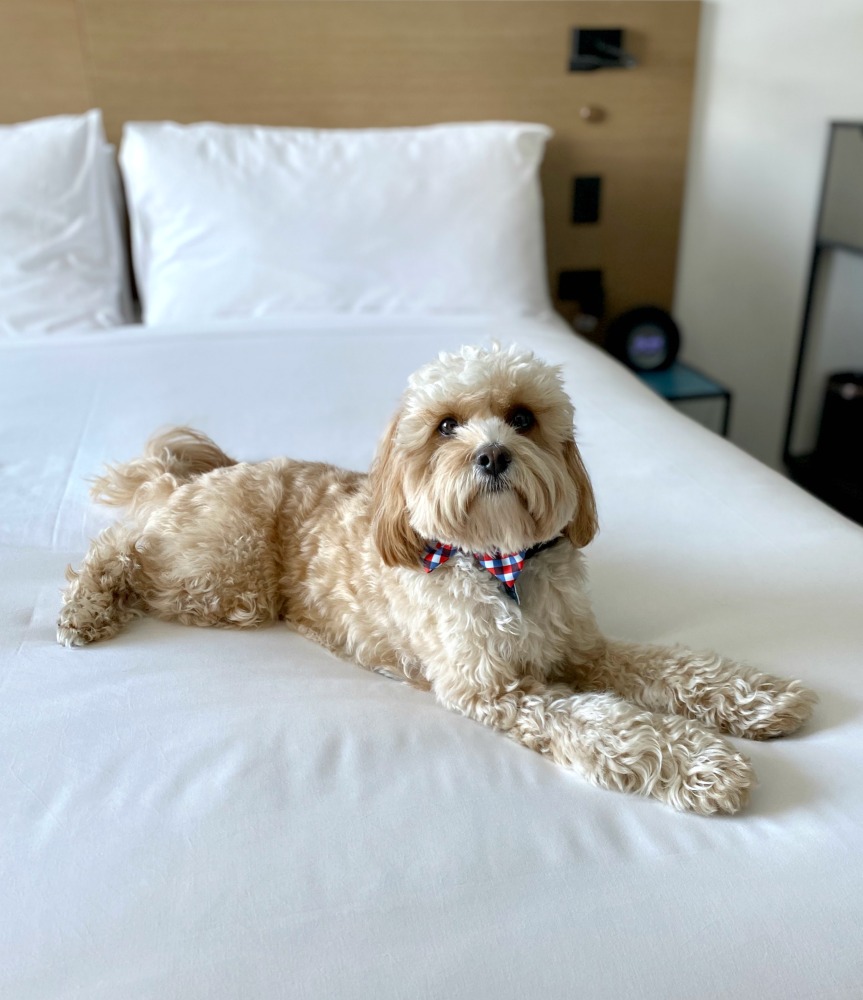 Our pup friendly room is on the lower level making for an easy exit for toilet breaks or to stretch one's legs although litter trays and/or balcony can be requested.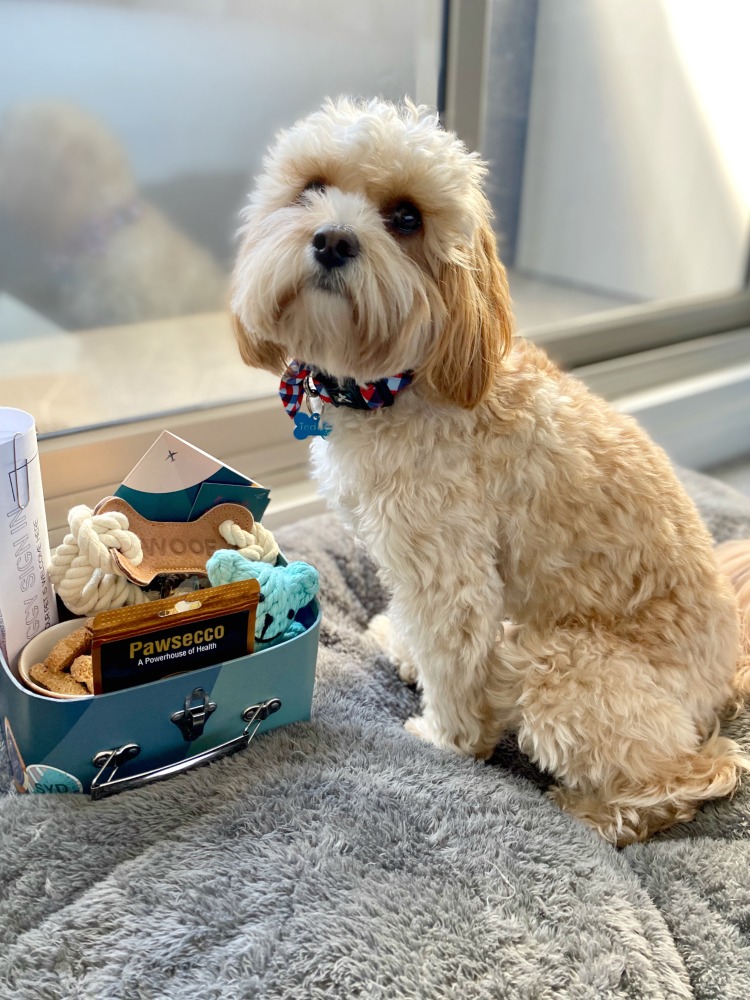 Penthouse Pups
As comfy as the rooms are, the penthouse is where it's at. This huge light airy space is the perfect place to kick back and relax.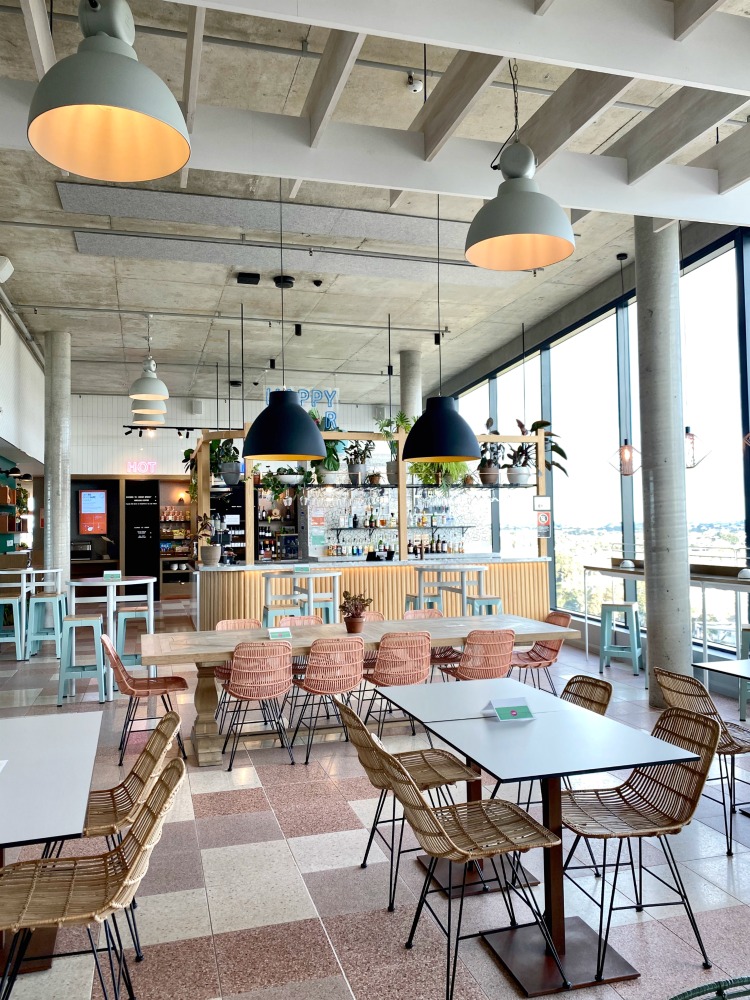 There's a full bar (which would have been fuller if it wasn't for Covid) with a happy hour that goes from 5-7. If you have work to catch up on, you'll find plenty of table space and power points – you'd be hard pressed to find a better looking office.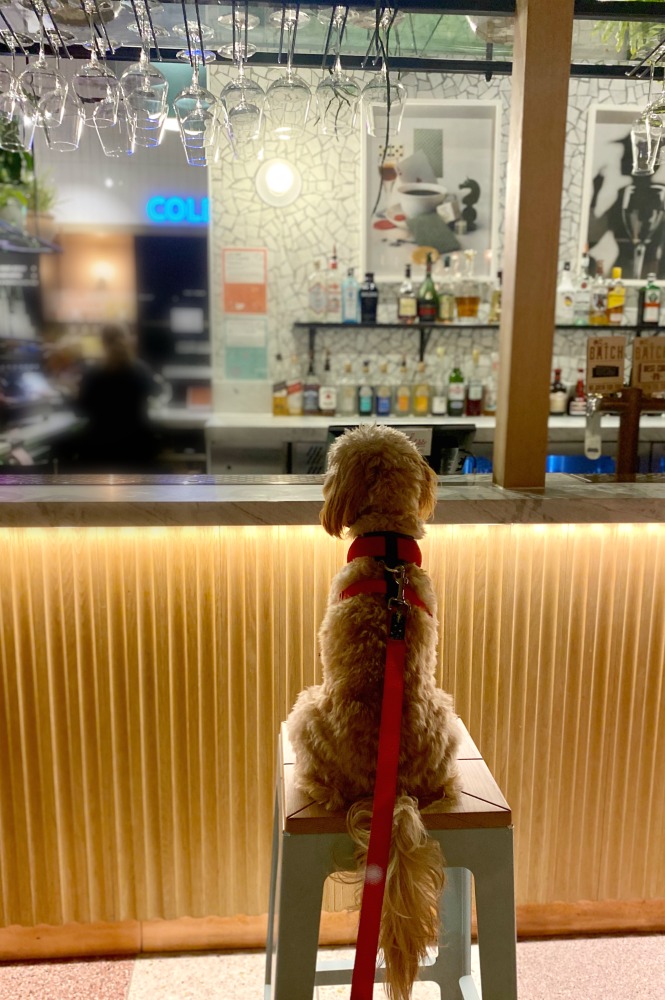 In the olden days when we could travel with wild abandon, this would have been the perfect place to plane spot but these days flights are very thin on the ground. Still, Teddy loves the floor to ceiling windows and even though the airport is almost empty, we do get to see a couple of flights take off.
Outside there's an outdoor heated terrace and Sydney's only hotel rooftop cinema, although there's no movies the night we stay.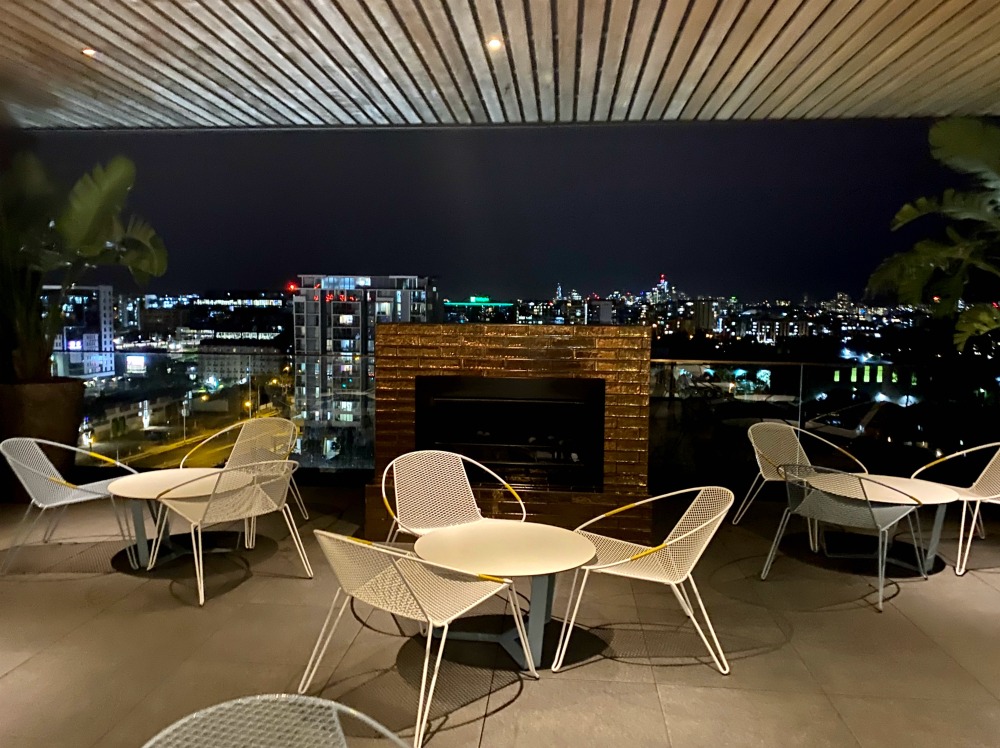 Eats and Treats
There's a grab and go food shop offering locally sourced hot and cold meals but we're looking for something a little more satisfying. Although the hotel is so comfy we don't want to leave, we decide to explore the local area and see what food it has to offer.
It's about a 10 minute walk to the dog friendly dining options in Mascot but if you don't mind some extra walkies, head to The Rocks Brewing Co for top notch burgers and beer and plenty of space for the pups. You won't regret it!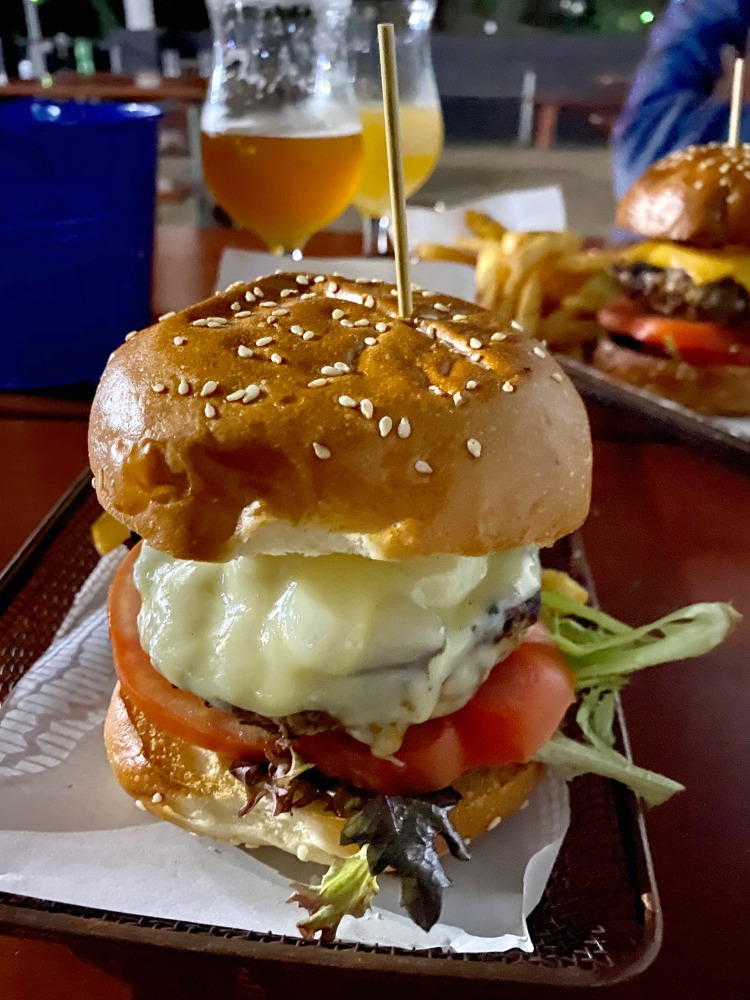 The Verdict
The Citadines Connect is super stylish and super comfortable and is the ideal location for a budget getaway/staycation with your fur baby. This is one destination where your pup really can live it's best penthouse life!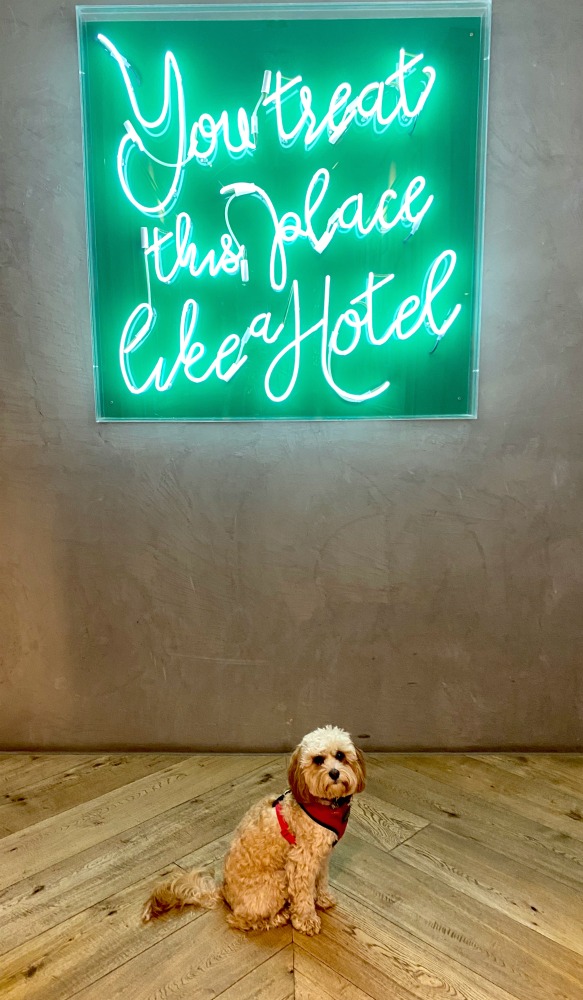 What are your hotel must haves? Have you ever been on a staycation?
We were gifted one night's accommodation, a #PENTHOUSEpups experience plus car parking – as always all opinions are honest and my own (and sometimes Teddy's!)
Linking up with Denyse for Life This Week