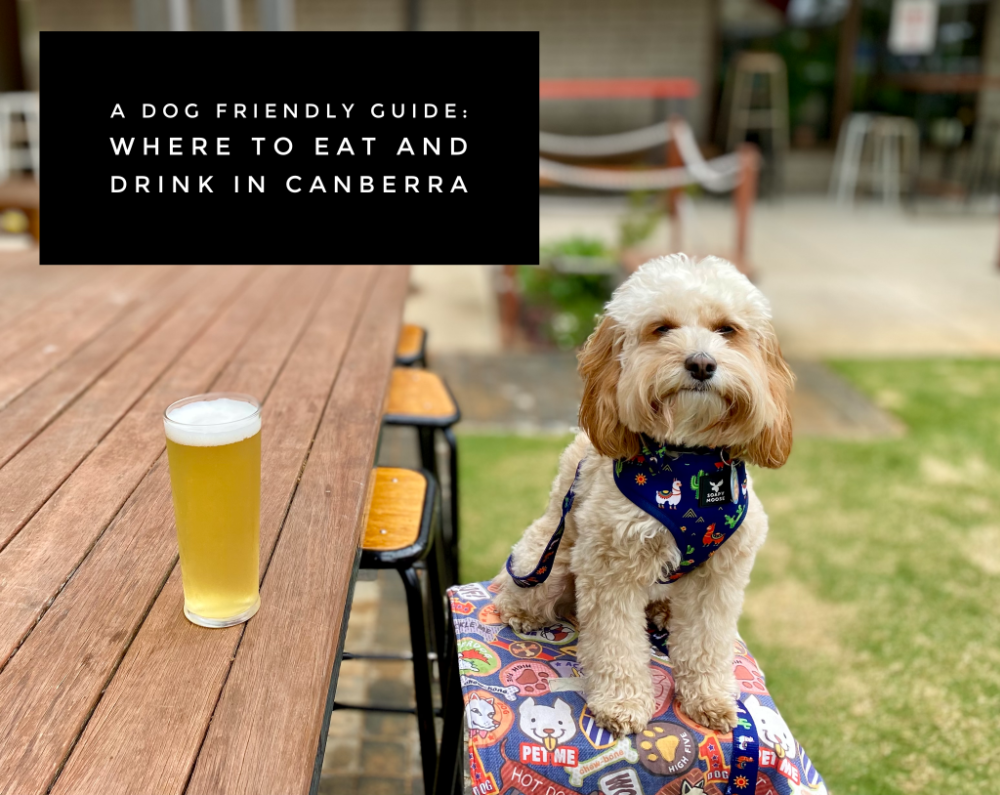 In my opinion, Canberra is one of the most underrated getaway destinations and also one of the most delicious. On our recent visits to the capital, we totally took one for the team and explored some of the best dog friendly places to wine, dine and of course, caffeinate.
I don't know about you but we maintain the same high standards for food and drink when we dine out with our dog as we do when we dine out without our dog.
That's good news then because Canberra is such a relatively new and well laid out city, it has very spacious sidewalks affording many cafes, restaurants and bars the luxury of the space to accommodate outdoor dining, often in a covered/enclosed space which is great news for pups and their pawrents.
We notice that Canberra in general is very dog friendly and the people in it are very friendly to dogs – that's important to note because the two don't always equate!
In this updated post, along with Teddy Roosevelt, we revisit some of our Canberra favourites, discover some new spots and cover all the food and drink bases. You're welcome!
Where to Breakfast, Brunch and Lunch
1/26 Francis Fforde Boulevard, ACT 2914
We had heard great things about the nearby Fforde Dog Park and Frankie's seemed as good a place to any as refuel. Sadly the rain and park maintenance scuppered the play plans but it turns out that Frankies merits a visit to Fforde in itself!
Serving breakfast, lunch and dinner,there's plenty of dog friendly seating outside, some of it undercover.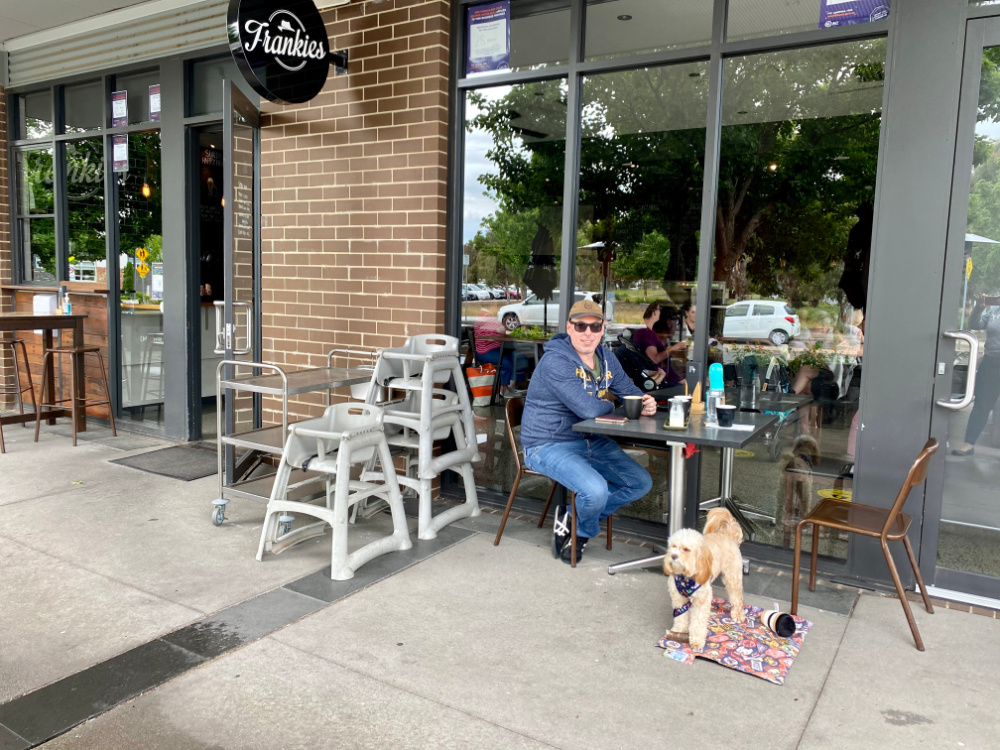 Coffee is great and food is really decent – breakfast and lunch are both served until 3pm with gluten free and vegetarian options plus a kids menu too. The corn and capsicum fritters with avo, beetroot relish, spinach haloumi and garlic aioli (V/GF) go down very nicely!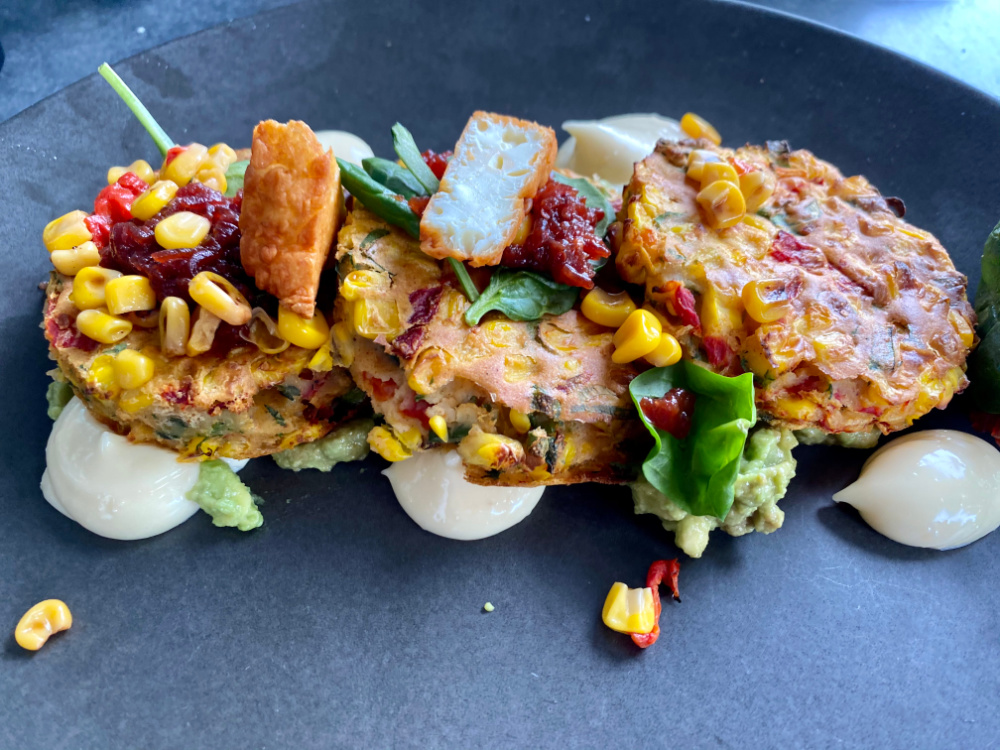 1/1-13 University Avenue, Canberra, ACT
This is one of our favourite Canberra cafes – the coffee is always awesome, there's a great vibe and the food is spot on. I mean check out this Frickadellen Benedict with German pork sausage, poached eggs, sesame hollandaise and a rocket fennel salad on focaccia. Delish!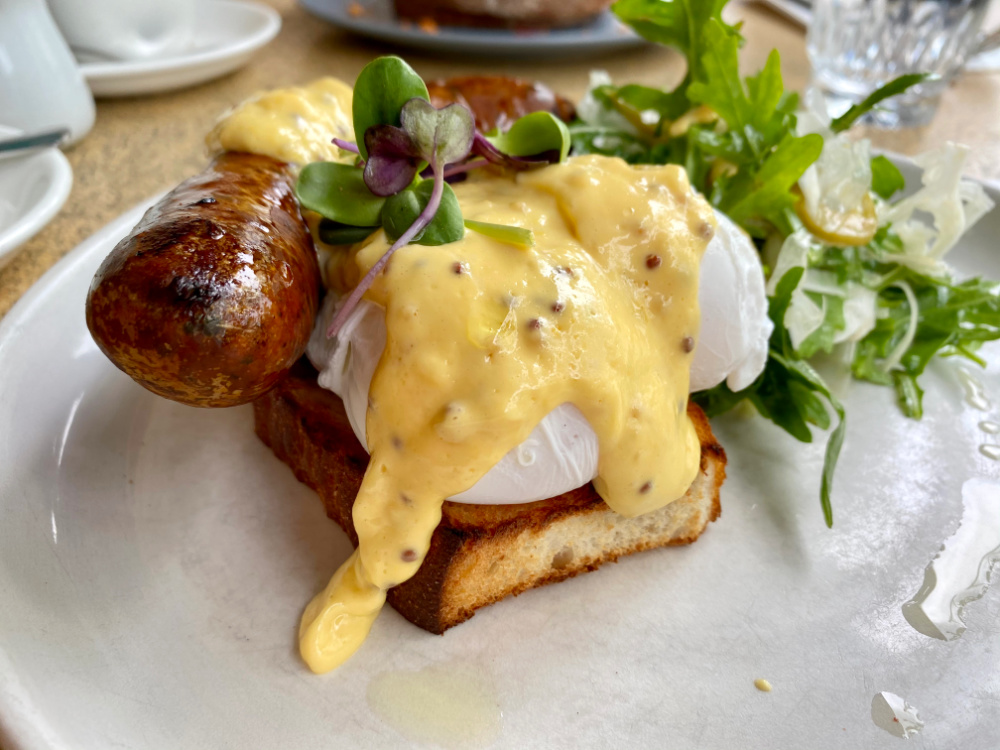 The Cupping Room is super popular and there's often a queue, seating is limited in the dog friendly outside area so be prepared to wait especially at the weekends when the lines can be lengthy!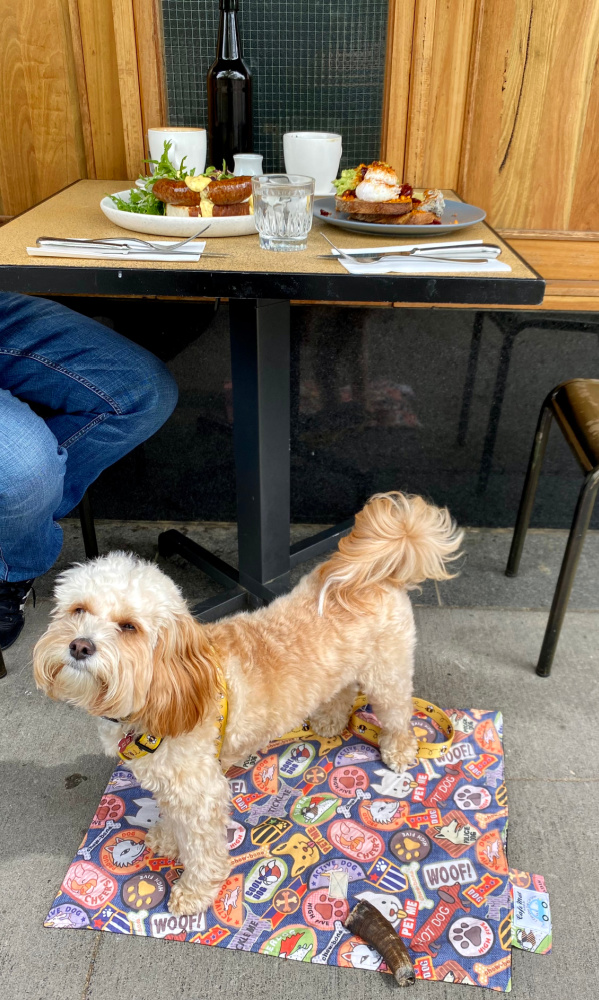 9 Lonsdale Street, Braddon, ACT 2612
We have probably walked past this place 100 times but finally make it to Rye on our last visit to Canberra. It's super busy, super popular and is really dog friendly – just grab yourself a table on the verandah or outside. Oh, and the coffee is really great too.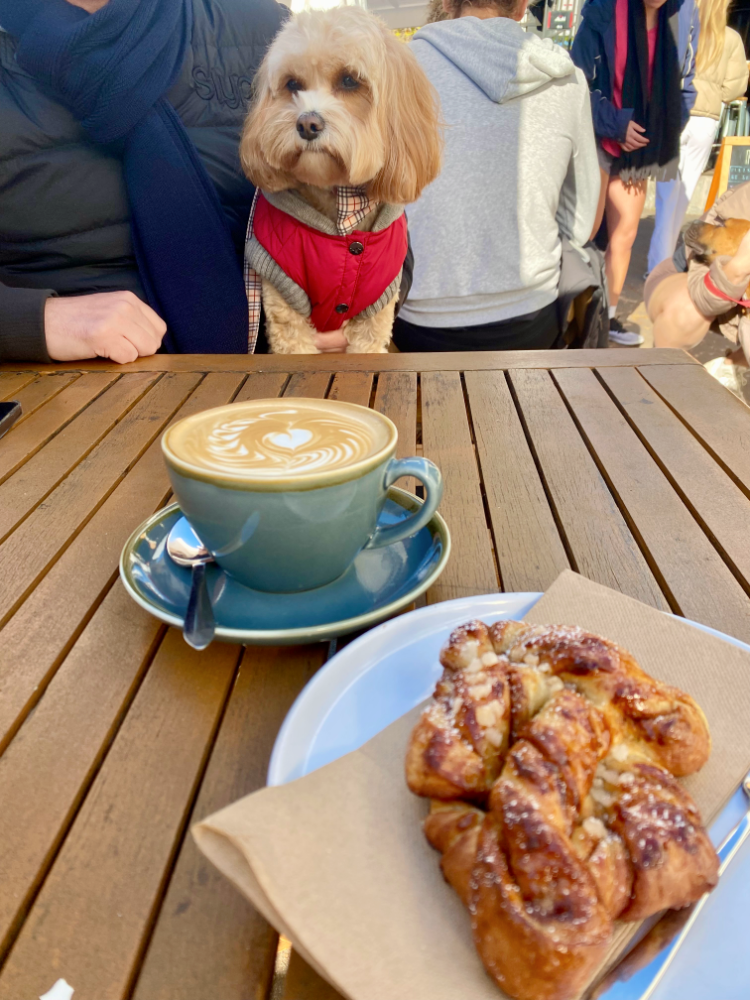 48 Macquarie Street, Barton, ACT 2600
Located on the ground floor of a multi storey car park in the heart of an office precinct, Little Bird is a real find. Inside, it's bright and airy and there's plenty of dog friendly seating outside.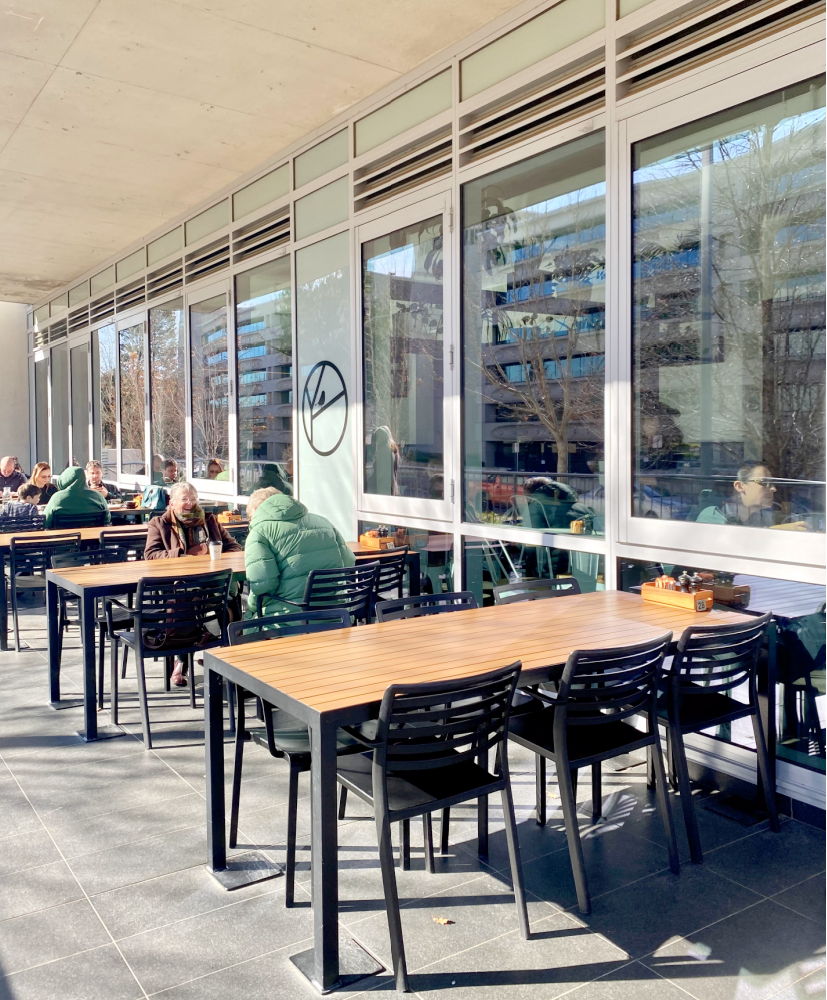 I can imagine that this place is super busy on weekdays but we have no problem scoring a seat for Sunday brunch. The outdoor seating is covered and it's well spaced out. It's the perfect spot because it catches the morning sun but provides plenty of shade in the afternoon. Teddy makes himself right at home.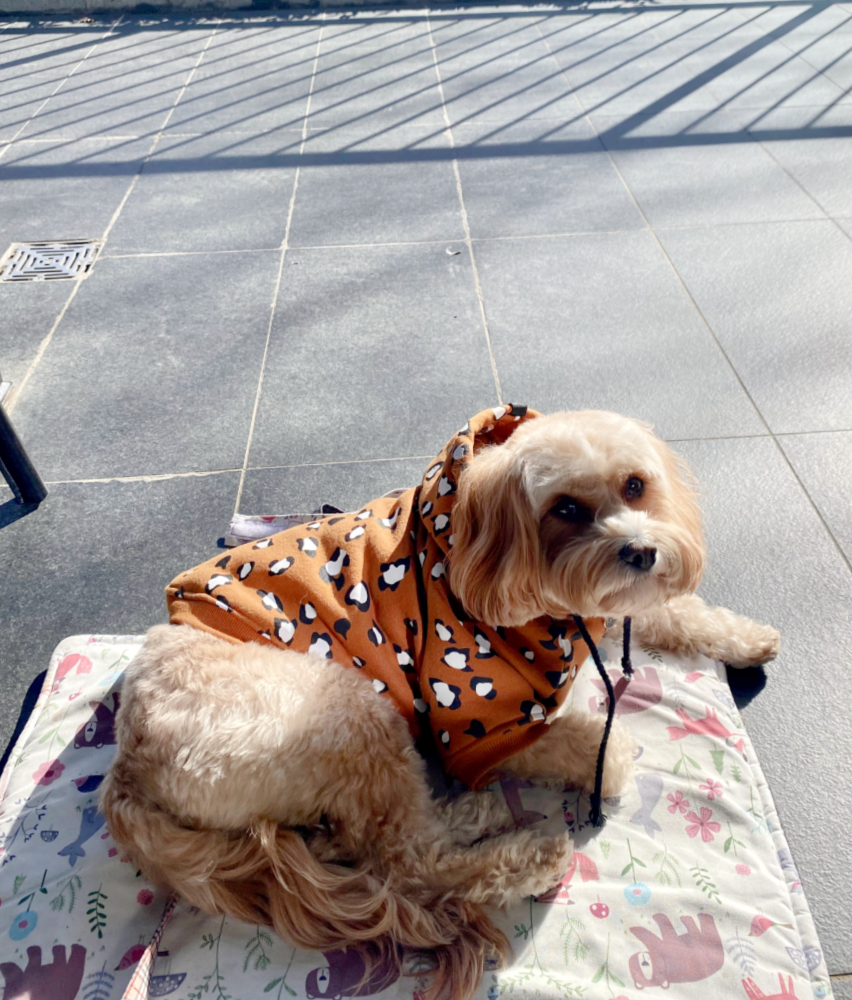 The service is good, the coffee is great, the menu is varied and the food is absolutely delicious. I give the Smashed Avo (V, GFO) five stars!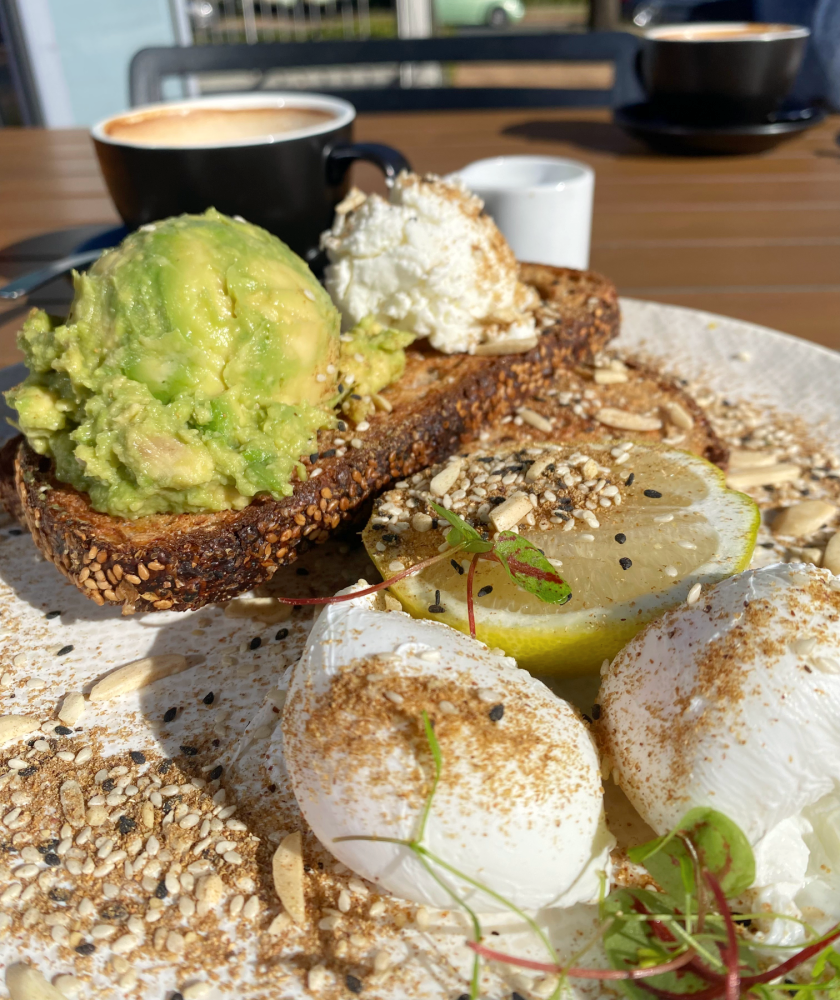 53/65 Constitution Avenue, Campbell, ACT 2612
Brunch at Teddy Picker's is a real treat. It's a little bit out of town, but worth the ride. There's a generous outside area which is perfect for patrons and their pooches but this place is popular so be prepared for a short wait.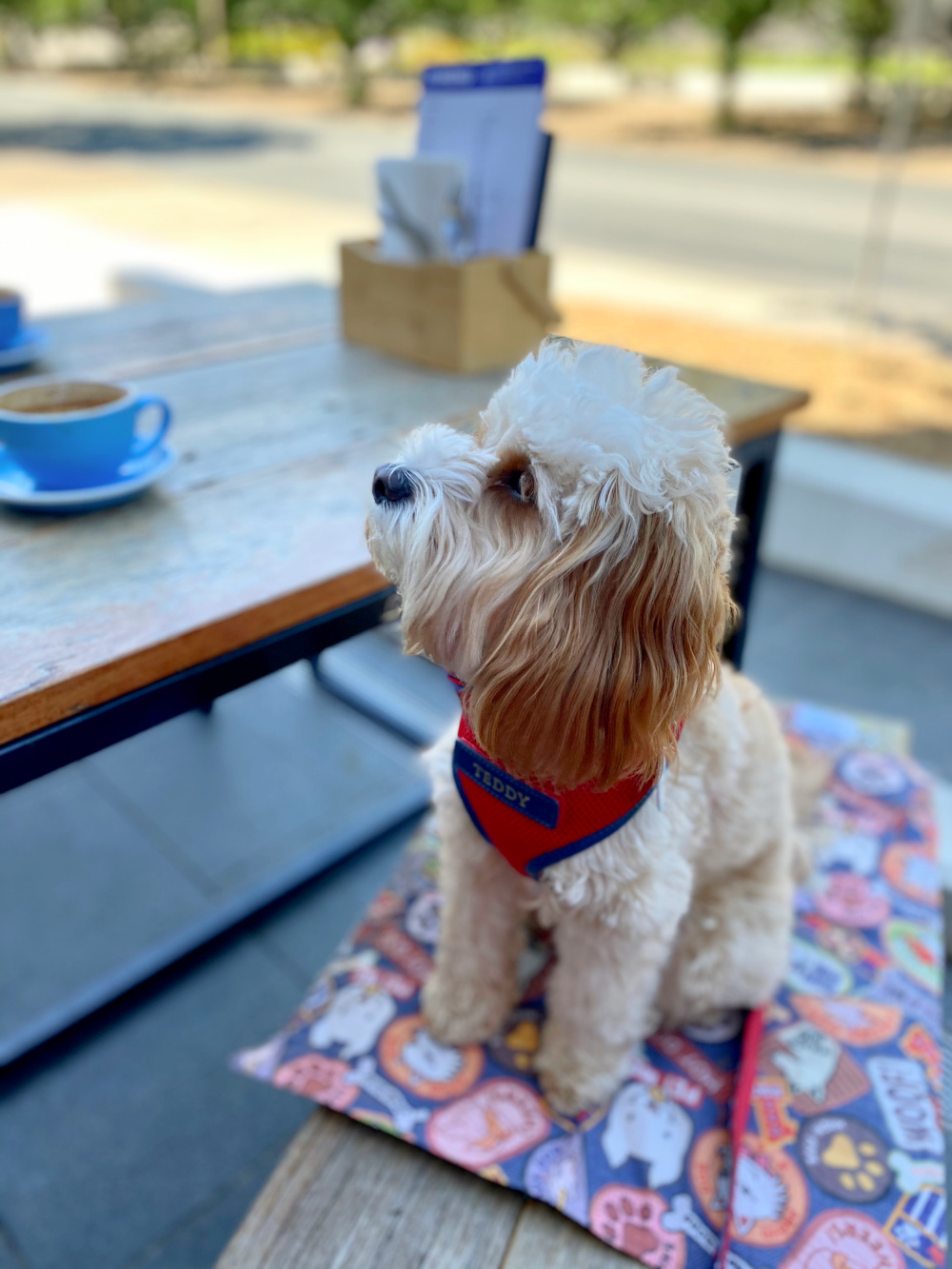 Staff are super friendly, there's a relaxed vibe and the food is hands down delicious. Oh and the coffee is good too!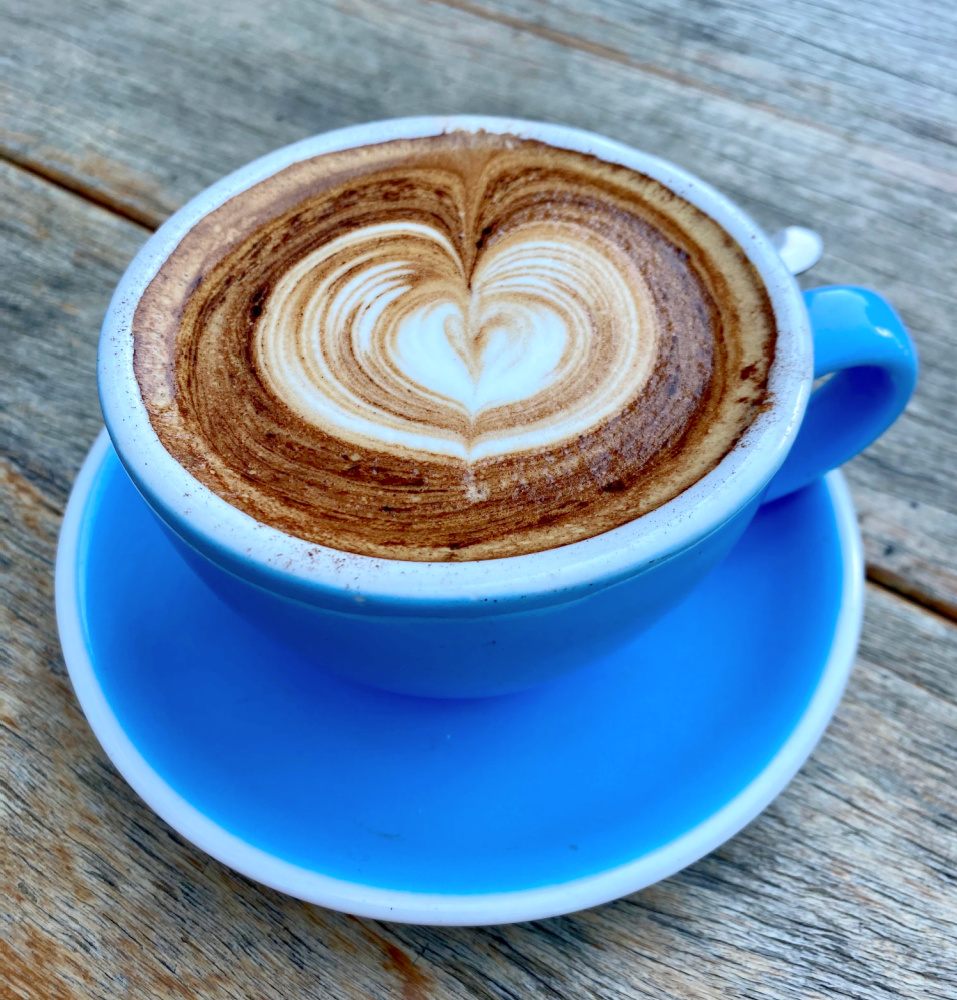 Where to Scream for Ice Cream
Shop 4/21 Lonsdale Street, Braddon, ACT 2612
If you like ice cream/gelato, you're going to love Messina. I've had an unhealthy obsession with Messina from that one time I had a gelato degustation at their factory in Sydney. I'm not the only one who is mad for Messina, the lines outside this place can be ridiculous!

We swing by late on a Friday afternoon when it's almost empty and we can walk right in. As always, the gelato selection is right on point. With egg free, gluten free, nut free and vegan options, there really is something for everyone. And it's not all about the cups and the cones, you can take a container of Messina home with you too.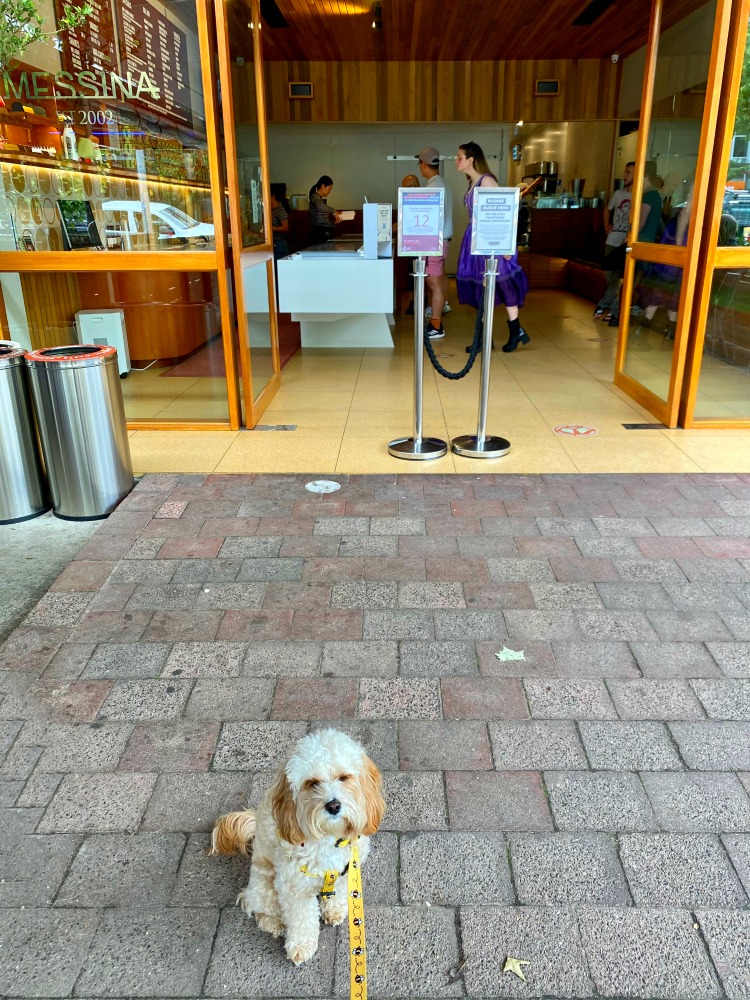 Inside, the gelaterie is light and spacious but there's plenty of space and seating outside for you and your pup to chill out with some quality cold goods. Teddy just wishes they had puppy gelato. Maybe next time?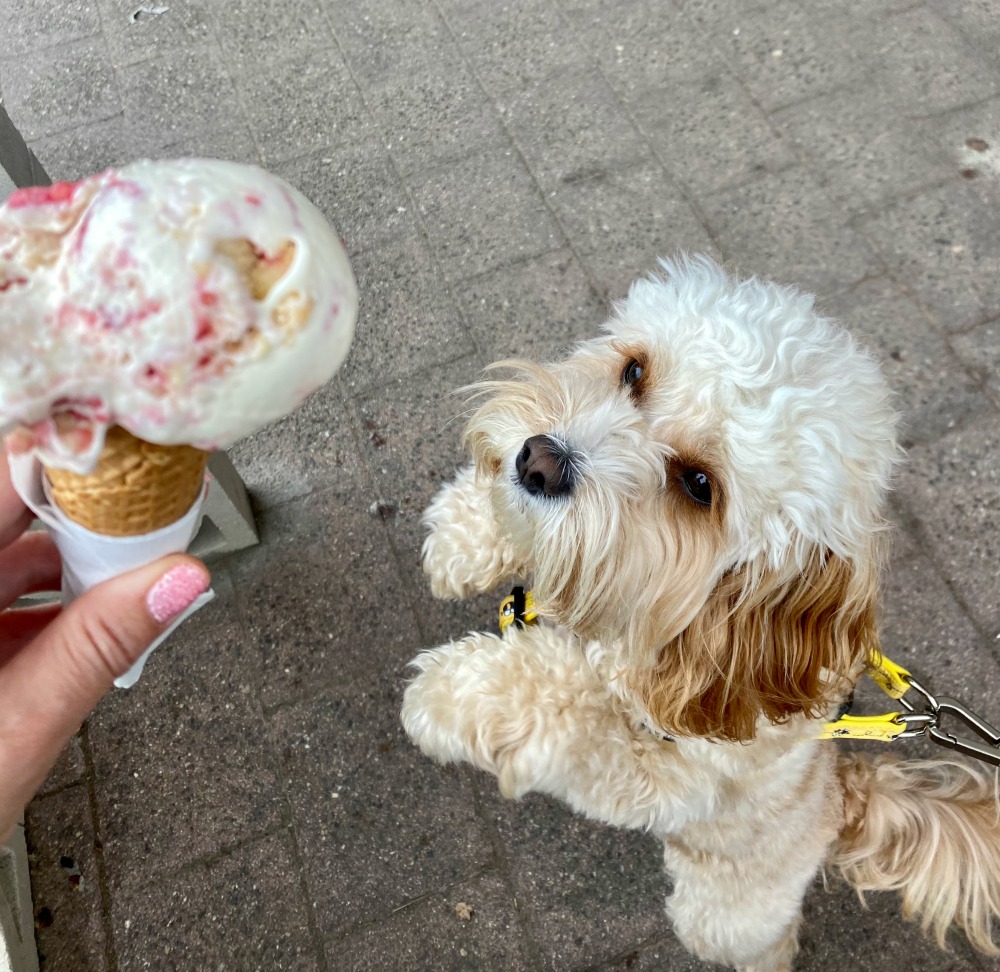 Where to Wine and Dine and Enjoy Beer and Cheer
11 Lonsdale Street, Braddon, ACT 2612
Open from morning til night (well wee hours of the morning actually,) for breakfast, lunch and dinner, Assembly offers not just a choice of meals but a choice of seating for pups and their people; on the front covered veranda or the beer garden out the back.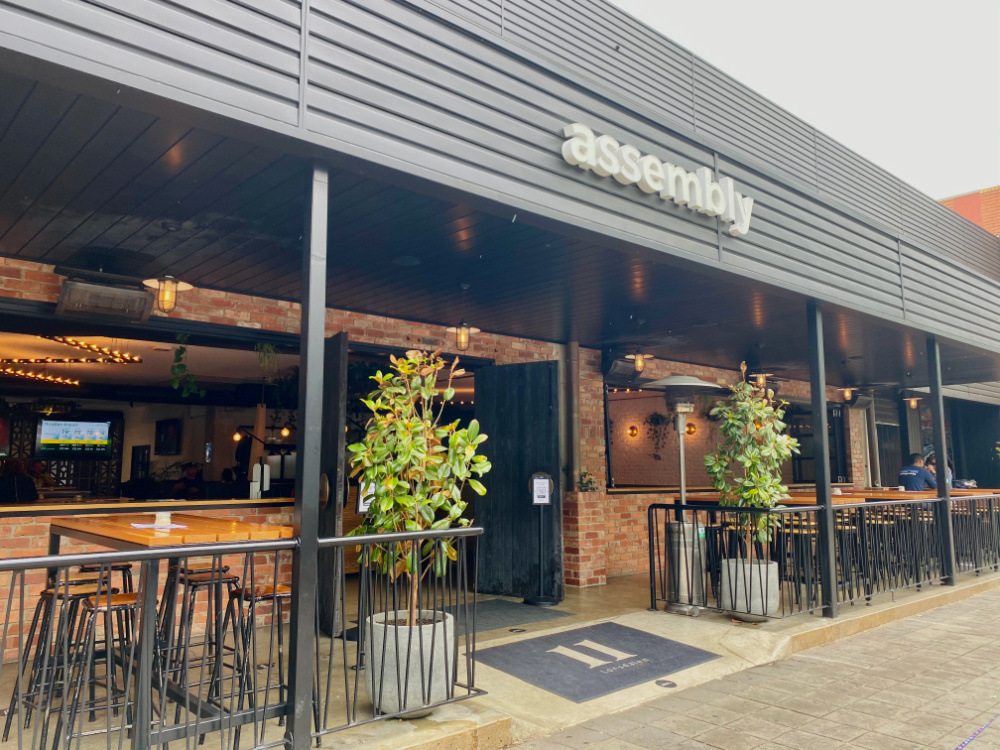 The beer garden has a relaxed and friendly vibe and you can book ahead to avoid disappointment. Top tip though, ask for a regular/low table when booking to make things more comfortable for your pup.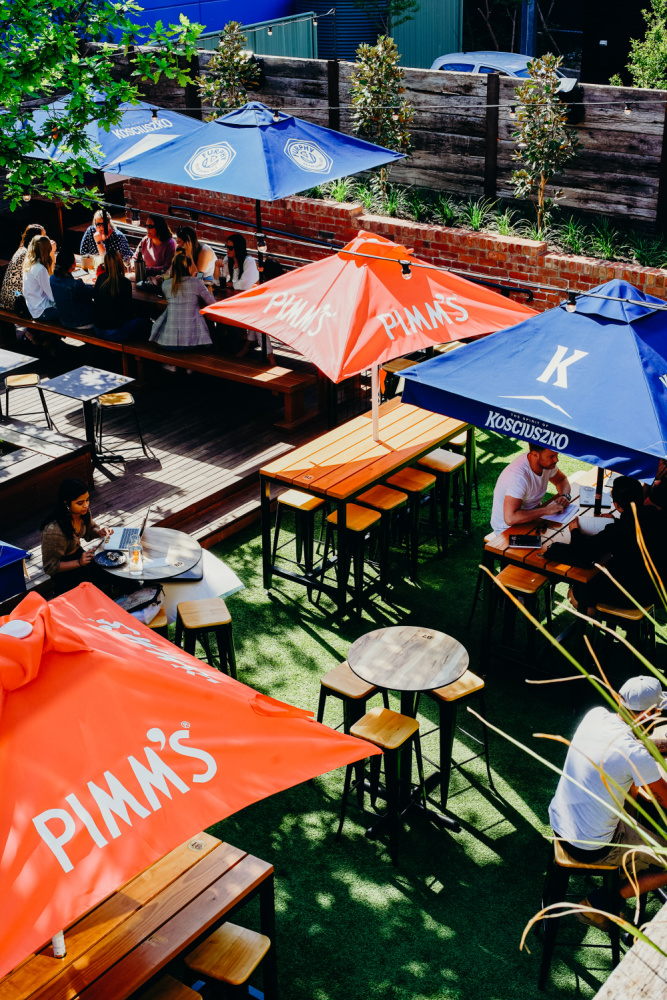 The menu is a who's who of pub classics including burgers, steaks, fish and chips and salads. There's gluten free and vegetarian options and a kid's menu too. The food here is tasty and generously served like this rump steak with fries and salad. (GF) Get in my belly!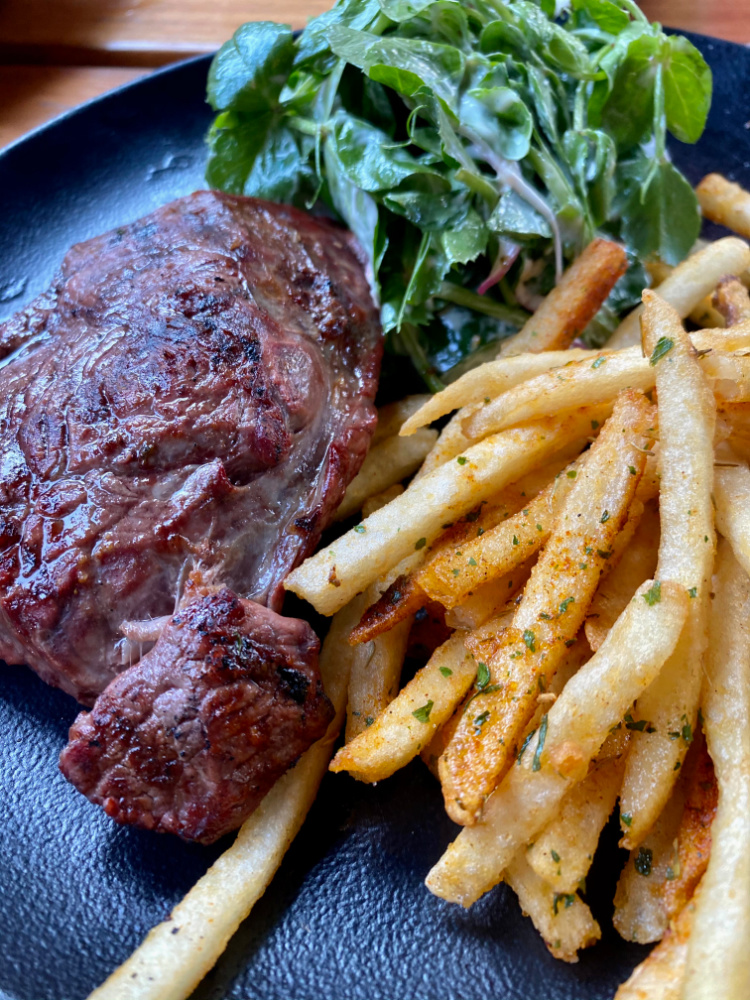 Building 3/1 Dairy Road, Fyshwick, ACT 2609
This super popular brewery is a bit out of town but definitely worth a trip especially if burgers and beer are your jam. Here you'll find good vibes and great beer! Capital is super popular and pups are welcome both inside and out.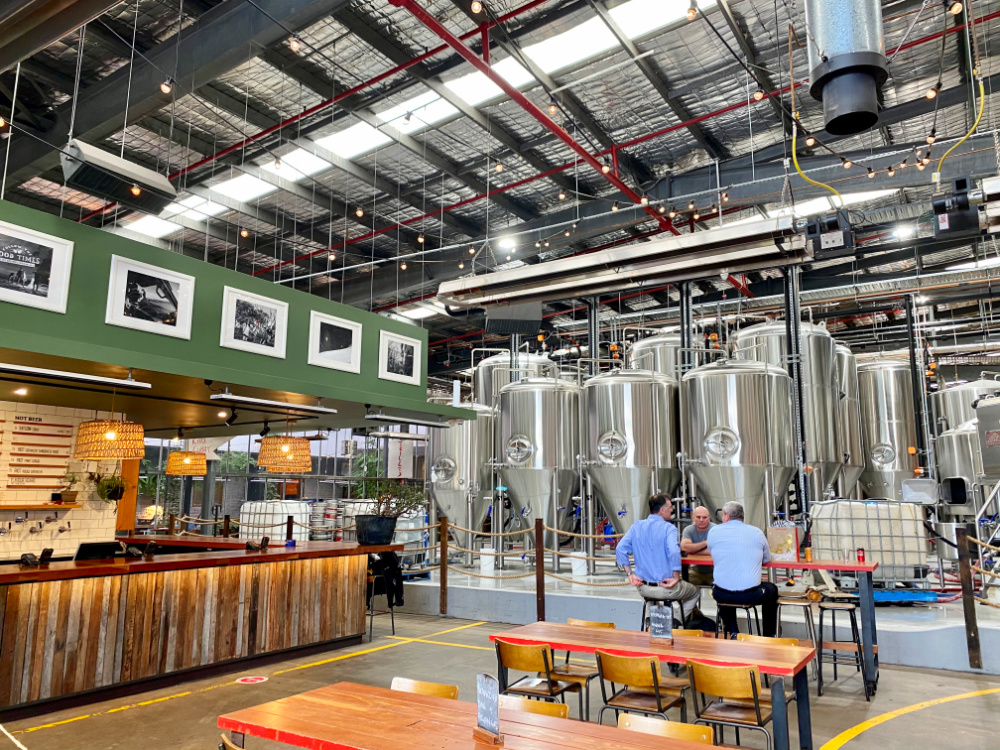 If you're hungry, grab a burger from the Brodburger van which is permanently located in the tap room. We only have stomach space for fries and the serves are enormous. There's a great selection of beers on tap including both the core range and special releases and of course, there's a "not beer" selection including cider and wine.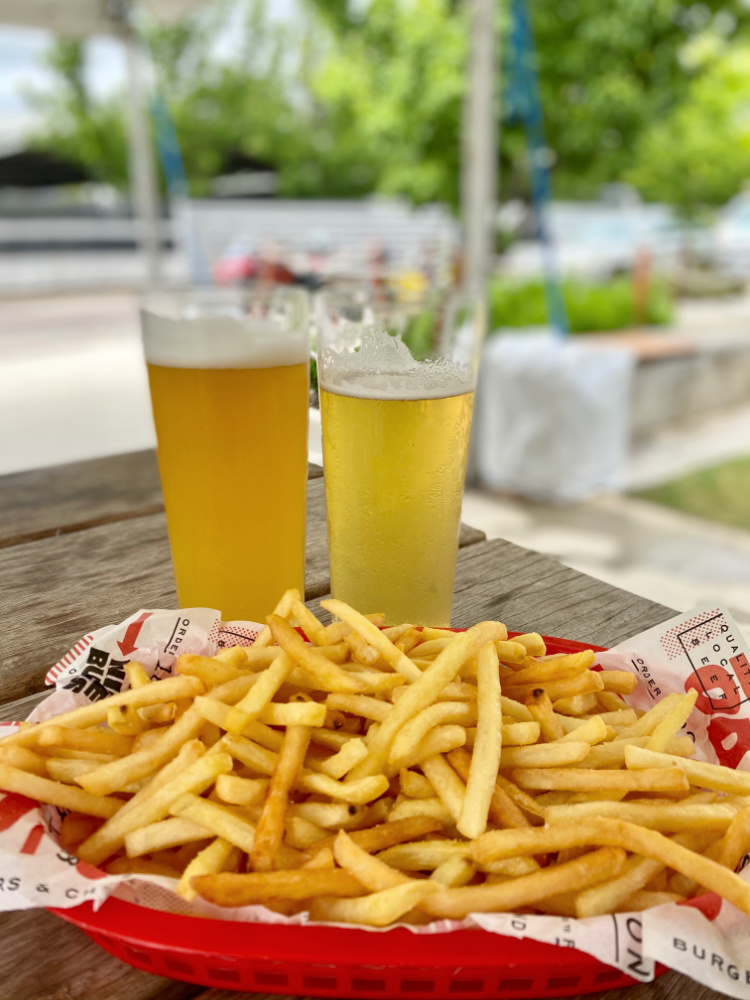 Capital is a great all weather option as pups are permitted inside and out. The outside area in particular is great for dogs (and children too,) Teddy Roosevelt gives this place his paw of approval!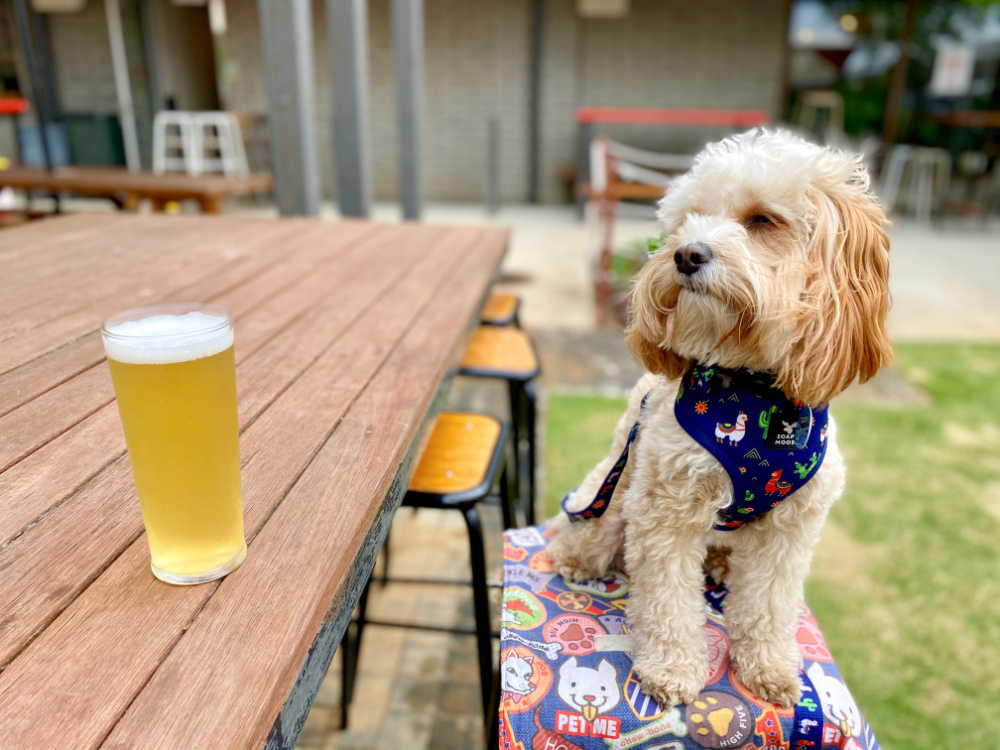 48/38 Mort Street, Braddon, ACT 2612
Have you even visited Canberra if you haven't been to Bentspoke? This place is super popular and is one of our personal favourites – there's a relaxed, friendly vibe, fabulous food and great beer is guaranteed.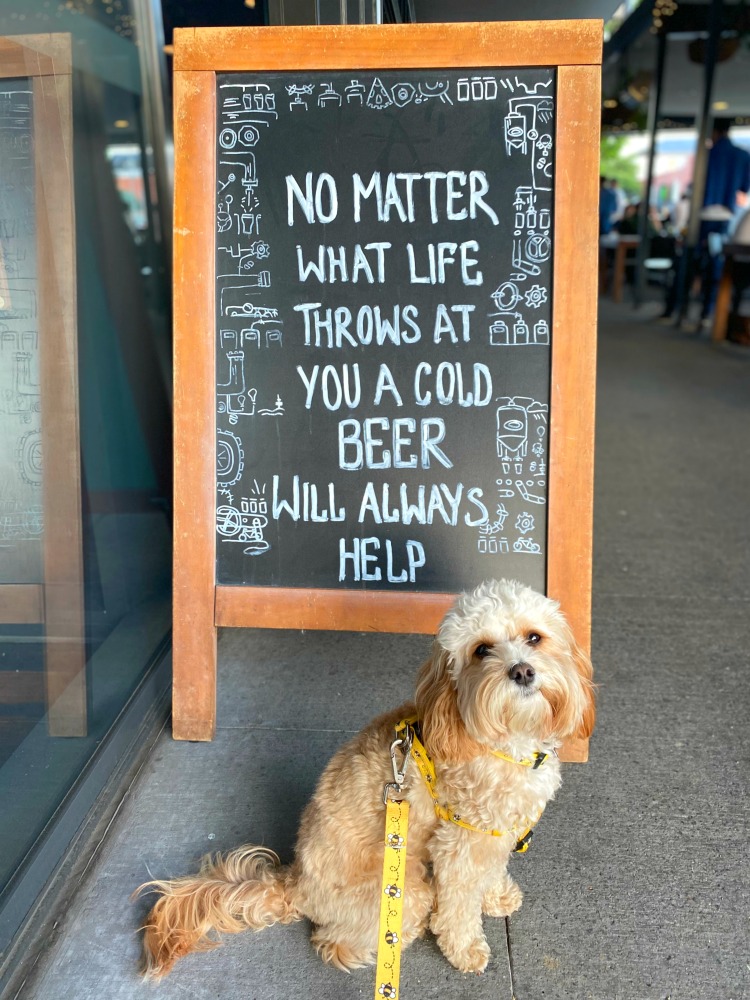 Dogs are welcome in the outside area which is both covered and heated (when necessary.) Although you can't book outside tables in the evening, there's plenty of space and your pup won't be short of furiends or attention. Teddy makes himself right at home and even makes some friends.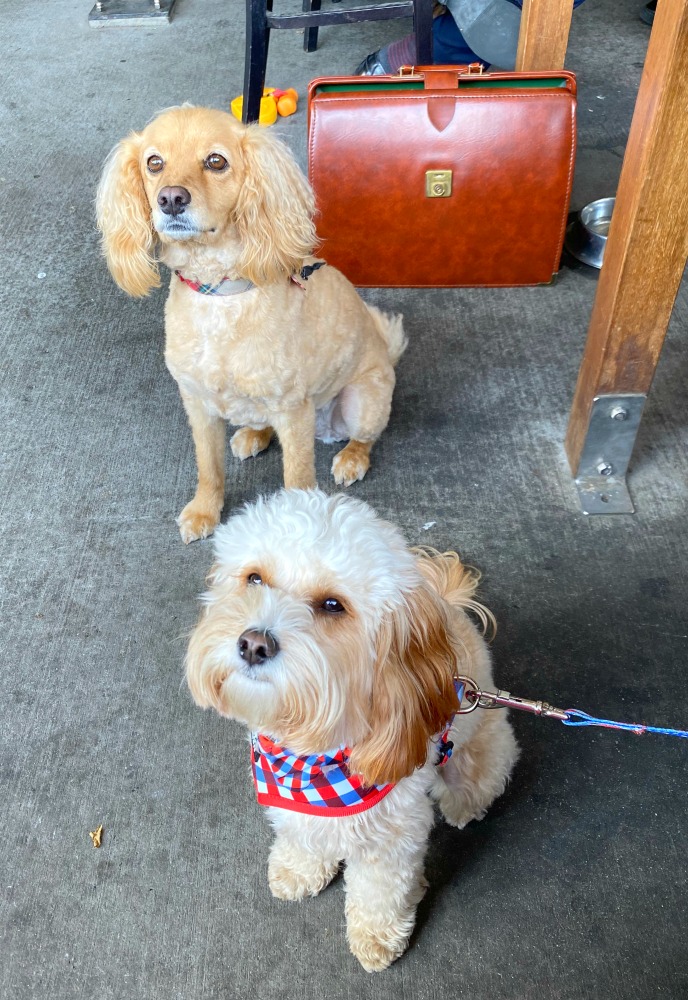 We're long time lovers of the beer here but this is the first time we've eaten in. The food here is reasonably priced, served generously and is totally delish. There are plenty of gluten free, dairy free, vegetarian and vegan options.
We are long time lovers of their hops salt potatoes (GF, VGN,) the Bentspoke version of hot chips only, better. Then we get all adventurous and try the spicy cauliflower bites with blue cheese and chilli sauce – so, so good! Side note: check out the size of these portions, these are small plates!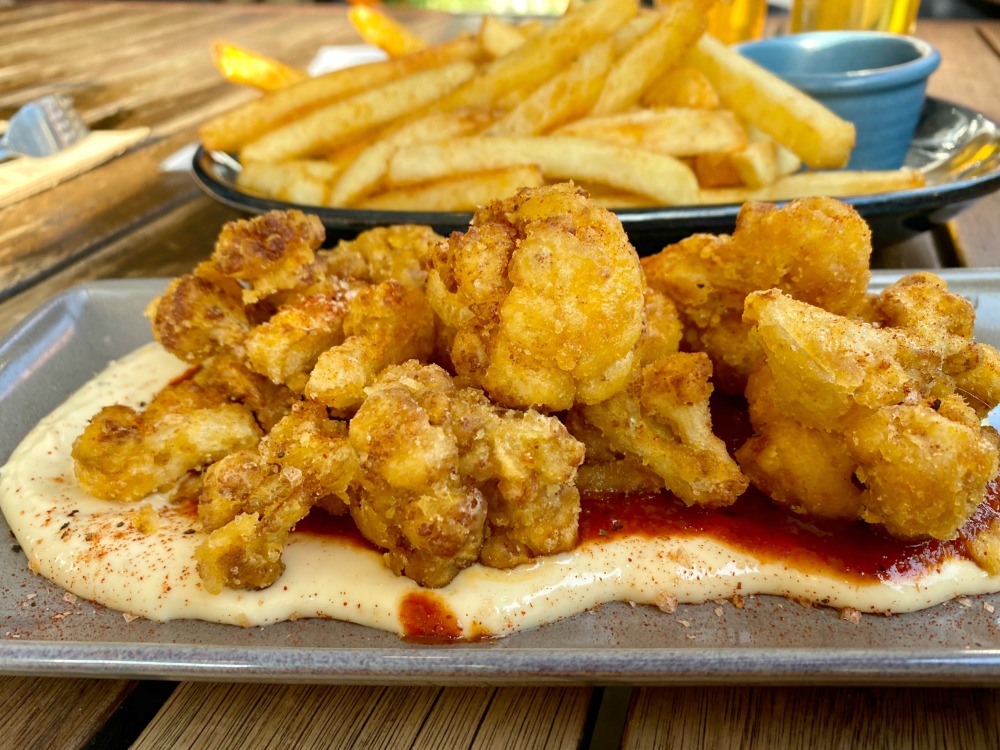 We save just enough stomach space to share a bowl of the chilli which is mighty fine. Don't leave town without trying one of the Bentspoke beer paddles – it's the best way to sample a selection of the 18 beers and ciders on tap! Don't ask me which beers these are, just believe me when I tell you they're all beerlicious!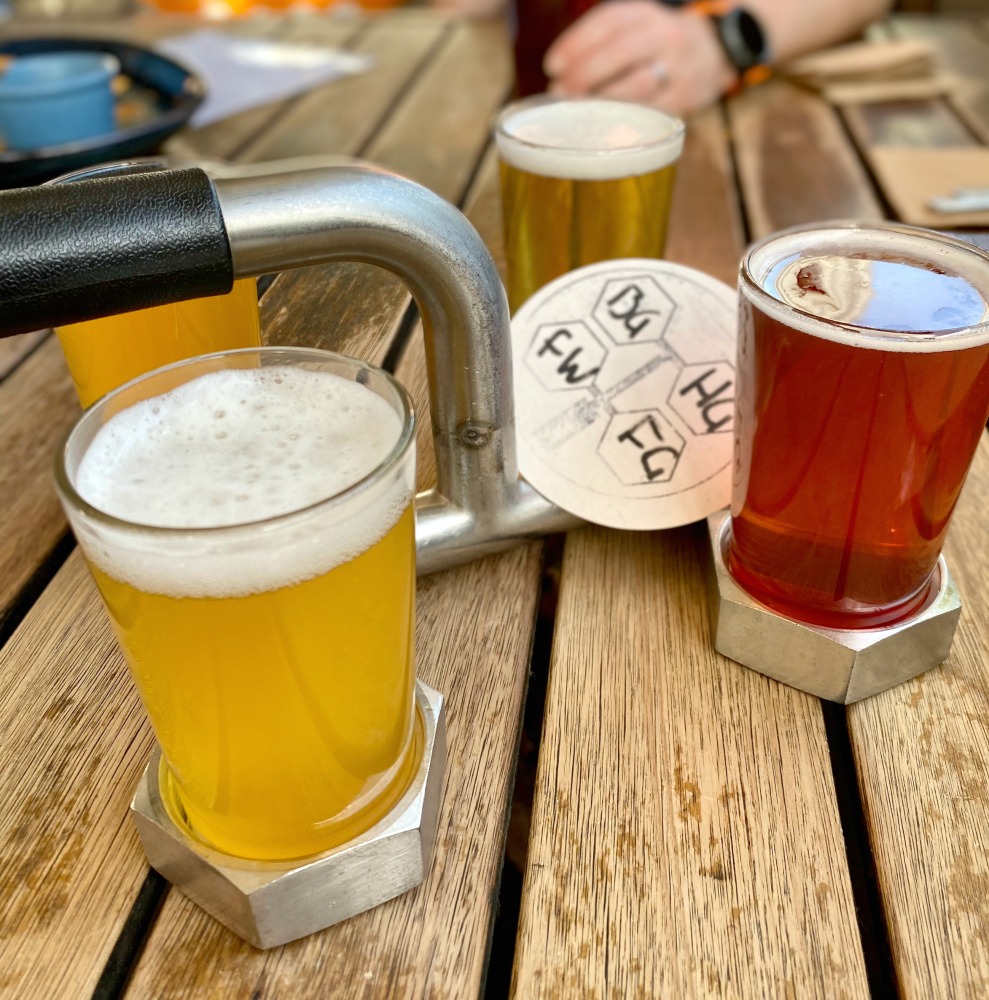 2/5 Lonsdale Street, Braddon, ACT 2612
Another one of our Canberra favourites – good vibes, great service and amazing gin! Honestly, the gin selection here is next level. We love the gin paddles where you can taste and mix your own gin drink – ice, tonic and botanicals are provided and the rest is up to you.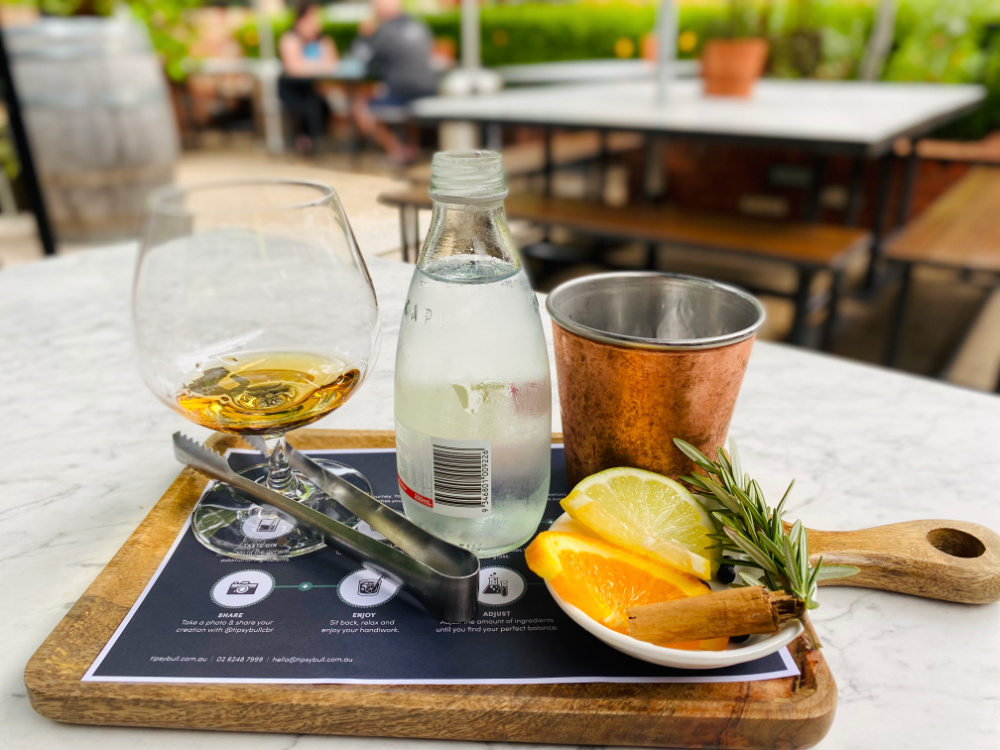 The food here is fresh, delicious and designed to share with plenty of gluten free, dairy free, vegetarian and some vegan options. The crispy spiced squid with lime mayo and truffle fries – check out that Manchego cheese – go down a treat.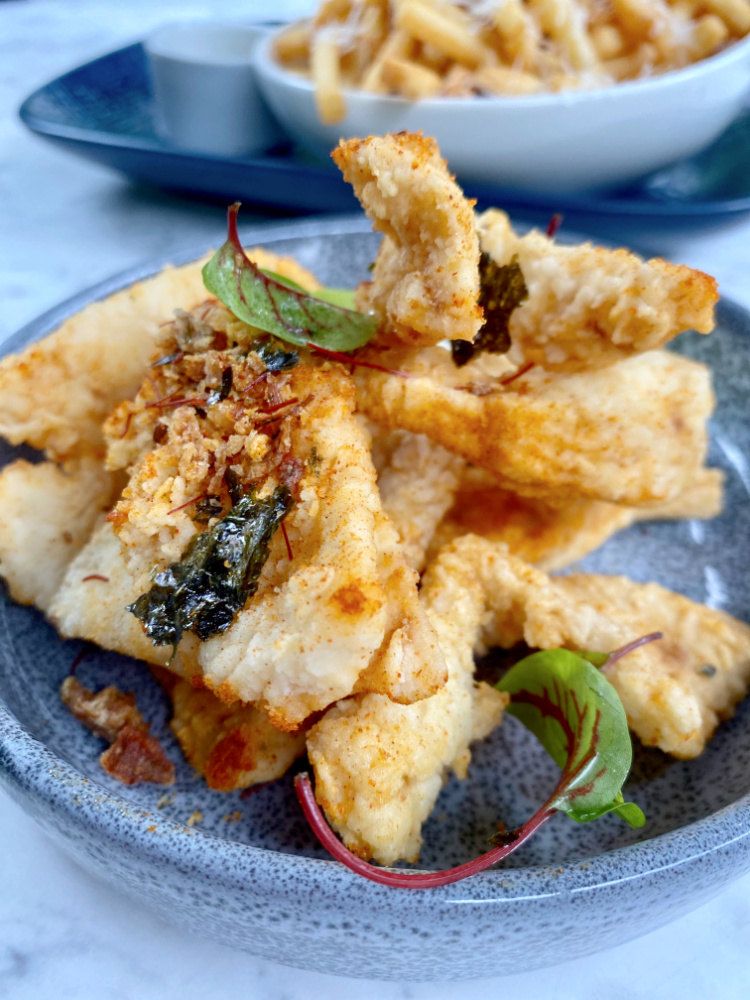 Pups are welcome in the beautiful beer garden and Teddy Roosevelt is in his element. You can reserve your spot for drinks and nibbles outside at certain times (highly recommended) or chance your luck with a walk in. Don't miss it!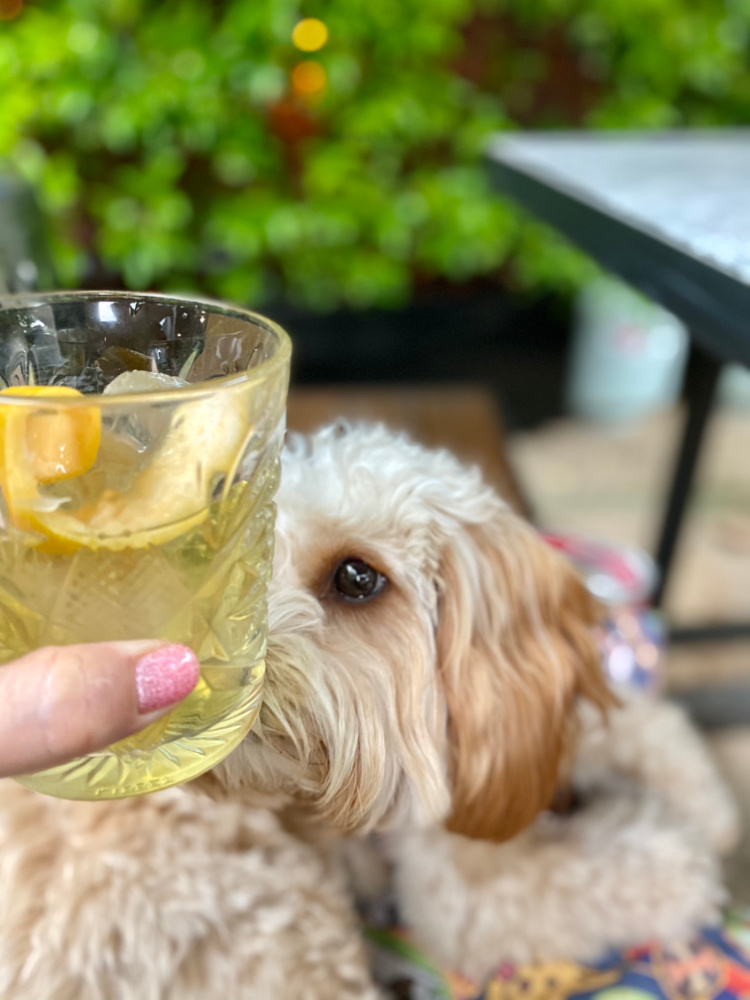 1/9 Lonsdale Street, Braddon, ACT 2612
This is one of our favourite Canberra eateries and we love it even more now that we can bring our dog! It's such a cool, fun and delicious dining experience.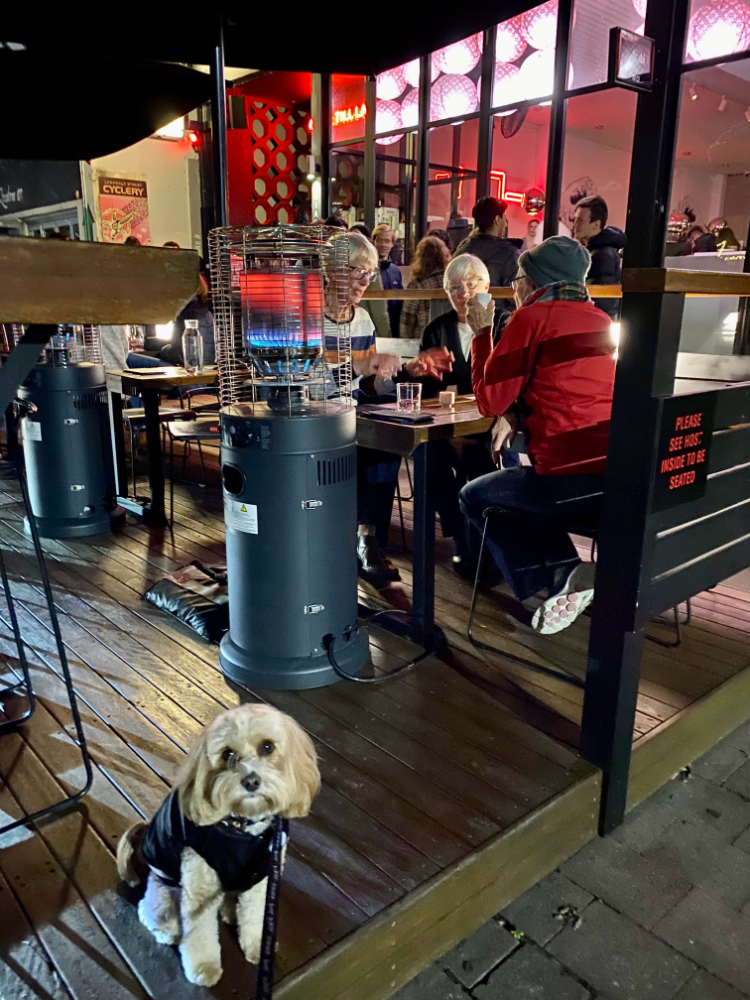 There is a small outside seating area where you can dine with your dog but this place is super popular and outside seating is very limited so booking ahead is highly recommended. We are a little bit worried about dining outside in the middle of Canberra winter but it's warm and toasty under the big heaters.
The food, service and cocktails here are always on point. Don't leave town without trying the Wagyu Cheesesteak Spring Rolls!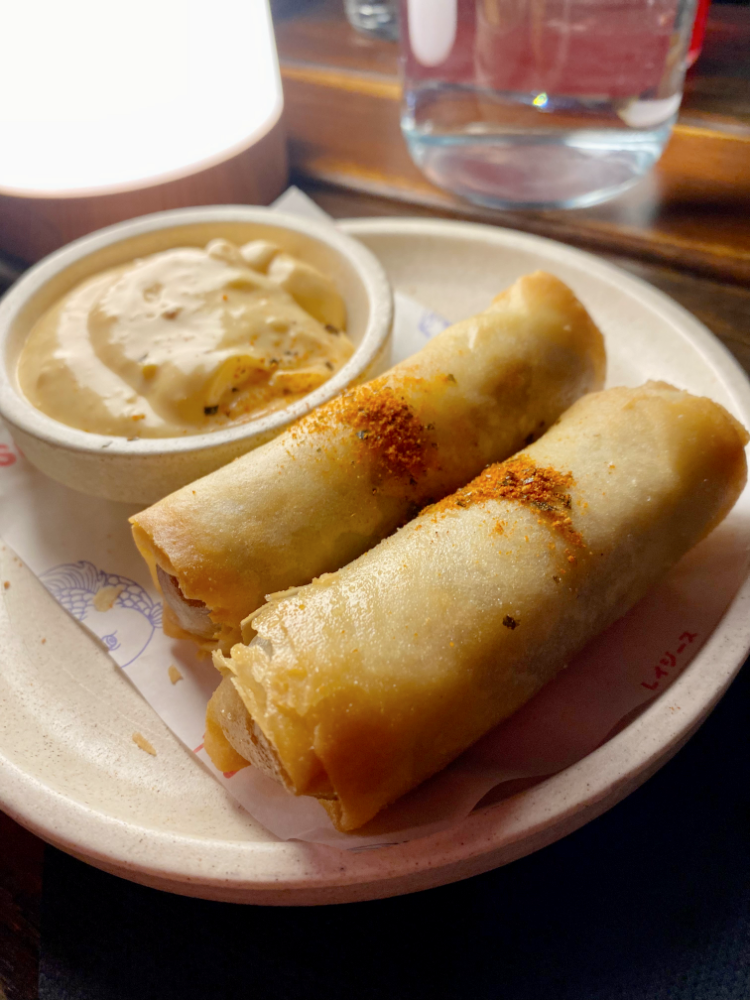 One thing is for sure, you'll be spoilt for choice eating out in the capital and can rest assured that your pup will receive a warm welcome.
Have you had drinks or dined out with your dog in Canberra? Anything else I should add to the list?!
All food and drink was throughly enjoyed and independently paid for.
Linking up with Denyse for Life This Week