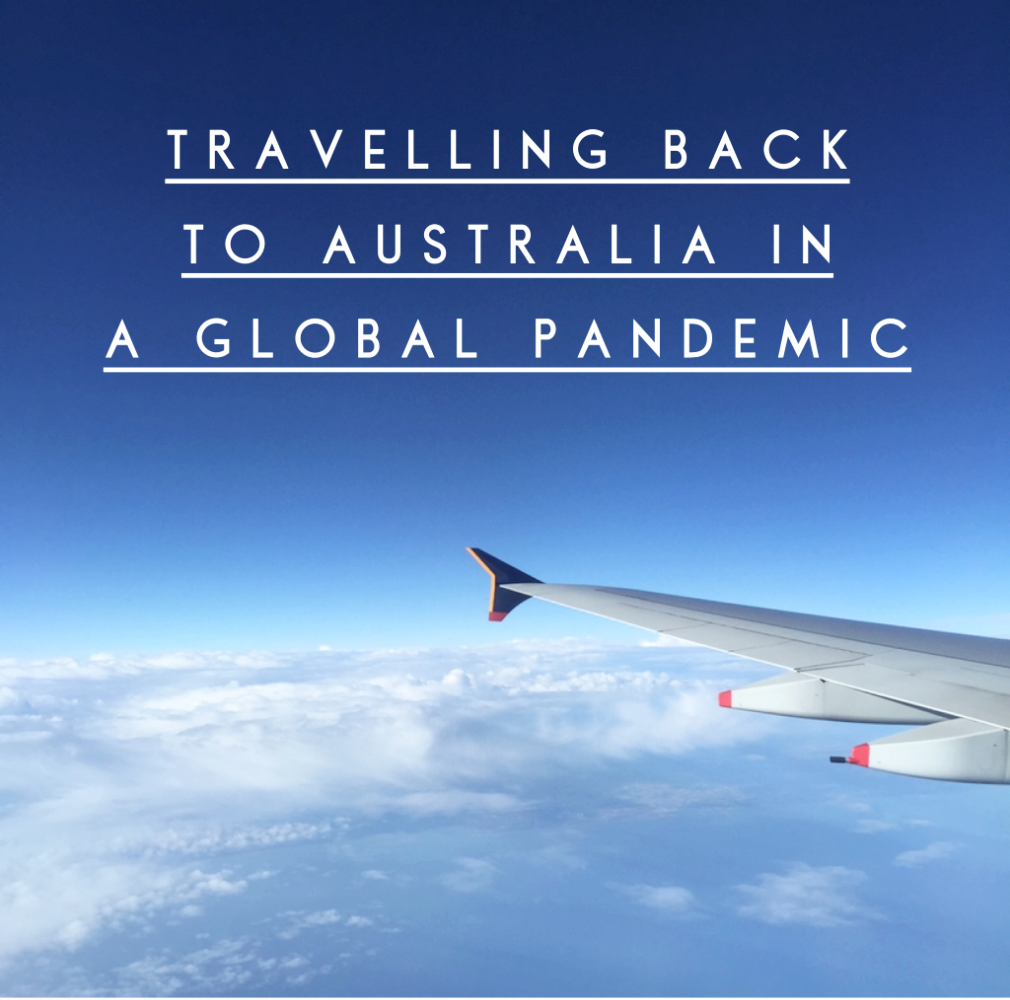 Last week I wrote about my trip from Sydney to London which was different from any other trip I'd taken before and not just because of the sad circumstances under which I was travelling.
I thought I'd seen it all on the outward journey but the return home proved just as weird, wacky and at times, wonderful. Everything felt very surreal and I felt like I was starring in my own sci-fi movie. I'm sure it's an adventure I'll never forget but I thought I better document it just in case!
Preparing to travel
Remember all that paperwork I had to complete just to leave the country? Well, getting in to the country wasn't much easier!
Completing the Australian Travel Declaration
Before entering Australia, all Australian citizens and permanent residents must complete a Travel Declaration. This must be completed at least 72 hours prior to departure and no more than 7 days before arriving in Australia.
This travel declaration is then assessed and states whether you need to quarantine on arrival. At the time I travelled, it was a bit of a moot point, because everyone needed to quarantine with the exception of passengers from New Zealand which was the only "green zone" at the time.
My declaration came back with a blue hourglass which meant I needed to quarantine on arrival. No surprises there then!
COVID-19 Test
A COVID-19 PCR test is also required no more than 72 hours prior to departure for Australia. A paper-based record is best, however electronic records (such as a document embedded in an email or text message) that contains the required information is accepted. The test result needs to include your name, date of birth, test results as 'negative' or 'not detected,' the method of test conducted e.g, PCR test and the date and time the sample was collected.
There was so much choice about where to get these PCR tests done, it was quite overwhelming! There were multiple companies offering tests in a variety of locations. I wanted to avoid going to central London so had a test at Vivo Labs in Peterborough.
I didn't want to cut it fine with the results so opted for a same day test on the Friday before flying out on the Sunday. It cost £185 and when I got to the appointment, I had to swab myself! It was worth it in the end though because my result was negative and arrived in a very timely manner.
At Heathrow Airport
Check In
My auntie kindly dropped me at Heathrow which while not as busy as usual, was way busier than Sydney airport and I won't lie, it made me feel a tad twitchy.  Just like Sydney, masks were compulsory inside the terminals. I was super early so first in line when check in finally opened.
I was a little bit nervous about the weight of my luggage but I had a generous allowance of 45kg – thanks to flying a combo of Business and First Class – and although it was a kilo or two over, the lovely lady at check pretended not to notice.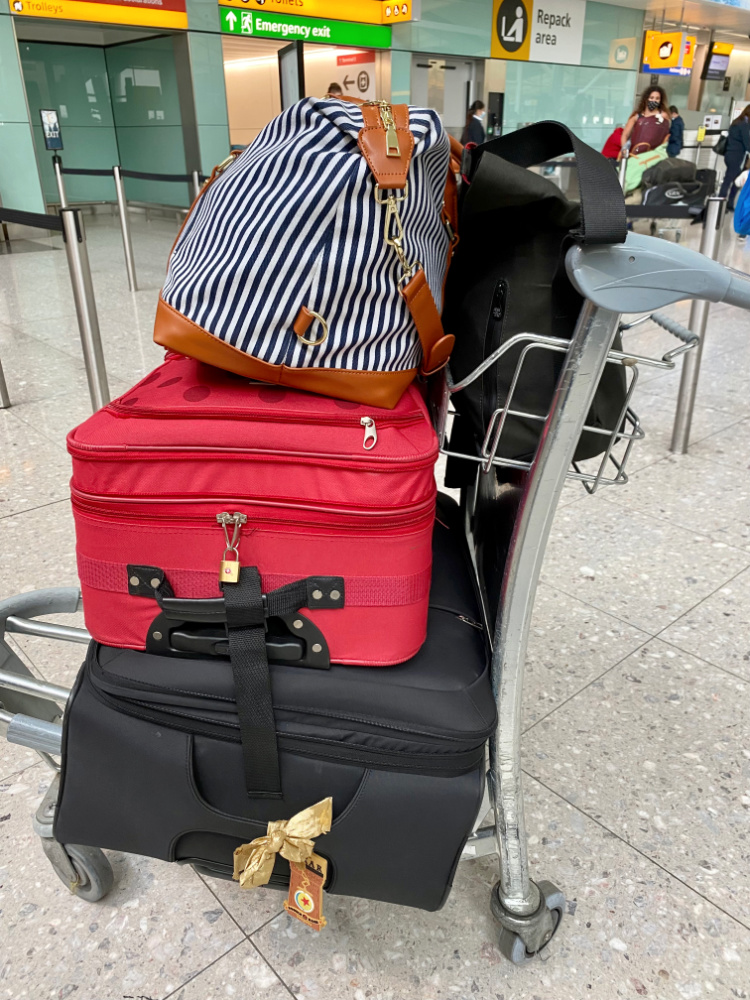 Check in was pretty relaxed, I had to show my PCR test results and my Australian Travel Declaration and then I was good to go. I passed through passport control and security quite quickly and headed straight for the lounge.
The Singapore Airlines lounge was closed but eligible passengers could use the Plaza Premium Lounge instead which offered a full bar, hot and cold drinks and a limited menu of hot and cold food. It was not a patch on the luxury of a regular airline lounge but it was  the perfect place to recharge myself and my devices before the long flight home.
Flying Singapore Airlines London to Sydney
Flying London to Singapore
My gate was a 20 minute walk from the lounge and there was hardly anyone around even when I arrived to the gate. The return leg from London to Singapore was nowhere near as busy as the flight from Singapore to London.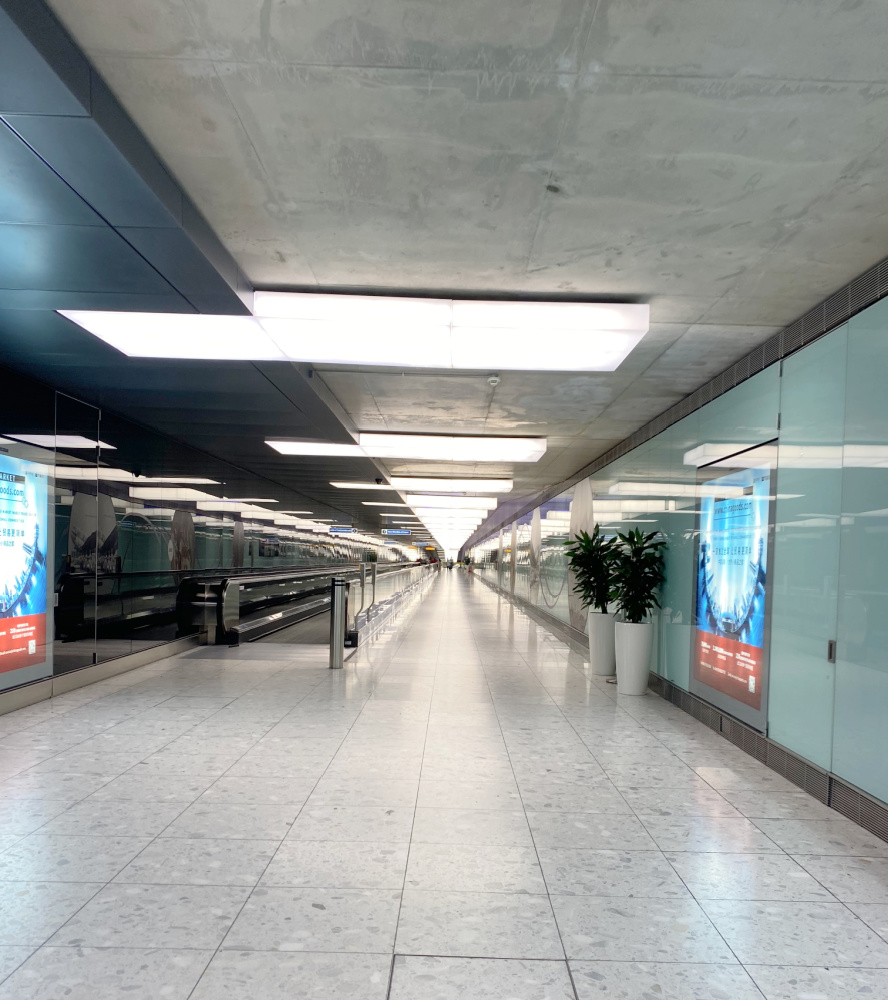 This was my first time flying Business and there were a handful of passengers in Business Class. For someone who had only ever flown economy (and Premium Economy once) I was quite taken with the set up.
Dinner was served on real plates, with real cutlery on a table laid with a tablecloth. The Grilled Beef Tenderloin with Bordelaise Sauce was so delicious. The Cold-Poached Salmon with Caper and Lemon Aioli was also outstanding. Even some extended turbulence couldn't dampen my enthusiasm.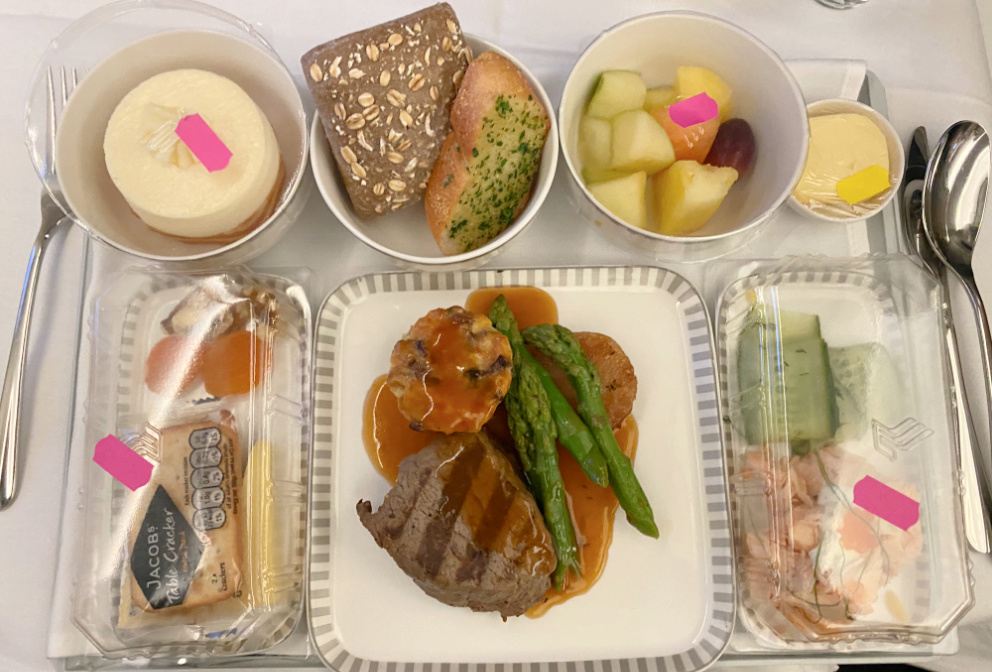 After dinner, the flight attendant made my bed and I slept until  "light lunch" was served, Char Siew Wanton Mee – egg noodles topped with honey glazed pork, shrimp and pork dumpling with leafy greens plus bread from the bakery, smoked chicken breast and a mango charlotte!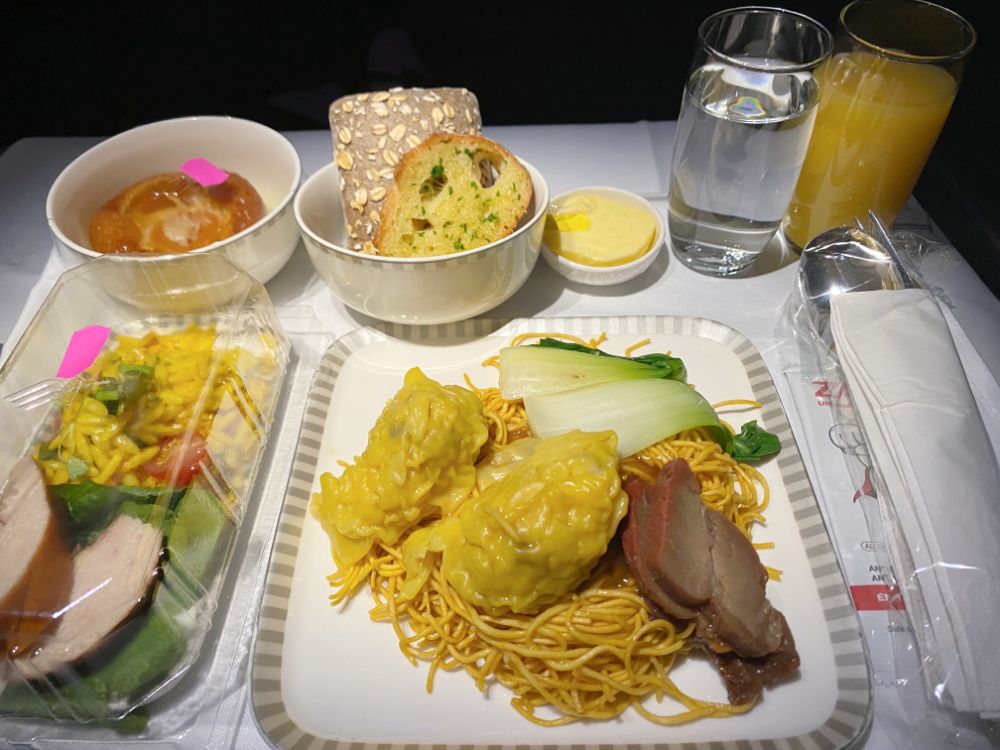 Transit in Changi Airport
As Singapore had not lifted border restrictions with the UK, we were not able to move around the airport freely, which was a shame as I had an 8 hour layover!
We were met at the gate by airport staff in full PPE and lined up in single file. Looking at the long line of weary travellers, all masked up and weighed down with all our bags, we looked a sad and sorry sight. As we were corralled around the airport, passing signs reminding us to keep our distance and talking to a minimum,  not for the first time this trip, I felt like I was living in an alternate dystopian reality.
We were taken to a THA (Transit Holding Area) which is a fancy name for unused departure gate. There was free wifi, toilets and food and drinks could be purchased from vending machines.
For business and first class passengers, there was a premium holding area that wasn't actually very premium at all. It was exactly the same as the regular area except it had a limited selection of free cold drinks, dry crackers, oreos and a teeny tiny menu of take away items that could be delivered to the gate in teeny tiny portions. It was about as far removed from a lounge experience as you can imagine.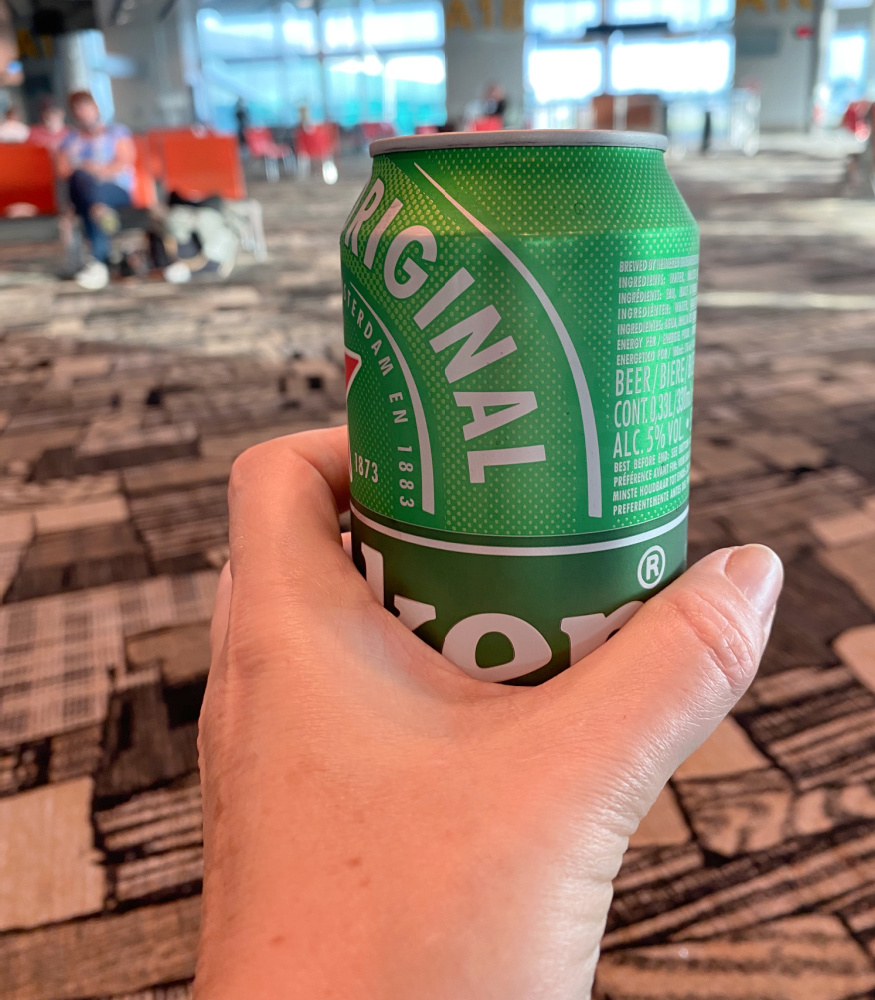 Flying Singapore to Sydney
When it was finally time to board, we were escorted to the departure gate and made to stand in two lines by airline staff. Before we went through security, our names were checked off a list and if your name wasn't on the list, you weren't flying.
Security seemed a bit interested in my mum's ashes but once I told them what was in the box I was good to go. It was eerie at the gate seeing so few passengers, some of whom took flight attire very seriously.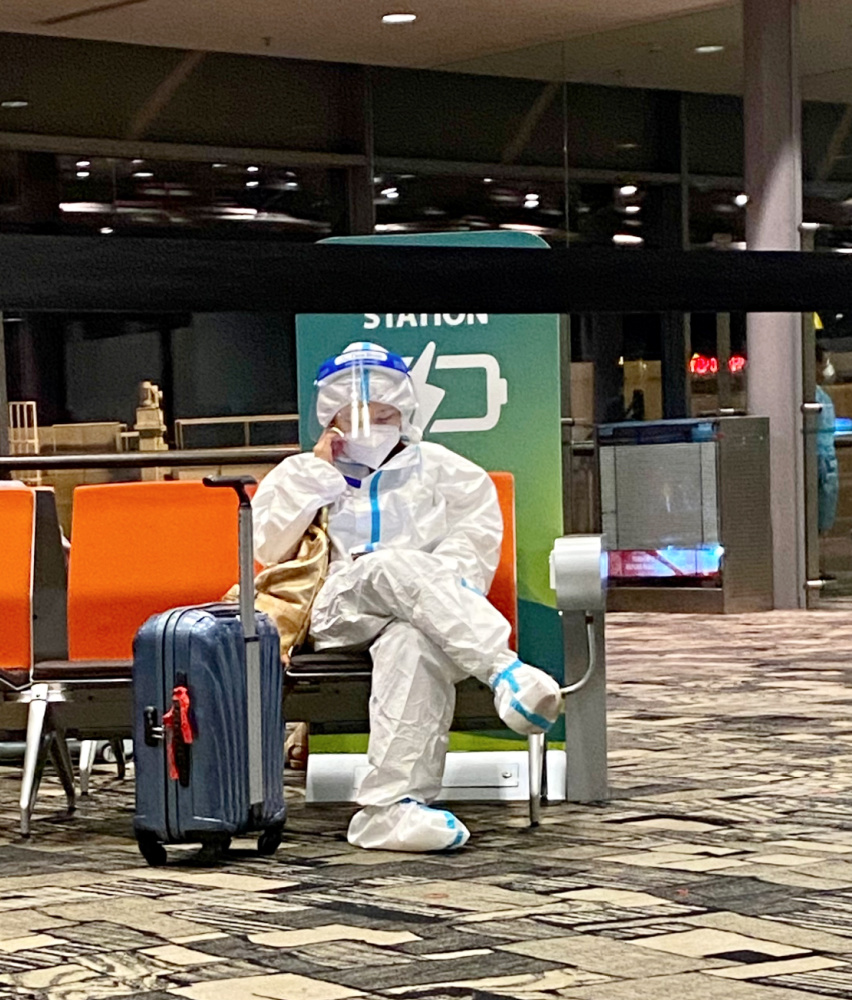 I had the enormous pleasure of flying First Class from Singapore to Sydney although it wasn't by choice but rather necessity. I literally got the last seat for sale on the plane and I was so desperate to get home, I took it.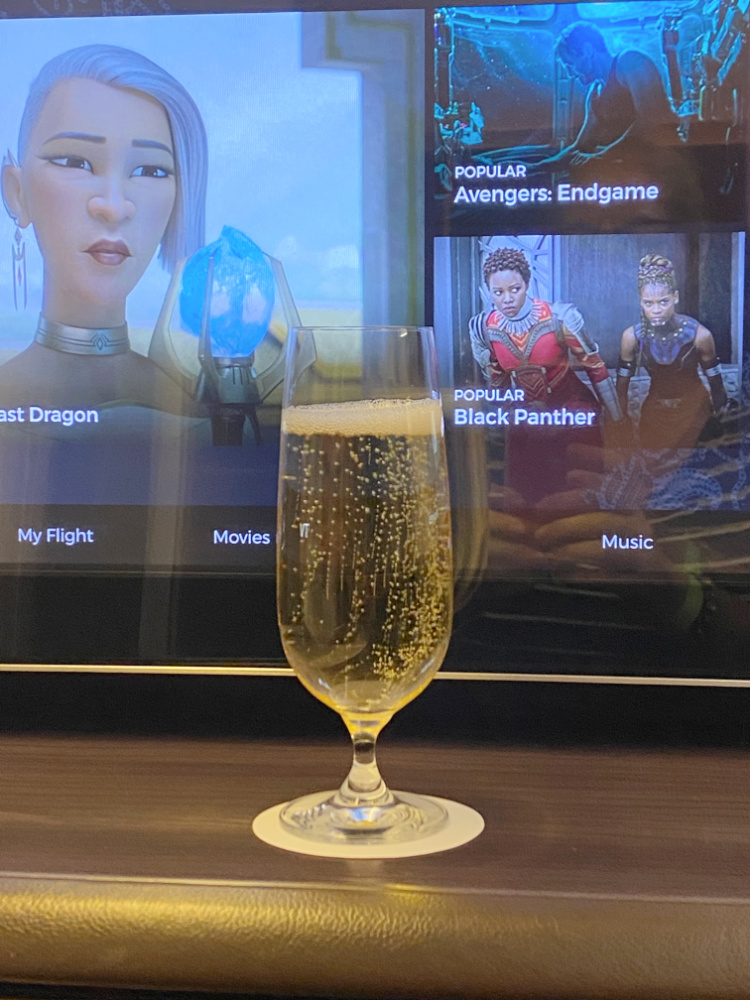 There were only 4 seats in First Class and the rest of the passengers were divided equally between Business and Economy. First Class was everything I imagined it to be and more – luxury amenities, Bang and Olufsen headphones, amazing service, delicious food and free flowing champagne. Oh and let's not forget the PJs and slippers!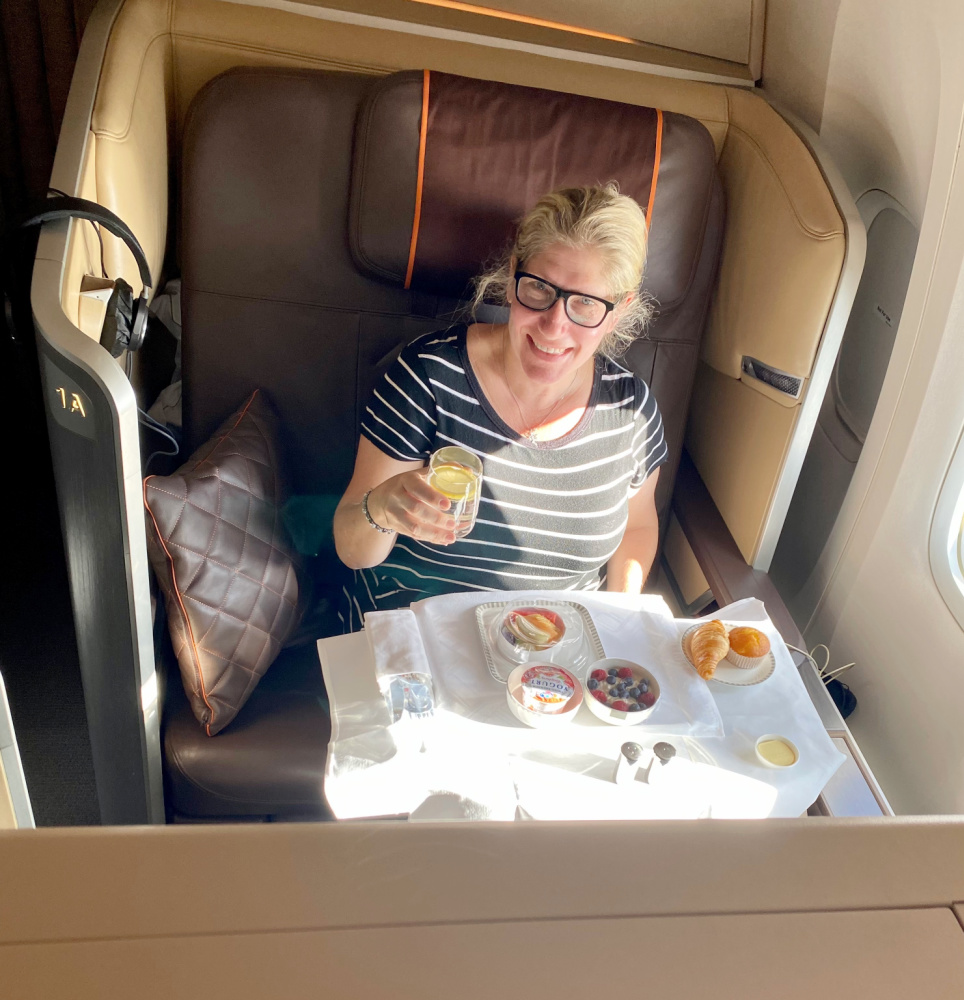 The food was restaurant quality and it was  a wonderful way to end a long, epic trip. I just wished the flight was longer… Now there's something I never thought I'd say.
As we came to land in to Sydney, I was already starting to feel nervous about what lay ahead.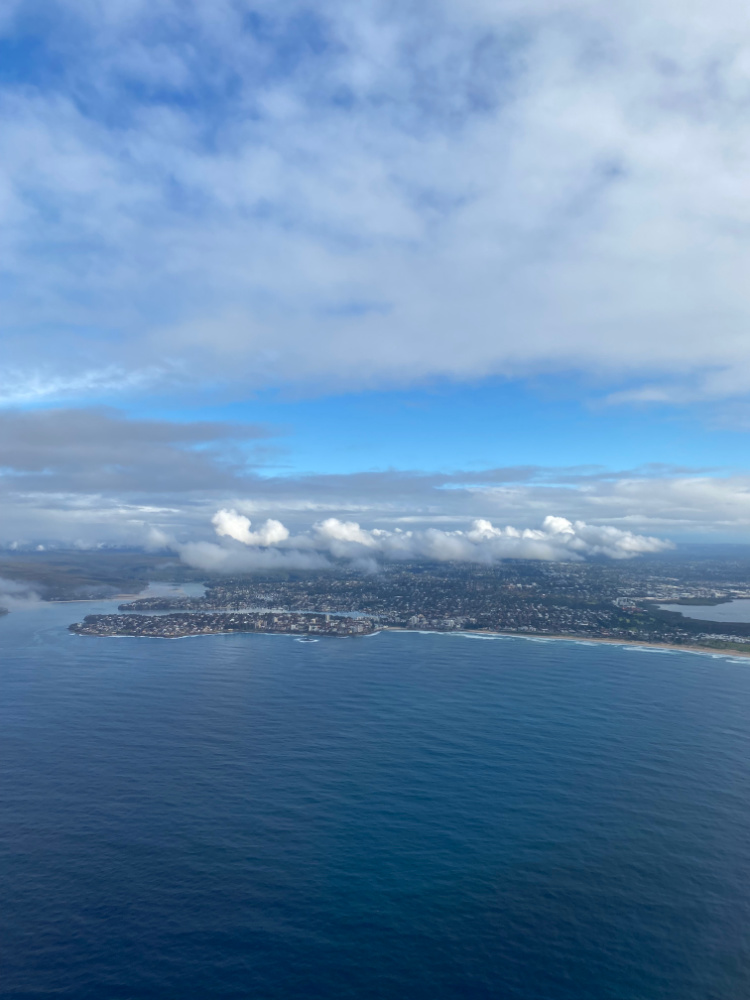 Arriving in Australia
Arriving at Sydney Airport
We were met at the plane by staff in full PPE and walked down back corridors (it felt like the airport equivalent of a tradies entrance) for what felt like ages until we reached the area just before passport control.
We lined up and were triaged by a group of friendly nurses (again in full PPE) who took our temperature and asked us some questions about our health, if we had any symptoms and briefly explained that we were going to hotel quarantine.
I explained to the nurse that I had some medical issues and I was asked to sit in some seats to the side and wait to chat to the resident doctor.
Other passengers proceeded through border control, picked up their bags, passed through customs and then had their names checked off a list and were told to get on to one of two buses. They didn't know where they were going until their bus arrived at the destination.
Medical Exemption Process
There were three of us on our flight that needed to see the doctor and we each had a doctor's letter. After speaking to each of us individually, he decided we should all quarantine in a health hotel.
A health hotel is different from a regular quarantine hotel because it's run by NSW Health and not the police. It's true that it's the places where positive COVID cases go to quarantine but it's also for people with health conditions that require active management or supervision.
Going to the Hotel
We then proceeded through border control and then were ushered to a makeshift nurses station at one side of the baggage hall. There were a few rows of chairs and a row of desks at the front where the nurses worked and a screen to the side.
We were each called behind the screen to have our first COVID test while one of the nurses phoned to arrange our accommodation.
We then picked up our bags, got ushered through customs and walked out the back entrance  of the airport. Here there were a number of buses and minibuses and army personnel. There were high fences all around with barbed wire at the top.
We were directed to board one of the minibuses and a member of the ADF put all our luggage on the trailer at the back of the van. We were directed to sit at the back of bus, in fact, the front seats were all taped off so we couldn't sit there.
A nurse hopped in with a driver to accompany us to our hotel. He told us we were all going to the Meriton Apartments. Mascot.
Arriving at the Health Hotel
We waited on the bus until we were called out one at a time by our name and room number. A friendly nurse in full PPE met me with a luggage trolley which was just as well as I had a lot of luggage!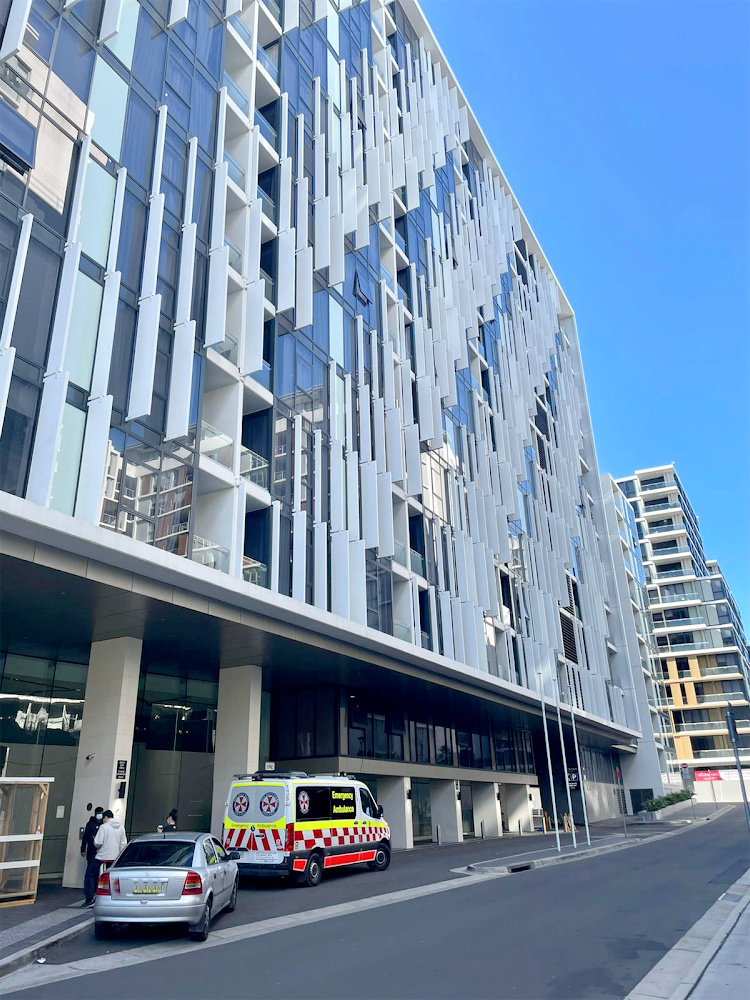 I've never been to the Meriton before but even I could see that the lobby was unrecognisable as a "hotel" with stations for staff to remove and put on PPE – it looked more like a military operations room than a hotel lobby!
The lovely nurse tried to manoevure the luggage trolley into the lift and I went to hold the door open for her but she asked me not to touch anything, if I did the whole lift would have to be disinfected!
The Meriton Suites Mascot are staffed 24 hours a day, 7 days a week by Registered Nurses and Assistants in Nursing. Each floor is like a ward with it's own bank of nurses.
I was escorted to my room which was to be home for the next 14 days and got the most pleasant surprise. It wasn't a room, it was an apartment and best of all, it had an opening window and a balcony. As quarantine accomodation goes, I really hit the jackpot. The countdown was on!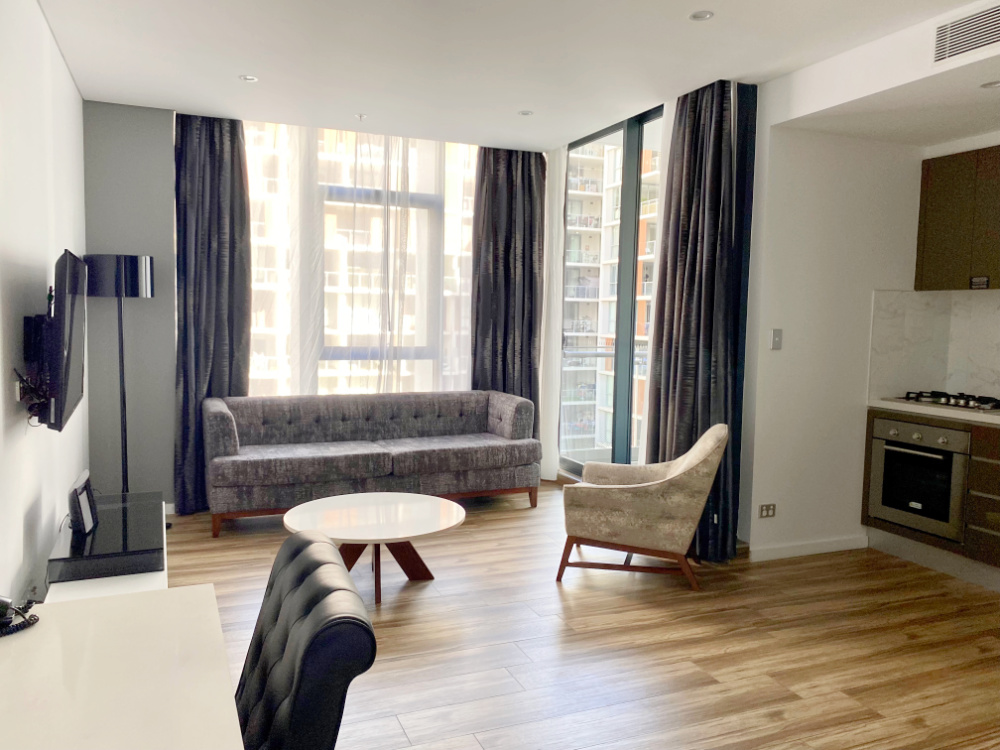 Have you ever travelled business or first class? What do you miss most about travelling? And what do you find strangest about my trip?
Linking up with Denyse for Life This Week