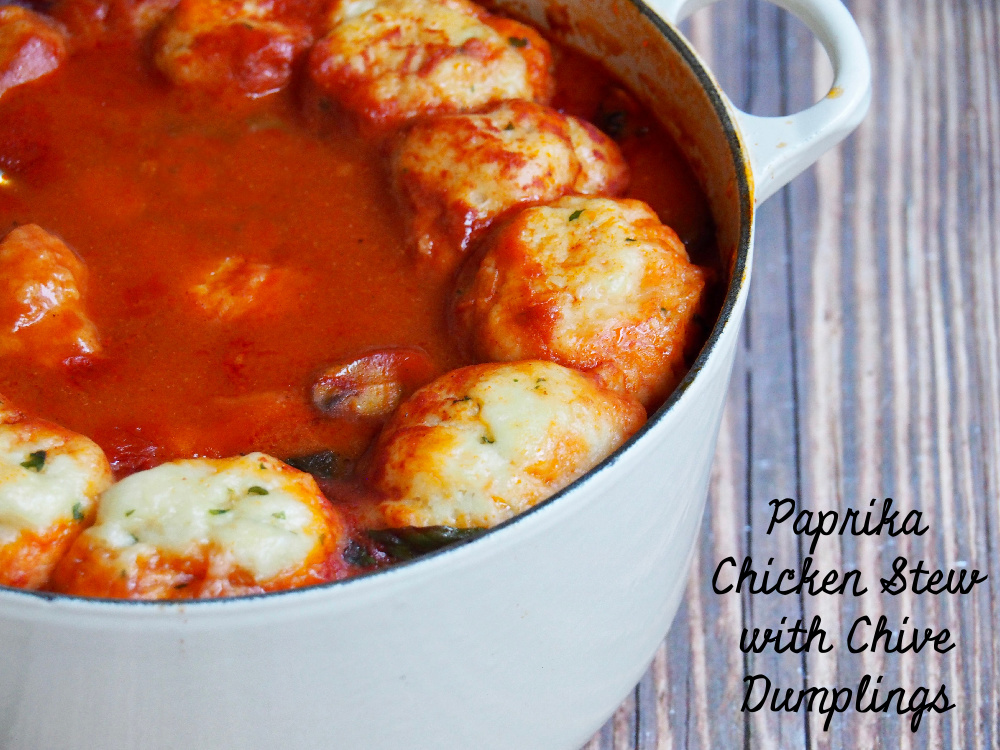 This delicious stew is easy, economical, delicious and sure to be a family favourite.
This month's reader recipe is a real winner, winner chicken dinner! Anne has been a loyal, long time reader of the blog and has baked her way through my recipe archives.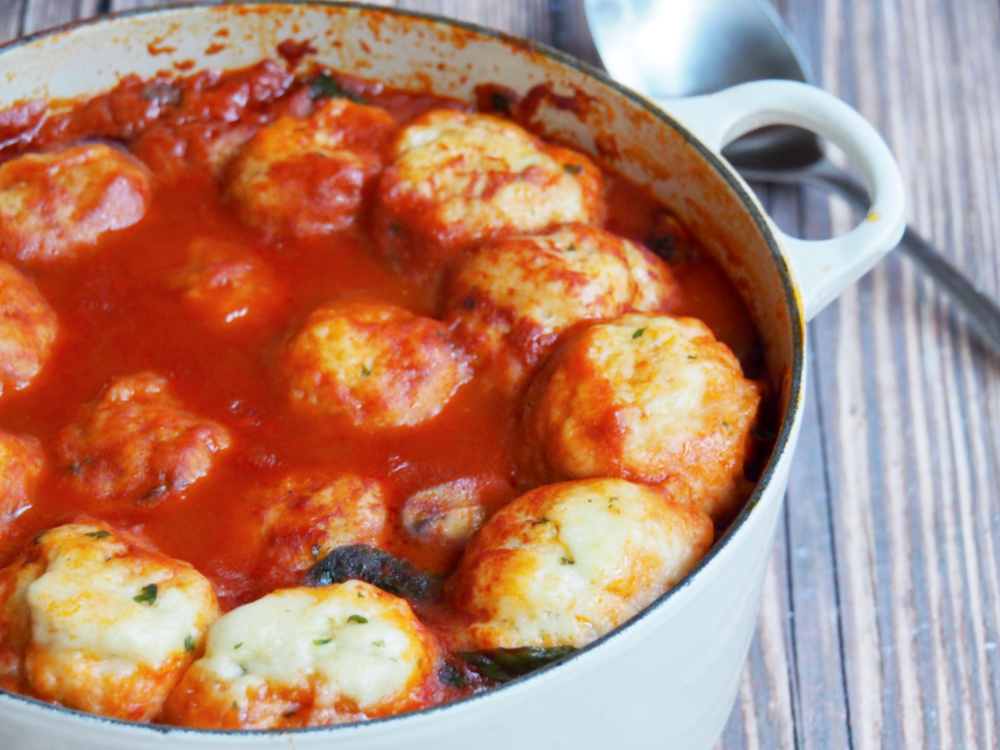 I love getting reader messages and Anne's always deliver with news of what she's been baking and what's growing on her property. Spoiler alert: Always something delicious on both counts!
So when Anne sent me this recipe which she said was one of her family's favourites plus I saw the word "dumplings", I knew I'd have to give it a go.
Anne said she thinks she found the recipe in an old Family Circle magazine but it was so long ago she can't remember and besides, she's tweaked it to her tastebuds (AKA perfection) over the years.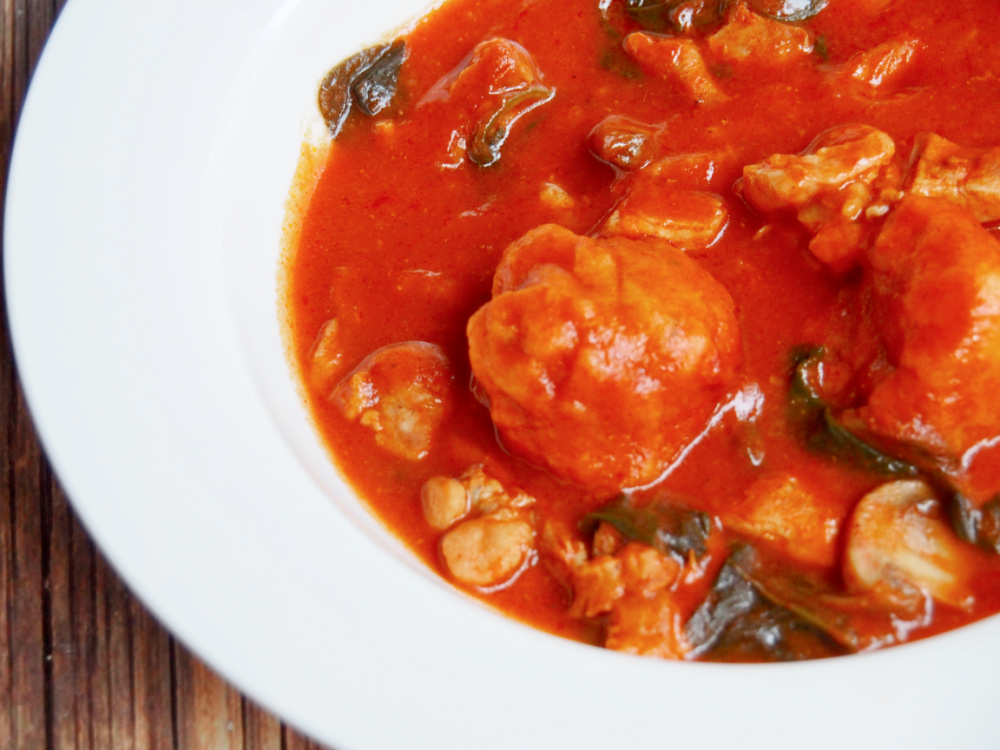 It's actually a really healthy and hearty dish, perfect for cold weather and just the edible antidote we've needed to those lockdown feels because you know, dumplings!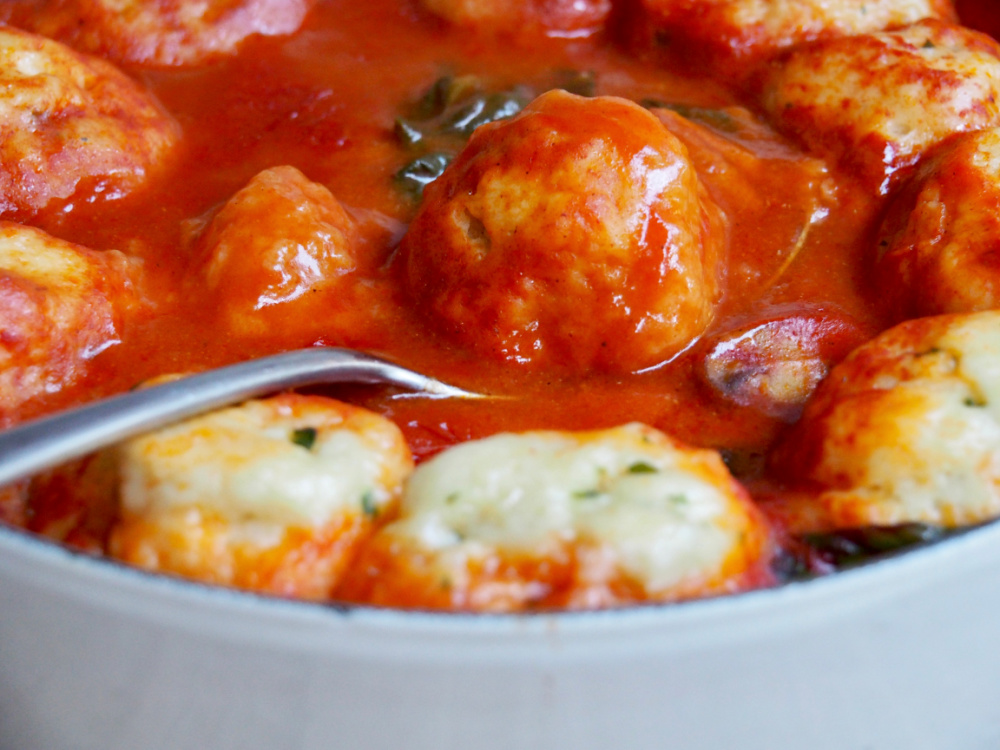 I won't lie, I was a bit worried that this chicken dish uses thighs because David is a (chicken) breast man and I was sure he would turn his nose up at the thigh. The meat however was so succulent and juicy that he went back for seconds and declared this dish to be his new favourite dinner, high praise indeed because David is a man of his word.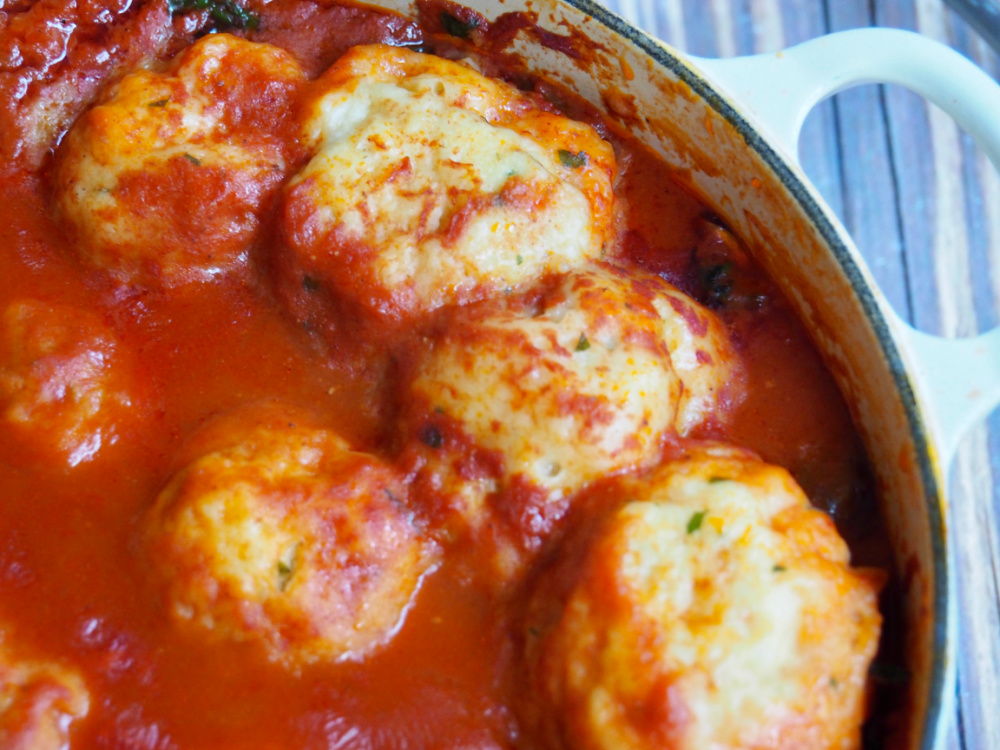 When I first made this stew, I was worried that it would be too "soupy" with the stock and the passata but I needn't have worried because once the dumplings are popped on the top, the stew thickens up to perfection, having the perfect sauce to dumpling/meat ratio.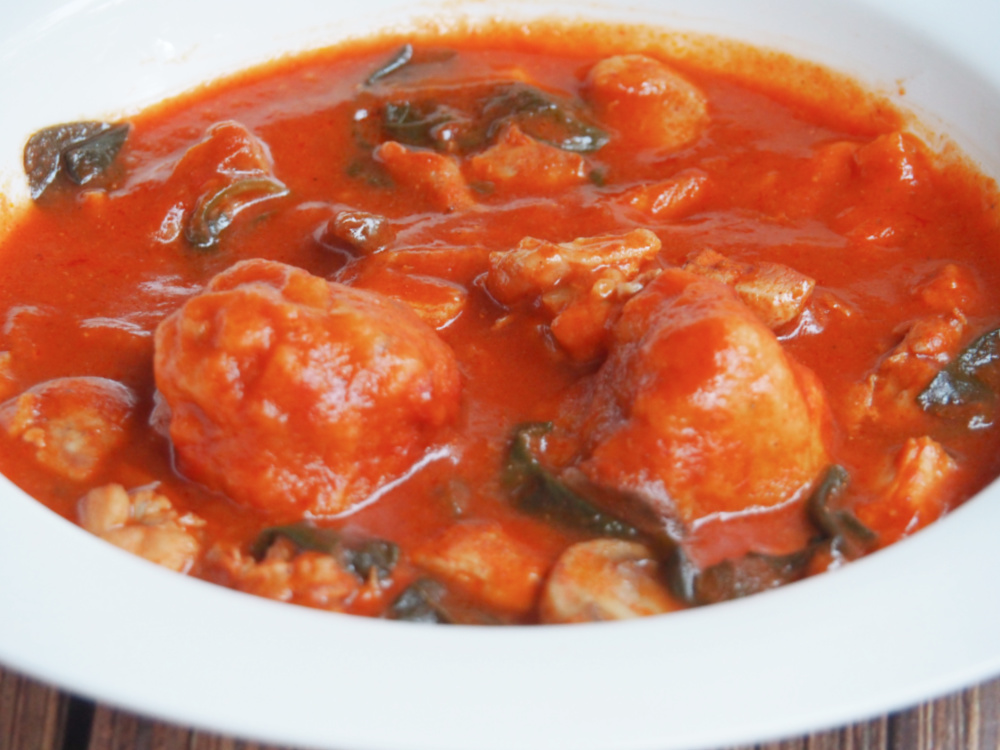 I love lifting the lid off the pot at the end of cooking to see those plump, fluffy dumplings sitting atop a rich, bubbling tomato sauce. I promise you it's pretty special!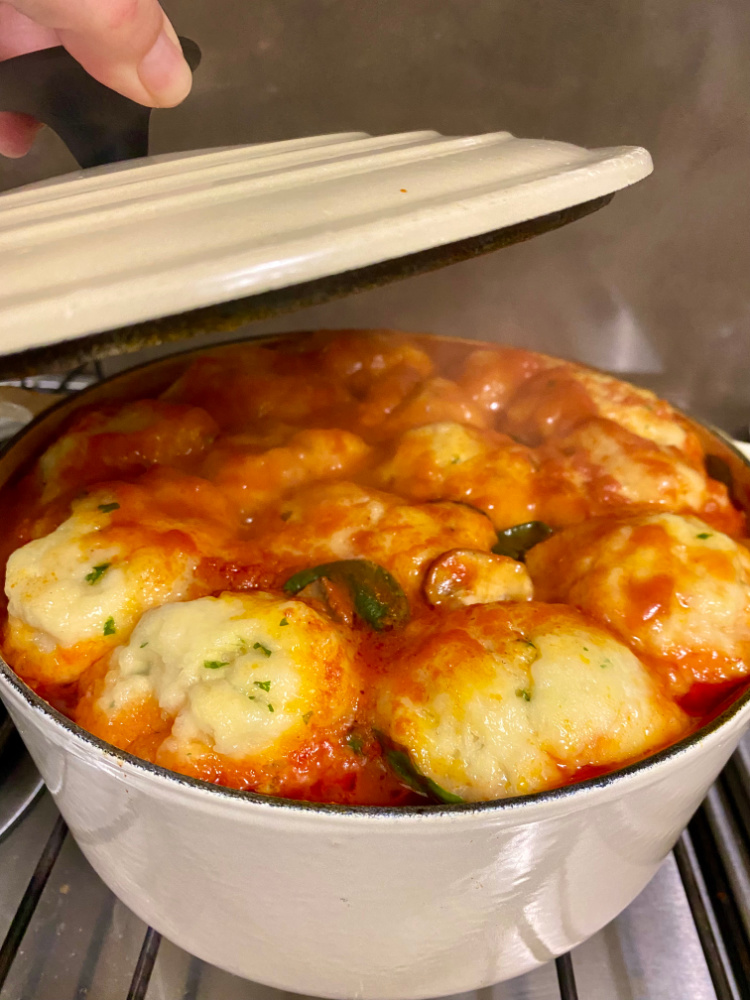 I love that this is a one pot wonder, requires minimum prep, is super quick and easy to make and most of all, there are dumplings! It's Anne's favourite, now it's our favourite and if you try it, I bet it will be your favourite too!
Are you a dumpling fan too? Do you have any favourite family recipes?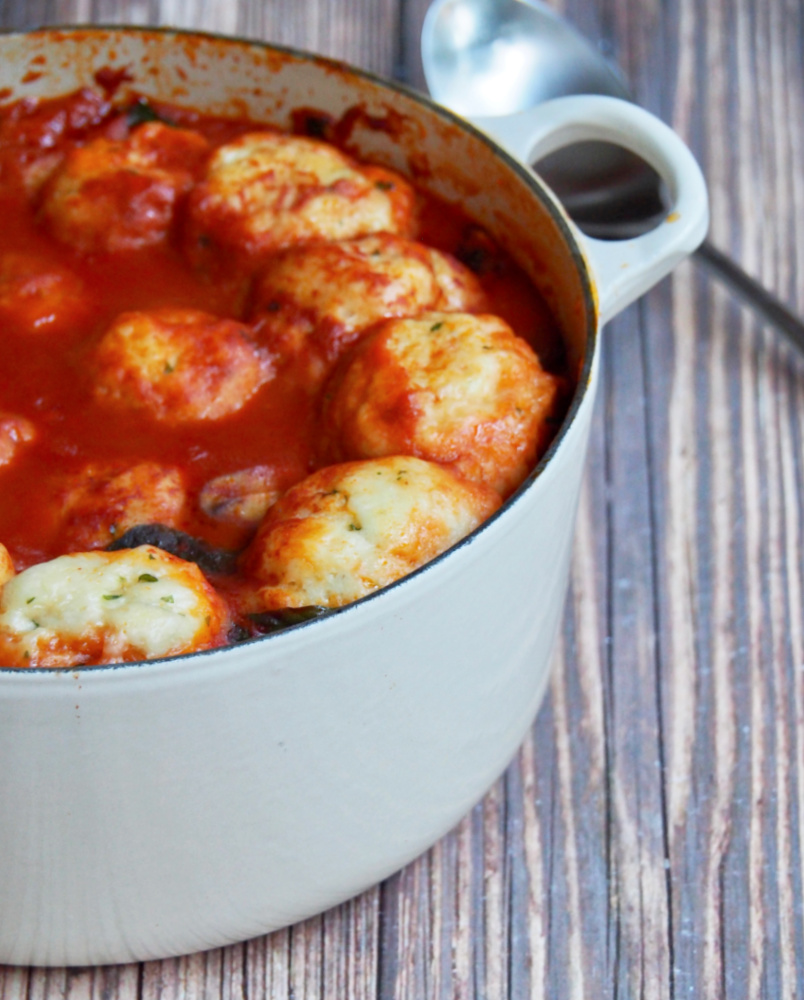 Ingredients
3 tablespoons olive oil
1 large onion, chopped
8 chicken thighs, chopped into 2cm chunks
1 tablespoon paprika
1/2 teaspoon cayenne pepper
250g sliced mushrooms
1 litre chicken stock
600g passata
Generous handful of baby spinach or kale
FOR THE DUMPLINGS
60g melted butter
3/4 cup water
2 cups (300g) self-raising flour
1/2 bunch chopped chives
1/2 cup (40g) grated cheese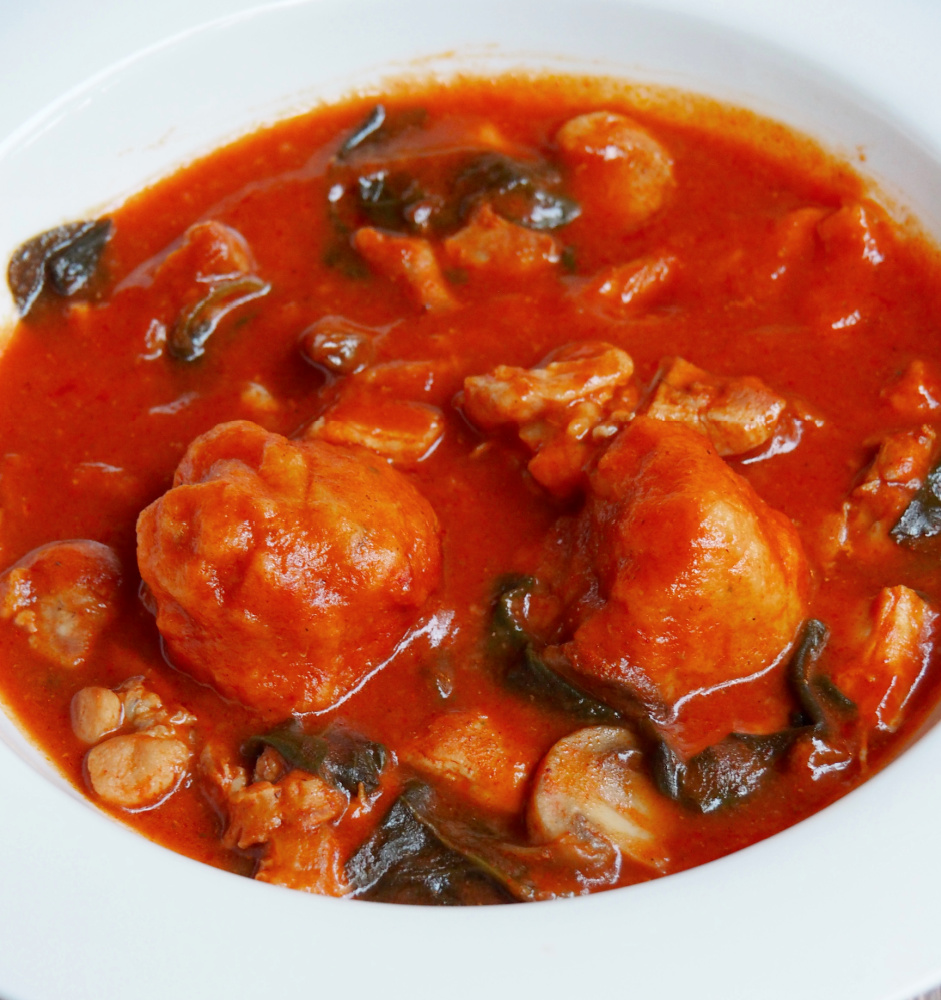 How to
Heat 2 tablespoons oil in a large heavy based pan. Fry the chicken until sealed and lightly browned. Set aside.
Add the remaining 1 tablespoon oil to the pan. Add the onion to the pan and fry for a few minutes.
Add the chicken and juices and cook, stirring for about 8 minutes.
Add the paprika and cayenne pepper and cook for 2 minutes.
Stir in mushrooms, stock and passata and bring to the boil slowly, reduce the heat and simmer, uncovered for 15 minutes. Add the spinach/kale.
Meanwhile make the dumplings.

Stir the chives and cheese into the flour, making a well in the middle. Add the butter and water and mix to make a soft dough. Using slightly wet hands, roll the dought into 12 balls.

To make the dumplings in the Thermomix, melt the butter for 2 minutes at 60C on speed 2. Allow to cool slightly. Add all the other dumpling ingredients and mix for 25-30 seconds on interval speed until all the ingredients come together.

Spoon the dumplings on top of the stew and cook, covered for about 15-20 minutes until the sauce has thickened and the dumplings are cooked through.