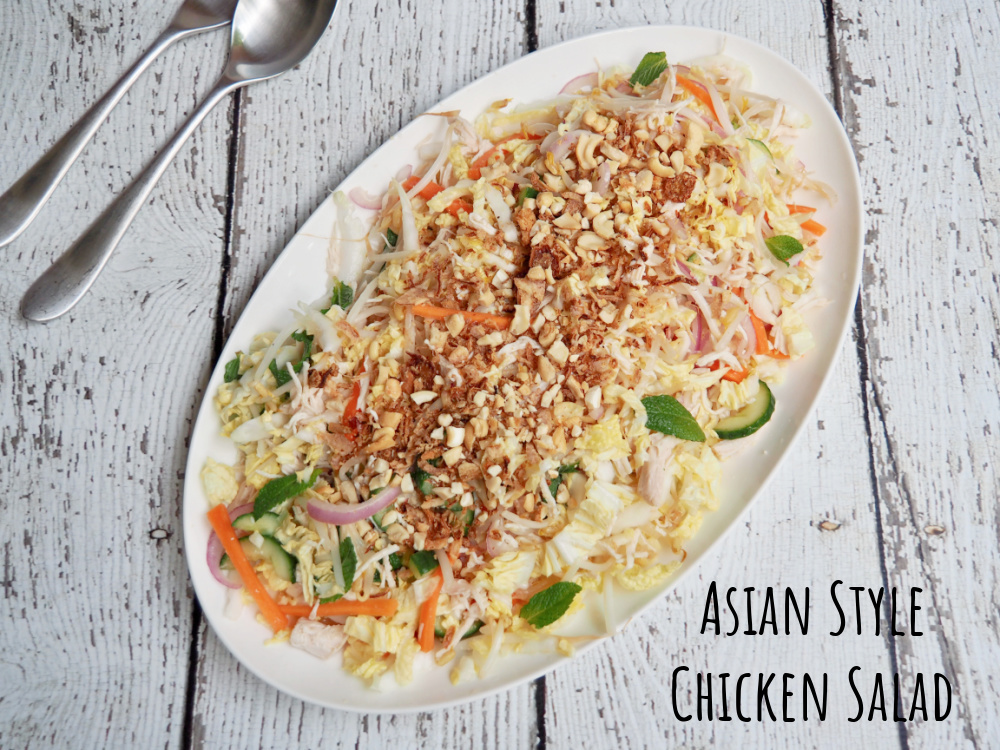 This healthy and delicious Asian style chicken salad is just bursting with flavour.
This fabulous recipe comes from dear reader, Anne who you might remember from her super tasty recipe for Paprika Chicken Stew with Chive Dumplings.
Anne wanted to share a recipe that we could enjoy in the warmer months and she has certainly delivered with this salad.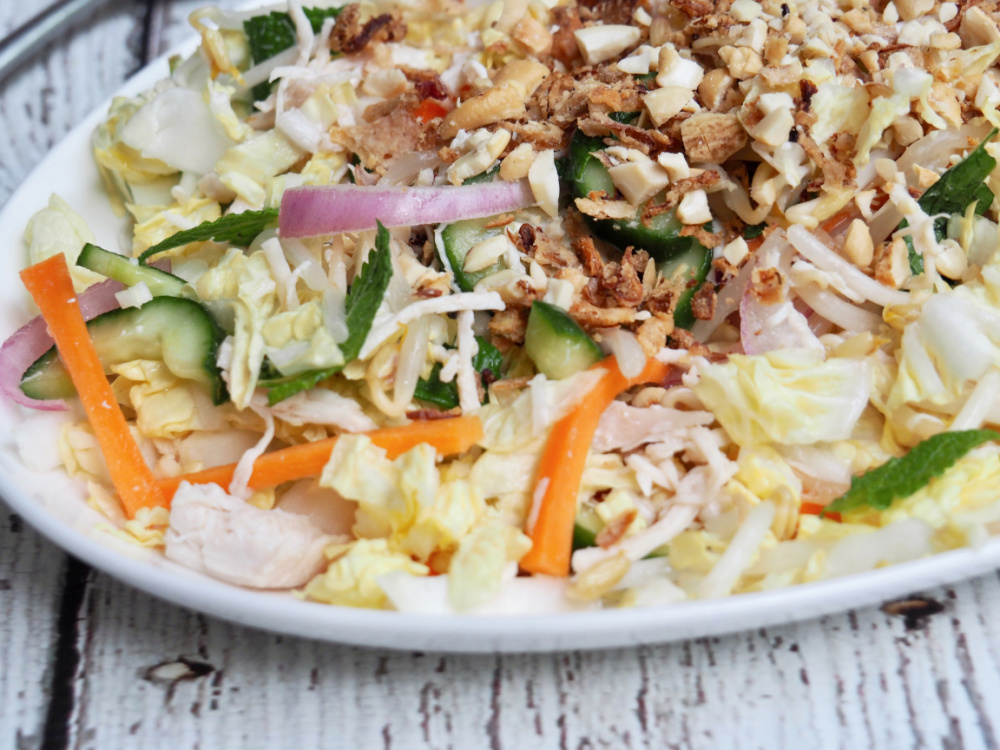 I've spent most of my life learning to like salad and I do like salad, I really do. I don't like this salad though, I totally love it, so much so that we've had it every week since I first made it which is most unusual at our place.
I love that it's so fresh and light and super healthy. So many salads are packed full of good stuff and then doused in a really oily dressing but that's not the case with this salad.
The dressing is flavoursome and healthy too, apart from a few spoons of sugar in the marinade and dressing.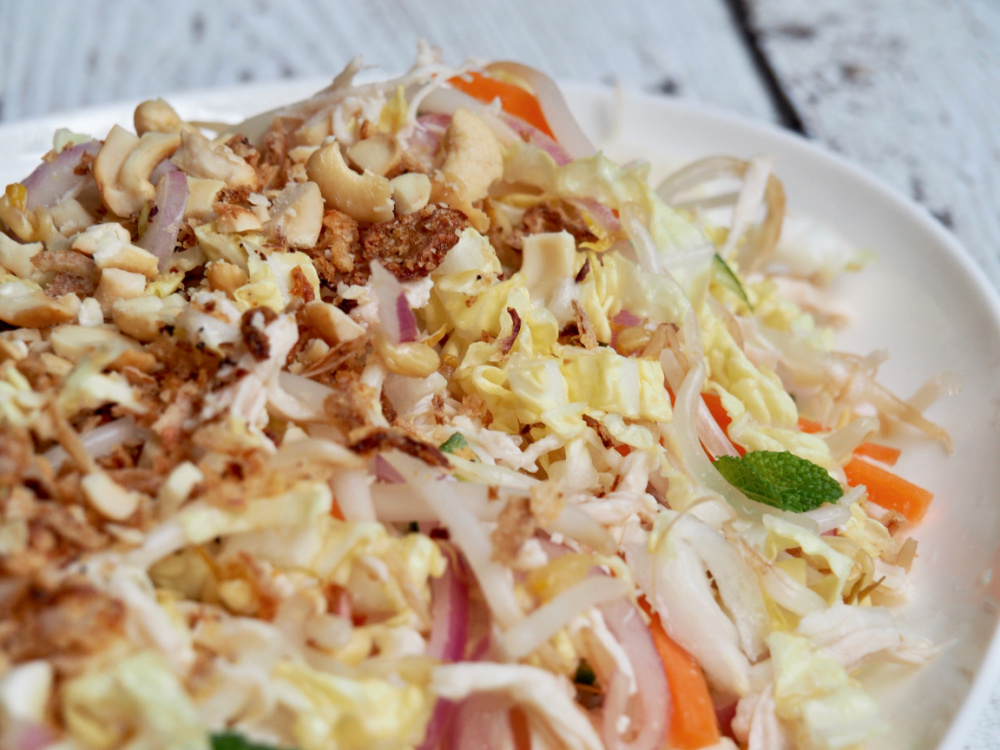 It's also super quick to make and perfect for sharing. You can use a barbecue chicken if you're tight for time but I find a plump chicken breast an easy and economical alternative.
Are you a fan of salads? Do you have a favourite?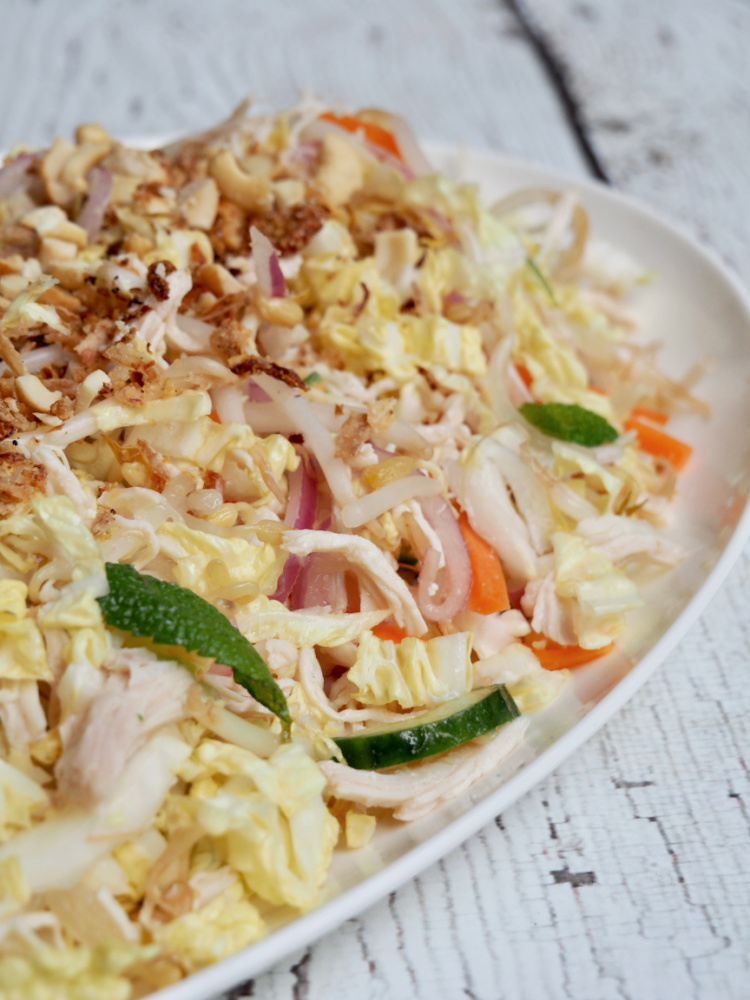 Serves 4
Ingredients
1 large carrot, peeled and julienned
1 Lebanese cucumber, cut in half lengthways and sliced
1 medium red onion, thinly sliced
1 cup of beansprouts
1 cold BBQ chicken, skin removed and flesh shredded OR 1 poached chicken breast, shredded
2 cups finely chopped Chinese cabbage (wombok)
1/2 cup fresh mint leaves, chopped
1/2 cup basil OR coriander leaves, chopped
1 tablespoon roasted cashews, crushed
2 tablespoons fried shallots
FOR THE MARINADE
2 tablespoons rice wine vinegar
2 teaspoons salt
2 teaspoons caster sugar
FOR THE DRESSING
2 tablespoons fish sauce
2 tablespoons caster sugar
1/4 cup (60ml) water
1 clove garlic, crushed
2 tablespoons lemon or lime juice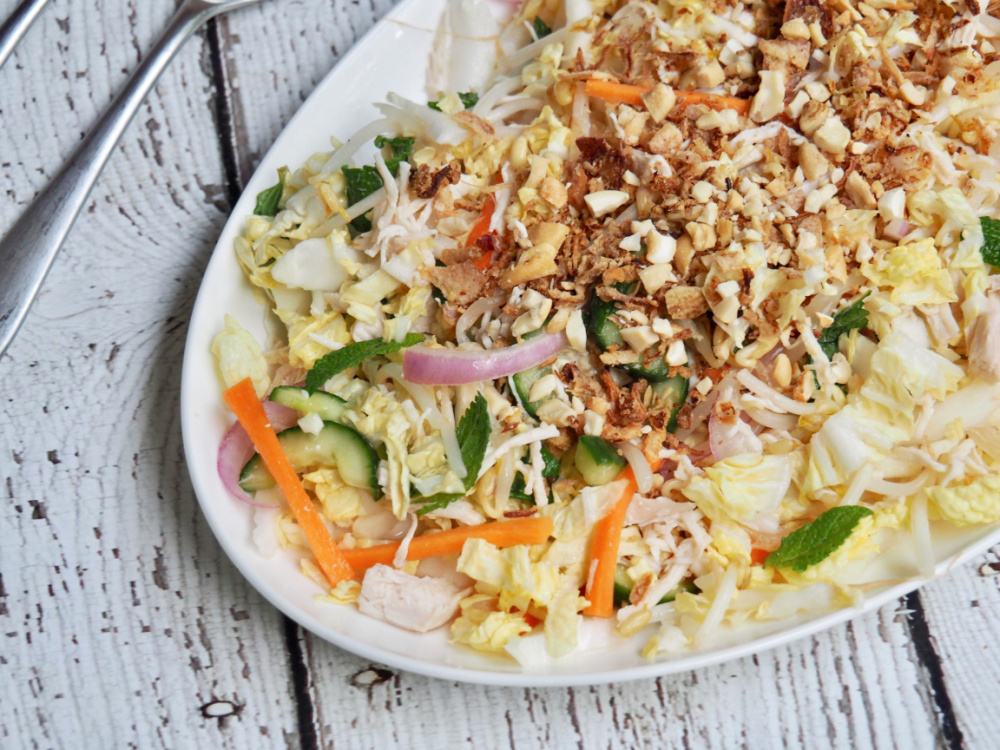 How to
Combine carrot, cucumber and onion in a large bowl with the marinade. Cover and stand for 10 minutes.
Then add the sprouts and cover and stand for a further 3 minutes.
Meanwhile, mix the dressing ingredients until mixed really well.
Drain any excess liquid off the veggies and combine with the shredded chicken, cabbage and herbs.
Add the dressing and toss gently.
Transfer to a platter, top with shallots and nuts and serve.