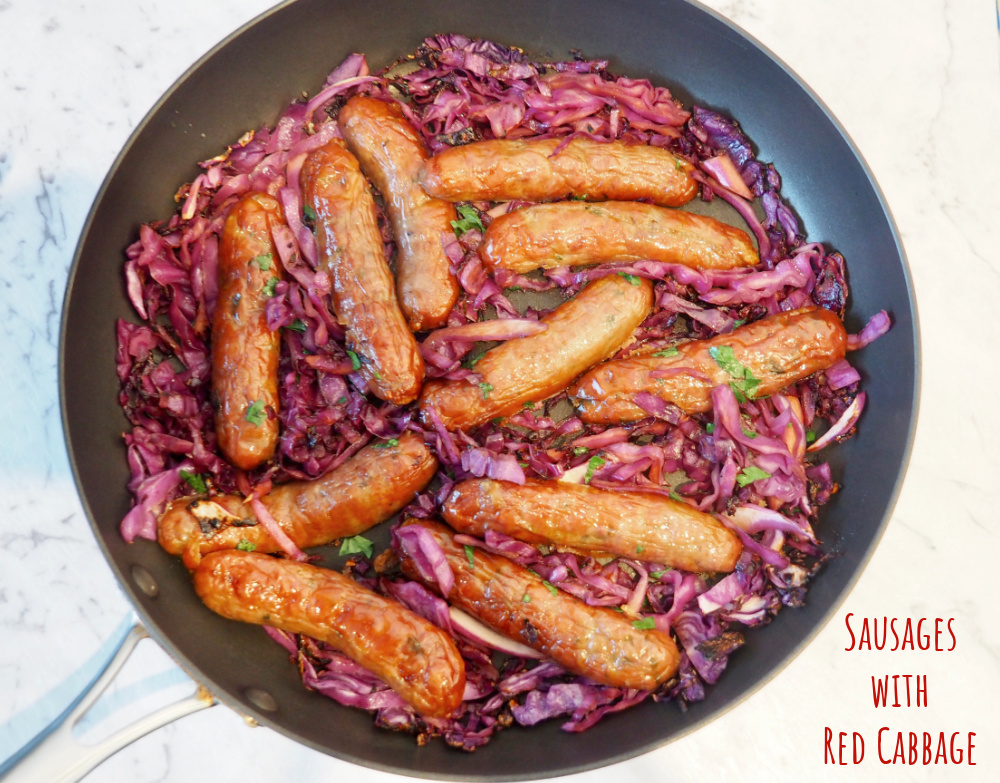 Sausages and red cabbage are the perfect partners in this simple but delicious budget friendly meal.
This is an old recipe that I've made new again with some fresh pics and some top tweaks. It's not the most beautiful dish you'll ever cook but it's one of the easiest and what it lacks in looks, it more than makes up for in taste!
I haven't felt nostalgic for our old flat since we moved but I have felt very nostalgic about the blog recipes and have taken great delight cooking my way through the archives.
So when my neighbour Luce gave me a half a head of red cabbage, I knew straight away that this dish is what I wanted to cook. Side note: I love that Luce gifts me random chunks of vegetables. If you're reading this Luce, please don't stop 🙂
Our new kitchen is super flash and I love everything about it except that it's a never ending job to keep it clean. It's one of the reasons that I didn't want to pan fry the sausages because I couldn't face cleaning the hob and the beautiful mirrored splashback.
Plus Teddy Roosevelt has a phobia about meat frying – we don't know why but it literally gives him palpitations! And if saving my dog's sanity and myself cleaning wasn't enough, baking is one of the healthiest ways to cook sausages because you don't need to use any oil.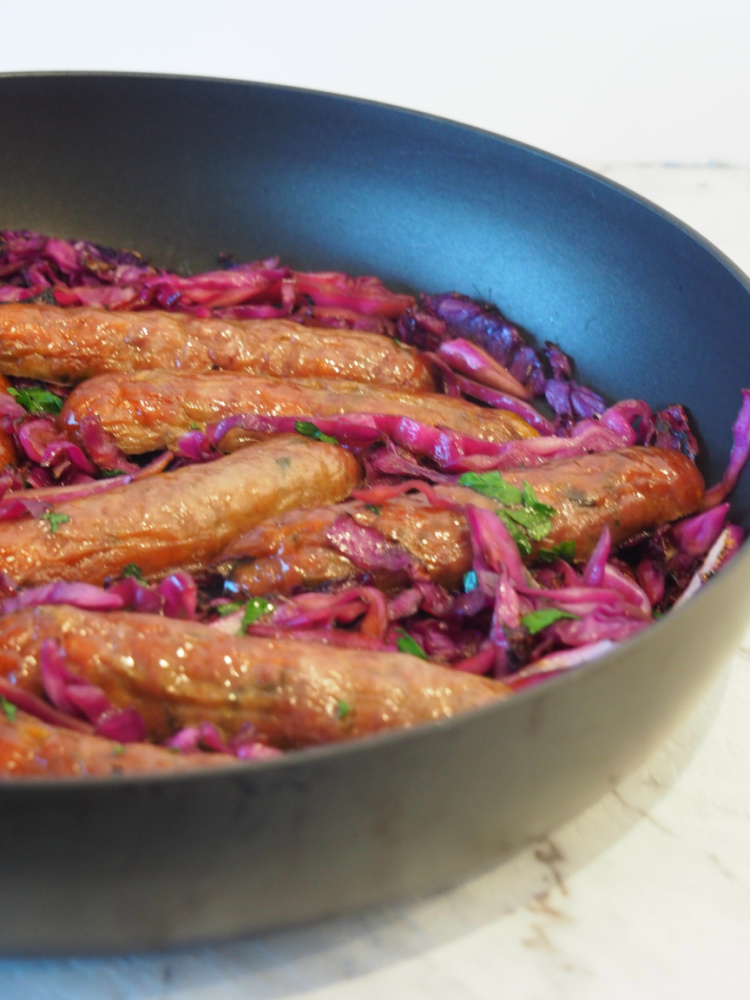 So in order to lower Teddy's blood pressure, lower my calorie intake and lessen the cleaning I baked the sausages in the oven with great results. No fuss, no mess and all the flavour. Then I just cooked the cabbage in the pan and added the sausages for a final bit of browning – ta da!
Of course, if you prefer your sausages pan fried, knock yourself out and enjoy a one pan wonder!
If you're after an easy dinner, serve this dish as is or for a winner, winner sausage dinner, why not add some mashed potato and gravy? I won't judge you if you want to lick the plates clean! 
Do you prefer your sausages baked or pan fried? What's the thing you love most about your kitchen?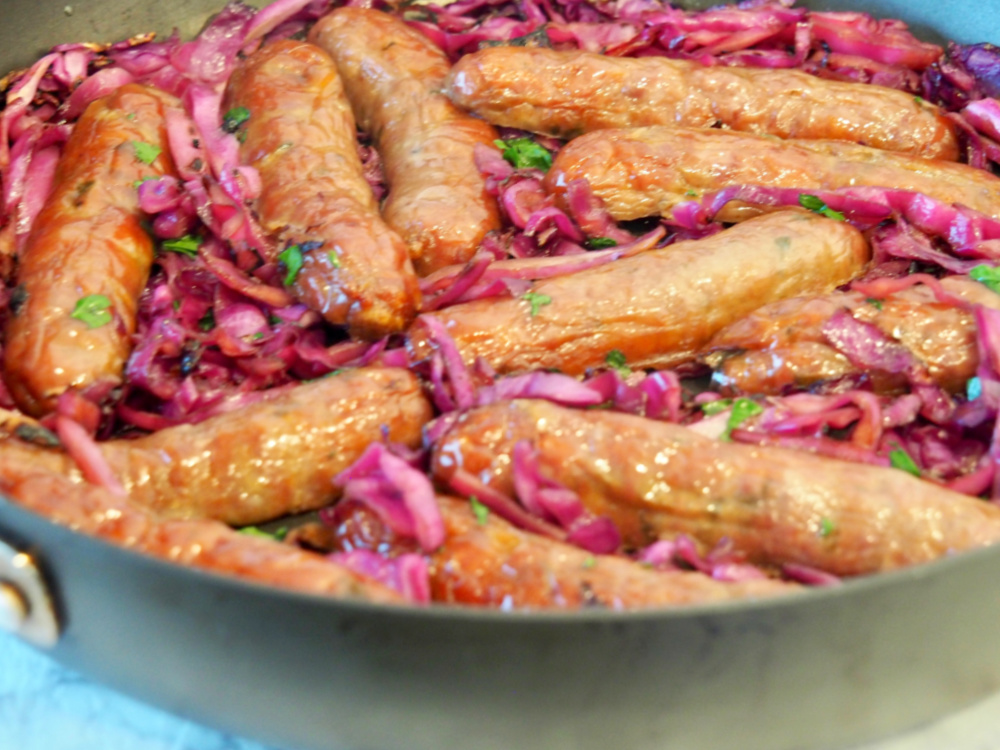 Serves 2-3
Ingredients
1 tablespoon sunflower oil
6 thick beef sausages (900g)
½ red cabbage, cored and shredded
2 tablespoons red wine vinegar
1 tablespoon light brown sugar
½ cup flat leaf parsely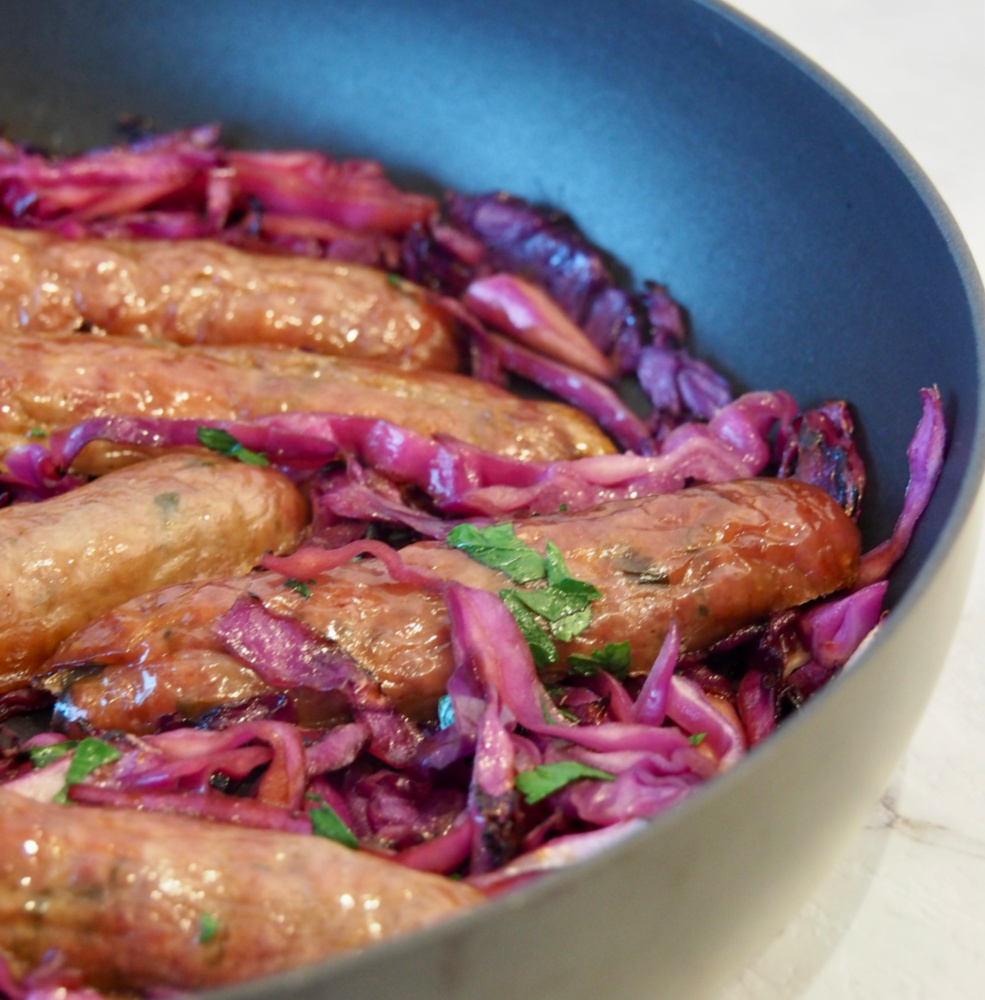 How to
Preheat oven to 220C/200C fan-forced. Line a baking dish with baking paper.
Bake sausages for 25-30 minutes turning once or until golden and cooked through. Alternatively, cook in heated oiled large frying pan until cooked.
When sausages are cool enough to handle, slice lengthways.
Cook the red cabbage in the pan, stirring for about 5 minutes or until softened.
Add the vinegar and sugar and cook, stirring for about 10 minutes.
Return the sausages to pan and cook, stirring, until heated through.
Remove from heat, stir in parsley and season to taste.
Other info
Prep and cooking time:  45 minutes