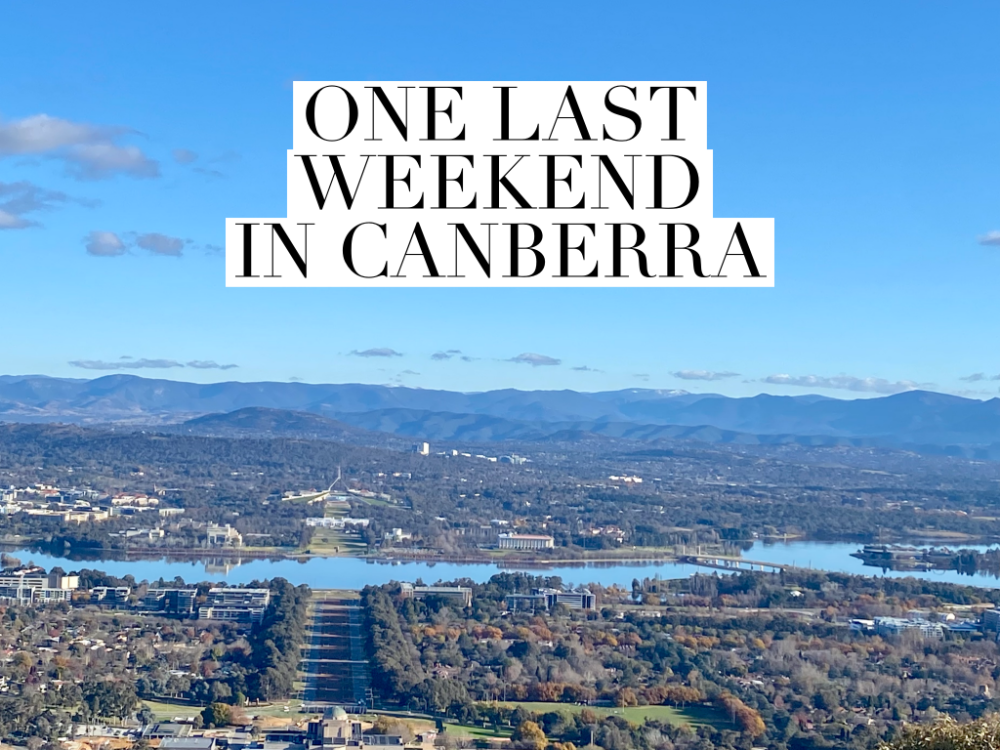 With our departure fast approaching, we're working our way through our Australian bucket list and it wouldn't be an Australian bucket list without including a visit to the capital.
We are huge fans of Canberra and have been so many times in the last 14 years, we have literally lost count. As it's our last hurrah, we include some of our old favourites and some new places too.
Canberra is super dog friendly – have you seen our dog friendly guide to eating and drinking in the capital? – so Teddy joins us too, although he has a two centre holiday spending one night with us and one night with his two favourite girls Coco and Cali.
Full disclosure – the food scene in Canberra is so good that most of our itinerary is spent eating and drinking.
48/38 Mort Street, Braddon, ACT 2612
Road tripping is thirsty work so our first stop in the capital is always to Bentspoke brew pub. There's dog friendly seating outside and it's super warm and toasty with the heaters on. In fact, it's so warm we have to strip off our outer layers!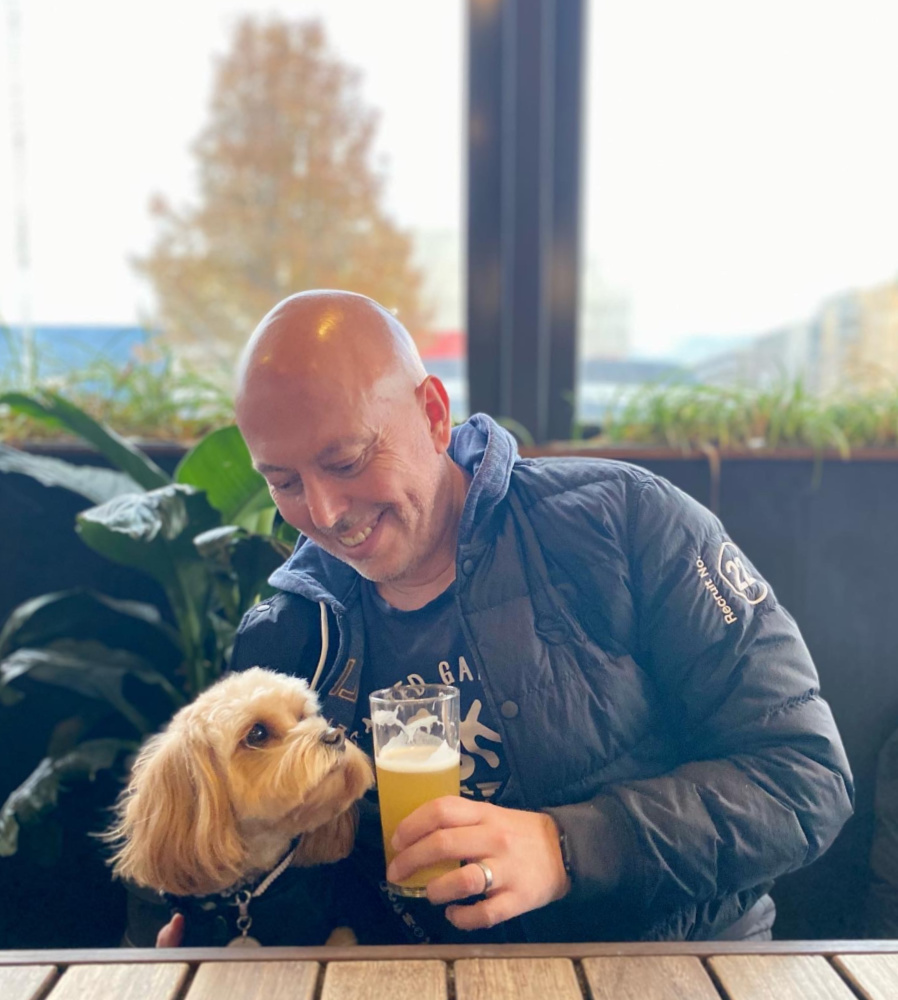 Hops salt potatoes (AKA Bentspoke fries) are the stuff legends are made of and we always order some and always forget how big the portions are. ($10) They're vegan, gluten-free and come with your choice of brewery made sauce. Teddy offers to help us eat them but we pawlitely decline.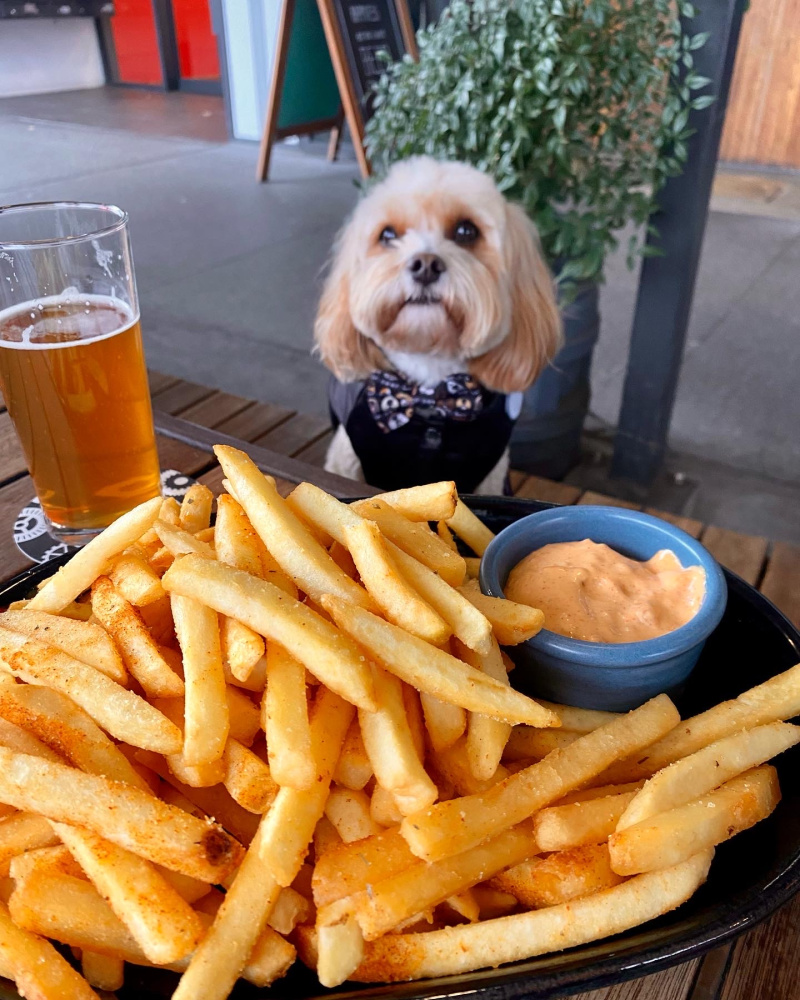 1/9 Lonsdale Street, Braddon, ACT 2612
This is one of our all time Canberra favourites and the outside seating area is dog friendly. All our friends laugh at us when we tell them we are eating outside in the middle of a Canberra winter but we get the last laugh because with the heaters on, we feel like we're in the tropics!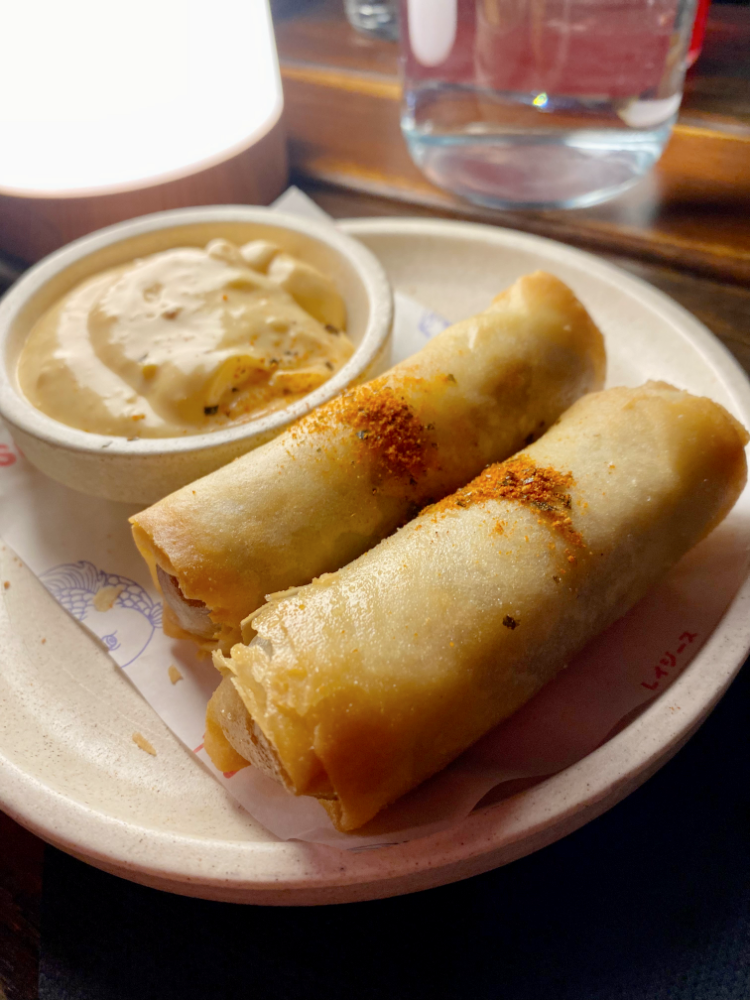 We can't go past the Wagyu Cheesesteak Spring Rolls ($6 each) but to be honest, everything on the menu is good. We make sure we save enough stomach space for dessert because this Honeycomb Ice Cream Bao ($12) with biscuit coated vanilla ice cream, chocolate and dulce de leche is all my sweet dreams come true.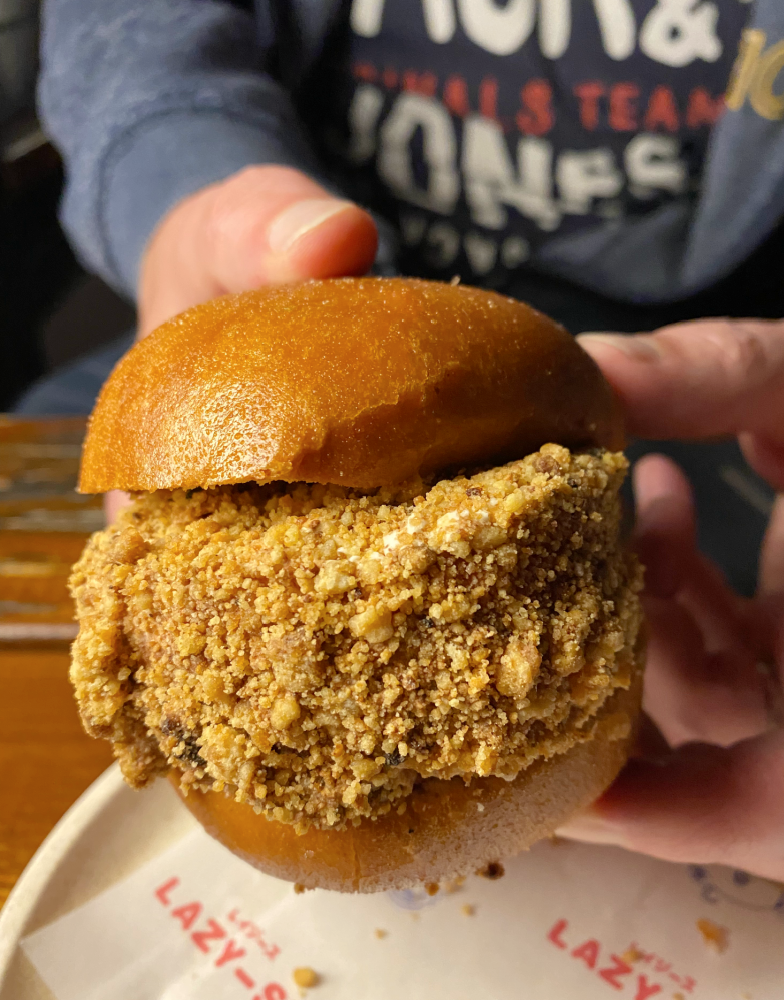 2/5 Lonsdale Street, Braddon ACT 2612
A visit to Canberra is not a visit to Canberra if we don't go to the Tipsy Bull for a gin paddle. There's a free spot on the verandah (dogs are welcome in the garden and on the verandah,) so we pop in for a nightcap. You can't beat some Pavlova gin under the stars and beside the heaters!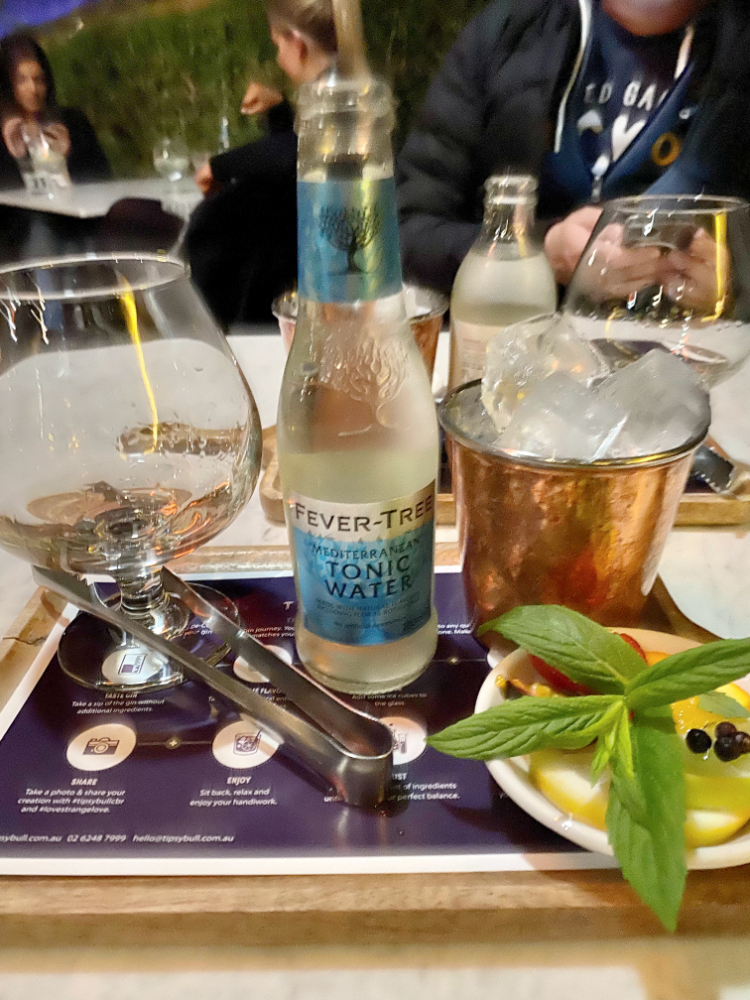 9 Lonsdale Street, Braddon, ACT 2612
Although technically we're supposed to be skipping breakfast and saving room for lunch, I fear my coffee will be so wet, it will need to be balanced out with something dry and when I say dry, I mean baked goods! Well, that's my argument and I'm sticking to it.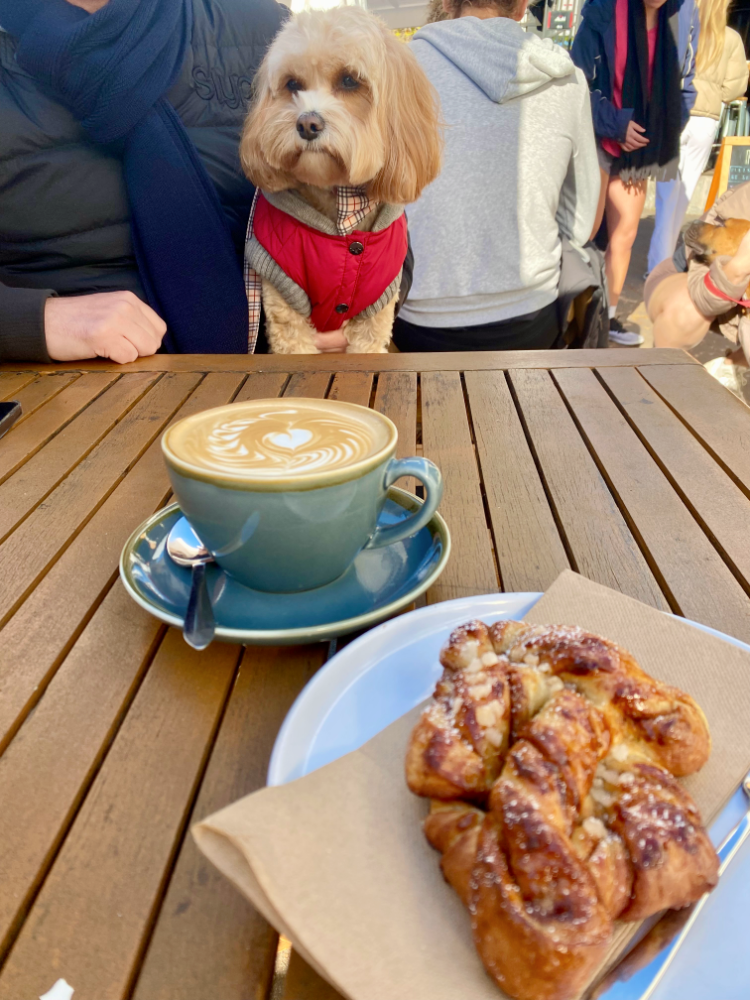 The cinnamon bun does not disappoint. In fact, all the food that comes out of the kitchen looks delicious and I'd be lying if I said we didn't experience food envy! Rye is super popular with plenty of outside seating and very dog friendly. We would definitely be adding this to our list if there was going to be a next time in Canberra.
Building 3/1 Dairy Road, Fyshwick, ACT 2609
It would have been rude to come to Canberra and not come to the beer mecca that is Capital. It's super dog friendly so we arrange to meet our friends, Rob and Sara with their pups, Coco and Cali here. This place scores bonus points for being allowed to sit inside with the dogs.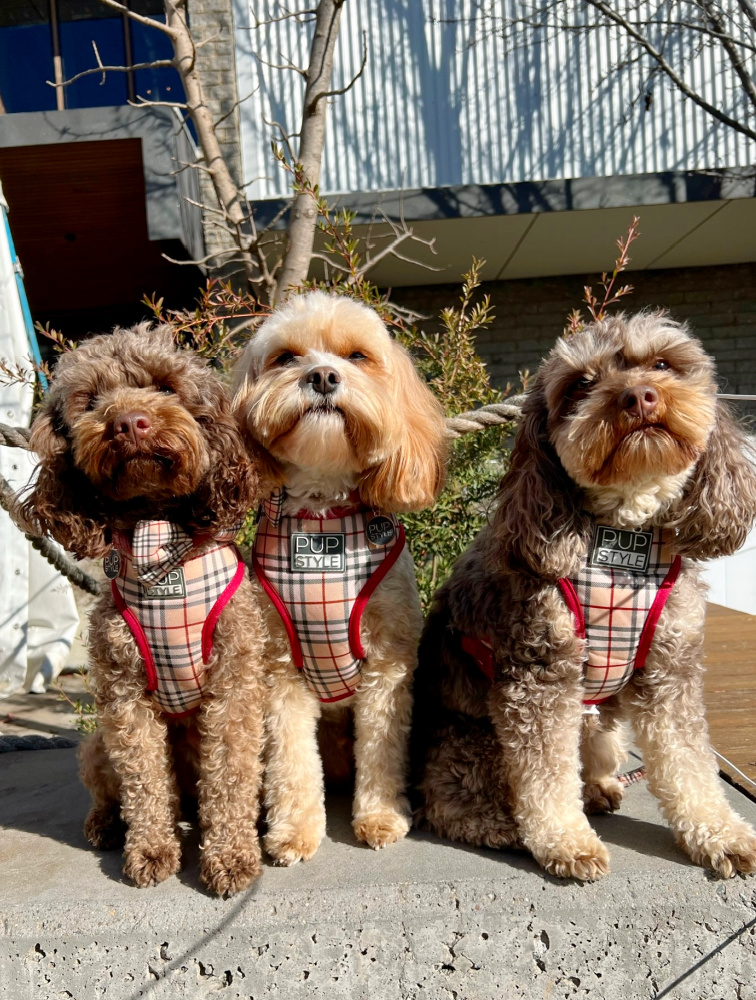 Brodburger keep the crowds fed at Capital and they are so popular that wait times can get very lengthy. We grab some beers and order food straight away, not very adventurously all opting for the Capital Burger ($17) – beef patty, iceberg lettuce, tomatoes, pickles, onion, relish, ketchup and homemade mayo and you can even choose your own cheese (with a choice of blue, brie, Swiss or cheddar)! Obviously we all have great taste because the burgers are delicious and the macaroni cheese croquettes are totally droolworthy.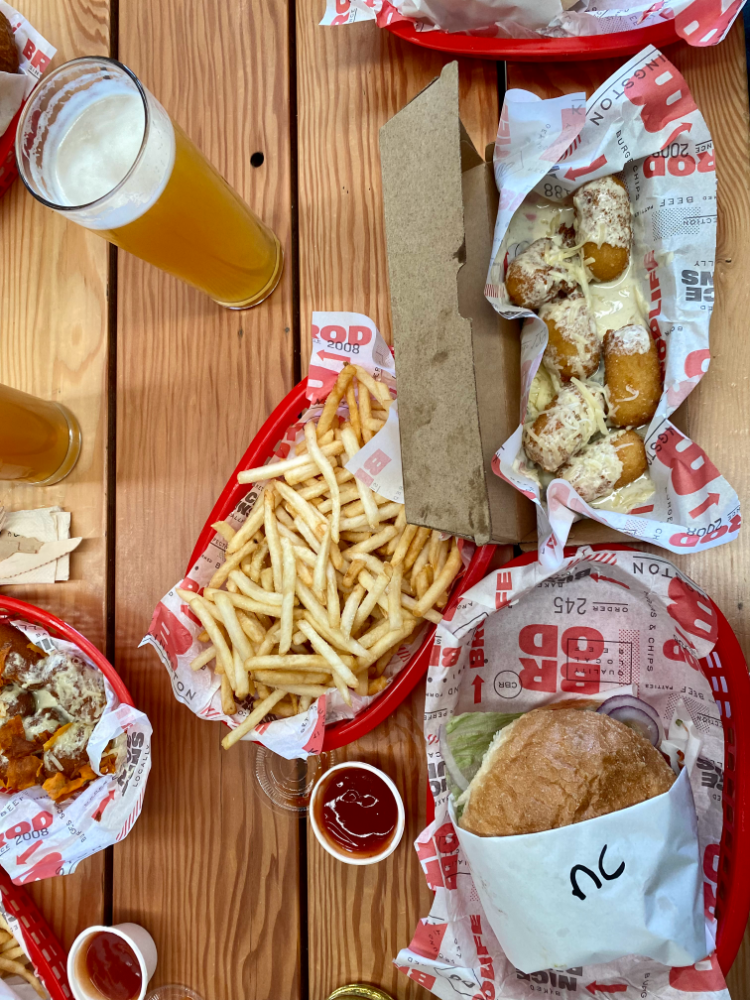 Our plans for the afternoon are very fluid and as we're all in a bit of a food and beer coma, Sara and Rob very kindly offer to take Teddy for a play date/sleepover so the furkids can have some quality time together and David and I can do some dog-free exploring.
King Edward Terrace, Parkes, ACT 2600
I'm not really a culture vulture but even I love a quick squizz around the galleries in Canberra and the Portrait Gallery is my favourite. A large part of the Portrait Gallery is currently housing the exhibition Shakespeare to Winehouse showcasing icons from the National Portrait Gallery, London but we check out the limited free galleries before moving on.
Parkes Place E, Parkes, ACT 2600
I'm a big fan of the National Gallery which has the largest and most impressive collection of Aboriginal and Torres Strait Islander art. We have a quick romp through the galleries and just manage to catch the free exhibition Know My Name – Australian Women Artists 1900 to now before it closes the next week.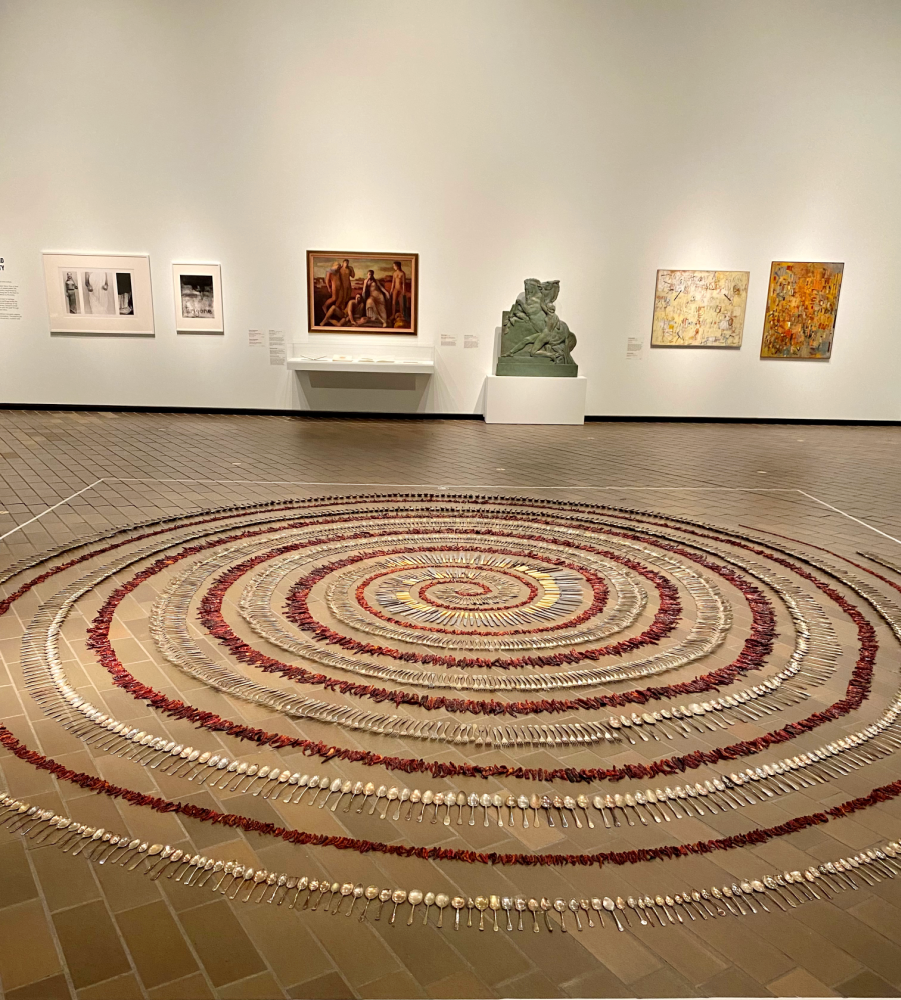 We google a few other things we might like to do – the Telstra Tower, Mount Stromlo Observatory, Canberra Space Centre – and all of them are closed so as it's such a beautiful day, we head to Mount Ainslie for some classic Canberra views. Even though we're here dog free, it's actually super dog friendly too!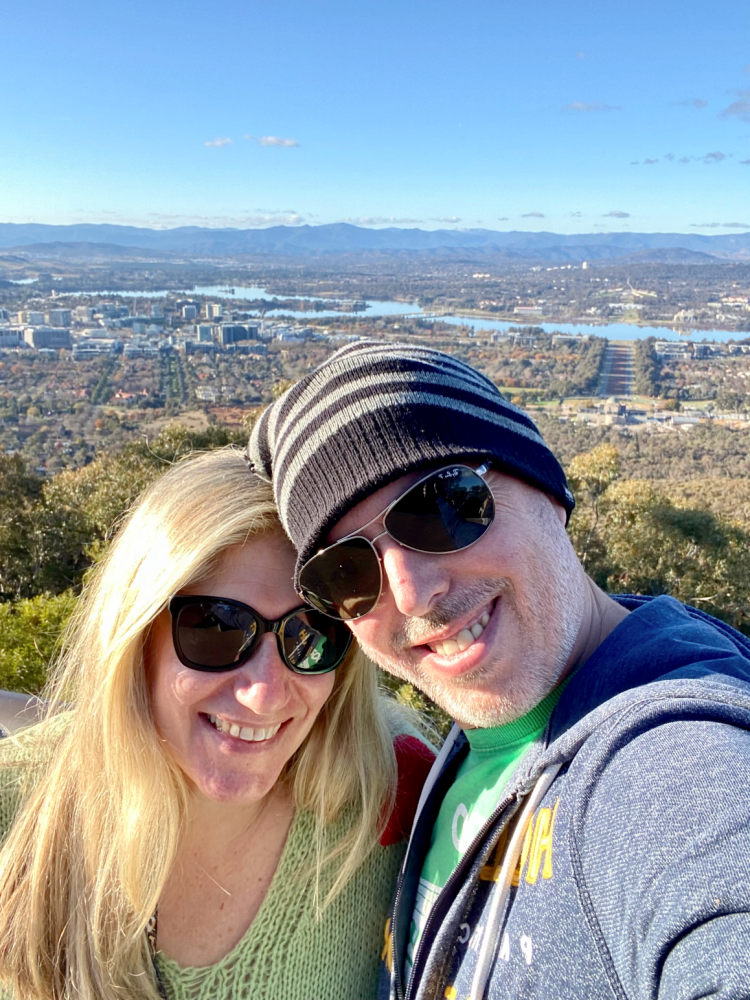 Wooden Door, Odgers Lane, Canberra, ACT 2601
Seeing as we're sans dog, we can't resist one last visit to Molly Bar for one of their superior cocktails. This place has speakeasy vibes and is probably Canberra's best kept secret offering top notch cocktails and live jazz. Molly puts the hidden in hidden bar, there are no signs outside and the first time we came, it was quite a mission to find it.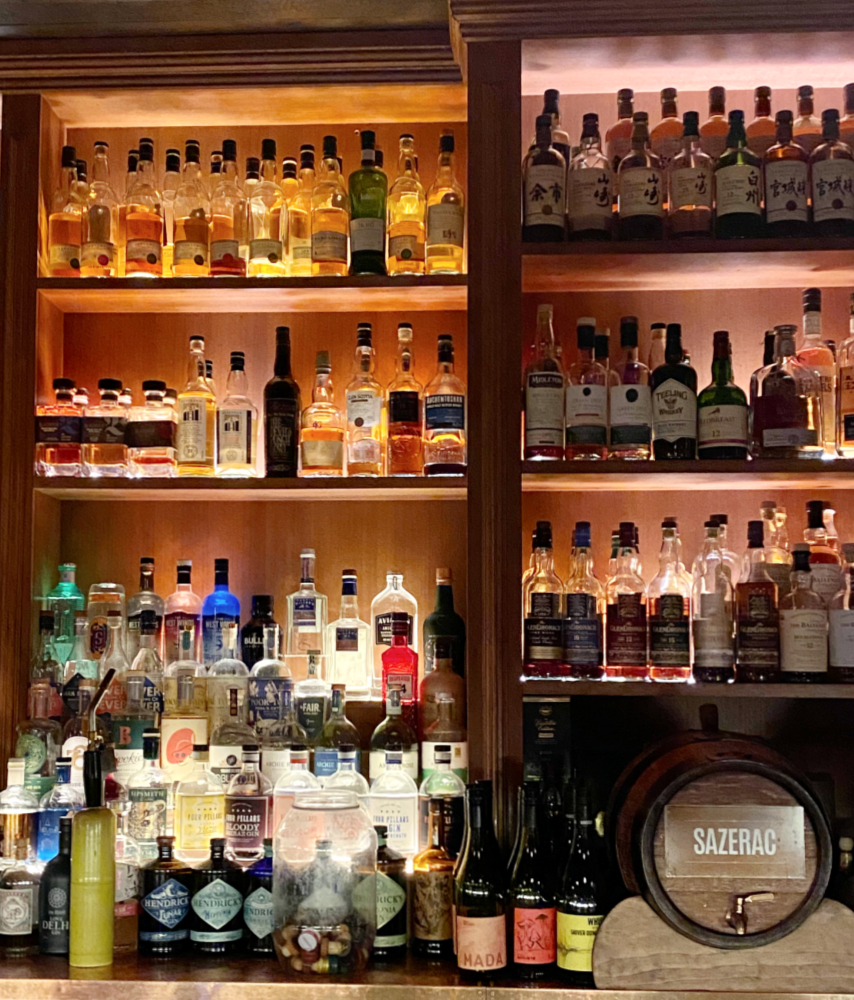 But you know what they say, "seek and ye shall find" and Molly is definitely worth seeking out. We both choose the barrel aged negroni and I am pleased to report it's as good as I remember. We'd love to stay and work our way through the cocktail list but we have dinner plans. So long, Molly!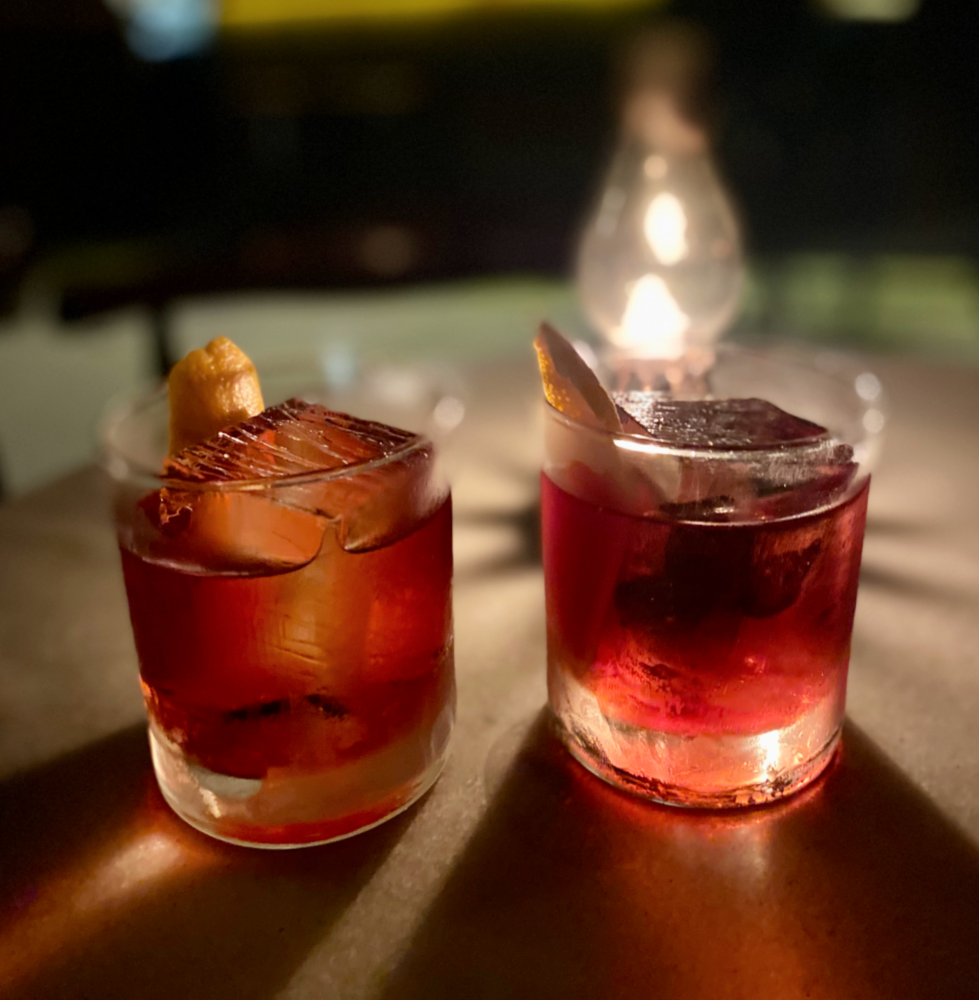 ORI Building, 72/30 Lonsdale Street, Braddon ACT 2612
After reuniting with Sara and Rob – the dogs are having a slumber pawty at home – we head to Yaki Boi (via Bentspoke, of course!) We haven't been here before but the eclectic menu and good reviews reeled me in.
There's a super fun vibe with the menu offering a range of burgers, pizzas and light bites with a fun Asian twist and some Asian dishes like Don and Poke Bowls and Udon too.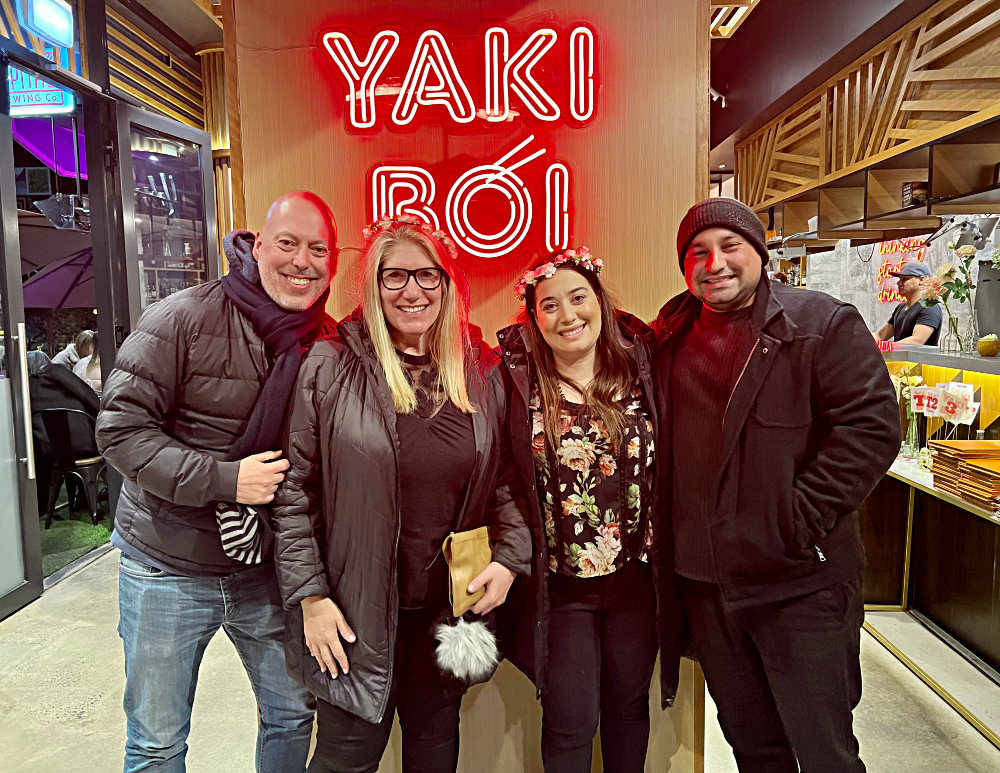 We're still burgered out from lunch but try some of the wagyu cheeseburger spring rolls ($10 for 2) – can you see a theme here? – the deep friend pork dumplings ($8 for 6 pieces) and the Panko Ebi AKA prawn tempura ($9 for 4.) They're all super tasty.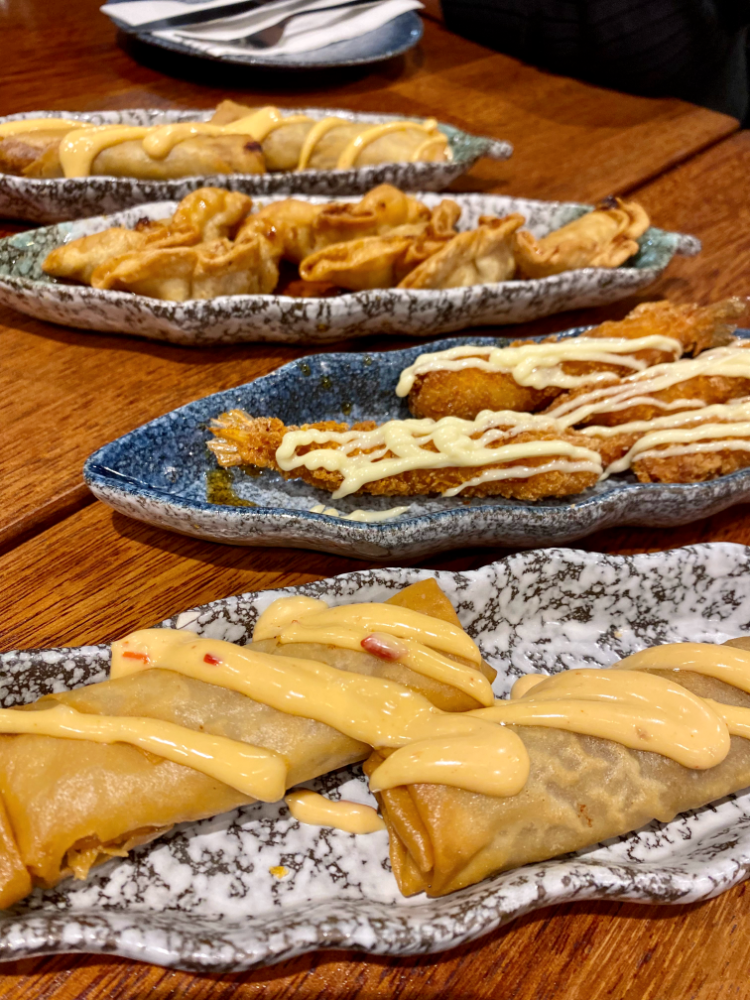 Pizzas come in two sizes – 11 and 13 inch. We choose two large pizzas – the peri peri chicken ($21) and Peking duck pizzas ($25) are both really good and super cheesy.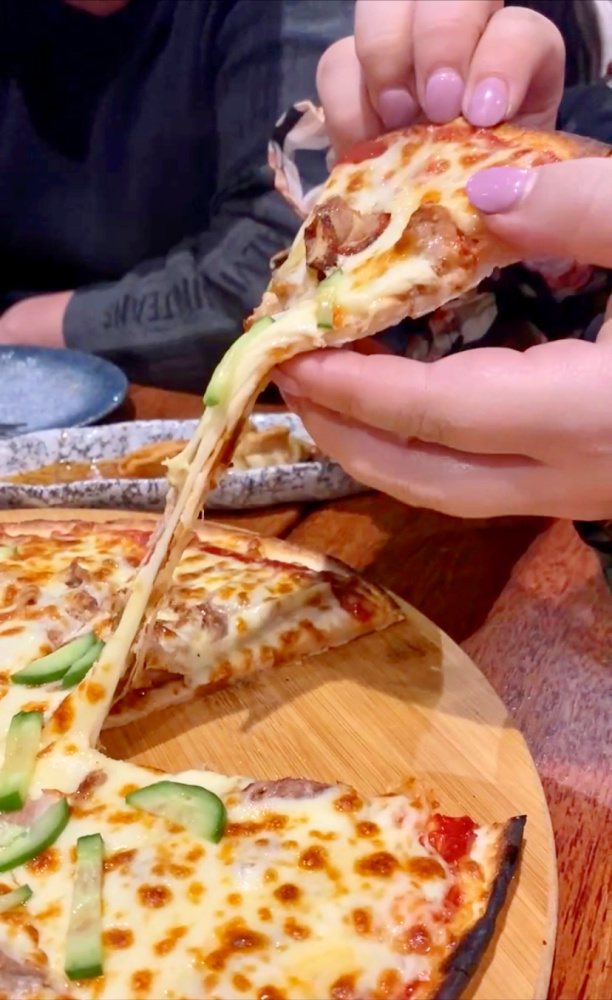 There's a good drinks list with some low/no alcohol cocktail options too. Picking up where they left off this morning, the guys are more than happy with their pitcher of Capital Brewing Trail Pale Ale ($23) and I enjoy a negroni – just for a change.
4/21 Lonsdale Street, Braddon, ACT 2612
We skip dessert and head to join the queue at Messina across the street. The irony is not lost on us that we're eating ice cream in almost zero degree temperatures the middle of winter! It isn't too cold for us to eat ice cream but it is definitely too cold to be taking pictures of it!
48 Macquarie Street, Barton, ACT 2600
The next morning we pick up Teddy, say our last goodbye to Rob, Sara and the girls and head off to forage for food. We're tempted to return to some of our old favourites, here's looking at you, Teddy Picker's but feel like living dangerously so look for somewhere new instead.
Little Bird is an absolute gem! It's in Barton in an area full of office and residential buildings. I can imagine that it's stoved off during the week but mid Sunday morning, it's pretty chill. Inside, there's a cool, airy fit out and there's lots of dog friendly seating outside.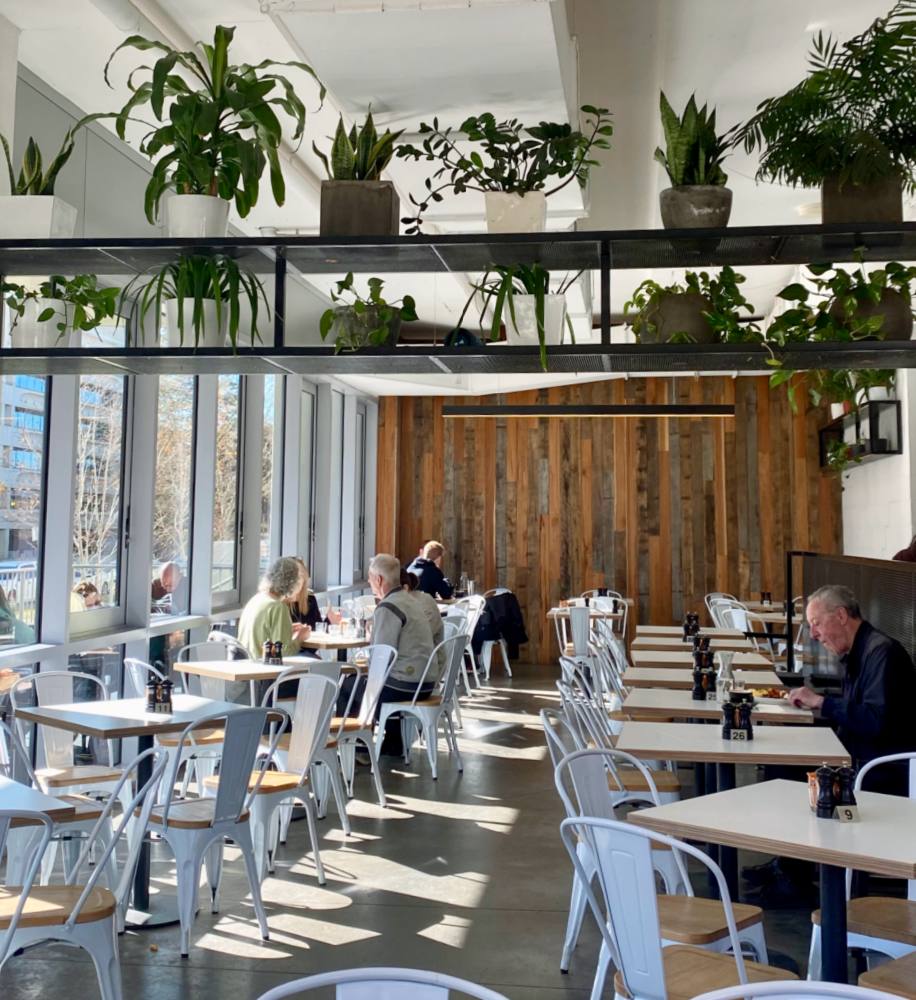 Service is friendly and efficient, the coffee is good and the menu has some really interesting options. I am a sucker for avo on toast but Little Bird takes the humble avo to new levels. It's a very generous serve with heaps of avo, two poached eggs, two slices of ancient grain toast and let's not forget the chevre. ($20.9)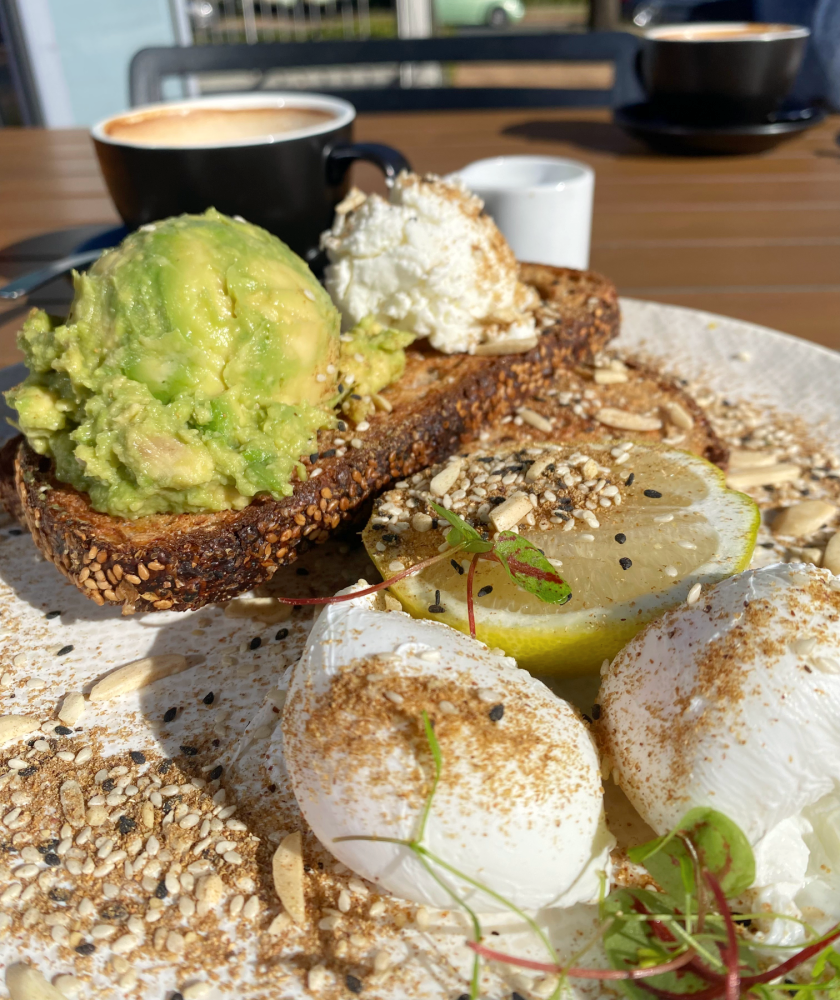 David's ham and potato croquettes win the day though. They come served with poached eggs, smashed avo, halloumi. ($21) We leave Canberra with full bellies and full hearts – what a delicious end to a wonderful weekend.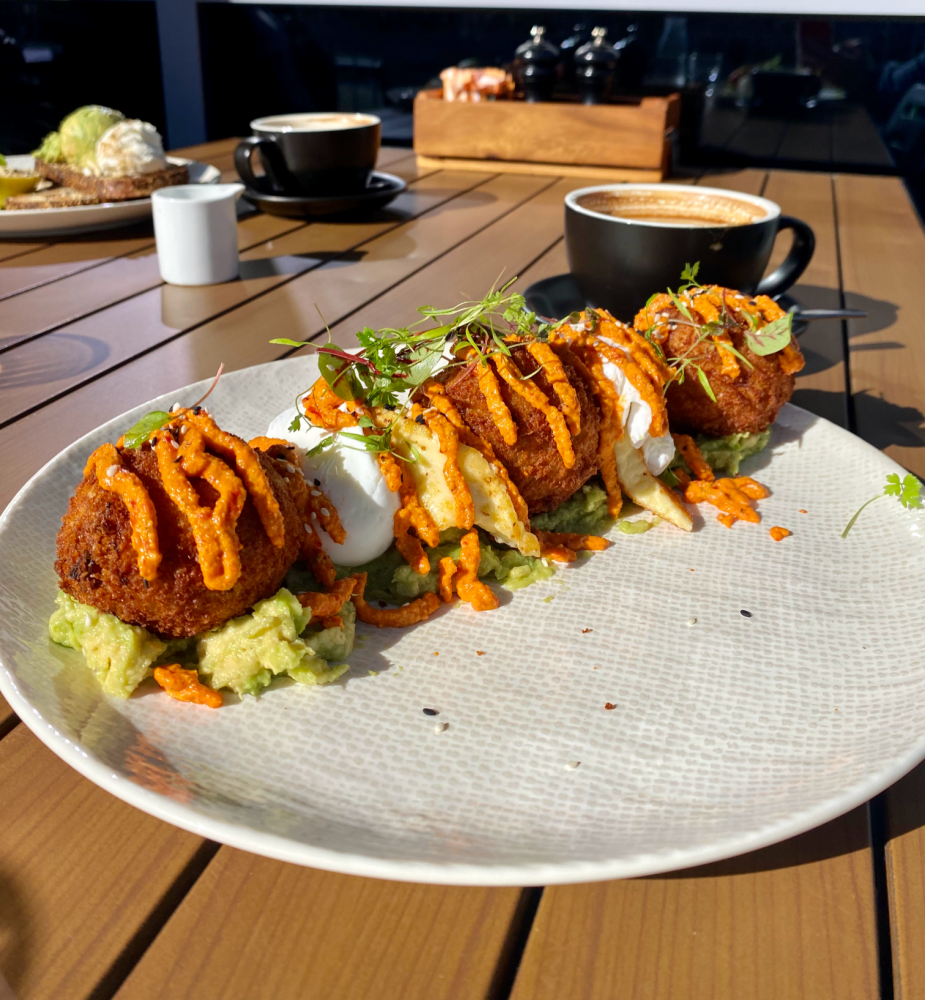 What would be on your Canberra bucket list? Do you like to go back to the same places or do you prefer to try somewhere new?