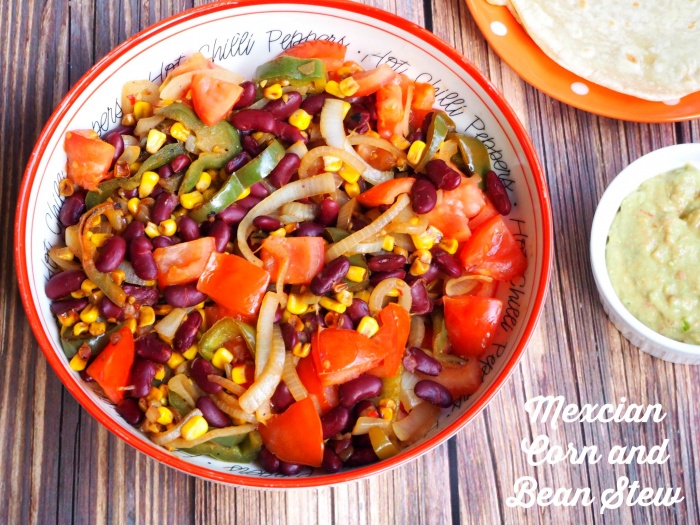 Serves 4
Ingredients
2 teaspoons olive oil
1 medium green capsicum (bell pepper) (200g) sliced thinly
1 medium brown onion (150g) sliced thinly
1 cup (165g) fresh corn kernels
3 medium tomatoes (450g) chopped coarsely
420g can kidney beans, rinsed and drained
1 fresh small red chilli, chopped finely
How to
Heat half the oil in a large frying pan, cook capsicum stirring until just tender. Remove from pan.
Heat remaining oil in same pan, cook onion and corn, stirring, until onion softens.  Add tomato, beans and chilli, simmer, uncovered 10 minutes.
Stir capsicum into tomato mixture and serve.
Other info
Prep Time:  15 minutes
Cooking time: 15 minutes
Tip!  You need one fresh corn cob weighing about 400g – but  I cheated and used frozen corn.
Serving suggestion:  Serve with flour tortillas, and guacamole. Just mash 1 medium avocado, roughly in a medium bowl, stir in 1 seeded finely chopped medium tomato, half a finely chopped small red onion and 1 tablespoon lime or lemon juice or use this recipe and whip it up in the thermie.